As a waterfall lover, I don't miss any waterfall that a lodge or park has and this "main" falls at Arenal Observatory Lodge is one of the nicer ones, and it's my third time to visit it! There are other "seasonal" waterfalls here for when the rain is heavy, but the longer trails to them are more dangerous when wet for this old man who falls easily, so I haven't tried any of them.  🙂
The people who were at the falls the same time as me were all Europeans from England, Holland, Germany and maybe one more country. We also have other countries represented at the lodge this week including Canada, Japan and China and though I haven't met anyone from the states yet, there are most likely some here. The ones playing in the waterfall plunge pool are Europeans – 4 shots including this first scenic one for the email notice . . .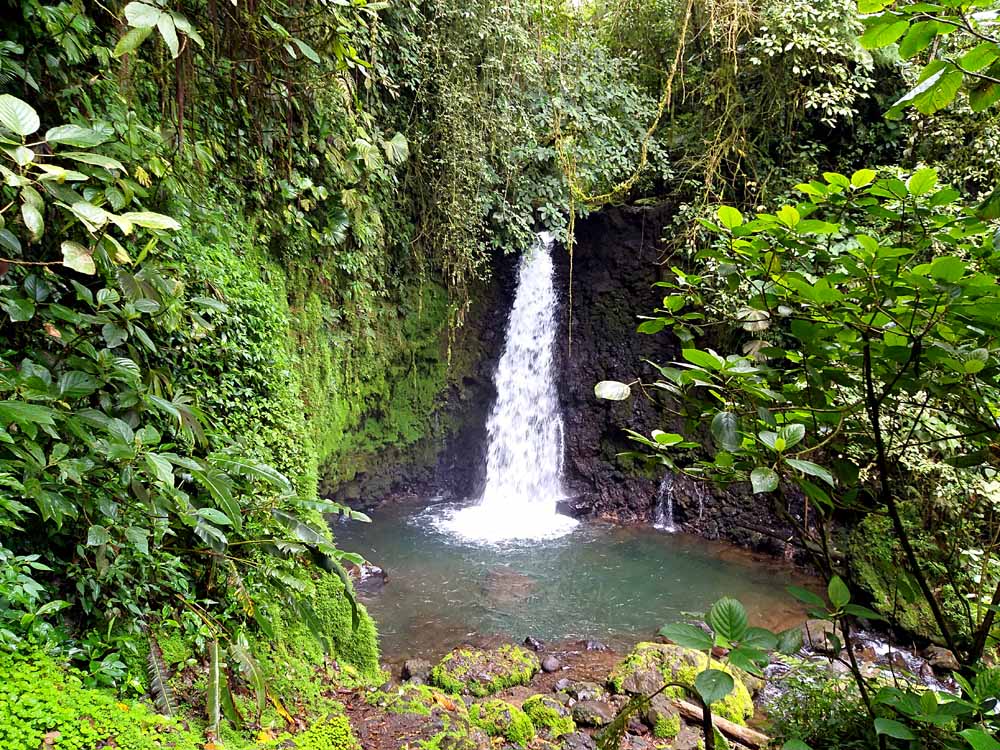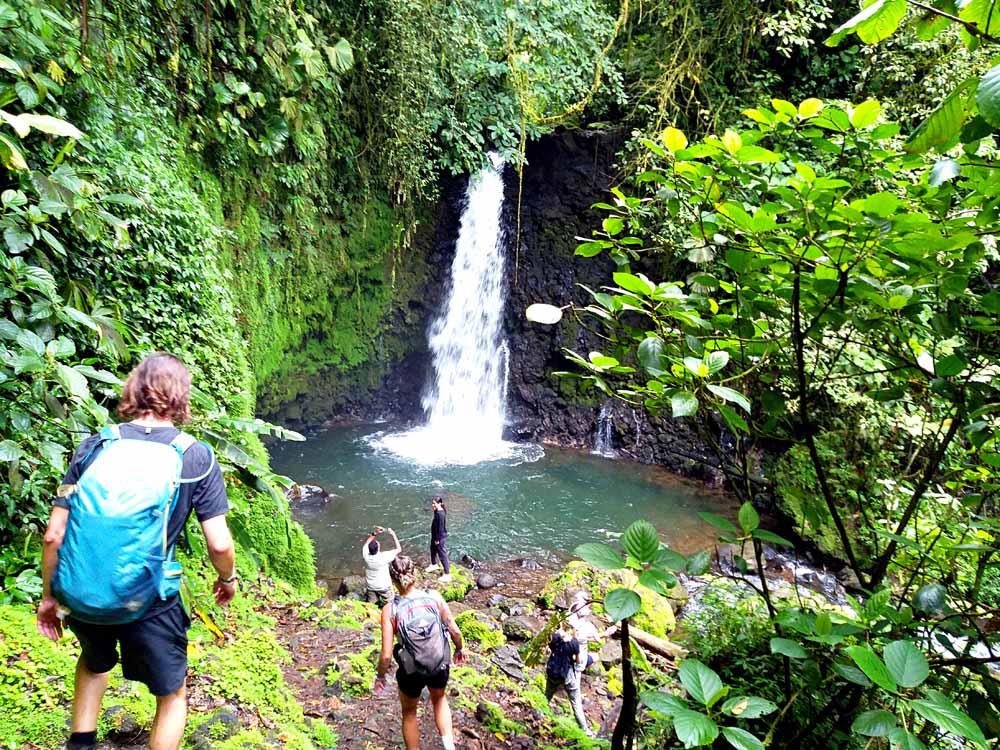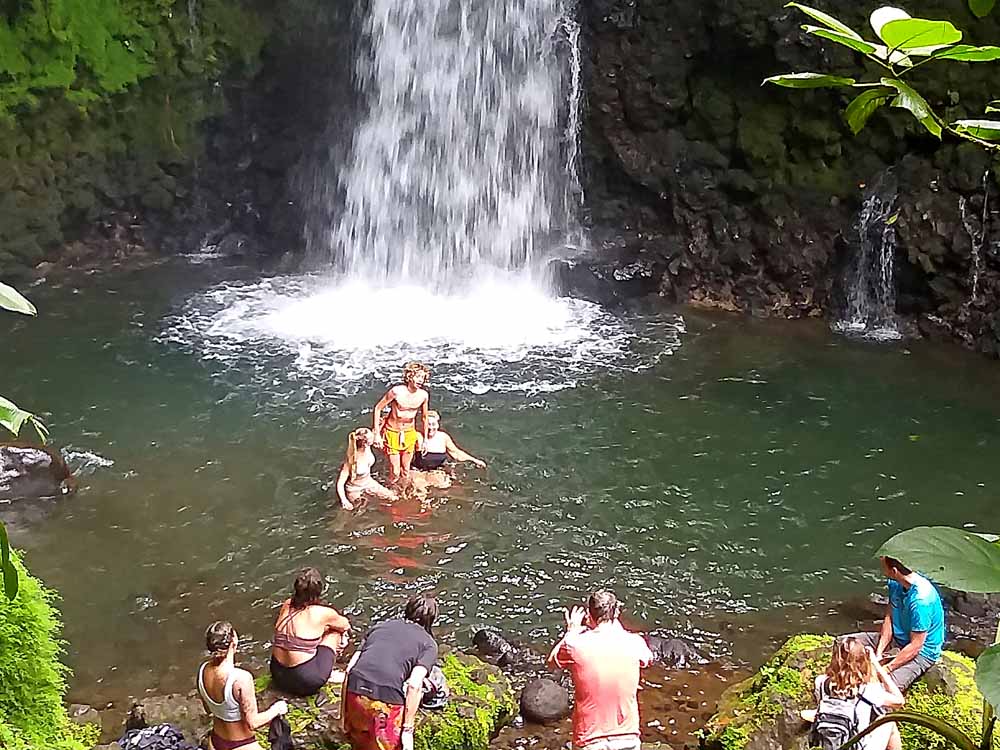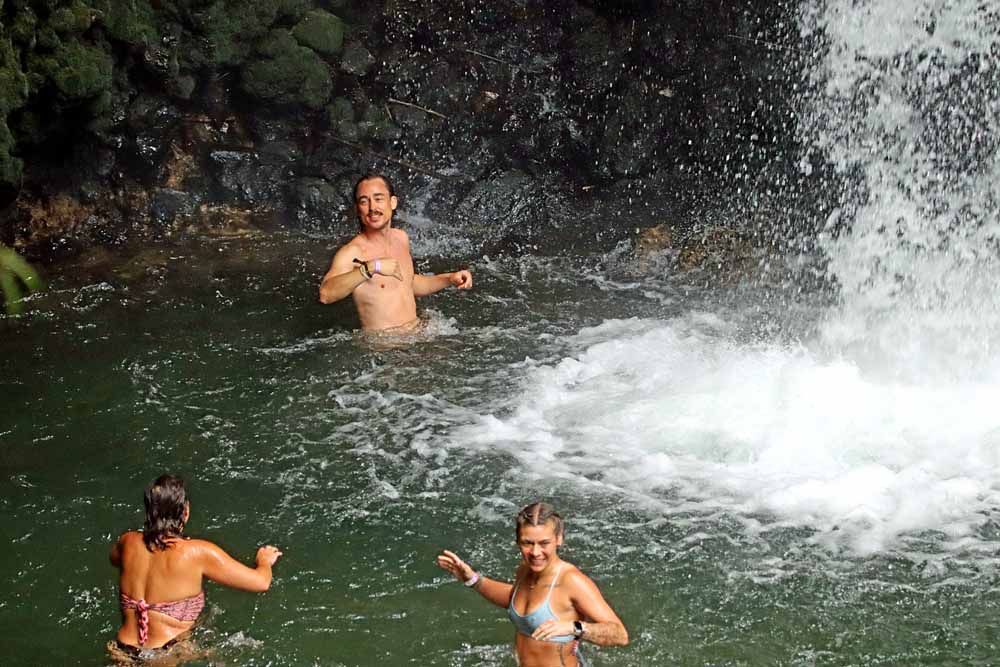 And if you don't know, "Danta"(name of the falls) is the Spanish name for the animal called a Tapir (or tapirus) in English and there are some living in this rainforest though very shy and seldom seen, unlike the Coatis and monkeys which we see everywhere!  🙂
The subspecies living in Costa Rica is called Baird's Tapir, Tapirus bairdii, (link to tapirs.org with map) an endangered species that I have seen in the wild only once here, at the Tapirus Lodge in Braulio Carrillo National Park. They are endangered mainly because of habitat loss with less than a 1,000 in Costa Rica now and we supposedly have more than any other Central American country. They are one of the largest land mammals in Costa Rica often called a "miniature hippo," but actually their closest relatives are Rhinos and Horses. 🙂  They can weigh between 300 and 700 pounds and thrive on leaves, fruits, plants, twigs and roots. They are also a major food source for the Jaguars (also an endangered species) and Pumas (a threatened species). Read more in the above link.
¡Pura Vida!