Second Grade, 1947-48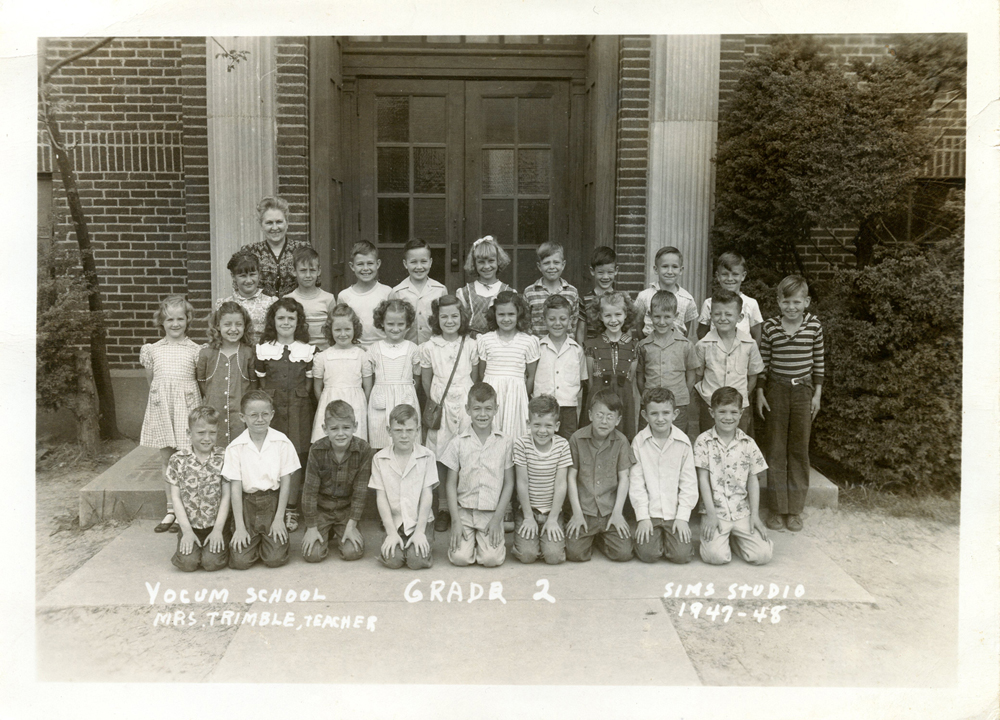 At 80 years old now, I remember nothing in particular about the second grade, as with my first grade in Pine Bluff. And these are my only photos of 2nd grade with none from 1st. CLICK an image to enlarge: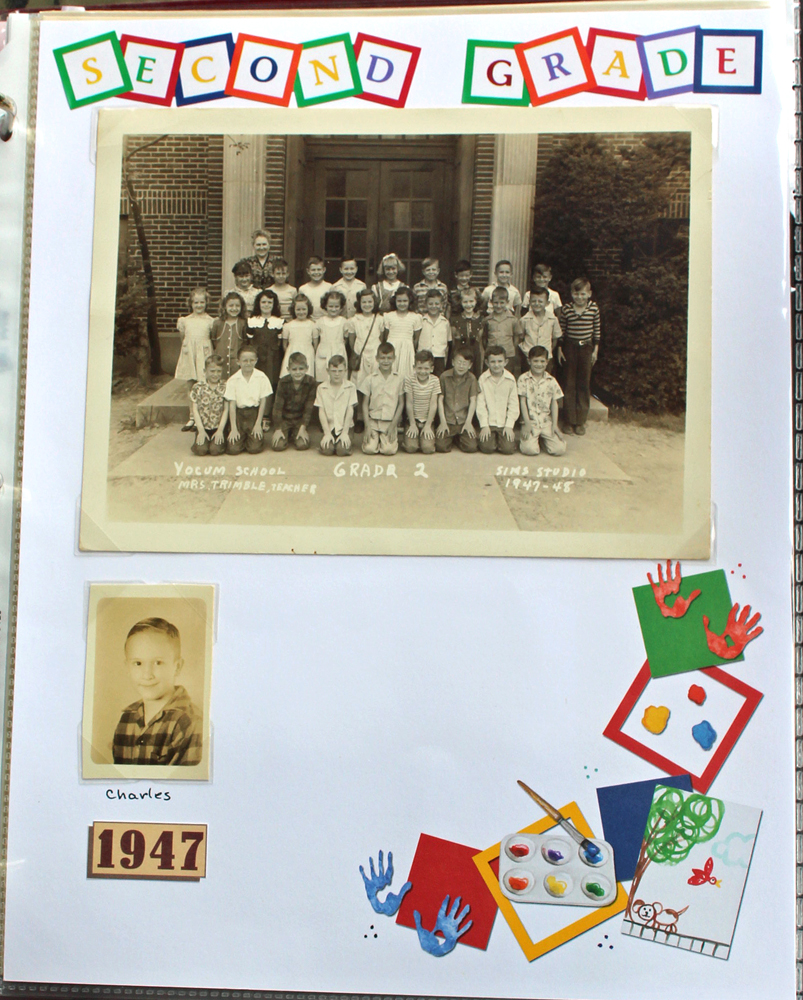 For bigger photos plus family photos see my 47-48 2nd Grade Scrapbook.
Third Grade, 1948-49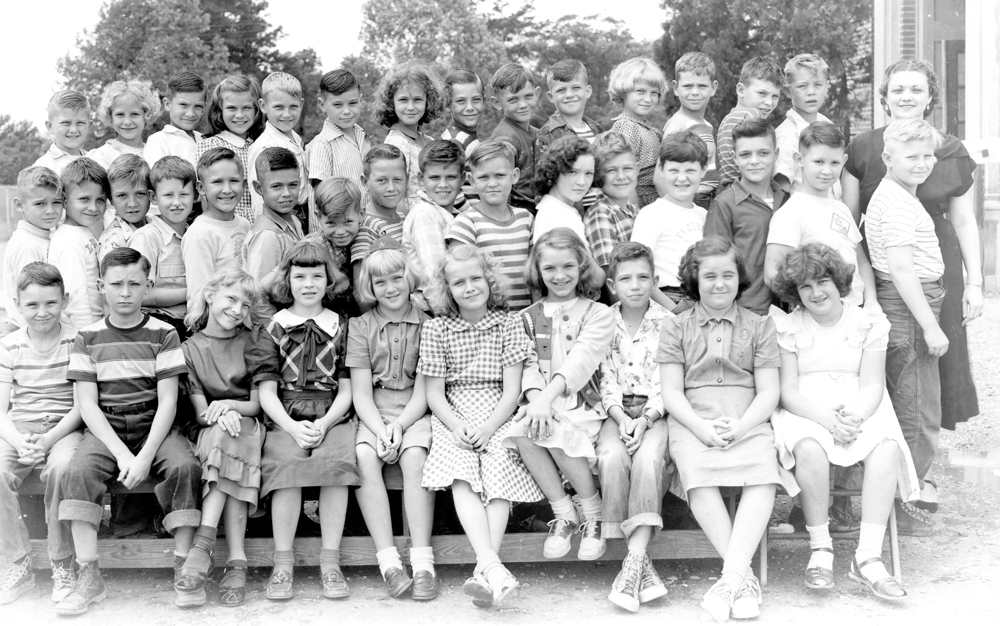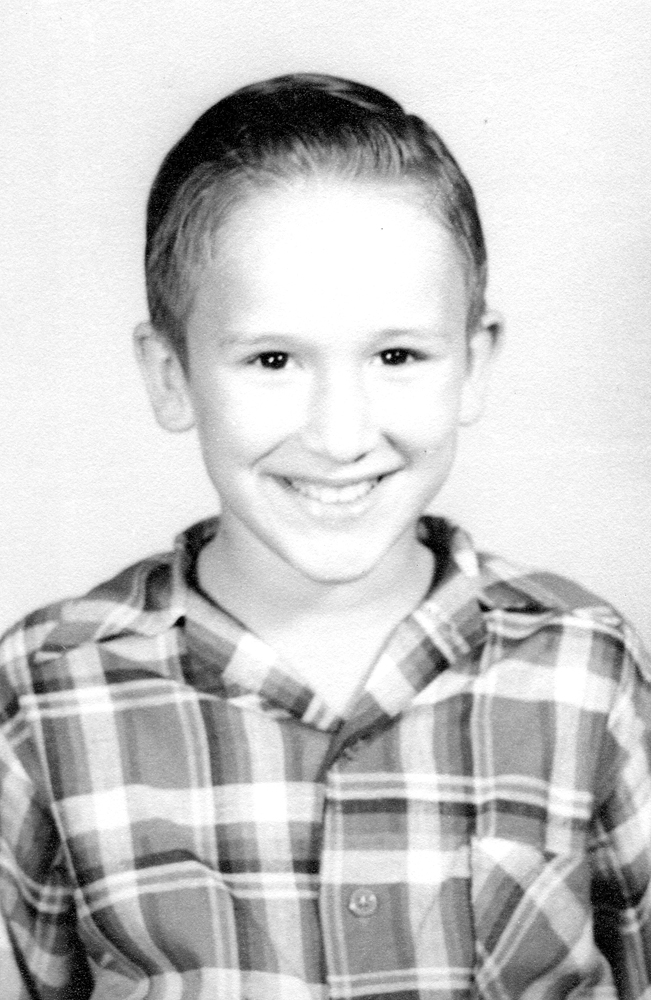 Again, I don't remember many specifics about school for this year. I do remember begging Mom to pay to have my picture made on the pony which was an extra during the year and not a part of school photos.
I remember the playground out back behind the school with monkey bars and swings and occasionally the teachers had us playing some group games. The ball fields were to the side of the school and I think we did not play baseball or football until maybe the 4th or 5th Grade, not sure.
Below slideshow is images are of my scrapbook pages for 3rd grade, first day of school photo with Jerry and that pony photo a begged for! 🙂
Note that the "First Day of School" Photo of me and Jerry is me in 3rd Grade and I now believe Jerry in Kindergarten rather than first grade like I said somewhere else, simply because he would have turned 5 in August 1948 and this is the September 1948 beginning of school. The cousin school photos were something the mothers exchanged some years, more with Gene's kids than Harold's. And we got cousin school photos from Dad's side of family only a very few times later than this. Only Gene & Iris's two boys this year.
For bigger images see my 1948-49 3rd Grade Scrapbook.
Fourth Grade, 1949-50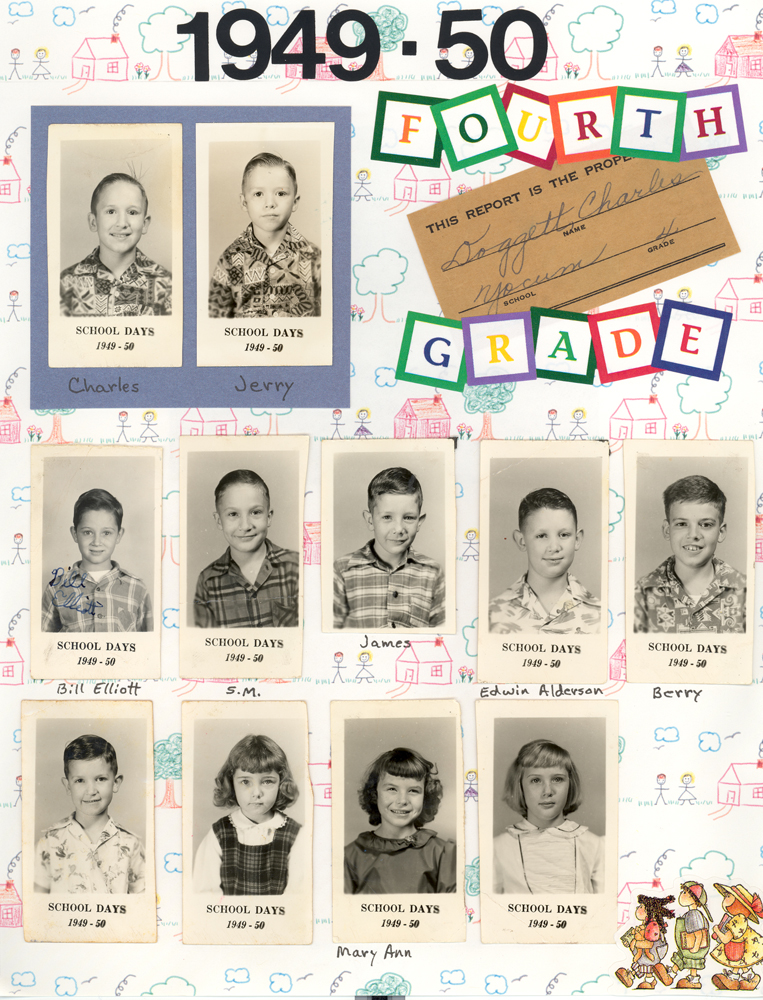 Fourth Grade was a turning point year for my life in some ways, I think. It is the year I start Cub Scouts and the great Boy Scout program over the next several years became a major influence on my life.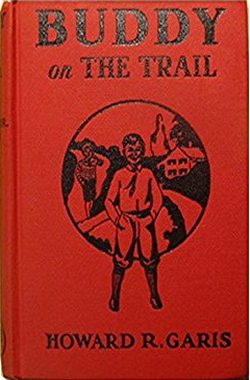 By this time or maybe the year before, I started reading the "Buddy Boy Books," a series of books for children about the adventures of a boy named "Buddy" with trips to other towns, grandparents' farm, in the woods and more, plus local adventures in his fictitious small town like my El Dorado. And my love of reading began with those books that my parents and Grandmother gave me for birthday and Christmas. Fond memories of becoming a lover of books!
These easy-to-read books initiated by Mom & Grandmother got me reading outside school and led to two other series of youth books in later years, "The Landmark Series" of stories about the history of the United States and then the Hardy Boy mystery books that I'll tell about later.
I think it was also this year, but could have been 5th Grade year, that I signed up for Band as my music class, since I didn't think I could sing. I think I wanted to play drums like all boys, but the band director got me to play cornet which I loved and continued playing through my Sophomore year of high school, with Junior High Band being the most influential and fun time for me in band, though in high school I did get to go to a band camp in Gunnison, CO.
For bigger pictures see my 1949-50 4th Grade Scrapbook or here's a slide show of scrapbook pages related to school & Scouts in the Fourth Grade web-sized:
My world is now becoming bigger, more exciting, with my love of life more vibrant. A thirst for knowledge and travel is growing with a more intense interest in nature, and I'm looking forward to the future! 🙂
Fifth Grade, 1950-51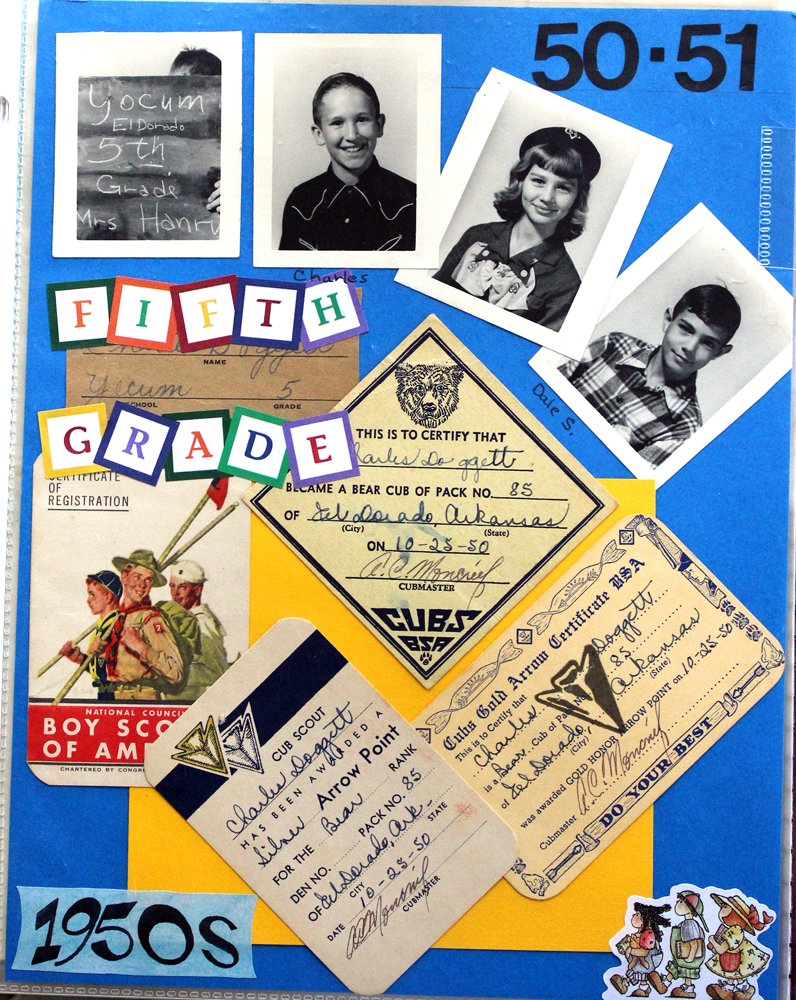 Fifth Graders were beginning to feel "big" or second only to 6th Graders as oldest in the school. I know for sure I was in Band this year and school work was getting more difficult. This was the year that I was given a part in a school play that we performed in the auditorium before the whole student body and all teachers and I was scared to death! I had always been shy and mostly quiet and very self-conscious, but to have a speaking part before the whole school was almost too much. But . . . I did it and was fine afterwards! 🙂
This was the year that some boys started talking about sex and also the year that more boys became bullies or treated those of us who were less athletic kind of ugly, making fun of us which never feels good. But we survived!
By now I had started reading Landmark Books, American History stories for children. This was on my own, apart from school reading assignments. A fabulous series that children today would benefit greatly from! It was my second series of books to read after the Buddy Boy books. They all helped me to love reading at a young age!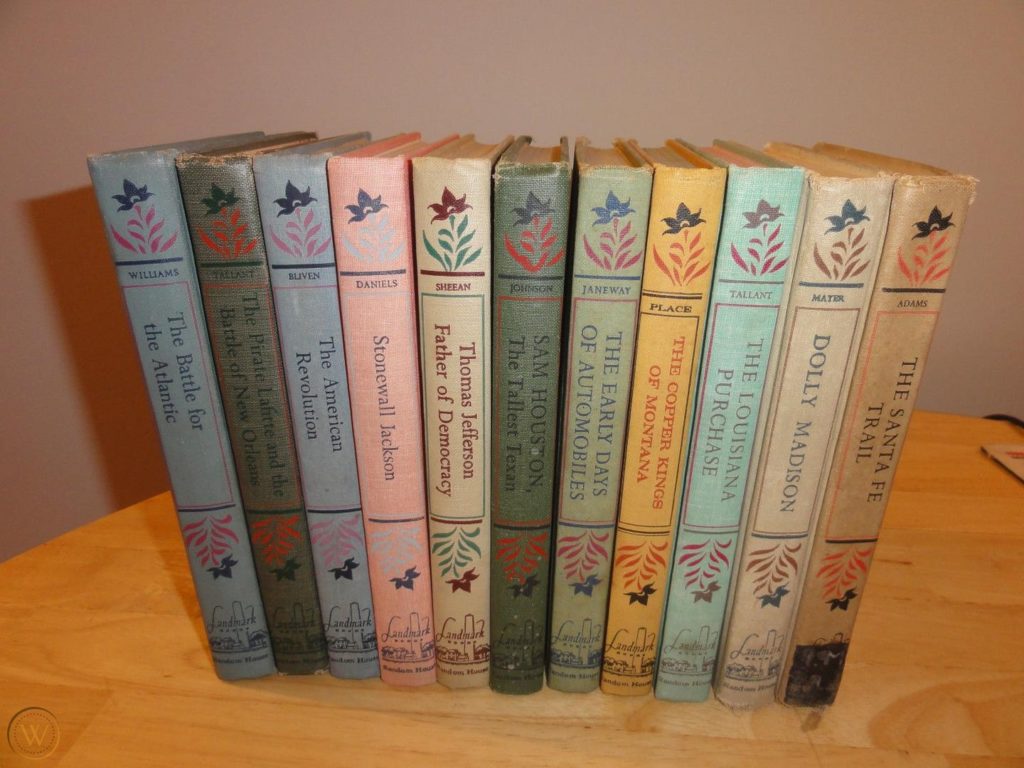 The most and largest photos are in my 1950-51 5th Grade Scrapbook gallery and from that I've web-sized just the school & scouts pages for this slide show:
The world was before me as a very big and exciting place and I wanted to experience it all! 🙂
Sixth Grade, 1951-52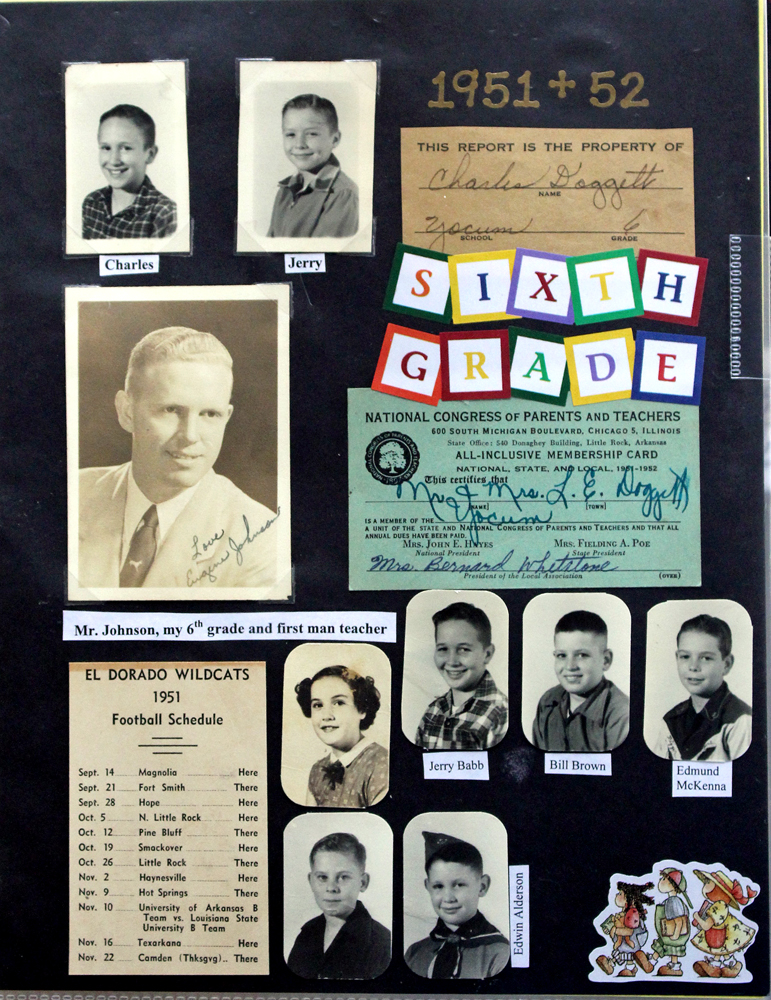 I remember really enjoying school this year in spite of some of the ugly, mean boys or bullies that I guess every generation has even up through adulthood. Well, look at Donald Trump who reminds me of the small number of ugly boys who could take over and dominate a group except in the classroom where teachers maintained good control most of the time.
It was really neat having a man teacher this year for the first time ever! He not only handled those "bad" boys well, but had a great relationship with all of his students and I think everyone liked him. He would read whole books to us one chapter a day. The one I particularly remember him reading to us was Call of the Wild by Jack London.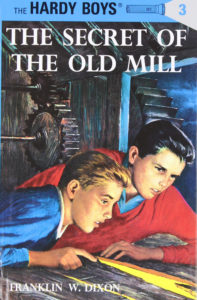 He also encouraged me to continue reading my Landmark Books about history and the new series I think I started this year The Hardy Boys books which I loved.
Plus we were getting deeper into all our subjects at school and I was enjoying the band class, which may have performed once in a school assembly, not sure, but was mostly a music class which I chose over choir.
The big thing at home this year was that my Mom was pregnant and going to have a baby during the summer after my 6th Grade. We had no family trips that I recall or find in my research. And I don't really have much from school that year in the way of photos or writing. My 1951-52, 6th Grade Scrapbook has what little I have in the way of school stuff or photos plus scouts, then of course the big event of Bonnie being born. Here's a slideshow of the just the school and scouts pages during 6th Grade, web-sized:
The struggle of maturity is to recover the seriousness of a child at play.
~Fredrich Nietzsche
¡Pura Vida!