Amazon River Mission Trip, Brazil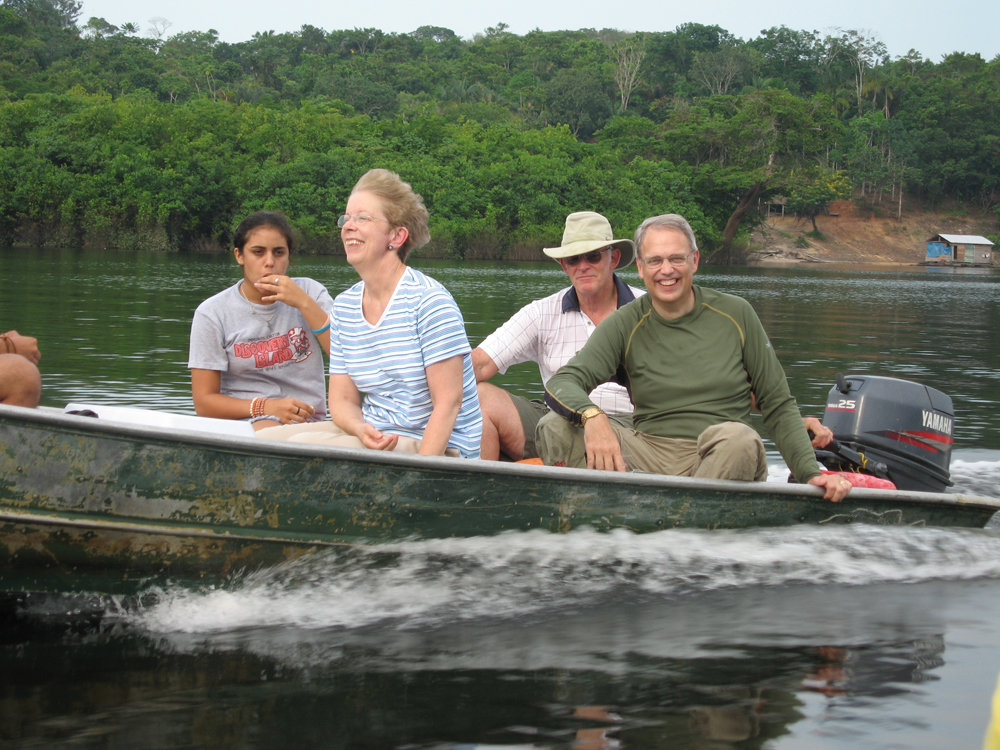 PHOTO GALLERY: August 2006 Amazon River Mission Trip, Brazil
Journal
August 17, 2006 – Amazon River, Amazonas, Brazil -Day 1
We left Nashville yesterday (Aug. 16) around 2:00 PM on a small plane to Miami. The bigger TAM (A Brazilian Airline) was an hour late leaving, thus rippling down to everything in Manaus. That meant we did not leave Manaus until about 2:30 AM this morning and finally got across the ferry at 5 AM and on our boat in Manacapu (a river port suburb of Manaus) around 6:30 AM, with our boat, the Marco Polo, leaving the dock about 7:30 AM.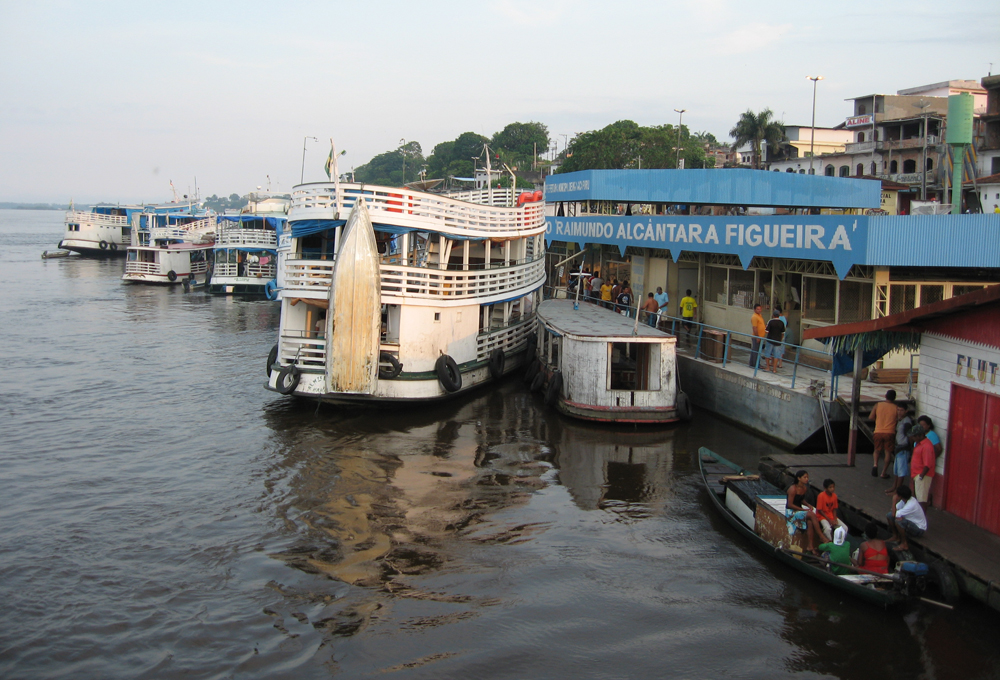 LATER SHOTS OF OUR BOAT: THE MARCO POLO: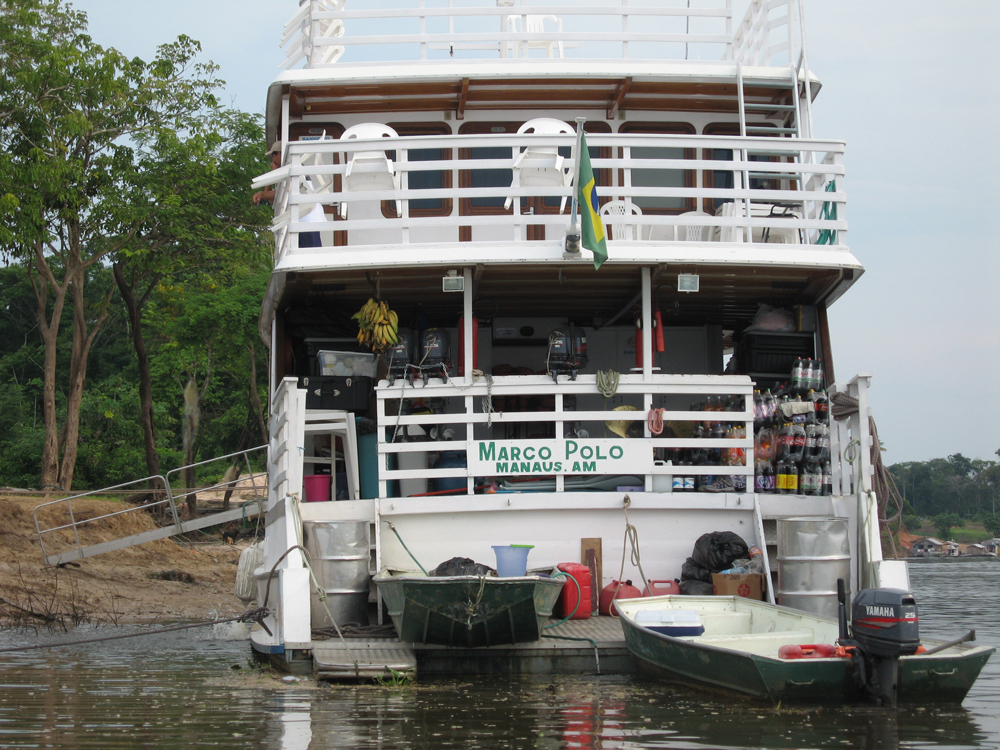 The last time I checked, we were still on the Amazon River going west, though between Manaus and the Perus border the people call it the Solimoes River. We are heading for the junction of the Purus River where we will turn off. We may not reach the Purus until about 4 PM we were told. Then we keep going up that river past Paricatuba where we begin our witnessing activities tomorrow, working our way back down the river for a week. We will make one stop along the Purus to pick up a Brazilian pastor who will be another translator for us.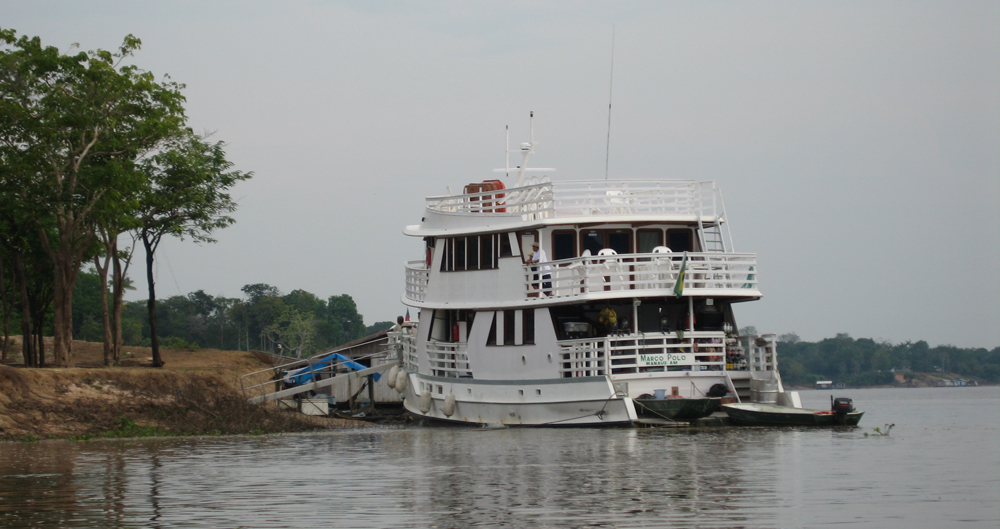 Breakfast and lunch food was good on the boat and all of the views are very interesting. I've already made a lot of photos. I did not really sleep all night last night or this morning, though I rested. I am tired, sleepy, groggy or not alert and hope for deep sleep tonight. I do have the CPAP machine. I'm in my little shared room now but will go out on the deck shortly to read. I brought Doctor Hudson's Secret Journal. We have a good group of 13 from the states plus several local interpreters. And I've already enjoyed watching people on other boats from the time we boarded in Manacapu! Here's my
FIRST DAY SLIDE SHOW:
This slideshow requires JavaScript.
August 18, 2006 – Purus River, Brazil – Day 2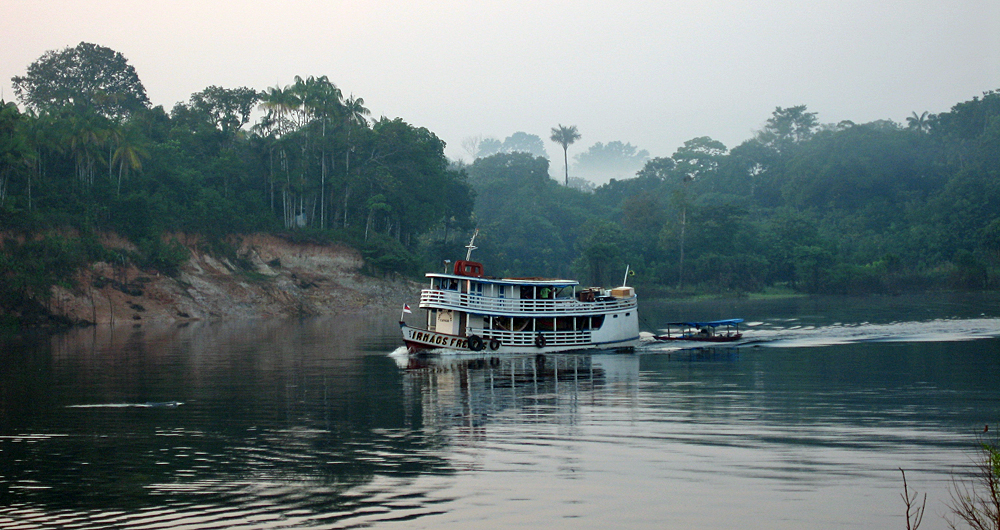 We entered the Rio Purus at about 3:30 PM yesterday and are at a village location where we will be through noon tomorrow. It is 1 PM and we all had good experiences witnessing this morning. We go back out around 2 PM. I was with Pat Still and a local pastor with a name that sounds like "Lee" or at least that is what we Americans called him. He is a great interpreter! We went to three floating houses and spent some wonderful time with 3 families. One was Assembly of God and seemed sure of their salvation. We had decisions at the other two houses. We have bracelets for the children, in all three cases the adults wanted them too. We have ABC and colored beads, each with different message of salvation.  A few August 18 shots:
This slideshow requires JavaScript.
While we and others were on the river, some went to the town center and did children's activities and others went to homes in the town. We are going back to the same areas but different homes this afternoon.
I'm now reading a book from the boat library, Lost in the Amazon, by Stephen Kirkpatrick, the true story of 5 men lost in the Peruvian Amazon in 1995, battling for survival and their faith. I'll read the other book after I leave the boat. This book will add to the adventure of this trip!   🙂
LATE EVENING
We had a good afternoon with 5 decisions in three of the five homes visited. There was also a very good dinner with reports and 2 testimonies. It is about 8 PM and I'll prepare my devotion for tomorrow and maybe read some more in the Amazon book.
Sunday, August 20, 2006 – Purus River, Brazil
Well, yesterday went by so fast I had no time to write. I did the breakfast devotional from 2 Chron. 10 and then . . .
Yesterday, August 19, 2006 – Paricatuba 
For the morning trip I was alone with Tom the missionary (Tom Latham I think) and we had a great time in and around Paricatuba – so much so that we missed lunch! He will spend and hour and a half with persons who make a decision. For one family we went to the lake and baptized 3 men including a 15 year old. Then a home with a man getting a haircut with decisions plus I saw a neat frog. At the house of a fisherman mending his nets I photographed the Ocelot or Jaguar pelt he had on his wall.
Then at the house of the village president's daughter was a beautiful experience. Two college students were there researching, interviewing the man. They were planning to go with local hunters that night to photograph and record how locals hunt for meat. Very interesting! But best of all is that both students prayed to receive Christ. It took so long that we missed lunch – but well worth it! I also photographed another wild cat pelt on their wall. The afternoon was in a Jon Boat and a lot of mud! No decisions.
A SLIDE SHOW OF SOME OF 19 AUGUST:
This slideshow requires JavaScript.
In the evening we dedicated and started a new church in Paricatuba:

August 20, 2006 – Aruma on the Purus River
This AM at breakfast we had reports and plans to disciple today where we were the first day, here in Aruma.
ARUMA SLIDE SHOW
This slideshow requires JavaScript.
5 PM
I'm sitting on the top deck watching dolphins jump but never able to get a photo. This afternoon Pat & Ellee or Ahlee and I went further up river and into a tributary where we visited several homes, both floating and on stilts where all were Christians. They were very pleasant visits and I loved tying bracelets on the children's arms. We are now resting until 6 PM when we go into Aruma to show the Jesus Film. I'm trying to read again now in my loaner Amazon Adventure book.
Monday, August 21, 2006 – Purus River, Brazil
6:30 AM – Tried some first light photos but no real sunrise shots with the boat on east side of river. I got a boat Derek asked me to photograph – I think it is like what they want to get for use with area evangelist here. Breakfast is not until 7:30, so I will read or try to.
Apuri Nani tribe was contacted yesterday and in the devotional we prayed for them. They are not in a protected area, so we can evangelize them now and the Betuweme pastor says they will.
Two Jon boats will stay here in Aruma while we take the big boat down stream to a small village where the rest of us will witness.
Our morning was first moving down river in the big boat, The Marco Polo, then to floating houses and a few on land along the river. Again all were already Christians but we had good visits and shared the cube with all as education the them. A good time!
This slideshow requires JavaScript.
We did get stuck in sticky mud again at one place to my ankles (in my good sandals! Ugh!) and Norman was up to his thighs in mud! He was the interpreter for me and Wayne Poling today.
This afternoon we went to two homes with beautiful families, the first were already Christians and the second all prayed to receive Christ. That is where we saw a dog "walk on water" which was really on a big log slightly covered in water! The second family's floating house was at a stopover on their way down river to Betuwame. So when the pastor from there came by, we invited him in and they got to meet who we hope will be their pastor soon. It was a fun visit as most have been. Everyone is so friendly and welcoming!
We came back and I watched some of our group catch some red-throated piranha. We also watched pink dolphins jumping up and heard parrots singing and saw them flying at a distance.
After dinner, Eh-lee brought in a black piranha. After reading awhile, Eh-Lee and Tom came in with two small caimans which we all photographed and some held for photos. A lot of excitement!
Tuesday, August 22, 2006 – Matias & Beruri, Purus River, Amazonas, Brazil
We spent the night at the juncture of a break-through or short-cut across an oxbow bend in the Purus River. It is narrow and we are closer to the jungle and birds than we have been. Again we saw lots of river dolphins jumping. I saw a lot more pink ones here. As we started breakfast the Marco Polo started through the short-cut and I sat in the bow or front of the boat with camera and a plate of food. We saw a lot of flooded forest and many birds. Part was a very narrow passage and part more like a lake. I really enjoyed this 30 minute plus short-cut and being closer to the jungle. We are back in the main channel of Rio Purus now and have passed Paricatuba where we dedicated the church. They have a village in mind for us to work today. and maybe again tomorrow.
TODAY'S ACTIVITY
This slideshow requires JavaScript.
The Purus is an amazing and large river, like the Mississippi back home. It is very wide and deep and yet not in the high season (which is Jan-Apr) or the rainy season it is also called. You can see water marks on trees 30 to 50 feet up in some places. They say that the river averages 60 ft. wider or over onto each side bank in the flooded season.
TODAY'S BIRDS
This slideshow requires JavaScript.
Well, it looks like we may be pulling in and I haven't read a page yet in the book. Well, I just thought we were pulling in, but we are not to our village yet and it is name Matias. It is 9:30 and I'm back to reading again.
12:25 PM
We (Wayne, Tim, Pastor Natan, Junior and I) went to two floating houses with decisions in one. Then Pastor Natan wanted to go to the school where 2 of his church members teach. He visited with them. Pat & Linda were finishing up their witness to children and it is lunch time now!
Wednesday, August 23, 2006 – Beruri, Purus River, Amazonas, Brazil
We docked in Beruri last night and Pastor Natan explained how we will canvas two neighborhoods today – our last day of work.
I slept fairly well last night and I'm down to the last 3 or so chapters of Lost in the Amazon book. I will now try to read some before breakfast as I really want to finish it before we leave the boat tomorrow.
I actually finished the book before breakfast! Great! The author, Stephen Kirkpatrick also has a coffee table photo book Romancing the Rain which I would love to see.
At breakfast I got email addresses of several here in Brazil which I will not include in the public journal and I'm not sure I ever used them.
We had good morning visits in Beruri in the rain! We had seven decisions.
BERURI IN THE RAIN – PHOTOS
This slideshow requires JavaScript.
It was a great afternoon with seven more decisions. All total the group had 95 today and 280 decisions to become Christians this week. And we still have a church service at 7:30 tonight.
---
Thursday, August 24, 2006 – Purus & Amazon Rivers to Manaus
Plus My "MANAUS ADVENTURE" Begins
Up early on the Marco Polo boat and on down river to Manacapuru Port near Manaus after breakfast.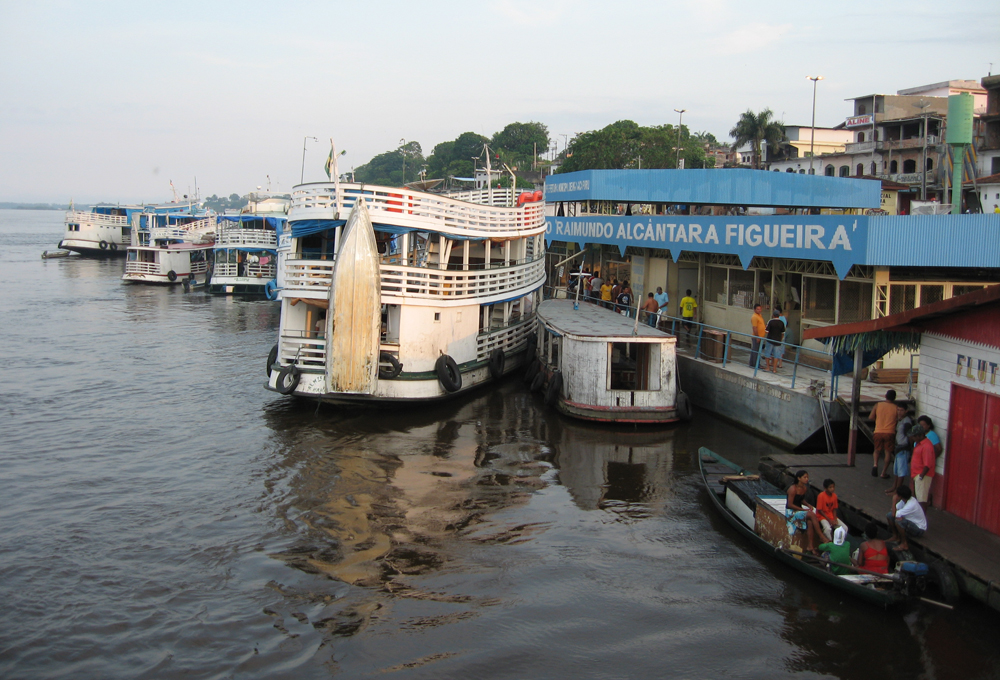 It was a nice trip and final visits with the mission team and all our new Brazilian friends.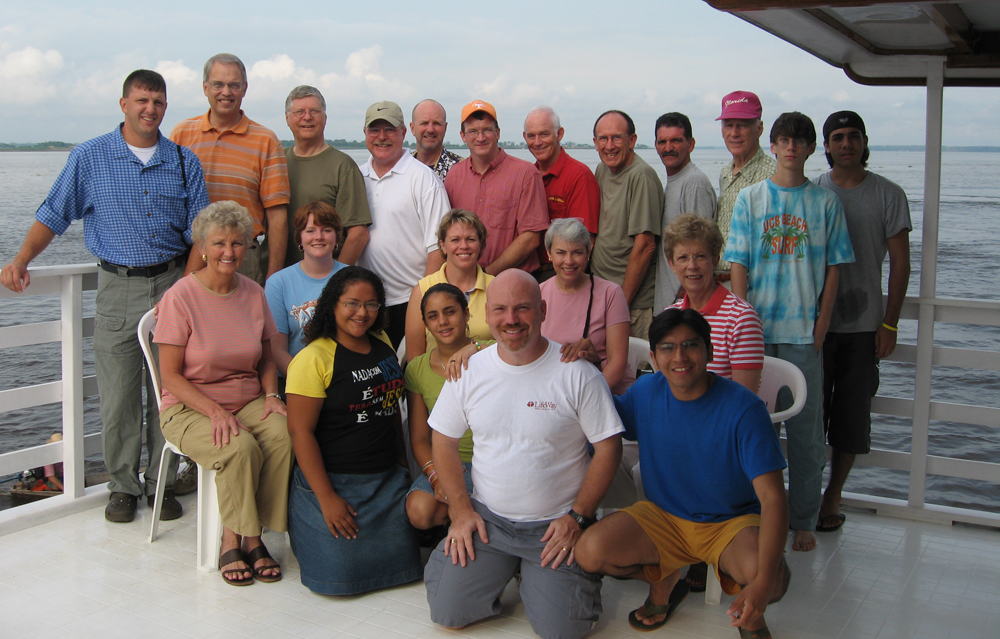 When we crossed over the Rio Negro on the ferry I said goodbye to all the other mission team members who were all going to the airport and back to Nashville.
Never wanting to miss another adventure opportunity, I got a taxi to my Hotel for three nights, The Tropical Manaus Hotel. It is huge and very nice though mostly old, colonial style with one modern tower of newer hotel rooms. I'm in the old part which is more interesting, colonial and colorful. (Since writing this on the trip I have learned that the modern tower is separate now as a Wyndham Gardens Hotel and that the old hotel I was in went bankrupt and closed. Hope someone saves it – a cool old hotel!) Thus there is no link to it.
At Hotel Tropical Manaus, Friday, August 24-26, 2006
I had lunch and met my local travel agent so we could discuss Saturday plans. Then I explored the large hotel grounds and got on a list for a plane trip over the "Meeting of the Waters" where the two different color rivers come together, Amazon & Negro. They must have at least two people to fly, so I hope someone else wants to go. I will check back with them again in the morning.
I also plan to meet the biologist in the hotel zoo tomorrow, check email, rest, swim, and play with my photos – possibly a full day tomorrow!
At Hotel Tropical Manaus, August 24, 2006
Tonight I went to the dinner show off Indian dancing which was really good but not real indigenous people. They were all college students (or that age) doing what might be authentic cultural dances or just story-telling about the indigenous people of the area. But whatever, I really enjoyed it and now it is after 10 and I'm off to bed!
Friday, August 25, 2006
Wow! It is already 2:15 PM! I was in bed a full 8 hours with about 4 hours of deep sleep and the rest off and on as usual with the CPAP machine. I have decided to not take it to Mamiraua. Hope I don't regret that, but we are limited in what we can carry on the "speedboat" to the reserve. I even plan to do without it tonight so I won't have to pack it in the morning. That means 6 nights without it. A real test! Hope I get enough sleep.
After a huge breakfast (A "Tapioca Omelet") She used tapioca in a skillet to make something like a crepe. I chose the ham, cheese, tomatoes and onion in mine. They also had fruits and jellies you could use. Then I got several cool pastries that are all so good here! All that with 2 cups of coffee and finished with a plate of fresh fruits and a glass of orange juice to wash down my morning pills. I will miss all that tomorrow! I leave too early!
After breakfast reading my Amazon Wildlife book, I checked with the seaplane people to see if someone else had signed up. No! I even checked with Maristela for some other option with no help.
Then I went swimming and sunbathing & reading a little until it started raining. I've spent most of my time since backing up and erasing my photo disks to be ready for Mamiraua. I took a walk around the pool close to me and through their bosque or forest, photographing some interesting plant life and one yellow and black bird too far away.
One of the times I was in the room, right after the rain I think, the seaplane guy called to say he had another single passenger wanting to fly and they will do it for the 2 of us. So I am scheduled to meet them at 4:00 PM and fly out at 4:30 PM – a 20 minute flight over the city of Manaus and "The Meeting of the Waters" where the Rio Negro and Rio Amazon merge but don't mix at first, meaning a two-toned river for awhile. I'm looking forward to this and hoping for some good photos. Then tomorrow my water taxi/bus might drive through it. We will see.
I love the Amazon and all of the people! Plus this hotel is really nice! Even the old colonial par that I'm in. This feels more like Brazil than a new one would. I love the colonnades, many courtyards and fountains and the rich-looking gardens with tropical flowers of course!
I have seen 3 swimming pools and there may be more. The one just out my window has a waterfall, fountains and multiple sections or walled off areas. And they have a wave pool here!
Their "Zoo" is great for kids but would never pass AZA rules! And the cages don't allow for good photos. The biologist who was supposed to guide us through it this morning never showed up! Nada!
I'm missing lunch today. I had a granola bar and water earlier. I'm now tempted to get the can of cashews and the Guaraná Drink in the mini-bar. I love this distinctive Brasilian drink made from the beans or fruit of the Guaraná Tree that grows only in the Amazon. They pronounce it with a rolled "r" in the middle that sounds to me like  "Gwa – ta -naa."
Well, nearly three, so just an hour to play with photos and have my snack before the plane ride.
7:45 PM
The second person for the seaplane trip did not show up after we waited until 4:30. The price for a solo trip is R700 but they gave me a special price of R550 making the discounted price about $200 for me and I accepted it because I was really pumped to go, though I thought a little expensive, but then planes and pilots are expensive!   ?
It was a great experience and worth the increased price! My first time in a seaplane which took off from the water of the river by the hotel. The views of both rivers and the city of Manaus were great. I hope the photos turn out okay.
I then dumped all the images off my cards and charged all my batteries in preparation for the jungle tomorrow. I'm getting excited!
Then I had dinner as a sandwich or Brazilian hamburger in the little cafe next to the coffee shop which is also next to a game room with pool tables and other game tables like for cards and gambling with green felt tops. I had a unique Brazilian ice cream made from the fruit of some tree that was fabulous! I hope to get the name when I'm back here the 31st.
I'm going to organize photos for awhile then off to bed. Alarm is set for 5 AM.
---
NOTE: I stay another week in the Amazon with 2 days in Manaus (above) and rainforest trekking in the Mamiraua Reserve's Uacari Lodge. More about it at:
2006 Mamiraua Amazon Rainforest Trekking JOURNAL
2006 Mamiraua Amazon Rainforest Trekking GALLERY
"To move, to breathe, to fly, to float,
To gain all while you give,
To roam the roads of lands remote,
To travel is to live."
― Hans Christian Andersen
¡Pura Vida!