Nine Yanks & A Jerk by Scott Culver
The following is an email from Scott Culver:
The book, 
Nine Yanks and a Jerk
,  is now on sale on Amazon. This work grew out of the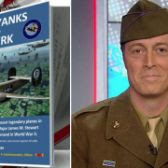 larger volume I am still writing called 
Daylight Raiders
. I wrote into 
Nine Yanks and a Jerk 
what I could comfortably fit. I would like to use some of the material from your website in the later volume, if that's okay with you. (You will certainly get due credit. Thanks.) You can read 
Nine Yanks and a Jerk's
 description on the link below.
Below is Link to my interview on Fox News with Eric Shawn.
If you ever find out more about how the plane was named, please feel free to contact me.
Thank you for your help and support!
Sincerely,
Scott Culver
'Son of a Gunner'
Son of S/Sgt. Henry J. Culver, Sr.
Ball turret/waist gunner/assistant engineer
445th Bombardment Group (Heavy), 703rd Bomb Squadron
Under Squadron Commander Major James M. Stewart
Tibenham, England
2nd Air Division
U.S. 8th Air Force, ETO, World War II
—————————————————————–
Here are three scans from the above book Nine Yanks and A Jerk, the cover plus pages 102 and 163, the only two pages where Earl is mentioned and that is from my website. So nothing new! But it is a nice book and tells a lot about the unit Earl served in and one of the planes. Note that crews served on different planes and Earl was on a different plane that went down before this 9 Yanks plane, but he was on the original crew and figured prominently in the naming of it. Since he was the only southern boy with nine Yankees, you now see how it got its name. Back then Northerners looked down on southerners, especially farm boys like Earl.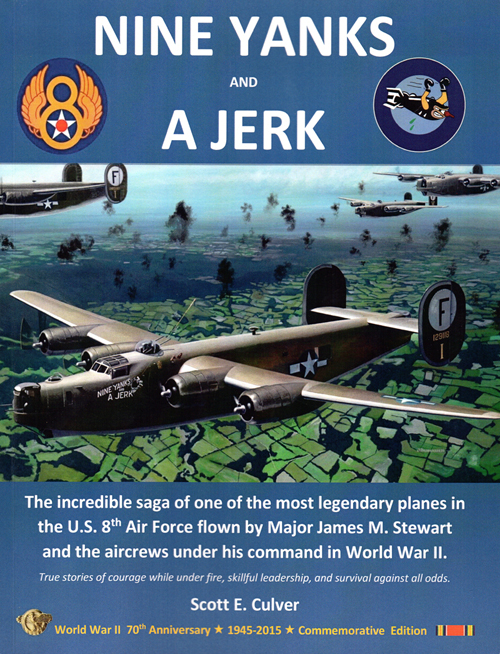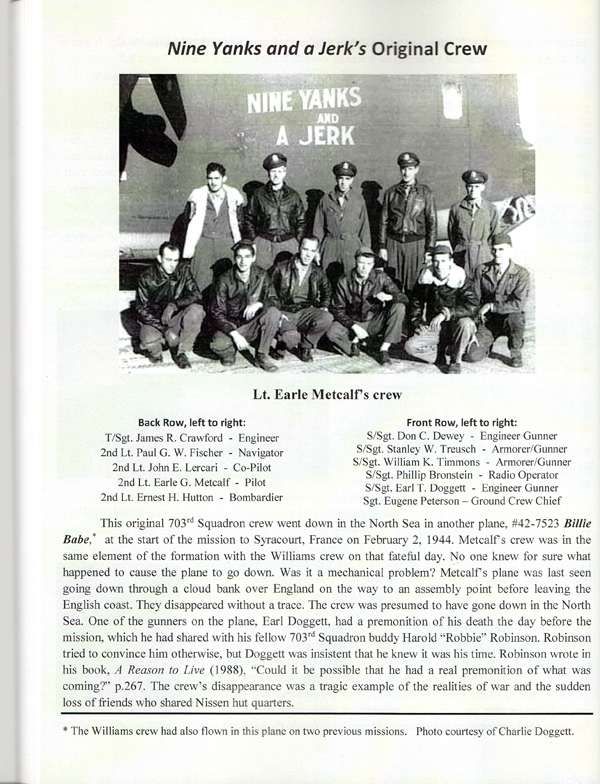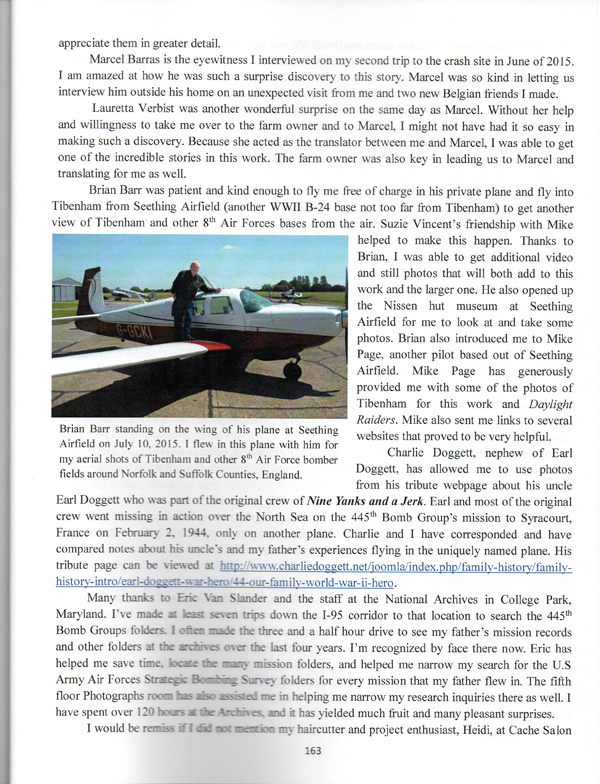 I got a copy of the book from Amazon.com and it is nice but not much about Earl or much help in knowing more about Earl or his experiences, though it relates and is about his plane and crew. And of course the web link to this site will no longer work since I relocated the site. Sorry!