Canada MENU
1980's Memories of Consultant Visits to Canada ARTICLE COMING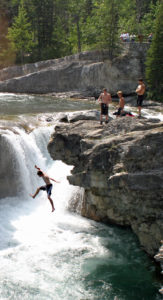 Canada became a favorite country of mine early, not only because of the visits there, or the beautiful nature like my feature photo above of the Western Alberta Rocky Mountains, but mainly because of the great people I kept meeting from Canada everywhere I went!
Today as I live in Costa Rica some of the nicest "other expats" I find here are from Canada! In my 2013-14 Caravan.com tour of Panama it was a Canadian family that "adopted" this single old man solo traveler into their family and included me in all they did and still correspond with me today. Wow!
And earlier, while working in The Gambia West Africa for three years, my favorite "other missionaries" and "non-missionary" expats were from Canada and England. In fact, on the 2003 trip to Alberta I got to have lunch with the family of one of the Campus Crusade Gambia missionaries who lived in Alberta. The most hospitable people in the world! Fond memories!
And I recently shared a story, "Good Samaritan Serendipity" in a blog post about a couple from Western Canada who helped me in a special way back in 2003 in Nashville. Great people!

"We have created a society where individual rights and freedoms, compassion and diversity are core to our citizenship. But underlying that idea of Canada is the promise that we all have a chance to build a better life for ourselves and our children."

~Justin Trudeau


All photos on these Canada pages are by Charlie Doggett and copyrighted. You are welcome to use for non-commercial purposes. Download from my galleries for larger files than found on this site.