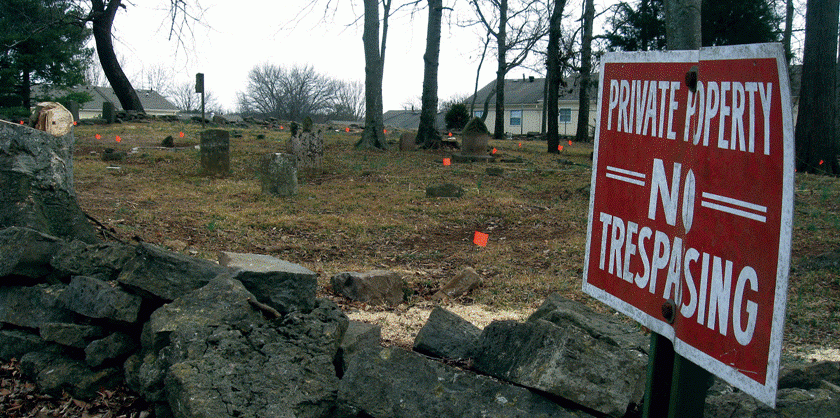 Bringing community founder's story back to life
Apr, 18, 2014
By Bob Allen
A civic project to maintain, restore, and preserve the long-neglected DeMoss Cemetery is in full swing. With it, the story of Bellevue's founder has come alive once again.
Led by Sanford Payton and others, the project attempts to return a sense of dignity to the final resting place of Abraham Louis DeMoss, currently weathered and cracked on the small plot behind River Plantation's Section IV playground. A fundraising drive as proven successful, and dedication ceremonies to honor and replace DeMoss' marker are planned for 2 p.m. Sunday, May 18.
So who was DeMoss and why did he choose to settle in Bellevue? A recent interview with Payton brought some answers.
Born in the 1700s, Abraham Louis DeMoss (who preferred Louis as a first name) was a captain in a Company of Horse with the Wilkes County Regiment Militia from North Carolina. As such, he was present in the pivotal American Revolutionary Battle of Kings Mountain. For his service in the Revolutionary War, he received — and claimed — bounty land in Wilkes County, North Carolina.
However, he did not settle on that land.
Early in 1800, he traveled to Davidson County and on July 28, 1800 bought 243 acres of land straddling the Big Harpeth River that extended north 3,374 feet to what we now know as Old Harding Pike. On a hilltop overlooking the river, he built the log cabin that has been restored and now stands atop the hill in Metro's Bellevue Park (commonly known as Red Caboose Park).
DeMoss named his new home "Belle Vue," choosing the French words for "Beautiful View" to honor his French Huguenot heritage. The name has been associated with the community ever since.
His brother, James, also purchased land on July 28, 1800 – 150 acres located on the northeast side of the river that joined the north border of Louis' land.
What kept Louis here was a combination of his talent and the river that flowed alongside his property.
DeMoss was a millwright and he soon took to constructing a gristmill on the west bank of the Harpeth River just below his home. He also built a water-powered sawmill and a blacksmith forge.
FROM THE BELLEVUE MESSENGER ONLINE