For years I searched all over the internet for namesake of Captain Driver's ship to no avail. In late 2012 I contacted the PBS TV show "History Detectives" to see if they were interested in tackling this challenge. I haven't received a response from them yet.  🙂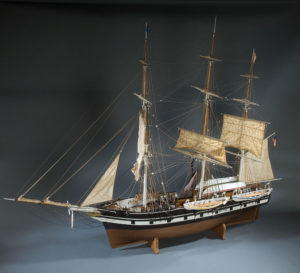 Then in January 2013 I finally found a web page or online post that gives a logical explanation of the name. The first owner of the ship was Charles Cole. His grandson was named "Charles" after him but with the middle name "Doggett," – Charles Doggett Cole. And Grandpa might have named his whaling vessel after his grandson, using first and middle names, possibly what they called him; "Charles Doggett." The grandson's middle name most likely came from Noah Doggett II who was in business with Charles Cole, building ships as Doggett, Merritt & Cole. Thus it could also be that Noah Doggett was honored twice by a child's name and a ship's name. It makes sense to me. If you know anything else, please email me – I would particularly like an image of the actual ship if one ever existed.
Research Posted By Pete Daggett on Genealogy Forum
My paragraph above is a shorter summary of this information. Without a statement from the original owners, we can only assume.
Email:
Subject: Charles Doggett Cole
Post Date: June 21, 2001 at 22:20:13
Message URL: http://genforum.genealogy.com/cole/messages/8187.html
Forum: Cole Family Genealogy Forum
Forum URL: http://genforum.genealogy.com/cole/
While researching the source of the name "Charles Doggett" given to the famous brig involved in the naming of "Old Glory" (See the story at this link http://tdcweb.com/projects/stories/old_glory.htm) and the transportation of the Bounty mutineers to Pitcairn Island. Jim Doggett has come up with what appears to be a reasonable hypothesis.
On Jan. 13, 1831, the day that it set sail under Captain William Driver, the Brig, Charles Doggett was registered to John W., Nathaniel and Richard Rogers. The Rogers brothers apparently bought the brig from it's original owner Charles Cole, but did not rename her.
The vessel was originally named the Charles Doggett. Using the names Doggett, Merritt (builder) and Charles Cole (owner), in the vital records of Cohasset (where she was built), Hingham (which split off from Cohasset) and Scituate shows that these families all have ties to Scituate.
The scenario, conceived by Jim Doggett, is that the origin of the name "Charles Doggett" for the brig, comes from the first and middle names of "Charles Doggett Cole" grandson of the original owner of the vessel, Charles Cole, Sr., originally of Scituate and later of Boston. Charles Doggett Cole; b. Sept 30, 1823, was the eldest son of Charles Cole, Jr., b. Scitulate, Mass., May 4, 1799; d. Stamford, Conn., Sept 5, 1884 and his wife, Mary Alline Doggett, he was born 23 Sep 1823 in Boston. Charles D. Cole may have been the eldest grandchild of Charles Cole, Sr. The brig was launched in 1826, when the grandson was only two to three years old. A proud grandfather with a considerable fleet of vessels may well have named a new ship after his grandson, particularly if he was the first.
Mary Alline Doggett was the only surviving child of Noah Doggett of Boston and his first wife, Ruth Lyne. Noah Doggett was the son of Capt. Noah Doggett, Sr. and wife Mary Alline of Boston. Capt. Doggett was the son of Samuel Doggett of Marshfield, later of Boston, and was the great-grandson of the immigrant, Thomas Doggett of Marshfield. Samuel Doggett was the first of that line to engage in the shipping trade, and his youngest son, Capt. Noah Doggett, followed him in that business. Capt. Noah lost his fleet of vessels during the Revolution and after the War became a merchant in Boston. His son Noah was a wealthy building contractor and real estate investor in Boston, and the Cole and Doggett families were of similar social status and undoubtedly traveled in the same circles of society.
I am sure there must be a "Cole" out there who can confirm or refute the link back to Charles Cole, Sr. Any help would be appreciated.
Pete Daggett, (Paraphrasing the work of Jim Doggett, who actually did the research)
Also, thanks to the Peabody Museum in Salem, who came up with the identity of the original owner of the vessel.