Volume 2– 1990-1999  (My most difficult decade.)
By Charlie Doggett
The entries from January 22, 1990 through February 19, 1996 are many taken from my "Dad's Diary for Julianne" (Juli's Book) plus a mixture from other journals. The entries in "Juli's Book"were written to Juli for her to have and read as an adult later in life, so they sound like letters to Juli. The last entry in Juli's Book was dated February 19, 1996 as I tapered off writing in her book and wrote in other journals like my "Camping Trips Journal" and multiple short-term "Spiritual Journals,"  some with directed activities and Bible verses to respond to. As I find other writings of mine during this year, they will be added chronologically here, like some divorce-recovery writings and Compassionate Friends writings. I tend to write more during an emotional experience and there were several in this decade!
1990
January 22, 1990 – Juli's Book
A catch-up on the events for you Juli: Going back to the divorce paper Ginger filed in July 1989; a providential event to happened right afterwards. As a business trip in preparation for a book we were publishing, I was invited to a retreat in Texas. It was a retreat for Adult Children of Alcoholics led by my friend Tim Sledge related to the book he was writing. I cried all weekend and got tremendous support from some great people who also were facing hardships themselves.
Back in Nashville my ACOA (Adult Children of Alcoholics) group became my first support group during this difficult time with my Sunday school class at Judson second. Then I joined a special Divorce Recovery Support Group at First Baptist downtown. It really met a lot of my needs and helped me keep my head on straight. These are hard times.
Sunday, February 7, 1990 – Juli's Book
Juli writes a large poster letter to her Mom.
Tuesday, February 9, 1990 – Juli's Book
I mail the large poster letter to Ginger in a cardboard mailing tube.
March 26, 1990 – Juli's Book
Since last November I have been with you only on every other weekend Juli. When you come or I pick you up on Friday afternoon, you have at least one outburst of your Mother's hatred for me. You usually holler at me, "Well, Mom hates you!" and that is usually at the first of your visit or when I don't let you have your way or just when something goes wrong. It is hard on both of us, but we both love each other and know it and that is what counts. I have several times responded to your expression of Mom's hatred by saying "That is Mom's problem." You have repeated that and seem to understand or get some comfort from it.
Each weekend we do at least one fun trip or activity. So far this has included McDonald's to eat each time, plus several trips to Cumberland Science Museum, especially more since the dinosaurs have come (Feb-Mar). We have walked the neighborhood, ridden your Smurf Bike, gone to movies, to Show Biz Pizza, Long Hunter State Park to play on the playground or to fly your kite. We have also gone to Edwin Warner Park including wading in creek there once.
This past weekend we drove with heather to Mammoth cave National Park in Kentucky and had a good time on both the historic tour and the travertine tour. You took pictures as did I. They will be in your scrapbook or photo album. You take good pictures Juli! And we both have lots of fun on these trips.
It is always hard to take you back to Mom's. You cling to me and don't want me to leave. I hold back the tears until I leave, then cry part of the way downtown to the Divorce Support Group at First Baptist. I really need it on those nights. I love you Juli!
Sunday, April 1, 1990 – Juli's Book
We see each other at Sunday school on the Sundays you are not with me. Today you were excited because Mom had taken you to see the new movie Teenage Mutant Ninja Turtles. I'm always sad when we drive off in different cars. (I am still going to Judson Baptist at this time.)
Wednesday, April 4, 1990 – Juli's Book
I bought you a cheap $3.49 video of the cartoon Teenage Mutant Ninja Turtles at Burger King tonight. It will be ready for you when you get here Friday.
Friday, April 6, 1990 – Juli's Book
I picked you up at 6:00 PM but Mom didn't have your stuff packed. We played with Rosie and got the Nintendo and finally left about 6:50.
We rented two Nintendo games at Blockbuster and got a free video movie titled "BIG." We got Easter stuff at Walgreens in Harding Mall where you also hugged the mall Easter Bunny. We ate pizza at home, saw a cartoon of Teenage Mutant Ninja Turtles which I had gotten from Burger King. The we watched part of the movie BIG and played a new Sesame Street game. We were in bed by 10:30. I'm writing in both your book and Jason's book. I love you Juli.
Saturday, April 7, 1990 – Juli's Book
We saw the model trains at Harding Mall. You love trains! We went Easter egg hunting both inside and outside at home. We decorated an egg tree out front, then the rest of the day we spent at Opryland. You loved it all, but especially your first ride on the Log Flume. You screamed as we went down the chute, then said you loved it.
Sunday, April 8, 1990 – Juli's Book
We went to Sunday school & church with one take-out for bad behavior. We had lunch at home and watched TV, played video games and hid Easter eggs. It was a fun weekend!
April 15, 1990 – Juli's Book
Mom has you this weekend, but because it is Easter she let me be with you after ya'll had lunch at Opryland Hotel. (That was our old tradition on Easter for several years which I began when you were a baby.)
You and I spent the afternoon at Opryland Park on a beautiful, 68 degree sunny day. We had fun riding mostly the same rides as we rode last weekend with you also playing two games and winning something with each; a small pink & white stuffed mouse and a little bear bank with the bear playing a tuba.
When I took you home, Mom wasn't there, so we went to Shoney's to "snack" – me a sandwich and you a hot fudge sundae and we did all the puzzles on the kid's menu and talked. It was a nice time together.
When I got you home again you were afraid Mom would fuss at you for going to Shoney's – which she didn't – but your fears of her hurting your feelings or self-esteem have been many and I have refused to write of them because I didn't want to influence you to think badly of your Mother, even though she has been trying to make you think badly of me. You have frequently, on every visit, said things like "Mom hates you" or "Mom says you're mean" or "Mom says you don't pay for school." My general response has been to say to you "That is Mom's problem." You have understood and actually said it yourself. But you still feel mad/bad/sad. Mom is a "blamer" and all of her problems she blames on someone. For several years it has been me more than anyone, but it has been you and Jason a lot too and, of course school principals, government, etc.
Well, later I may share more of my feelings about Mom and her problems, but not now. It's midnight!
We stood together, then sat in porch swing together for 15 minutes while you clinged to me again and cried. You said over and over "I don't want you to go Dad." My heart is breaking Juli, but I'm not sure what to do. I want to fight for custody of you, but my lawyer says it would be a long court battle of a year or more and cost thousands of dollars. And he says it would be difficult for a man because most judges favor mothers, especially for young daughters. I keep saying well, something will work out for Juli to be with me more and at least she can decide where to live or who to live with at age 14, just 3 ½ years away. But oh it is hard to know what to do. And you are about to start having periods anytime. You have already starte puberty, you even wore a training bra today and hated it! You said it made you itch! Well, I LOVE YOU VERY MUCH!!! I'll write more later. XXX
April 22, 1990 – Juli's Book
Earth Day 1990
You and I went looking for Jason and McLean at the Riverfront Park celebration this Sunday afternoon. We didn't find them but got a little of the spirit of the occasion, plus we rode the trolley which you have always loved. (My real Earth Day experience was the 2-hour feature tonight on ABC. Good!) I'm glad I'm already a re-cycler!
We also went to Long Hunter State Park; tried to fly your kite with no wind; played on playground; and walked down to the lake looking for fish and watching the boats. You want me to rent a boat on our next Saturday together, May 2 I believe.
Friday and Saturday of this weekend was rainy and we rented 3 movies: Turner & Hooch Three Amigos, and Big Top Pee Wee. Then we went to the theater for "Teenage Mutant Ninja Turtles." You were happy most of the weekend.
Love ya'!
May 19, 1990 – Juli's Book
I'm on my way back to Nashville from a Virginia trip. I tried to take you with me, but Mom said "No." There will be other trips you can join me on, including Glorieta this summer. It is always a good trip! You and Jason both plan to go.
We may move from my apartment to a condo before or after Glorieta. I have been wanting a bigger place with a separate bedroom for you. When we get a contract on the Clayton Avenue house, I plan to buy a house or condo. God seemed to point to a condo Bill Stephens has been trying to sell for two years. He kept coming down on the price. If it works out, we will get a 2,000 square foot house for $65,000. That is a good deal and you will have your own bedroom. The sale must be completed by June 15 or Bill can't sell because of capital gains taxes. It further depends on the Clayton house selling and either the divorce being settled or your Mom signing a release of any claim on the condo as joint marital property. It will probably be okay, but we wait and see. "Whatever will be will be."
I hope you realize that the divorce was not my idea and I have always considered divorce taboo, wrong, non-Biblical, and not the way to solve marital problems. But I have tried and your Mom has refused to cooperate with five counselors and it is out of my hands now. Maybe it is going to be for the best. Anytime you want to talk about it I am ready.
When I get in at 5:38 PM (scheduled arrival) I will go straight to Mom's house to pick you up for a short weekend together – Saturday night and Sunday. I love our weekends together! I wish you could live with me, but I haven't been willing to fight your Mom over it. But she has refused to settle the divorce out of court so far and the lawyers have scheduled a court date o October 16 before Judge Muriel Robinson. If she (Mom) doesn't settle before then, I will ask for custody of you and we have a good chance, though the courts usually favor Mothers. I believe I can show that she is guilty of emotional abuse and neglect and I know that you would rather live with me.
May 27, 1990 – Juli's Book
Mississauga, Ontario, Canada
Jim Glidewell prayed for you and Jason and for me and Mom tonight. It is still hard to tell people of our problems, but I have to. I'll send you a card tomorrow and call maybe. I love you. (Below is summary of what I am doing in Canada this week,)
May 24-25 – I was in committee meetings for MEC 1999-2000 Plans at Missionary Learning Center near Richmond, VA.
May 25-26 – I led Associational Leader Conferences at White Oak, SC
May 27 – Morning church at Dixie S,B. Church in Mississauga, Ontario and evening church at Ridgecrest S.B. Church in Hamilton, Ontario. I was with Jim Glidewell, Len Thomas and Jim Bullis today.
May 28 – Morning & lunch with Ken Yinger, pastor of Grace B.C.
Afternoon looking for and mailing cards to Juli & Jason
Dinner with BSU Director Randy Galloway
Evening seeing downtown Toronto, the harbor front and riding to space deck on highest observation deck in the world, 147 floors high, in the tallest free standing tower in the world. I'm tired.
May 29 – Morning with Julio Cornelio, Spanish pastor. Lunch and early afternoon I'm with Jewha Kim, Korean pastor. I'm helping both pastors get discipleship training started. Pastor Kim took me to a bookstore, grocery store and café to meet some of his people. Great experiences! I left at 3:15 PM for Niagara Falls which I saw from the Canada side in the rain. It is breathtaking! I'll take you someday.
May 30 – I spent the morning with Jim & Melissa Bullis in Hamilton. They are the delightful storefront mission people. He gave me a book of his work by his first wife entitle Mary Came Home.
I spent the afternoon and evening with Len Thomas & Jim Glidewell as we looked at Dixie Church for D.T. I spoke at their Prayer Meeting that night and ate supper with the Glidewells.
May 31 – Wrote letters, did some work, took long walk, went down town for some photos and Jason's music t-shirt. I ate supper with Glidewells again after time in park with boys and Jim. They are a delightful family! Tomorrow I return home and have you for the weekend.
July 4, 1990 – Juli's Book
At Glorieta, New Mexico — Dad is 50
Juli, Jason and Dad are at Discipleship Training Week at Glorieta Baptist Conference Center, New Mexico. Thursday we flew from Nashville to El Paso, TX by way of Chicago. We drove a rent car to Carlsbad Caverns and saw the most beautiful cave in the world. On the way we drove through the Guadalupe Mountains National Park where we saw 100+ volunteer fire fighters trying to put out a forest fire started by dry lightening. We saw a helicopter dumping water on the fire.
Friday we drove to Glorieta and ate supper in Santa Fe with Richard, Rachel and Laura Ryan at Luby's Cafeteria and ice cream at Dairy Queen afterwards.
Saturday we had breakfast in Pecos and lunch at Bob Cat Bite. We have been eating at the Glorieta Dining Hall all week except Tuesday lunch we ate at the Inn of Loretto and did a little shopping. Grilled Cheese Sandwich is still your first choice in all restaurants Juli.
Yesterday it was your idea to get your Dad a birthday cake and ice cream. We found an American Flag chocolate cake at Furr's Emporium and you chose strawberry ice cream to go with it. We will have it for desert after lunch today. You want to put a sparkler on it for a candle. It will be fun! You really have enjoyed Rachel & Laura, especially Laura.
SICK TUMMY – I pulled you out of your Exploring 2 Class at 9:30 this morning to call Mom and then gave you more medicine for your tummy – diarrhea. I then brought you back to the apartment to sleep about an hour before lunch. You have had 3 doses of Kaopectate which will probably help – plus you have had a Donatel pill for cramps.
PARTY – You gave me a great birthday party with the sparkler on the American Flag cake! It was great! THANK YOU JULI!
September 15, 1990
TWELVE WORDS TOWARD RECOVERY
A personal account of growing through divorce
Shock!
Emptiness and hurt that's deep.
The Sheriff's call just made me weep.
Silence
"We have papers for you to pick."
The thoughts I conjured made me sick.
Pain
More in heart than in head
My marriage and four teeth were dead.
Tell.
The hardest word I spoke
To office, friends, and family folk
Retreat
A business trip excuse
To rid me of that dread abuse
Help
Divorce Recovery Workshop
From grimace to growing I did hop
Acceptance
A special group arranged
For tears, sharing, and lives changed
Counselor
Helper, guide, and friend
Louis Twyman's love won't end
Friends
Let's go for a snack
Retreat, party, or a phone-call back
Share
Write, type, call, or tell
That all may know our workshop's swell
Future
I'll stop rescuing like a dope
For now I know that there is hope
Thanks
To our friend Louis
It seems that you really knew us
So we're not going through divorce
For us our growing is the force
Charles Doggett
September 15, 1990 for the recovery group
November 11, 1990, 10:00 AM 
At Campground
Yesterday afternoon I left the parking lot at Baker's Grove in Long Hunter State Park to hike the 6 mile Volunteer Trail to the Camping Loop. The entire trail is on Percy Priest Lake. With just 4 or 5 short (3 to 5 minutes) rest stops, I hiked the 6 miles in 2.5 hours or from 1:30 to 4:00 PM. The 50 pound pack is absolutely too much! I have ordered a 2 pound, 7 ounce sleeping bag to replace the ten pound bag I now use. I'm now wishing I had a smaller, lighter tent than the brand new dome I just bought for $115. It weighs 6 pounds. But I will carefully check what I bring in the future and try to keep it down to 40 pounds or less. The new Peak 1 Back Pack with exterior molded plastic frame is great and easy to use, just another 5 pounds or so. I brought 2 books which I didn't use and a few other non-essentials.
This was/is a practice trip for my biggie next week to St. Johns Island. I wanted to check out the pack and tent which are both new. A little cheap hammock is my favorite new item and will be used a lot on the beach if there are trees for it. Leaving soon for slower trek back including lunch enroute. Then clean up for group tonight. I may join church tonight.
November 14, 1990
After settling in a Tampa hotel for the meeting tomorrow, I drove to Clearwater Beach for two hours of sun. Then I had a seafood dinner at Britt's Sandwich Shop on the beach while watching a gorgeous sunset of orange, blue and gold. God's world is so beautiful!
November 20, 1990
9:45 PM Atlantic Time
I have just now got settled in my little Eureka dome Tent at Cinnamon Bay Campground, St. John, Virgin Islands National Park. My regular journal (?) details more of how this trip came about – simply put, I volunteered to give up my seat on an overbooked Eastern flight to Richmond for a seat on a later flight and a ticket to anywhere Eastern flies in the U.S., Canada or San Juan.
I quickly renewed my interest in camping and hiking, got some new equipment, my free ticket to San Juan and a purchased one from San Juan to St. Thomas.  See also My Photo Gallery of this Trip.
The reading, planning, packing and preparing for the trip was a big part of the fun. But today the adventure began! Here's what happened today:
6:30 AM – Jason took me to the airport
8:05 AM – After having my saw and sterno cans removed, I managed to get my 45 pound backpack on the plane in one of the closets and left for Atlanta.
10:00 AM – Now Eastern Time – In Atlanta I made a quick business call to Carol concerning a book reprint for IMB. Then I rushed to be one of the first ones on the San Juan flight so I could get a closet for the backpack.
11:50 AM – Plane finally left, after an hour delay to repair or replace a guage. Otherwise a good, friendly flight with good meal and views out my window seat window
4:08 PM – Atlantic Standard Time now – We arrived in San Juan just after my connecting flight left. I was put on standby with many others for the 6:00 PM flight and was the only one to make it!
6:00 PM – After a noisy flight with 10 passengers and beautiful views of the Caribbean, we made it to St. Thomas.
I took a taxi to the beautiful waterfront of Charlotte Amalie where I ate at Burger King and got the boat or ferry ride to Cruz Bay, St. John. It was beautiful and quiet except for the boat motor and wake with the lights of Charlotte Amalie fading in the background as we passed two cruise ships and buoys. This was equaled by the perfectly clear sky of thousands of stars and a beautiful quarter moon with the spray and smell of salt water.
Then we pulled into the quaint little Cruz Bay with fewer lights, less hustle, palm trees, strains of music from one building and only two taxis. One, open-air safari-style taxi waited until he had seven of us before he left on the four to five mile drive through a mountainous jungle to the campground. Two were going on to Maho Bay and five of us got out at Cinnamon Bay Campground.
The lady was closing up because it was after 8:00 PM, but she got the young couple to their pre-set tent and assigned me to my "bare site" space. It was at least 100 yards in the dark on a narrow, muddy trail barely seen in the dark to site #36 up on the side of a mountain or hill with water dripping from the thick jungle foliage from a late afternoon rain.
It took me about an hour to get all set up with very muddy shoes but a dry tent. I have been writing by candle light which is hard.
The sounds are multiple. I hear the heavy surf about 150 to 200 yards away and jungle birds and animals which I cannot yet identify. There is the occasional drip of water on the tent top. THIS IS REALLY A CHANGE OF PACE! And that is what I needed!   🙂
Wednesday, November 21, 1990
Cinnamon Bay Campground Cafeteria
I'm not eating here now, but listening to Calypso music with electric guitar and steel drums. I'm waiting for the 7:30 PM bus to Fred's for a night of Calypso, Raggae, dancing, food and drinks. Several people and one of the books recommended Fred's Bar & Grill for the best music on this island. I'm not sure about the food – we'll see!
RECAP OF MY FIRST LAZY DAY: I slept until 7, then breakfast granola and bathroom and then to the cafeteria for coffee. Swam in the bay, made photos, and sunbathed on the most beautiful beach anywhere! But surf is up today, so no snorkeling. Water is too rough and murky. I stayed on the beach until 1:00 or so, then fixed up camp a little more – hung my hammock and laid in it for two hours or almost. Then before that or after the beach I showered, etc. Then I walked around. The beach was a little crowded, but not too bad. Otherwise it is very quiet around here.
I'm a little unsure of myself going out for music and dancing just as I was sunbathing in a bikini today, but I'm trying to loosen up, relax and escape and this is the place and time to do all three. I'm not sure what a week of this will do for me, but I expect to have a somewhat different attitude.  🙂
Tomorrow I plan to hike to Annesburg. We'll see if the music until 11:30 tonight does me in. Hopefully it will help me to sleep. I didn't sleep too well last night.
Thursday, November 22, 1990,
12:17 AM (yes, after midnight)
In the tent at Cinnamon Bay
Irie mon! Wow! What a night! Here's a report of the night in town: While waiting in the cafeteria, after writing last night's note, I met and talked with Larry from Detroit about 15 minutes. I ate some of his peanuts.
Then we boarded the bus taxi to Fred's in Cruz Bay. The group was really interesting. There was Rudi & Susan whom I checked in with the previous night. Plus I met Nathan & Dedi, married just 3-days and here on their honeymoon. He is from Great Britain and she is a Hawaiian from California. Then there was Howard the grandfather bachelor from Alaska and another couple named Fred & something.
The band wasn't ready when we got there, so I went shopping for gifts. I got shell necklaces for the secretaries and a raggae t-shirt for me and some post cards. Then I ate conch cooked in butter at Fred's before the music started.
The music was wild and loud with 3 singers, 2 guitars, 2 trumpets, 1 trombone, drums, keyboard, and lots of electronic sounds with big amps. My eardrums are still vibrating – well, almost. I had two rum punches, two cokes, and danced quite a bit, mostly by myself, but once with a local black woman. We had calypso, reggae, Creole, and one rock song. We left at 11:30 on schedule on the taxi of "Lover Boy John." This was a new experience of really loosening up. I expect to sleep well and maybe late this morning!
Thursday, November 22, 1990, 4:36 PM
On the beach at Cinnamon Bay
I slept well last night and until nearly 8 AM. I forgot to describe last night's encounter on the road with a giant crab. Just his body was larger than a dinner plate, then with long legs added, it was a big wow! He was on the beach road on the way walking to my campsite. He is probably the same one Alan from Alaska saw night before last. Something else to talk about!
This morning after breakfast at my tent, I saw two of the donkeys which run wild around here. Then coffee visits with Alan, Rudi & Susan in the cafeteria.
I did laundry and began my hike in the rain to Annaberg and Waterlemon Bay. The old sugar mill at Annaberg is somewhat like the one across the road from Cinnamon Bay, just has the remains of the old round windmill and is on a point with a lovely view of Waterlemon Bay and Leinster Bay. There were many pretty flowers there too!
This island is beautiful! Many were snorkeling at Waterlemon with good successes in seeing fish and even some turtles. I purposefully didn't take my mask and snorkel because the surf was still high and rough at cinnamon Bay and it was raining. But two bays over was different! From now on I will take it everywhere with me just like I do with the camera.
I stopped by Maho Bay to check it out. The tents are really nice, all fancy platform tents with porches and patio furniture. The tents are nicer than the ones available at Cinnamon Bay, but they don't have bare sites and a pitiful beach compared to ours. So I rough it a little for a prettier beach!  🙂
I'm sunning on the beach now after a quick dip. I will soon shower, shave, put on my new reggae shirt and eat Thanksgiving dinner at the Camp Cafeteria. I plan to opt for red snapper over turkey and dressing, but will go for all the veggies, pies, etc. Maybe I'll cook supper tomorrow night.
THEN PARTY TIME AGAIN: After a medium good dinner our Fred's group, Rudi, Susan, Fred, Allie, Norman, Dedi, Alan and I hung out around a couple of tables until after 10:00 drinking rum punch or rum and coke and talking and telling silly jokes and just generally loosening up again. Wow! This old Baptist is not used to this! The next table over brought a blender to mix drinks and we inter-partied some, especially Lois from their table. What a different Thanksgiving this was! The kind of escape I was wanting and needing!
Friday, November 23, 1990
Today I went with Norman, Dedi and Alan in their jeep to Waterlemon Bay with snorkeling gear this time. The neatest, most beautiful experience yet for me! I loved it and felt I could have floated forever watching fish and much other sea life:
• At least 20 different colorful, tropical fish
• Sea urchins
• Large sea turtles
• Sting Rays
• Octopus
• Eel
• Some living coral
• Sea plants of all kinds
As if that wasn't enough, I signed up for a sunset sailing trip this evening. It was the most peaceful, beautiful activity I've done other than snorkeling, and maybe more so. Rick was the captain for 5 passengers on the Gratia sailboat. The actual sunset was medium because of clouds, but the 2.5 hours of sailing around Tortola and Josh Dyke was beautiful, memorable, and very relaxing. I hope to sail again someday.
I ate supper in the cafeteria with Alan, Norman & Dedi. I didn't have a flashlight with me to get back to my tent, but a stranger guided me back. Then I got to help my neighbors from Missouri back because they forgot their flashlight too.
Took a cold shower (no hot water here) and I'm writing this before going to bed at 9:30 PM. A great another great day!
Saturday, November 24, 1990
Reef Bay Beach
I left camp at 9:30 AM hiking 1.1 miles up a mountain on the cinnamon Bay Trail, then 1 mile on Centerline Road to the trailhead of Reef Bay Trail which was about 4 to 5 miles plus 0.6 mile round trip to see the petroglyphs. All of these trails are dense jungle with lots of weeds and insects right on the little narrow trail with no other hikers. Wonderful!
This "Reef Bay Beach" is on the south side of the island at the ruins of the old Reef Bay Sugar Factory. I'm getting a head start on my journal here on the beach rather than swimming much here alone for my safety.
I'm about to head back now after I eat my sack lunch and get a little sun. I expect to be at Cinnamon Bay between 3:00 and 4:00 PM and maybe spend a couple of hours on that beach. Just relaxing!
There are just 2 more days after today. Maybe I will loaf more and sight-see less, yet this is hiking around the island is quite relaxing to me. And I do want to snorkel some more!
Evening in My Tent
I spent 3:30 to 5:00 on the beach here which means not much sun or suntan yet – the one thing I expected from this trip. I haven't slowed down enough to sunbathe much, though I wear these bikinis (like everyone else here) when I do. Also I am using sunscreen when on beach or swimming to avoid a burn. I guess I'm getting too much sun protection or just in the jungle too much!
Supper was simple and good, a trail-pak of dehydrated red beans and rice with a little red wine. Then I went to the cafeteria to party with "the group" again. We had more rum punch and visiting. I was so light-headed when I left that I decided right then to stop the drinks – no more after tonight. I will be like the 21 year-old Mikeel from Denmark who was traveling to see the world. He said he would just have "Coke on the rocks." Good idea! I think I have loosened up enough now and relaxed enough.  🙂  The 10-mile hike round-trip to Reef Bay was tiring, but rewarding and healthy. Glad I did it! The waterfall at the petroglyphs was the most beautiful of today's sights though too dark to get a good photo.
Sunday, November 25, 1990
On the beach at Cinnamon Bay
Well, I'm sunbathing again and with a weaker sunscreen. Also the sun seems to be healing my toe blister from yesterday's hike. I hope I can snorkel by this afternoon. A ranger will take a group out at 2:00 and I may go with them. I'm reading, resting, writing, and sunning now. Water conditions are suppose to be better today, but they look about the same to me with a rough surf.
From 2:00 to 4:00 I was part of the National Park Beginner Snorkeling Class. It was great! There was about 30 minutes of lecture on equipment, techniques, coral, fish, safety, etc. Then more than an hour of snorkeling, swimming around the little Cinnamon Cay (pronounced key) which is a tiny little island in our bay. We had views of dozens different corals and literally hundreds of fish of many species. Viewing sea life is like being in another world; fascinating, colorful, peaceful and relaxing. It is also tiring from all the swimming.
I then sunbathed another 45 minutes and was off to shower and eat a dinner in the cafeteria tonight. They had a steak cookout which was very good! Then a park ranger talked and showed a movie on the coral reef before more partying. Only 2 little drinks tonight and no more tomorrow! It is "detox" time! This is the most alcohol I have ever drank in my life (and never did again).
The four girls who brought the blender for mixed drinks each night are going to leave it for someone to share "Blender Party Time" in their place after they leave. They asked for someone to pass it on for them and start a new Cinnamon Bay tradition. It is a cute idea, but drinking is not my thing nor healthy nor acceptable with my faith nor good for our society. Yet, in this case it helped me and others unwind, escape, have fun, socialize and probably sleep better at night. I won't do it again for a long time, if ever. I can't afford to become an alcoholic like my Dad and so many others who have let alcohol mess up their lives. Plus I don't want to hurt others. The truth is I could have had fun without a drop of alcohol and will make that one of my goals in the future. That will apply to even future get-a-way vacations like this. But this experience has acquainted me with another side of the world I don't know very well. Glad I had this experience! I will not talk about it when I return home – just the tropics! This overall has be an experience of a lifetime!
Tomorrow I may snorkel with Norman and Dedi at a new place.
Monday, November 26, 1990
After breakfast I went snorkeling with Norman and Dedi. We went first to Haulover Bay which was beautiful but too rough for swimming or snorkeling. The road there was on a neck of land with another bay on the other side. It was a cove off the larger Coral Bay where we found the perfect calm, clear water with the most living coral yet. It was much better than Cinnamon Bay and had lots more colorful fish. We saw Tandies and Parrot Fish plus a beautiful large, bright purple Fan Coral. There were also orange coral, gold coral, brain corals, fire coral and one called a feather duster coral. This is so neat!
After about an hour of snorkeling we had lunch out on the east end at Vie's Snack Shack. This was all local color! There were colorful chickens, goats, children, tropical plants, and views of the bay. I ate a delicious conch fritter. Norman and Dedi had garlic chicken. A fun break from camp!
We then went to Water Lemon Bay again. The snorkeling was not as good this time, though there were thousands of minnow-like fish, a school of barracuda and best of all several turtles, including a mother and child turtle feeding in the sea grass. This was neat, beautiful and peaceful. I just didn't see as many colorful fish here today as I did the other day when here. No sting rays this time as before. But oh will I ever remember these snorkeling scenes forever. I hope to snorkel many times again in the future.
By now I had decided to spend a dry night in town with a hot shower and a good meal before traveling home. I packed and Norman & Dedi cleaned up. We drove in their rental car by Caneel Bay on the way to Cruz Bay. It is a rich Rockefeller Resort. It would be the place to stay if you had the money!
In Cruz Bay we did laundry at the one and only Laundromat at $2.50 per load. They watched mine while I checked into Cruz Inn, a little bed and breakfast place. I took a shower and still had to wait for my clothes to dry.
I then treated them to dinner at Old Gallery Restaurant, known as the most authentic native West Indies food. It was great! Norman and I tried fungi with onions and ate parrot fish or goo tu fish as it is also called. It was one of the fish we saw snorkeling. I drank passion fruit juice and water with my meal. It was a real feel and taste of the islands and no alcohol!   🙂
By then it was 9:30 and time to wind it down for me with a long trip the next day. I slept at the quaint little Cruz Inn with a lizard on my window screen all night to protect me from mosquitoes. It was more comfortable than sleeping on the ground, but the same jungle noises, plus roosters who began crowing at 3:30 AM. Robert, the night clerk and his wife were very nice, helpful and friendly. The room was small with open windows and a ceiling fan. Bath was old and on the hall to share with others. It was a simple, tropical island atmosphere. But without being soggy wet with mildewing clothes and walking in nothing but mud. The rain forest during the rainy season is a tough camping challenge! But I still enjoyed every moment of it and the week is one I will never forget!
Here are my highlights or favorite activities of the week:
1. Snorkeling was my favorite! Beautiful & peaceful!
2. Seeing the most beautiful beaches in the world
3. Socializing with new and different friends
4. Hiking & sightseeing was very enjoyable!
5. Some time alone was planned & helpful, peaceful.
I will do this sort of vacation again and going alone is nooooo problem for me. In fact it is quite enjoyable compared to years of traveling with Ginger.   🙂
Tuesday, November 27, 1990
I left early from the Cruz Inn for the ferry dock where I met five others from Cinnamon Bay also on their way home. I had a cup of coffee, then off to St. Thomas.
Wow is it busier, more crowded and like a city here in Charlotte Amalie! I like the peaceful St. John Island better! But this is a very interesting place. I left my film in a one-hour photo-finishing place. It was half price because they messed up some of my images. They even gave me 7 rolls of free film, though that doesn't replace the lost photos.
I then stored my backpack in a hospitality center and had breakfast at Bluebeard's Castle on the hill overlooking the bay. After breakfast I got my photos, some postcards, a poster and a taxi to the airport. Everyone I have ridden with or get stuck with anywhere are all so friendly and interesting to be with. I love traveling!
The earlier flight to San Juan had space, so I left an hour earlier. I just looked around in the San Juan airport and ate lunch at a Wendy's and started work on my photo album. I'm on the plane now.
-o-
---
Christmas 1990 Photo Gallery, in my Hickory Valley Condominium
---
1991
Nada.  Just note that this was the year in January that I was given "full custody" of Juli by the courts and Ginger angrily moved back to Texas (Austin at first) and left without even saying goodbye to Juli. Juli now lives with me full time. Jason tried two semesters at Memphis College of Art and decided it was "too much like school" (cost me a fortune) and decided not to stay and either this year or the next tried being a truck driver for a year. Ginger going away removed some complications while both Jason and Juli added others. Life is still hard, but being in my own big condo is much better than the small rent house and that happened I think sometime in 1990. Everything is a blur now.
---
Christmas 1991 Photo Gallery  (Just 1 photo)
---
1992
January 1992
In one of the journals I found an index card with these:
"Goals for 1992"
1.     No credit purchases
2.     List and do specific ways to give Juli independence and see behavior improvements.
3.     Plan ways to listen more and talk less.
4.     Read at least one book per month.
Friday, May 8, 1992 – Savage Falls
I took off from work a half day and drove down to Savage Gulf on the South Cumberland Plateau.
The weather man said there was a chance of scattered showers. Well, they all scattered to here! It didn't start raining until after I arrived and rained on my entire two-mile hike to the campground and during the time if took to find a site and set up my tent. It has been about two hours now. My jeans or the legs are wet and unfortunately part of my sleeping bag that was not covered on the pack while walking. My lower shirt sleeves are very wet. Yuck! I'm Just sitting inside a partly wet tent.
But it is beautiful here! I'm looking out into a spring green forest of mostly young hardwoods. It is bright, colorful, secure and solid or homey to me, even in the rain! I love the forest!
I'm just 1/10 mile from the waterfall, Savage Falls and the Savage Creek. It is another beautiful waterfall. I hope to get photos tomorrow, if the sun will come out before I have to leave. I must be home for a divorce recovery video fellowship/discussion at my house tomorrow night. My goals are to 1) rest, 2) read much of Anita Bryant's book, 3) escape from work, home, family and church stress, and 4) photo Savage Falls.
I would like to build a fire, but I'm afraid the rain may prohibit that. It began to rain more around 4:30 or 5:00 PM. My jeans were wet, my long handles wet, and my sleeping bag is wet. It was also getting colder, maybe in the 30's already and I couldn't build a fire.
So I did something I've never done and still have mixed feelings about!  I "wimped out" and called it quits. I packed up a dripping tent and wet everything else into a wet pack and was back to the parking lot by 6:45 PM. I stopped at the Manchester Cracker Barrel for supper. As I was finishing my dinner about 8:15 PM, Drew Nixon walked in. He is my SS teacher. He was returning from National Guard camp at Ft. Stuart, GA. We visited awhile and then I was home and in my dry bed by 11:00 PM. Sleeping good tonight! But disappointed my outdoor experience was fouled by rain!
Sunday, May 10, 1992 – Return to Savage Falls!
Not to be totally defeated, I knew I had to return and accomplish at least the photography goal.
Saturday was spent getting ready for and hosting a "Video Night" at my house. It was a small crowd but lots of help with Curtis Freed counseling with the video.
Today is Mother's Day and I don't like the emotion and emphasis on family each year on Mother's Day which opens wounds, hurts, and brings guilt to me. So I'm off to Savage Gulf again instead of church! This time there is sunshine and nearly 80 degree temperatures. I had breakfast at Murfreesboro Cracker Barrel and on the trail again by 9:15 AM. Beautiful! Wild flowers are frequent including laurel or maybe wild azalea. There are a lot of little pale lavender flowers, daisies, and others. I couldn't find any lady slippers this time.
The creek and falls are beautiful again, but this time in sunshine! I took lots of pictures. The best will probably be the ones from the overlook. I can hardly wait to finish the roll of film and process it.
The woods were peaceful. I saw a deer from about 50 yards. There are lots of birds singing and the few other hikers were peaceful and quiet. The falls – Savage Falls – are one of the most beautiful yet. But I wanted more!
So with only an hour before I had to leave to get ready for the Sunday night meeting, I followed some rough directions down a road out of Gruetli-Laager to a dirt road, the left one at the fork which led to the Collins Gulf portion of Savage Gulf. A 4-wheel drive might make it to the bluff, but I walked from the paved road about ½ mile to the West Collins Campsite. The Rocky Point overlook into the gulf is breathtaking. Then the climb down a steep trail to another which led along the edge of a rock ledge with water dripping down the rocks into a whitewater creek. Thank you God for so much beauty in one day! And for the unspoiled forests that still remain here I am thankful! Thank you also for the creeks and waterfalls and trees; especially the hemlocks and wildflowers and sunshine and solitude and the love of life and adventure you have given me. Thank you God!
Thursday, May 21, 1992 – Fiery Gizzard Trail
Wow! 10.5 miles with a 50 lb. pack is tiring! It has been a hard day! It is only 8.2 miles from Foster falls to Raven Point, but a ¼ mile down a wrong trail, plus side trails and back again to get water made it about 10.5 miles.
It is a beautiful forest here. I passed 4 waterfalls, but only photographed Foster Falls as the only one with enough light.
I'm alone at Raven Point Campground, but feel safe and serene. Crickets, birds and awe make the night interesting. They tell me there is a farm house about ½ to 1 mile from here, but I haven't seen or heard it yet. I did hear a dog bark once. It is 8:30 and I'm going to try to go to sleep early. I need to save my flashlight batteries.
Friday, May 22, 1992 – Raven Point
I got 9+ hours sleep last night and feel good except my back was aching when I first woke up. It is better now that I've moved around. It is cold! I wore my new rain suit until 9:00 AM to keep warm. But I am back in shorts and t-shirt now. I ate breakfast and had the 1-mile hike for water. At the creek I brushed my teeth, washed out the dishes and my undershorts and socks. The sun is shining with a mostly clear sky. It is a beautiful day! I'm glad I'm here!
I can only see about 50 yards in a tight forest. There are no flowers here, but saw lots of mountain laurel on the trip here yesterday, plus a lot of other wildflowers. There are a lot of ravens or crows cawing now.
Late Afternoon:
I hiked another 10 miles today! Wow! I'm tired and I only carried the day pack on a loop trail of Fiery Gizzard and Dog Hole trails with lots of boulders, steep trails and beautiful cascades and waterfalls. Blue Hole Falls and Sycamore Falls both had enough light for good photos. I saw several smaller ones and cascades that are beautiful, but no sunlight under the canopy.
I rested 30 minutes in my hammock before getting water and fixing supper. Then I read the Anita Bryant book for an hour.
Two "local looking" guys walked down the trail and back later. I was a little troubled by them for awhile, but they are okay. I passed only one other hiker on my day hike today. He had camped at Small Wilds which I had passed the first day. It is a nice campground and closer to Foster Falls.
It is 7:38. I am going to make some "Sleepy Time" herbal tea and try to go to bed early again. Tomorrow I will either move to Small Wilds Campsite or hike the entire 8.5 miles out. Then I'll be able to attend Sunday School Sunday. I hate to miss. The thing I have been least comfortable with on this trip is drinking so much creek water. I'm treating it and I'm okay so far. It is just new and uncertain to me. And my urine has turned orange! I guess that is some mineral in the creek. Well, it is 8:00 and I'm getting ready for bed!
Saturday, May 23, 1992 – Home after the Hike
I slept until 7:00 AM, ate, cleaned up, packed and was out of camp by 9:30 AM. I decided to go all the way out and be home tonight and at church tomorrow. I'm tired and wanting a bath and real bed and the fellowship of Sunday school.
As I arrived at the Foster Falls parking lot I met a young man about to backpack in the 2 miles to Small Wilds. He had all new equipment. It is still hard to believe that I just did 30 miles in 3 days!
I came home by way of Sports Unlimited and Shannon helped me adjust my Peak One Backpack. It is so much better! I wish I had done this a long time ago! Then I took my film by Sam's and home for shower, dinner, TV and bed! Yay!
June 14, 1992 – Smoky Mountains
Lewis Wingo and I left after Sunday school, driving to the Great Smoky Mountains National Park. We had lunch at a Cracker Barrel on the way.
I set up my dome tent at Elkmont, then we went to Gatlinburg for dinner. Then we hiked up to Laurel Falls and back as it was getting dark. An 18 year old boy was "lost" or his parents thought he was. So we called for a ranger. When we came back by he had returned to his distraught parents and little brother. Lewis is sleeping in his Suburban and I in my tent.
June 15-16, 1992 – Hike to Mt. LeConte
After the fact – a report:  We hitch-hiked to Newfound Gap and backpacked down the AT to Boulevard Trail and over to Mt. LeConte. The highlight other than beautiful vistas and lush forests was the group of friendly people for lunch at the juncture of the two trails.
After resting and getting spring water, we welcomed the only two other campers in the shelter, brothers, Calvin and Ryan from Iowa and Wisconsin. They were really nice, clean-cut guys. We visited a lot and enjoyed each other's company.
While we prepared supper a black bear and her cub came up to our shelter and left quickly. Later that night and again at breakfast three deer came for the nearby grass. They allowed us to photograph them.
Last night we went to "cliff tops" to see the sunset, but not much because of the clouds. This morning we hiked to Myrtle Point for the sunrise and got even less because of the clouds again. A national park folder said that clear visibility only happened here 10% of the time. We were part of the 90%. We were literally in the clouds much of the time! But it is so beautiful here!
Our hike down was on the Alum Cave Bluff Trail. One of the most beautiful trails I have ever seen! The first 3 miles down was steep mountains, some spots had cables or steps to help us get down. The Alum Cave Bluff is an enormous overhanging cliff followed by more vistas and rhododendron beginning to bloom. The last two miles followed a beautiful cascading creek with several crossings on rocks or log bridges. White water is everywhere! It is beautiful here!
Lewis had me home before 5:00 PM and I'm tired. I ordered a steak delivered from Steak Out and I'm now in bed. I'm SO THANKFUL FOR SUCH OPPORTUNITIES TO BE AMONG GOD'S BEAUTIFUL CREATION! And I'm thankful for the physical challenge which will help my health.
June 20, 1992 – Waterfalls!
The Singles program at FBC is going to have an "Academy Awards Banquet" August 1 and all are encouraged to submit video tapes or "home movies" for competition. I have already played the part of a witch in our Sunday school class "Frog Prince Revisited" skit tape which will be entered. But I wanted to do something with what I love most, the out-of-doors. Thus I am working on a 3-minute video I will call "TENNESSEE WATERS."
I was up early and off before 7:00 AM. I debated on waiting until after 8:00 so I could rent a tripod, but decided not to waste valuable time and I don't like fooling with tripods anyway! The morning sun is some of the best light.
With driving time included, it ended up being a 13-hour day, 10 miles of hiking with a 30 pound backpack of mostly video equipment, all for 3 minutes of video! And there is still hours of editing to do. Wendell green said he would help with that. He works at Viacom and has access to their editing equipment there.
First I hiked 5 miles round trip to Savage Falls and it's overlook. It is still my favorite falls because of the spectacular view from the overlook including the creek approaching the falls and the deep green plunge pool.
Next I drove back to Tracy City and the Grundy Forest end of Fiery Gizzard Trail. First I taped the creek approaching Blue Hole Falls and then the falls. I had lunch at the base of the falls watching a family eat their lunch on top of the falls. Then I photographed the forceful Sycamore Falls which was full of water. The water was so high I couldn't get to the island for one of the views I like, but I got the falls recorded anyway. And today was my first time to see Hanes Hole Falls which is another beautiful, serene site. It is mostly under the canopy. I got my first 35mm shot there too.
After the 3.5 mile hike there, I'm out of Grundy County to Marion County for Foster Falls, the tallest (80 ft) and most spectacular of this trip. It will be the conclusion of my tape other than credits which will be on still water background. I'm excited about this creative adventure!
June 23, 1992 – Making the Movie!
I met Wendell Green at Viacom, where he works, tonight after work we or he edited my waterfall footage down to a beautiful 3-minute tape with music by Danny Wright (an audio tape I bought) and Wendell will use a character generation system to add a title and credits tomorrow or next week.
It was exhilarating to see it all come together, to watch Wendell work and to see how much difference the music made. I love it! It was a great artistic experience! I think Wendell thinks I'm crazy as well as hyper. When we were finished, I treated him to dinner at the West End cooker. Then he wanted me to use my camera (the Board's) to tape some footage of carriage in downtown Nashville which he is using for something else.
So, I'm going to bed at 11:00 after a great evening!
July 3, 1992 – Glorieta, New Mexico & Ghost Town
I drove the truck to Glorieta again this year, arriving about noon. This afternoon I hiked alone to "Ghost Town" which has always been one of my favorite hikes. At home I have a deer skull found on this trail in the 80's.
I enjoyed it again, but was surprised by the large number of trees blown down in a storm and the dusty dryness of the trail from a lack of recent rain. The "hotel" has caved in more since I saw it last.
The mountains, trees, and stream are as beautiful as ever! My big treat happened as I was coming up the little rise before Ghost Town. An eight-point buck bounded across the trail in front of me! Neat! Of course I didn't have time to get the camera out.
At supper I met Steve Evans from Greeley, CO, a pastor who likes to hike also. He has agreed to hike up "Old Baldy" with me tomorrow. But I have developed a problem this evening that might mess up the hike. Something is wrong with my bottom which I later learned was hemorrhoids. I may have to see a doctor tomorrow. Or get that ointment they advertise (Preparation H). Oh yuck! Why me Lord? (My first time to have a hemorrhoid.)
July 4, 1992 – Hike up Glorieta "Old Baldy"
On my 52nd birthday I climbed to the top of "Old Baldy" for the fourth time in my life and to the top of the fire tower on top! I went with Steve Evans of Greeley, CO and had a good time getting to know him. He accidentally came to the conference a day early. We decided it was God's will so we could hike together.
The mountains were beautiful, especially the view from the top. Some mountain bikes passed us early on the trail. I think it is too steep and rough for biking, but as they say, "to each his own."
We climbed 3,000 feet in 5.1 miles one way. The total hike from lodge round trip was about 12 miles in a little over 6 hours. Good at my age!
-o-
CATCH UP CHRONOLOGICALLY OF SOME IMPORTANT ACTIVITIES 1992 NOT WRITTEN ABOUT IN THIS DIARY:
1.     After you spent the second half of the summer of '92 with me, the courts gave me temporary custody of you, meaning you would live with me all of the time. It was because of some crazy things your Mom was doing to everybody around her.
2.     In summer of '92 you and I went to Disney World, Florida and had a great time! Here's a small Photo Gallery.
3.     In December '92 the court (Judge Muriel Robinson) gave me full custody of you. You have not seen your Mom since. She went to a psychiatric hospital in Florida for a week, then refused to have anything to do with us, refused to accept visitation with you every other weekend and still hasn't spoken to me or written.  You have since received a few letters and gifts from her.  Jason moved back in with us sometime in December.
-o-
September 1992 
Juli began attending school at Genesis Learning Center by recommendation of Metro Schools and her psychiatrist. It is a special needs school with mostly autistic teens. Hoping it will meet her needs better than public school where she has been teased by some of the boys who were really ugly to her, plus not showing much progress educationally and not enjoying school. Teachers can only do so much at this age in Special Education.
Friday, October 23, 1992 – Burgess Falls
On my way to Big South Fork I stopped by Burgess Falls near Cookeville, TN. It is one of the most beautiful waterfalls I've seen yet! It is probably 100 feet tall and 30 feet wide (my wild estimate). Plus there are two other smaller falls above it that were just as beautiful. I hope my photos turn out good. It only took about an hour and a half round trip to see these falls.
Friday, October 23, 1992
Charit Creek Lodge, Big South Fork National Recreation Area
I drove in through Jamestown and up Divide Road to Twin Arches, parking at the Twin Arches trail head parking lot. I hiked by the arches to Charit Creek Hostel, about 2 miles. I'm staying in the lodge, sharing a room with Paul from Knoxville, an audiologist and his nephew Patrick from Nashville. Patrick lives off Tusculum Road not very far from where I live. His father died and Uncle Paul takes him (15 years old) deer hunting every year.
When I realized it was hunting season for musket-loading and bow, I became a little fearful of hiking, but I will be cautious.
In the afternoon before dinner I hiked 6 miles round trip to Slave Falls that only had a trickle of water, then sat down with a dozen other people for a big all-you-can-eat meal of chicken & dumplings, brown beans, corn, turnip greens, peach half, apple crisp, and coffee or hot chocolate. I had a good visit with Vie & Tom and their family of 10 from North Carolina. Paul and Patrick were out hunting. They are preparing their own meals which is one option here.
A campfire after dinner with the big family was fun, just talking. I was in bed by 9:30 after writing in this journal by kerosene lamp light. We kept a wood fire in the stove all night, toasty warm!
Saturday, October 24, 1992 – Charit Creek Lodge
The manager knocked on the door at 7:45 AM. I went to the bathroom and started breakfast by 8:00! It was a big breakfast of coffee, juice, ham, eggs, grits, muffins, preserves, and a bowl of fruit cocktail.
After breakfast I took a shower and they actually had hot water! I'm now sitting in a rocking chair on one of the porches of the lodge, looking at the meadow with split rail fence, log barn, and babbling brook. Beautiful! Peaceful! All of the others who spent the night are gone now. It is just me and the staff of 4. Two small hiking parties have passed through, looking the place over. In addition to the lodge with it's dining room and two bedrooms of up to 12 in each, there are two separate cabins of up to 12 in each and two smaller cabins for the staff.
This place is operated by the same people who operate Mt. LeConte Lodge in the Smoky Mountains. This one is easier to get to and has horse facilities and horse trails. A group of 6 horses and riders are going by right now.
I'm staying around here and reading, writing, loafing this morning to rest and stay away from the hunters who are active in the morning and early evening. Deer are most active at dawn and dusk.
There is a young man with ponytail and his girl friend named Sarah who works for the manager and his wife. I can't remember his name. They are real outdoorsmen. They will be moving to LeConte in 3 weeks to caretake the place through the winter. It closes in winter because of snow, but Charit Creek is open year-around.
Sitting on this porch is the most peaceful place I have ever been. No one  is around and it is beautiful scenery on a beautiful sunny day with fall-like coolness. Well, some more horses are going by, two fording the creek. I'm going to walk around and take pictures now.
AFTERNOON
It was a good lunch of homemade bread tuna sandwiches, soup, homemade cookies and iced tea. I hiked up Hatfield Ridge and back after lunch, about 4 miles. It includes an absolutely beautiful overlook view of the Charit Creek Valley, corral, cabins and creek. I could have sat there a long time but a herd of cowboys came after about 20 minutes and were quite boisterous, noisy and talking about getting drunk and bungee jumping. I parted company with them.
I had at least 4 groups of horses pass me since this is a horse trail. They chop up the trail, make it muddy and a stinky mess with their droppings! They also bring lots of bugs. I will look for hiker-only trails in the future.
I'm sitting on the porch in a porch swing this time. Several people are here for the day and more coming tor the night. I am going to read a little more of my Louis L'Amour book.
Sunday, October 25, 1992 – Charit Creek Lodge
Last night was good! We had a great dinner! I ate with 4 people from outside Lebanon who brought their own horses. Paul and Patrick left yesterday afternoon after another day of no luck hunting. My new cabin-mates were a family from Cincinnati, OH, Neil, his wife and boys Peter and Jeffery. They rode in on horses from Bandy Creek Stables with guide Sam who is quite a character.
After dinner we talked a lot and me and the two boys played Rummy and Scrabble. We had fun. Thirteen-year-old Jeffery kept making up words and we would stop him. But he won anyway!
This morning I got up an hour before breakfast. We gained an hour because of Daylight Savings Time ending. And I will gain another hour when I go back to Central Time Zone. I'm sitting in rocker on back porch after breakfast. The gang is getting their horses ready. Breakfast was good again and I had a shower before breakfast today.
The whole weekend, two nights in the cabin, hot showers, five hot meals, great fellowship, great rest, great trails, great scenery and great hospitality and service cost only $81.54. I will definitely come again! Now I'm leaving back by the Twin Arches Trail.
EVENING AT HOME
I saw both arches and changed into shorts before driving to Big South Fork Visitor's Center for a trails map, and then I hit the road. I stopped in Cookeville for lunch at Cracker Barrel and headed home.
The peace and quiet is over. There is more work needed at home than I can do, plus Juli returned and she is still rather demanding of much of my time. Tomorrow is work and the tight demanding schedule of ever day. But I will remember Big South Fork and Charit Creek Lodge and dream of returning.
---
Christmas 1992 Photo Gallery
---
Monday, December 28, 1992 – Charit Creek Lodge Again!
Photo Gallery of 3 Days at Charit Creek Lodge
I just had to take the kids to my new favorite place and this is great! I'm writing by the kerosene lamp in our private log cabin after both Jason and Juli went to bed early. We arrived this afternoon, settled in, looked around the place, and then watched a bat fly around and played in the creek. Juli dried her feet by the wood stove and we had a big supper of BBQ beef, veggies and cherry cobbler. We played a game and then both kids wanted to go bed at 7:30 ET which is 6:30 back home. Go figure! Now I have a little solitude and quiet.
The only other "full-service" (with meals) person here is Lenny Springer in the next individual cabin alone. He came two days ago and is staying five days. He used to live in Nashville but is now with Penn State University. He is a nice fellow, knows Terry York and Warren Thompson at the Sunday School Board.
I'm so hyper that it is hard to just be here and relax without doing something all of the time. But I will try to relax, calm down, and enjoy the children and the great out-of-doors. I hope to take some nice photos tomorrow – nature and the kids and Rosie (the dog) who is also with us. Tomorrow night I want a portrait of each kid reading or writing by the lamp.  I will read a little and then go to bed.
Tuesday, December 29, 1992 – Charit Creek Lodge
Juli did well last night and we all slept about 10 hours. We had a big breakfast except for Jason who slept in. And the usual lunch here was good. Juli played in the creek most of the day and with the two dogs – Rosie and Caleb the dog who lives here. He is a red setter belonging to Kelly and Amy, the new managers who came since my October visit.
I took pictures of everything I could find to photograph, experimenting with the different modes of my new camera and with 3 different speeds of film, 100, 200, and 400.
Jason doesn't like me taking photos of him, but I just got two secretly with my zoom lens. I tried several close-up nature shots with macro lens and some portraits of Juli who seems to like having her photo made.
I'm concerned that Jason is not more interested in being out here and doesn't seem to be enjoying himself as much as Juli and I. But he has taken several little walks alone or with Rosie and did play in the creek some.
I'm enjoying the rocker on the porch now as the sun is beginning to set. But with the mountains and the trees there is no sunset to photograph. Supper was great with a new salmon casserole recipe for Amy, the favorite of Jason thus far. It is a beautiful, clear and starry night! The kids are both on the porch also.
Wednesday, December 30, 1992 – Charit Creek Lodge
We had another good ham & eggs breakfast and the kids were ready to go. They are not as excited about this place as I am. It was a cold morning but warming up into the high 50's which is unseasonable.
The hike out through Twin Arches is mostly uphill and was hard on Juli. After a slow mile, I carried her pack and she did great. We drove home via Cookeville McDonalds. At home it was baths, laundry and I took the film to CPI for next day double prints. I will fix an album for Juli's show and tell at school.
-o-
1993
Tuesday, April 4, 1993 – Fiery Gizzard Hike
School is out for spring break, clouds are to break today, and Juli didn't want to go hiking. I tried to get her to go last Saturday too. So Olivia is staying with Juli as the other days, Monday-Thursday, and I'm taking a vacation day to go hiking and hopefully photograph wildflowers.
I wore sunglasses as I left Nashville in bright sun. By the time I got to the foot of Monteagle Mountain, it was cloudy. As I moved up the mountain the fog got thicker until in the town of Monteagle you could not see two car lengths ahead. But that shouldn't keep me from seeing wildflowers.
It was mostly cloudy all day along the Fiery Gizzard Canyon, but it was beautiful! It was comfortably cool, waterfalls were just gushing and the creeks all full. I took more pictures of water than flower but did get some. I got two kinds of trilliums, blood root, and the little tiny daisy-like flowers.
I just love walking on these trails! It is peaceful, beautiful and invigorating! I'm ready to get back to work tomorrow. It is like taking a miracle drug or having a revival experience. To get out doors anywhere, especially the beautiful forests of Tennessee, just rejuvenates me! I love it!
I'm now back at home, happy, able to cope with Juli while being a "good" tired. And I'm ready to tackle the office tomorrow! I must go hiking more often!
June 28, 1993 – Juli's Book
We sat in rocking chair on back porch (deck) and watched the hundreds of lightening bugs in the woods behind our condo. Beautiful! Peaceful! I will try to spend more time like this with you Juli. You are special!
June 29, 1993 – Juli's Book
I rocked with you last night because you were crying from a sore shoulder, supposedly from playing baseball with neighbors Sunday afternoon the 27th. I have been giving you Ibuprofen for the pain with little result. You went to bed crying with it last night; were up 2 or 3 times in the night with it hurting and up early with me with it "hurting bad." I asked Olivia Barker, our sitter with you this summer, to take you to either Baptist convenient Care or Southern Hills ER.
She took you to Baptist and they X-rayed you and said it was just a pulled or bruised muscle. "Take Ibuprofen," they said. "No doy," you said, which is an expression you picked up somewhere. It just didn't help. When I got in from work all excited about vacation and ready to pack, you were now screaming in pain. I took you to Southern Hills ER. They X-rayed the right arm and found no fracture, then X-rayed the left arm to compare. Then they discovered that you had "a right shoulder AC separation– Class 1. Neither of us understood that, but at least we had a diagnosis. They tried to get hold of an orthopedic doctor (2 different times) and failed. So we went home with pain pills that had codeine in them. Plus we had instructions to see an orthopedic the next morning.
I felt you needed the vacation as much as I and they can't put a cast on a shoulder. Even if we stayed home, you would stay in the sling, so I stayed up past midnight getting things packed and we had already picked up the rent car. So we are leaving in the morning!   🙂
THE ABOVE IS TALKING ABOUT OUR VACATION TRIP TO A CONDO ON PANAMA CITY BEACH IN 1993.
IT DOESN'T MATCH WITH THE DATES OF THE BELOW ENTRY.
I HOPE I GET THE RIGHT DATE ON BELOW ENTRY SOON.   🙂  It was possibly another year, 1995 I think. I have to search records & photos to get it dated.
June 30, 1993
Juli and I just returned from the Hardgrave Family Reunion in Clarksville, AR June 28-30.   About 130 attended including Glenn & Susan Railsback who aren't in Hardgrave line, but kin to a lot of us and related to many more through the Hunt & Ogden lines which are intermingled with Hardgraves.  He is also greatly interested in family history in general and in cemeteries.   I bought the first edition of his Hunt/Ogden book for $60 and it looks nice.  Also a $7.50 booklet on Cynthia Ogden.  Both have photos he scanned in with color scanner.    We enjoyed visiting and as usual, Susan helped care for Juli while I visited and talked and met — things Juli hates for  me to do.
Also spent time with Gene & JoAnn who were, with Katala Williams, the planners of the reunion this year and they did a good job!  Except the auction was too long.  Francis did that.   Gene and JoAnn are hard workers and really spent a lot of time and money in preparation for this!   They have also been especially supportive of the efforts I am making to preserve the two Hardgrave Cemeteries here in Nashville.   The Board of Directors was meeting today at Katala & Clarence Williams' house, but I just couldn't stay this year.  They were to discuss giving some funds for the cemetery ogranization up here.  Gene will represent me well!   There is so much that I would like to do with the cemeteries!
I listened to tapes from the NGS National Conference I attended here in Nashville May 8-11 this year.  One, F-116, "STILL UNPUBLISHED AFTER ALL THESE YEARS?  WRITING YOUR FAMILY HISTORY IN SMALL, MANAGEABLE PIECES" by James W. Warren has motivated me to get back into the journal writing habit which I haven't done much since the separation in '89/divorce in '90.   Before I was writing separate journals for Jason and Juli to be a gift to them when grown.    I think I will settle for just one journal now and try to enter a small amount nearly everyday for awhile.   As Warren said, this helps you to prepare for writing by writing, plus as I record my feelings, memories and events;  I am actually beginning my biography which I do intend to write sometime, so why not in small pieces?
Jason took the two volume journal I had done for him before I was ready for him to take it.   I really wanted to copy it as part of my biography.   I hope he will let me at least copy it.   As I told him in a letter, the journals are really mine until I give them to me.   He left the state with bill collectors chasing him and left me with a new car loan I cosigned for ($11,000 +) and his loan for Truck Driver Training ($2,000) and appears to be living with or near his Mom in Austin, Texas.   I am hurt that his values aren't strong enough to do better, but I have long ago realized that I am not responsible for him and his actions or problems (so why did I cosign? Huh?).    I am sorry that he seems to be following in his mother's footsteps of blaming others for their problems and not taking responsibility for their actions.   But he will not put this financial hardship on me ever again!   And I will live through it and continue to be happy in myself, with myself.  I don't feel responsible for him, do not worry about him, and look forward to a long and productive/happy life.
There is so much "catching up" I would like to do, but it is late, I am tired and must be rested for a heavy day at the office tomorrow.   Maybe I will get into the habit of a daily entry.
My thought of the day from Covey is continue to learn, commit, and do.  As I continue to learn something new about personal effectiveness in life, commit myself to it, then do it; I will not only be more effective, but find more joy in life.    The priority I have not fully committed myself to now is regular exercise.   Maybe the journal will help me there.
Thank you God for joy and excitement of family and family history and the excitement it is bringing to my life.   Help me to find ways to use it for your glory.    Charlie
---
Christmas 1993 Photo Gallery at Home
AND
Walt Disney World Florida, Christmas 1993 Photo Gallery
1994
November 3, 1994 – Juli's Book
Well, as usual, I have gone a long time without writing in your book and I have missed a lot! In just one line or two I will summarize the big events missed:
(The 1, 2, 3 parts moved to 1992 section of this diary. Still catching up.)
4.     In summer of 1993 we went to Destin, Florida for a vacation on the beach. And your Mom moved to Austin, Texas without even saying goodbye to you. Jason helped her move Labor Day weekend and stayed with her until October, then back with us to live here since then.
5.     Christmas 1993 was just you and me for a week at Disney World. It was wonderful!
6.     July 1994 you and I had a vacation in Nashville, road the General Jackson, went to Opryland, and rested.
7.     August 1994 we moved Jason to Memphis to attend Memphis College of Art where he is now.
Two weeks ago I called your pediatrician, Lea Ann Freeman, asking what to do with your period running into 3 weeks long now. She recommended Ob-Gyn Maria Perales. She was booked up for weeks, but worked you in a week ago last Tuesday. They did vitals, found a very low blood count as expected. She talked with you and then did an ultra sound where she found what appeared to be a large cyst. She then had an x-ray to verify that something large was there. On my insistence, she worked you in as her 5th surgery yesterday after delivering a baby also. She's quite a woman!
You didn't get into surgery until 5:45 PM and it lasted about 2 ½ hours. She found two deformities:
1.     You have not one uterus (normal) but two! Which is exceptionally rare – only in text books for her.
2.     You were born with a wall or membrane that was holding back part of your blood every month during periods. This created a "sac" or container that was holding blood ever since your first period in '91 (with me at Texanna Grill). She said there was more than 500 cc or half a liter of blood forming something larger than your two uteruses combined. Dr. Perales drained it, removed the septum or membrane wall that divided your vagina. You got three tiny incisions in your belly, one was in the belly button for a laparoscopy.
The surgery was successful! This will get rid of your almost constant stomach aches and any more long periods. Dr. Perales said we would deal with the 2 uteruses, maybe next summer. No urgency now.
Now we are facing the big challenge of getting up out of bed, walking, and going to the bathroom. Ruth Buffum was great at helping with this! (A nurse I assume)
November 4, 1994 – Juli's Book
Dr. Perales drew a picture of Juli's anatomy for me this morning. The diagnosis of an anatomical deformity is more clear now.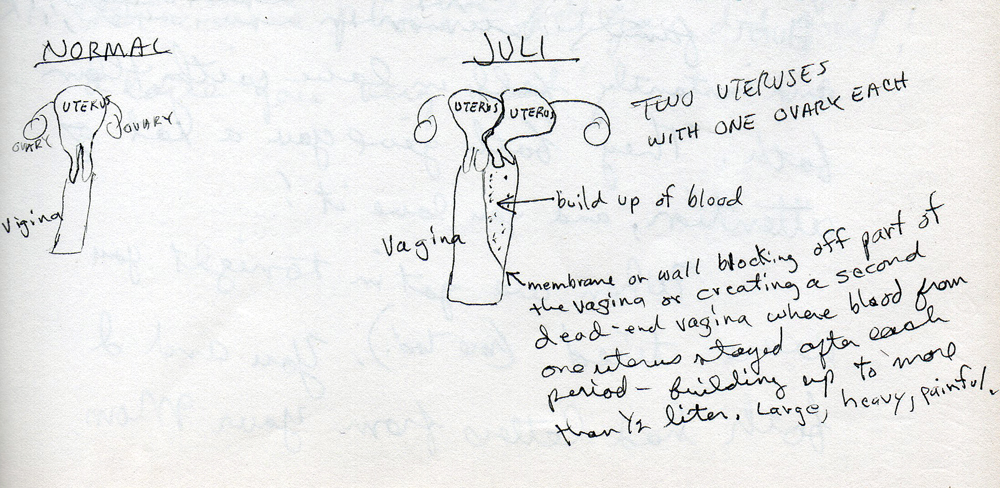 ———-
Christmas 1994 Photo Gallery
1995
Earlier in June 
Sometime earlier Juli and I went to the "Hunt Family Reunion" at Clarksville, AR I think and nearby.  I will add more information as I put it together – not originally written in this diary.
June 25, 1995 – Juli's Book
We got in about 8:30 tonight from your visit to cousin Edie in Pine Bluff, AR while I was at the Hardgrave Reunion in Clarksville, AR this weekend. You had a great time and especially enjoyed swimming at Eden Park Saturday. The President was also in Pine Bluff Saturday for the Amateur Baseball National Playoffs. You put up with Edie's boys, Hollis and John, and their brother Stu was out of town. You just love Edie and her mother Susan. You met them 3 weeks ago at a Hunt family reunion in Clarksville, AR and instantly fell in love with them both. They both give you a lot of attention, and you love it!
When we got in tonight you were tired and me too! You and I both had letters from your Mom. She said she could come see you in the next two weeks, but didn't say when. I called her and she said she would call back with some dates after she makes a reservation at a Smoky Mountain Park campground. You have mixed feelings about camping because you hate bugs. But you told your Mom you wanted to go, so I guess you will. Tomorrow I take Jason to Scottsville, KY to begin a job as truck driver for the Ryder Company, delivering for companies like Dollar General Store which is headquartered there.
As usual, you cried, then got mad when you received the letter from your Mom and were nervous about talking with her on the phone – but you did great! I love you very much!
October 4, 1995
At the office I worked on the 1997 quarter change, new proposal forms, and trouble shooting. Bill Peter gave me his M.S. Project software which I put on my computer at home tonight and will at office tomorrow.
October 13, 1995 – In Juli's Book
You left this message on my voice mail at the office: "I got home. I've been good at school. I got a 4 from Mr. Chris. I've been a young lady at school. I still want to go to Opryland."
Juli, I got a lot of nice voice mail messages from you! I love you!
Friday, December 1, 1995 – Little Rock Airport
I'm sitting in the Little Rock Airport after a physically and emotionally draining week. Dad's heart just stopped on Tuesday morning, November 28, 1995 at Poinciana Ridge Home where he died. When I got there the ambulance was leaving and I followed it to Baptist Hospital. I completed a lot of paperwork then was taken to a small waiting room where Dr. Hasty and an assistant told me "He didn't make it."
Dad was worn out with a body that had almost quit functioning. He was ready to go and is a peace now. It was a release for him and me both.
I spent the rest of the day on the phone notifying relatives, making funeral arrangements, a place for Juli to stay, local announcements, a motel room in Hot Springs, airline and rent car reservations, and many people calling me until nearly midnight. I was exhausted then as now.
Wednesday, November 29 I go to office, try to clear my desk, accept sympathies, and continue work on transportation. I go to the Poinciana Ridge Home and conduct a memorial service there, with patients and staff sharing their memories of dad. It was incredible the impact he had on them. I finalized Juli staying with the Pohls, made more calls and did late night packing for me and Juli.
Thursday, November 30 I finished medical release for Pohls but did not have time to get it notarized. I got Juli on school bus and myself to airport. I fly to Little Rock and drive to Hot Springs where I have a quick lunch and spend 2+ hours at funeral home making all the arrangements. There was a casket choice, many details, and a partial payment due. I check in motel and go by Walmart for nametags. Family begins to arrive. Sean comes with Bonnie & Tom. All family eat at Shoney's and we have an 8-9 visitation. I then had the surprise arrival of Tom & Dorothy from Texas late at night with more visiting. I was worn out again.
This morning (Dec. 1) I was up at 6:00 with a quick breakfast at Mary's Café at 7:00 and off to Walmart for a black belt. It was then on to funeral home for 9:00 AM Visitation, 9:30 car procession and 10:00 AM graveside service. The weather was cold and windy. I shared memories of Dad as did many others. Rev. Craver read and discussed the 23rd Psalm and a passage in Revelation. Many said the memory-sharing was what made the funeral. It was just like I did at the Poinciana Ridge Home. In fact, the director of the home, Lee Jones, said she would do that at the home after every death now.
Many stayed at the cemetery and talked until after 11:00 AM. Another surprise was the arrival of Glenn Railsback and a group of representatives from the Hot Springs J.C. Penney store.
Many were at Mary's Café for lunch. I moved back and forth between those at a long table of Dad's brothers and sisters plus another table with Glenn, Gene & Joanne.
Then I head for the Little Rock airport with a Saline County Sheriff deputy stopping me for going 69 n a 55 zone. He had sympathy on me in my situation and mercifully did not give me a ticket. I drove to rent car lot and then remembered gas. So I went back out and filled up at a Conoco station. Whew!
Well, I'm on the plane now and it just took off. Exhausted! Larry Pendergrass was going to be with Juli each afternoon until Lyndy Pohl and kids got home. I am thankful for that and hope it all worked out okay.
Gene & Joanne brought me a beautiful enlargement of a photo they made of the old 1797 DeMoss log cabin when they were in Nashville. Glenn brought me some more Hunt family history.
It has been a great week with wonderful friends and family! It is a great kind of tired! And I thank it is a positive way to remember Dad.
Friday, December 1, 1995 – At Home After the Trip
I come home from a trip with hugs, talking and gifts for Juli. She wants to order pizza – I do. The pizza comes and she won't eat it and tells me she was scared of the weather movie Mr. Chris showed at school. Then she goes on and on about tornadoes and thunder storms. She throws things, calls me names and goes to the basement hollering for the neighbors to hear: "I can't believe my own Daddy hates me. Everybody hates me. But my Mom loves me. I want to live with my Mom.
Then she runs outside twice, slamming door. Comes in and says it is Terry's fault because he kept asking silly questions and made her be in a bad mood. (Terry is a boy at school with Autism that she likes.)
I talked to her about who was in charge of her moods, feelings, actions and words. She went to her room. (This was all possibly her childish way of getting my attention or complaining because I was gone for Dad's funeral and not giving her all my attention. It still hurts.)
December 11, 1995 – Juli's Book
Voice mail from Juli at office: "I had a good day at school. Bad bus ride! Kids fighting, cussing, using F-word and D-word, kicking, hitting."
---
Photo Gallery, Christmas 1995 –  not much, but a taste of how I tried for normality. That includes the annual Christmas Letter Update which of course never tells it all is also copied here: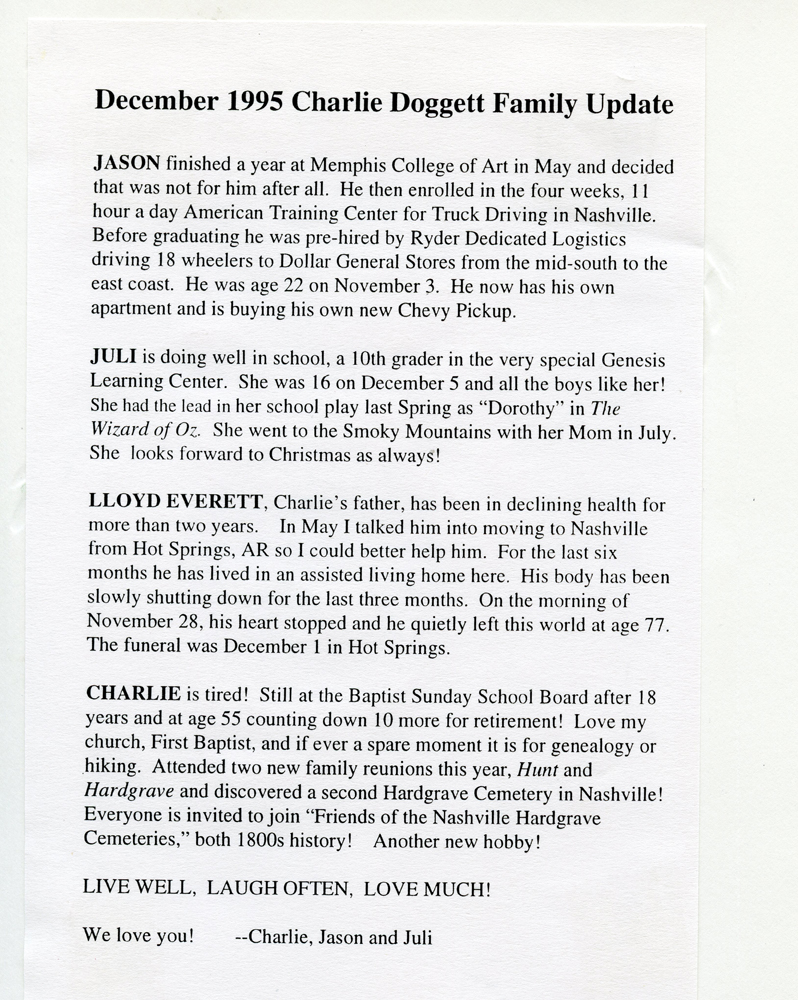 1996
February 16, 1996 – In Juli's Book
You stayed home from school today because of snow. When I got home from work you said "I taught myself how to make pony tails today." You had with your short hair a short pony tail in the back and one on each side. It was cute.
February 19, 1996 – Juli's Book
Yesterday afternoon I asked you to clean up your room and bathe before I got back from Kroger. You got mad, threw some things (which is becoming too common). Then while I was gone, you called your Mother and told her I was mean, I made you work when you didn't feel like it and that I hit you, pulled your hair, went in your bathroom when you weren't dressed and your mother was furious! After you quit talking she called me and fussed for at least 30 minutes, threatening me, saying she was "going to get me" and other people here. She said lies about me to me and to you. Then later, at night, she called the Nashville Police long distance to tell them I was abusing you and asking that they come out and check on you. We had three police cars and one nice policeman, Chip, who talked to you awhile and then me. He determined that I didn't hurt you and that it was your Mother's problem.
I'm so sorry things like this happen and wish I could do more. We made an agreement that I would not go in your room or bathroom and that you would always close the door when you go to the bathroom. We are going to do fine! I am setting some more boundaries with your Mom. I have changed our phone number to unlisted, fixed our phone so no long distance calls can be made from our phone without a credit card. I will help you when you want to call your Mom, but not when you are mad. We are going to work this out so that everything is best for you I love you very much Juli!  – Dad
ABOVE WAS MY LAST ENTRY IN THE RED-BOUND DIARY FOR JULI
-o-
An awful lot happened between then and her death in '97 but I failed to record anything else in her diary. I did record some in my personal journals off & on during that time as found below and I'm adding links to photos, etc. .
-o-
March 30, 1996 – At Radisson Bahia Mar, Ft. Lauderdale
There is a Photo Gallery for this Florida Trip & "Free" Bahamas Cruise
First day and it is good! Juli panicked just twice about flying and then became quite positive. It was a good flight, great hotel here on the beach in front and the intercostal waterway in the back with gobs of beautiful yachts. It is a playground of the wealthy!
A late lunch in the hotel café with overpriced food, poor service and a snooty attitude made us decide to eat in room or elsewhere for other meals. But everything else is great!
We swam & sunned at the pool with live music! We then played on the beach with Juli collecting coral and shells and had supper from the deli which we ate in our room. I think we are both already relaxed and ready to enjoy the week. We tour the time-share tomorrow and the rest is vacation! Juli was asleep at 8:15 Eastern Time! (That's 7:15 back home!)
Sunday, March 31, 1996 – Evening
Juli is in bed and it is reflection time again. Our first whole day and all day was restful (probably boring to some people). We slept late and had breakfast in the room. Then there was an hour at the pool before the big event! We went to the required tour of Vacation Break Property (time-share condos) which Juli hated and that just made it easier to say "No" to them. It was "Palm Aire in Pompano Beach."
We all liked the free lunch, but Juli really got restless when the tour and sales presentation began. She helped end it quicker and of course without me buying a room in a "co-owned" condo. Their best selling point is their connection with other vacation properties around the world and the extra weeks you can earn.
Back at the hotel I couldn't find a place open to ship our extra stuff home. We had a fruit plate supper and Juli went to bed early again. I packed for tomorrow morning and finished reading the book, A History of Bellevue which Gene & Joann had given me.
Monday, April 1, 1996 – Port Lucaya, Grand Bahamas
It was a long day with lots of long lines, but also a memorable one. We were up at 5:00 and to Port Everglades by 6:15. The boat left at 8:00 AM.
Juli like the ship or big boat I called it. It is the DISCOVERY I. She also likes it here in the Bahamas! She got frustrated with several long waits and a mix-up on our hotel room. All they had at Port Lucaya Resort was a room with one bed. I demanded what we reserved either there or somewhere else. They put us across the street in the Grand Bahama Beach Hotel – wow! It is nicer and on the beach! Many would say we were lucky! We could just walk out the back door onto the beach! Now we cross the street for the boats and straw market – opposite from the others on our cruise. We also walk to the other resort for the one free meal included each day – dinner.
During dinner tonight the entertainer sang several songs Juli liked, calypso and a Lion King song; then when he sang the country song "I'll love you forever and Ever, Amen!" Juli cried. That is the line I give her when she asks me if I love her. She likes that part, but it also reminds her of her mother who not only left her but seldom has any contact with her and when she does it is mostly negative and expressing hatred of me which confuses Juli. It is amazing the emotions one little song can bring up.
Juli will sleep late tomorrow and I hope to get up and take some photos of flowers and maybe a sunrise.
Oh! Juli got a shell bracelet and had her hair braided – six strands with 2 beads on each. She loves it and wants more braided tomorrow. We are planning on a relaxed day tomorrow with pool and beach time and maybe a glass-bottomed boat ride.
Wednesday, April 3, 1996 – Port Lucaya, Grand Bahamas
Yesterday was a vacation day all day! We slept late, had breakfast on the patio overlooking the pool and beach with lots of palm trees and other tropical plants. It is cool in the shade and comfortable in the sun. We later learned that a cold front was moving through. It was cold all day until evening when it actually warmed up.
At 11:15 we boarded the glass-bottomed boat "Mermaid Kitty" which was a treat, sailing over coral reefs full of fish and other undersea life. I took a lot of pictures and hope some come out okay. It is not the best conditions for underwater photography!
After we were back on the dock, we had a 1:00 lunch at "Kenny's Rum Runner" sandwich shop. Then we walked around and settled down with Silva Cooper, a hair-braider who did Juli's six braids last night. She then braided Juli's whole head except for the bangs. Neat! She used all different shades of pink beads. Then it was finished up in front with one braid wrapped in pink and white threads and an extension making it longer than her actual hair. Cool! It cost me $75 which was probably not wise from a financial perspective, but for the joy it brought Juli, it was worth it. Silva said Juli could leave the braids for up to two months before taking down. It will be fun going back to school in a week. She can hardly wait!
Then we went for our free dinner at Lucaya Resort and island music. Well, after eating she threw a fit because she had left her glasses in our hotel room. So we went across the street to get them and she wanted to stay but I wanted to see the limbo demonstration, so she came back with me and was glad she did! It was a fantastic limbo show! Young black Bahamian boys got down as low as the height of a beer bottle! The tourists got to try a much higher levels and it was fun! Then we all did the Macarena, a current dance craze that is something life a Caribbean Line Dancing. It was fun too! We were in bed by 10:30 and 11:00. And that was all yesterday!
Today we had breakfast on the patio again, watching the beach with warmer weather today. Then we checked out of hotel and have been on the beach or patio since 10:30. It is beautiful here!
There are a lot of games to play out here on the patio, but Juli doesn't want to play and says the pool is too cold. So at 12:50 we are sunbathing, with her sleeping and me reading Financial Peace by Dave Ramsey. I've also done some writing, people-watching, and nature-watching. I would love to stay here a whole week sometime! Plus I want to go back to St. John by myself again sometime. Well, we will soon walk around a little, have lunch and board the ship again for our return to Ft. Lauderdale.
June 30, 1996
Juli and I just returned from the Hardgrave Family Reunion in Clarksville, AR June 28-30.   About 130 attended including Glenn & Susan Railsback who aren't in Hardgrave line, but kin to a lot of us and related to many more through the Hunt & Ogden lines which are intermingled with Hardgraves.  He is also greatly interested in family history in general and in cemeteries.   I bought the first edition of his Hunt/Ogden book for $60 and it looks nice.  Also a $7.50 booklet on Cynthia Ogden.  Both have photos he scanned in with color scanner.    We enjoyed visiting and as usual, Susan helped care for Juli while I visited and talked and met — things Juli hates for me to do.
Also spent time with Gene & JoAnn who were, with Katala Williams, the planners of the reunion this year and they did a good job!  Except the auction was too long.  Francis did that.   Gene and JoAnn are hard workers and really spent a lot of time and money in preparation for this!   They have also been especially supportive of the efforts I am making to preserve the two Hardgrave Cemeteries here in Nashville.   The Board of Directors was meeting today at Katala & Clarence Williams' house, but I just couldn't stay this year.  They were to discuss giving some funds for the cemetery organization up here.  Gene will represent me well!   There is so much that I would like to do with the cemeteries!
I listened to tapes from the NGS National Conference I attended here in Nashville May 8-11 this year.  One, F-116, "STILL UNPUBLISHED AFTER ALL THESE YEARS?  WRITING YOUR FAMILY HISTORY IN SMALL, MANAGEABLE PIECES" by James W. Warren has motivated me to get back into the journal writing habit which I haven't done much since the separation in '89/divorce in '90.   Before I was writing separate journals for Jason and Juli to be a gift to them when grown.    I think I will settle for just one journal now and try to enter a small amount nearly everyday for awhile.   As Warren said, this helps you to prepare for writing by writing, plus as I record my feelings, memories and events;  I am actually beginning my biography which I do intend to write sometime, so why not in small pieces?
Jason took the two volume journal I had done for him before I was ready for him to take it.   I really wanted to copy it as part of my biography.   I hope he will let me at least copy it.   As I told him in a letter, the journals are really mine until I give them to me.   He left the state with bill collectors chasing him and left me with a new car loan I cosigned for ($11,000 +) and his loan for Truck Diver Training ($2,000) and appears to be living with or near his Mom in Austin, Texas.   I am hurt that his values aren't strong enough to do better, but I have long ago realized that I am not responsible for him and his actions or problems (so why did I cosign? Huh?).    I am sorry that he seems to be following in his mother's footsteps of blaming others for their problems and not taking responsibility for their actions.   But he will not put this financial hardship on me ever again!   And I will live through it and continue to be happy in myself, with myself.  I don't feel responsible for him, do not worry about him, and look forward to a long and productive/happy life.
There is so much "catching up" I would like to do, but it is late, I am tired and must be rested for a heavy day at the office tomorrow.   Maybe I will get into the habit of a daily entry.
My thought of the day from Covey is continue to learn, commit, and do.  As I continue to learn something new about personal effectiveness in life, commit myself to it, then do it;  I will not only be more effective, but find more joy in life.    The priority I have not fully committed myself to now is regular exercise.   Maybe the journal will help me there.
Thank you God for joy and excitement of family and family history and the excitement it is bringing to my life.   Help me to find ways to use it for your glory.    Charlie
July 1, 1996
Whirl wind day!  Pushing Juli off to school, return rent car, office for morning Vista meeting and dozens of related work (forgetting to unforward my phone from long weekend), then at 11 off to get Snowball from kennel and try to beat Juli home from school with cat as I promised.   Didn't!  She was upset, called office and my answering machine, pressed 0 and got all the women upset because they didn't know where I was.  When I walked in the house with Snowball at about 11:30, Juli was on the phone with Lori Howell who called her back after looking for me. Grabbed a burger on way back to office.
Only a portion of needed work done at office and off again for Juli (who took over an hour to get ready to go eat, as usual), a relaxed supper at Fazoli's, allergy shot for Juli at Baptist Centra Care, no time for Kroger, Juli getting ready for bed, me typing and it is already about 9:00!    Just a typical day in the life of a single parent and I probably appear to be a slackard to some of my workaholic friends who put in 9 to 14 hour days at work.  Yes, I am ready for early retirement at 62!   I want time to do family history, hike and photograph, write and rest.    Love life and all the many things to do!
Breakfast table thought for today was: "In Thy presence is fullness of joy; in Thy right hand there are pleasures forever. " Psalm 16:11 NASB
Thank you God for all the joys of life!   Amen!     Charlie
July 6, 1996
Well, there goes the everyday journal —but I will keep trying!
July 2 & 3 were packed days at the office with Vista testing beginning.  Three computer science college students are helping with the testing for the summer.  The youngest, 18, Mike Hester, is working with me and he is enjoyable to work with.  Had lunch with Gordon Creson one day.  I have enjoyed getting acquainted with him this year, our new BSS Dept Accountant.
July 4.  I am 56!
And don't really feel any different.  It was a quiet day at home with Juli and the usual American Flag birthday cake.  Dorothy Hearn called as usual.   She also sent a little gift, desk set.  She has been like a mother to me for a long time.  When they showed up at Dad's funeral I was really surprised and touched.  Juli was really sweet to me and even sang Happy birthday.   We bought a few fireworks and took them to Whitfield Park to do our own little show.   Another man with two children joined in with us and it was fun to share with someone who obviously couldn't afford many fireworks.  Of course I wanted to go see the big show downtown or the one at Opryland.   But not Juli!   I think I will get her to agree to go to one of them next year.  Gracious!   We spent $37 on just little fireworks!  And the big show is free!
The 5th I took a day of vacation to stay home with Juli and we stayed in all day except for two little shopping trips for me and then we saw the Disney movie The Hunchback of Norte Dame.   Another excellent child's eye view of an old classic story!  We enjoyed.  And I am still a little upset with the Southern Baptist Convention for calling for a boycott of Disney parks, movies and products because Disney provides benefits for gays and their partners and their subsidiary company has produced PG-13 and R movies.  I feel that was the wrong approach.  A personal discussion with their leadership would have been more effective and less confusing to Baptist children.  Oh well. . . maybe it was not as harmful as the front page declaration of our new all out effort to win Jews.   In my opinion, evangelism to the Jews is virtually stopped for a year or more.   —Back to us.   We had a late supper at Shoney's after the movie, then home to bed.
July 7, 1996
Today I slept late and spent 2 hours+ cleaning out the rest of the honeysuckle vines out back that our lawn crew won't get.  I got hot, tired, winded, itchy, and scratched a lot by other vines with stickers.   But it looks better now.   Enjoyed the rest of the day in working on papers, photos, organizing genealogy, family history stuff, and the cemetery stuff.
Juli is feeding fish and watering flowers for Pohls who are in Florida.   Last night we went over and their front door appeared to have been broken in.  It was ajar and the jam looked like a crow bar had pried it open.  Even wood chips on floor.  Called police and John in Florida.  There appears to be nothing missing.  But a little scary for Juli.
I have this insatiable desire to get all my photos and other family history stuff organized in binders, etc.   Just getting acquainted with some new archival safe products that will help save it for even longer.  It is fun!
The happiest people are those who seem to have no particular reason for being happy except that they are so.   –William Inge
Lord, thank you for the happiness I find in every day and the little things I can do around the house.  Life is a fun adventure with new excitement and satisfactions every day!   Amen.    Charlie
July 8, 1996
Nearly 11 pm, I'm tired!  We were late leaving this morning for school and work –hard, full day at work, Juli sick when I got home.  Throwing up and just did again.  I will let her stay home tomorrow and may have to stay with her.  See how she is in morning.
Ginger called Gail Bagwell in Credit Union today about Jason not making truck payments.  Details are in my harrasment.doc Word file.
Enjoy staying up late with photo album & cemetery work and trying to organize my office.
Yesterday's thought from Covey: moving my circle of concern from have's to be's.   I can drown in the:
"If only I had more time…   If only I could have Ginger to leave me alone…  If only I had more money…"   etc!     But I can be patient,   be loving,   be wise and find joy in life.
God, help me to be a Christ-like person all day tomorrow, thinking and working toward being like Jesus.   charlie
July 19, 1996
Good day at office with the first product add Vista test procedures finished and copied to Rhonda for checking.
Came home early to take Juli to the early (cheaper) movie which was a 4 instead of the usual 5, so we missed that one and then she kept "slow-poking" around until we missed the 7:10 show.  I told her the 1:00 show on Saturday, tomorrow, was her last chance.  If not ready on time for that one, no show!   Our plans are for the first Nickelodeon Movie,  Harriet the Spy.     It will be cute if we ever get there.
So this Friday evening was dining at Burger King, spending her $6 at Toys R Us, walking around Hickory Hollow, getting Juli a Dairy Queen Breeze and I got three marked down Christmas decorations, two as gifts for teachers this Christmas.  She ate her Breeze by the fountains, BP for gas and home with Juli going to bed almost immediately.
I am tired, but want to do some things at my desk and computer.   Sometimes I loose patience with Juli and her slowness.  Other times I feel a little trapped with Juli, seldom able to do what I want to do.  And sitters hard to get.  But she is a sweet girl whom I love very much and will do anything to help her direct her future.
She was signed up for a student summer work program with Goodwill Industries this year, but doesn't like it and doesn't make much money because she is paid per piece of work done.   She doesn't do a lot!   We will keep working towards her accepting and doing well at some little jobs now and growing towards a regular job when she is grown or out of high school.
My immediate challenge is to get prepared for a meeting in August, hopefully, where I will set up a Living Trust for Juli's care the rest of her life after I die.   I am to have a "Life Plan" written for her before I set up the meeting, and I haven't finished that yet.  And what I have done is on Word Perfect which doesn't translate well to Word.  But just another good challenge!
It will work out!  God just continues to be good to me, even when I continue to not spend time with Him in prayer and Bible reading.  But he knows that I love Him and that I was called according to his purpose and so all things just keep working together for good (Romans 8:28).   I don't deserve the goodness he keeps allowing me to have!  I love God and thank him for the joys of daily life!
Charlie
July 19, 1996 – in different journal I think
Gail Bagwell of the Credit Union called and left a voice mail to say Jason had called her.  She requested that I call her.
July 22, 1996
I went to see Gail in the Credit Union.  She told me that Jason called and said he had a job and would be trying to send some money in a week or two.  He was concerned about the repossession possibility and wanted to know if started paying any amount, would they still repossess?  So he is concerned and may start taking the responsibility seriously.
The sad report was that Ginger had called again and Gail was out, so Jim Holder took the call.   She ranted and raved with him too and tried to tell the life story of Jason and me and how Jason is just an innocent victim. Jim was firm about the need for responsibility and that you cannot drive a new car if you are not making the payments.
July 23, 1996
I just wrote in the journal portion of Schedule+ with the Covey 7 Habits Tools.   I just tried to see it and maybe copy over here.  There is something wrong with the software.  It locked up on me twice.  Guess I will have to call them.  Tiring!
-o –
July 24, 1996
I talked with Roy twice about it and today with Tim Cleary before agreeing publicly in a meeting tonight to start a new class in our Sunday School for "older" Single Parents.  That is sort of what our Single Parents class had evolved into and then more and more non-active parents (no kids at home) and even 1 or 2 never married person, plus a heavy dose of  "old ladies" as Roy likes to say.   There was real concern tonight that I or Tim or the Singles Administrative Group was "splitting" the class into those with and those without children.   Partly at Etta's suggestion, we agreed that I would simply announce that I felt God had called me to start a new class in our same department which would be exclusively for older single parents or single parents of kids ages 12-20.   I think I prefer the latter which was also Roy's suggestion.
This is a serious and delicate time for our class.  Jane is leaving at the end of August and  now I am pulling out with the chance of taking several with me.  It will be a big chore to keep the dynamic of the class going and a good teacher selected.   I plan to ask the class to send me out as a missionary to start a new class from scratch.  I want to keep the integrity of the class name and allow only those with children at home (or every other weekend) and be generally in the 40's & 50's age range.    I am both excited and apprehensive.   My biggest concern is hurting the current class.   But I really believe it is stronger than that.  I just need to convince them of that!
Charlie
August 13, 1996
Last week Joann Hardgrave called to say that they would be bringing Ruth Red with them to Nashville 21-24 Aug while Gene goes on to Atlanta for a cabinet industry meeting or convention of some kind.  Joann and Ruth want to research the Hardgraves in both the Williamson county Library & Archives and also in the State Library.   I am gone 22-24 to Atlanta myself for the Miami Springs Church Reunion.  So not a good time for me.
Today Joann left a message on my office voice mail that they may not be able to come now.  I just called and her stepfather is getting worse and she is having to put him in an assisted living home, plus their daughter Debbie is having health problems and may have to have a hysterectomy.   So the trip is ended for her and Gene will just fly from Ft. Smith to his meeting.
She also shared that Don's ex-wife Rita is getting married and moving to Little Rock.   Their son Joe quit college and is delivering pizza.  He now plans to move with his Mom to Little Rock.   We all have our complications in life!   But life goes on and it is good anyway.     I am so far behind on much of the family that I did not know or remember that Don was divorced or when it happened.   Goodness!
It is after 10.  I got home early at 4:40 and Juli wasn't dressed and ready to go eat at McDonald's until after 6:30.  Then we also had to go by Walmart, Kroger, and the BP Station for gas.   Then the evening is gone!   Off to bed…….
August 19, 1996
Great morning with Juli, up, ready and off on time.  My day was great too, with the purchase of a new laser printer and scanner at lunch.  I was looking forward to the evening and getting started with my new tools!   When I got home, Juli was in a good mood and ready to go to Taco Bell for supper.  First we went by Kroger to cash a check  and then we had to cross busy Nolensville Road to get to Taco Bell.   That is when I really screwed up!
I am too impatient and always in a hurry.  The traffic was not going to stop coming down Nolensville Road at rush hour, so I darted between the traffic and would have been all right if this young man hadn't moved over to the turn lane as I darted over.   I ran right in front of him and he clipped my rear end, bending the left rear panel and taking off my tail light and bumper.  That is when Juli goes bananas.
I was trying to get the guys license tag and then talk with him.   Juli is screaming and cussing and calling him names and saying things like "fuck you!  It was your fault…" and running around in the middle of Nolensville Rd. screaming and went over and hit the guy with her fist as I restrained her and got her back in the car temporarily.   The 20-something guy was trying to say he wasn't speeding and he did break as hard as he could I could tell.  He was also concerned because he doesn't have any insurance.
I kept dealing with Juli as we moved our cars over to Walmart parking lot and tried to talk to the young man who wanted to call it even and forget it.  I was trying to calm down Juli and she was fighting and cussing and I had to restrain her again.  Two guys stopped to see if they could help and I told them she was special need child and was upset over the accident.  They drove off toward Walmart and I guess told the policeman up there we were fighting.  In the meantime I told the young man to just go on, I would let my insurance take care of it.
Then Juli got my keys and later said she threw them as the officer walked over, then two police cars drove up. (People with car phones had called 911 I guess.)   The first officer told me to spread eagle on the car and one from the car frisked me.  I guess the other guys had told the officer I was abusing a child or something. (The next day I was told that the radio said the accident on Nolensville Rd. at Old Hickory had erupted into a fight.)    About that time Jerry Pack (a friend at work) had driven up and told one of the officers that he knew us and that I was all right and that Juli regularly had emotional problems like that.  Then I recognized one of the officers as Julian Moore who was one of the three who came over to the house when Juli called the police that time or maybe the time Ginger called the police.  But anyway, he was understanding and remembered the other incident and took over, writing a minor accident report that he said I could use with insurance.
The other two officers were looking for the keys and asking Juli where she threw them, as was Jerry and his son.  One of the officers got Juli a Dr. Pepper at McDonald's and I was rubbing her back to calm her down.  Then I looked in the car a third time and found the keys inside the Kleenex box.   The police and Jerry left and I drove across to the Exxon Station to get air in one of the tires that was low.   All the time Juli was demanding that we still eat at Taco Bell.  I told her we had to go home first and take her pills and she had to calm down before we could go out to eat, but I preferred to stay home and eat now.   After we were home awhile (and two Risperdols) she too agreed to stay home and eat while I was hugging her and rocking her.  She slowly calmed down enough to eat and then we watched an hour of TV together and she seemed to be okay. Though she said she was afraid she couldn't sleep tonight because of the wreck.   At bedtime she got her allergy pill and another Risperdol.  I hope we both can sleep!  I plan to take two Trazadone instead of the usual one tonight.  And I need to exercise too!   I am tired and depressed.
All of the things running through my mind rapidly during this evening were like:
I must slow down!  It was really my fault.   Is Juli going to be crazy like this all of her life?  What else can I do?  Will they be able to handle stuff like this in a group home later?  What can I do?  And then there is deductible on the car plus the fear of being canceled when you use insurance very much.  And oh, we were going to drive to Atlanta this weekend.  Juli will be worse at the reunion now.  I will just cancel that trip, I have too much to do anyway and will have to drive back on Saturday night because of my commitment for Sunday morning.   Oh Lord, help me to calm down and slow down!  But then there are people who are expecting me to be there Saturday.  No, I won't go!
I'm going to bed.  It's 10.    cd
August 21, 1996
I have pretty much decided to buy another car.   The repairs will cost $2,115 and the blue book value of the card is only $2,250.    I will get $1,600 from insurance, maybe $1,000 for the car as is and I can put at least $400 more cash to have a $3,000 down payment.  I have talked with Gail in Credit Union and can borrow up to $15,000 on a new car for payments of $300 or less and up to $12,000 on a 94-95 used car for the same payments.  I talked to Roy last night about good used cars and he is on the lookout for me.
My plans are for a baby-sitter Saturday while I go shopping around for a car.   I will probably get the best price I can at Bill Strife in Clarksville, which is where a friend and the CU say the best prices are offered.  I will then take that offer to Beaman and see if they can match or come close.  If I get new, I prefer Beaman because it is just a few blocks from the Board.  The handy place for service, even if  I buy somewhere else.  I got the Tercel there in '88.   The used car route will just be a chance thing if one is available at the right price somewhere.
August 22, 1996
I spent all of the inheritance too quick and don't have but $150 left to go on the car.  Yuk!  But, I can take a little out of Savings and I have the insurance money and trade-in on the car.   Together I should have about $3,000 down payment.   My next challenge is to keep the price down to an amount that will keep the payment down to $300 or less.   Going to be a pretty plain and basic car.
My feelings are really mixed on all this.  It is always exciting to plan for and get a new (or used) car, but it is a little depressing the cost of the cars and having 4 or 5 years of car payments.   But it has to be.   I am now studying Consumer's Report on Cars and a price list Rhonda got from someone.   Trying to decide what I want and how not to overpay.
August 24, 1996
I did it yesterday!   Bought a 1996 Corolla, the basic or standard edition (not deluxe with power windows and lots of other gadgets I don't need and usually break).   I wanted and got white and love it already as does Juli.   It had a sticker price of $16,000 and I got it for $13,000 because their 97's are coming in next week.  The Deluxe or even the Camry would be nice, but not now.  I must keep the payments low and look for other ways to SAVE money.  Everything else but the house is paid off right now, so the timing there is good.  God is taking care of me.   I will be okay.  And I am glad that I kept the car simple and basic.
Today I have studied for the new Sunday School class tomorrow.   Don't know what all to expect.  Ellie Morgan is coming.  I invited Wendell Greene, but don't know if he or anyone else will come.  It will start small and probably grow rapidly.
What happens is not as important as how I respond to what happens.
Dear Lord, help me to set goals and plan for the future, but never to the exclusion of your leadership and purpose in life.  May your will be done about the class tomorrow and in the future.  Amen.
August 25, 1996
Class went well this morning with 4 counting myself.  Roy, Ellie and Emily.   Not a lot of enthusiasm yet, but an okay start.   I need to personally contact each of these and begin making contacts to other prospects.
My day seemed to disappear with no work done at the desk as needed.  That is discouraging.   Took an hour nap, fixed lunch, went shopping, worked in yard, to Burger King for supper and Juli was a grouch today!   She is still complaining about her laryngitis and now a sprained wrist from falling on the stairs.  Wants to miss school again tomorrow.  I have said no.  She played miniature golf just fine last night.
Lord, help me to slow down, prioritize my time and generally do less and enjoy life more.
September 20, 1996
Last night I went to church to work on my baby book album with Creative Memories group.  Olivia came over after school to stay with Juli and I went straight from work.   It's good to see what others are doing in their albums.   Afterwards I went home by way of  Tower Books to pick up two copies of Barry Tashian's new book on the Beatles entitled Ticket to Ride.   He was autographing there last night and I had ordered one for me and one for Jason to be autographed in my absence.  Jason grew up in elementary and middle school with Barry's son Daniel.   They are nice people.
When I got home, Juli threw one of her jealousy fits because I didn't come home early before she went to bed.  She carried on for an hour and I grounded her for the weekend and threatened Monday.   She talked about it with Susan Conrad this morning.
September 21, 1996
Saturday.   Slept late, read paper, did laundry and worked on calendar.  Was disappointed that a technician did not call me from Covey as promised.   Got started on my Sunday School lesson later than usual and just finished up at 11.   Feel real good about it, though I expect a small group tomorrow.  Roy & Jim have gone to the Divorce Recovery for 8 weeks.   Ellie is going to help with the younger single parents class in the absence of Curtis.  I was late calling a prospect given me last Sunday, calling at about 9:50 tonight and she was not at home, Liz Weaver.
I really need to work on promoting the class and getting a larger number of regular attendees.  Been kind of slow or lazy on this.  Right now I am more interested in studying and teaching.
Back was hurting today or this morning, I guess from the way I slept or something.  I must get back into some routine of exercise!   Maybe the back exercises and Exercycle every other day.  Better than the nothing now.
To bed.
************************************************************************
September 24, 1996
Yesterday I took Juli to Dr. Perales because of her missing periods again and because she has been having milk come from her breasts for the last week or so.   Dr. Perales put her on the pill to regulate her periods and took blood for several tests.   Tonight Dr. P. called me to report on the first results received from the blood tests.   Juli has a high count on the hormone that causes milk, almost 300 while the normal is 35 or below.   Dr. P. suspects a tumor on the pituitary gland and thus asked me to call her office in the morning to schedule an MRI cat scan.   The tumor can cause the excess hormone and the weight gain that Juli has been experiencing.   She says that many times it can be treated with medication instead of surgery.   I'm getting that queasy, depressed feeling again.  And tired feeling.   As I start understanding some things about Juli I wish I had had more patience or understanding.  Her headaches may not have been sinus, but the tumor.  And I have pushed her to watch what she eats and to exercise more because of the weight gain.  Never would have thought of this.
But as with all of these difficulties, it will work out and God is always with us.  And I am so glad Juli is with me and not her Mom who goes to pieces over things like this.   I will ask for prayer support from my friends.  And depend on the doctor and it will be okay.
September 26, 1996
I asked people at the office and at church to pray for Juli over this new condition.
September 27, 1996
We went to Southern Hills hospital for the Cat Scan and ended up getting an MRI because it would show up the pituitary gland better said the radiologist.  Of course Juli didn't like it.  Sliding into that tube or pipe is a little scary.  Then when it came time for the injection (something in the blood to make the gland show up better),  two different guys tried to find her vein and ended up sticking her about 6 times before they got into a vein.   But she laid still for the pictures and they all turned out okay.  No repeats needed!       I had one set sent to Dr. Barbara Olson and took one with me for an endocrinologist recommended to me by two different people, Terri Jerkins.  I will try to take these to her Monday or Tuesday for her second opinion.   I will probably not hear from Dr. Perales until Tuesday night, but maybe Monday night.
October 1, 1996
7:20 in the morning, waiting on Juli to get ready so we can go.    Still haven't heard from Dr. Perales on the MRI yet.   Hopefully today.
Had a fun encounter yesterday at lunch.  Reagan and I went to Farmer's Market for lunch (a gyro) and while eating "Ms. Cheap" (Mary Hance) walked by and I said "Ms. Cheap!."  She stopped and we chatted a bit and a friend with her.  She asked about our lunch bargins which were only so so.  I let her know that I read everyone of her columns in the Nashville Banner.  I failed to tell her about the bargain lunch at First Baptist every Thursday.  I may write her about it.
I am threatening to leave Juli at 7:30.
—===+===—
October 2, 1996
Well, I did leave her this morning and it will be an unexcused absence at school which means she will miss goal trip tomorrow and have to make up all of today's work.
Dr. Perales called today and reported that there is NOT a tumor on Juli's pituitary!   She believes excessive amount of Prolactin is caused by either medication or her developmental disorder.   She prescribed a medication, Parlodel, which is supposed to lower the level of Prolactin.  If she has no reaction to it, we will take for 6 weeks and then do a blood test to check the Prolactin level.  Hope it will work.
I also talked to the Pharmacist and she said Juli's Risperdal should not cause the Pituitary problem or raised Prolactin.   And there is no known reaction between it and the Parlodel.
I feel okay about it for now.  The 6 week wait will tell if this is the answer or if we need to see an Endocrinologist.  So, I will wait. Patience is hard!
*** $ ***
October 3, 1996
Took Juli to Baptist Centra Care about 6:00 tonight for her allergy shot.  Jason and a girl were in the parking lot in his red Chevy truck the next row over.  She got out and went into Dollar General Store.  He was fooling with some stuff in his truck.  Juli saw him first and excitedly said "There's Jason! My brother!"   We go out and walked over to him and I said "Hi Jason!  When did you get back?  Are you here to stay?"   And Juli said "Hi Brother!"    He ignored us.  Juli said something else and he kept fooling with some stuff in the seat or floor board of the truck.  She said something else without a response and then I told her "Come on Juli, he doesn't want to talk to us."   Then she expressed her hurt and said "Bye" to him and he looked at her for the first time and waved and said "Bye."     Juli is still hurt by the rejection.   Me too a little, but I know that he is ashamed and is not able to make right the things he has done wrong.   I hurt for him, but he has to learn and I need to change the locks on the house ASAP.   Why, why, why?  Oh Lord!
*
*******
*
October 10, 1996
Last weekend was great and a killer!   I almost had to force Juli out of the house for a picnic and walk to waterfalls and views on the Fiery Gizzard Trail in Grundy County.  We went with Ellie Morgan and her daughter Lissie Muniz.  We were late leaving but had a great afternoon with perfect weather and of course Juli enjoyed it all!  Sunday I let Juli go home with them after church and I worked at the office from 11-5 on Vista tests.  So I still haven't caught up on rest!
Juli's period started Monday due to the Provera and stayed home for two days now complaining of cramps which I am certain are exaggerated as an excuse to miss school.   I can't keep being late trying to get her out and she is too big to physically force, so she simply is left if not ready on time.  A real problem again.
Snowball (cat) is in to dragging our socks out of the dirty cloths during the night and taking them all over the house.  Funny!  And a little bit of a nuisance!
Juli has been grounded (no TV) since Monday morning and now extended until next Tuesday for hitting and throwing things.   It is nice and quiet around here.
Did a bold thing yesterday.   Called Disney World and scheduled our Spring Break 9-day vacation at the Walt Disney World Caribbean Beach Resort the week before Easter. the last week of March 1997.   It is the WDW 25th Anniversary with lots of extras and celebrations.  It will be fun and restful in that particular lodging, our favorite and 3rd time to stay there.   I hope to get another good camera by then for all of the photogenic spots all over WDW and especially at Caribbean Beach.
I was in an all-day training for the future trainers of Vista Users.   Tired!
&
October 15, 1996
Bought a disability insurance today from Provident Life. It is called "Cornerstone Personal Income Protection."  If I am disabled beyond 90 days it will pay me additional income of about $1,185 per month.  That is on top of the $2,100 plus per month disability income from the BSSB and possibly some from Social Security.  This supplementary disability is an optional benefit one can buy at the Board and with Juli's total dependence on me, I need the security.
Juli gets her TV back on tonight.  Just haven't done it yet and she hasn't complained!  We ate supper at Shoney's and got her a little pumpkin to take to school and a bigger one for home.  Went to Maxwell Brothers Produce Stand.  Helped Juli with homework again tonight; summarizing some newspaper articles.
I was a little blue today.  The last few weeks have been hard with Juli, Vista is slow and tedious with no rewards yet, the new Sunday School class is slow growing and I still never have time to do many of the things I want to do – not to mention many I need to or must do.   But the weather is great and Juli was good tonight and I always look forward to the weekend!   It is Tuesday night!  And great friends at work.
Change your thoughts and you change your world.
October 21, 1996
An emotional day for me; depressed, sad, tired, sick and just almost at the rope's end.  I've had this cold, virus, whatever for 2 or 3 weeks now; drainage, coughing, yucky feeling.  I'm on the second round of antibiotics and not much progress. (Probably need more rest.)  No school today because it is parent-teacher conference day.  Olivia stayed with Juli.
Morning showed some progress on Vista testing, but not where I need to be with most of the rest of the week tied up in training, meetings, etc.  And the finishing of Vista sometime seems impossible by the deadlines.   Pleasant lunch with Lamar & Dale at San Antonio Taco Factory, then off for the teacher conference.
My 30 minute time seems to always take an hour and I cried in front of Evelyn Franzone and Susan Conrad.  Talking about her Mother and Jason did it, along with Juli backsliding. Sometimes I just don't know what to do about Juli and Evelyn talked about how much Juli had slipped backwards in the year or so she was gone with her twin babies.  Even her math score has gone down and she is not participating socially with the other kids and just stares in space or doesn't want to do anything.  And she has missed 14 days of school this year already.  Melissa may turn her in for truancy which means she and I would have to go to Juvenile Court. And I need to be tougher on her about some things and use the grounding more effectively.  The teachers think it is also because of the medication and I do too now.  I told them I would work with Dr. Dozier to get her off the Risperdol for awhile and also take her off the allergy antihistamine/decongestant which does make her sleepy.  We can't stop the hormone medication now and her female or hormone problems are also effecting her emotionally.  It just sometimes seems to be more than I can take, but I don't want to feel sorry for myself. I've got to "hang in there!"
When I got home her right jaw was swollen quite a bit from her biting her cheek at breakfast this morning.  I took her to the doctor at Baptist CentraCare and we are to just watch for pus coming out.  No sign of infection yet.   Then we went out to eat and I am pooped!  And a little depressed.
Oooooo
October 24, 1996
I have been happy tonight, whistling and kidding with Juli when she will let me.
She had a pretty good day at school today and was in a good mood when I got home and went for her allergy shot without fighting it.  We had a good supper from Bar-B-Cutie, a veggie plate for me.  And I helped her with her spelling for tomorrow and now she is showering.
I took advantage of the early voting again this time and voted today.  I feel good about my votes and about Bill Clinton as President.  All of the ugly, baseless charges of a lack of integrity against Clinton from the religious right and Bob Dole just don't wash.  In fact, I trust Bill Clinton much more than Dole and many of the right-wingers even at the Sunday School Board.  And I can't trust the Republican Party.  It has for years been the party of Big Business and the wealthy, while the Democratic Party continues to be much more representative of the working people.  I am glad I voted Democratic today.  Jackie Corbin went with me after lunch at church and we both voted Democratic.
So, "Happy Days Are Here Again!"   Well, expected on November 5!
å
October 27, 1996
Good SS class of 5 this morning with good discussion.  We discussed our kids and their relationship with God and the church.  I have many times felt like a failure because Jason has rebelled so much and especially because of his seeming rejection of God as well as the church.  And now Juli doesn't want to talk much about God and often doesn't want to go to church.  She didn't today.  I rationalize that I kept them in church when they were young and that when they are older they will return.  But the part that I can't rationalize is that I did not do much to teach them at home and really be a spiritual leader of our family. It is easy to blame on Ginger, but I could have done more, even when she didn't cooperate.  I hope that my life shows some of the power of God in it for the kids and that they will come to know God more as they see me depending on Him more and making him first in my life.  Others in the class have struggled with the same concern and Liz Weaver with her family's "Eastern Religion" background and considering Christ as a teacher makes it even harder for her with her kids.
Well, the rest of the day was okay and went fast.  Finally got Juli to get dressed as a requirement for us to decorate for Halloween.  I and her teachers are concerned about her not wanting to do much, being pretty lethargic and wanting to sleep too much.  I have started reducing her Risperdol and will talk with Dozier this week maybe.
At Walmart this afternoon I suggested Halloween cards for her mother and grandparents and she somewhat excitedly picked them out with some help.   But she has refused to sign them and stamp them for mailing so far.   I wish her Mother could know and understand how much she has hurt Juli by ignoring her for months as she has again.
-o-
PS later tonight
Sometime after I took the cards, envelopes, etc. to Juli in her room she started to take her shower and threw a horrid, cussing fit in the bathroom.  Banging on walls, slamming door, shouting, then crying when I tried to talk with her.  The cards reminded her of her Mom and she said she is really upset because her Mom has nothing to do with her.  I promised I would give her some big hugs after she was in her PJs and that she could even sit in my lap, which she likes to do.  . . . She did and I tucked her in and she seems okay. Just added a half tablet of Risperdol to maybe help her through the night.
-o-
November 20, 1996
Juli's Risperdol was stopped because it was believed to have possibly caused he high level of Prolactin and thus milk coming from her breasts.  Dozier substituted Haldol or the generic Haloperidol.  For 2 or 3 weeks we have been taking 0.25 mg twice a day, morning and night.  But her behavior has been getting worse and I have added doses on my own.  Today Dr. Dozier increased the dosage to 3 tablets a day @ 0.5 mg each.  or gave me 90 for 30 days, saying to increase at my discretion.  I will immediately give her 1 mg per day or a half in morning and half at night.   The 1.5 mg in a day will be based on her behavior.
She has missed school all but 1.5 days in the last week and a half.   She did have a virus last week, but played it for more than I think it was worth.   She skipped Monday, went Tuesday and then missed again today.    She fights me over going and over me turning off TV.  She now hits and curses and can really be ugly.  Monday she chased the car cursing me , not  about going to school, but about me turning off TV.   Today when I came home and she got on going to school tomorrow and TV, she announced that she was not going and that she would keep TV.   If she doesn't go, I am possibly going to call Intermedia and have it cut off.   She fights, kicks, scratches and pulls my hair and even spits when I try to go up in the attic to disconnect the cable line.   I am tired and depressed with her behavior, hoping the increased Haloperidol will help.  She was just beginning to get better with the Risperdol.
Last night Nanette Ryan delivered another order of  Creative Memories supplies and I am getting more excited about creating beautiful and archival safe albums of current and past family history.   My 1940-41 Baby Book remake is nice and I am proud of it.  It is finished now and I am now working on 1996.   It is my current escape and enjoyment.
Vista is getting harder and faster at the office with a lot more overtime for many, but not me because of family responsibility.  We are doing training rehearsals this week, Thanksgiving and 3 catch-up days next week, and then solid training from Dec. 2 through January 6 except for Christmas Week and some people are evening training then.  And the Systems Engineers are really putting in the time and effort.  I have come to appreciate them in a new way.    Snowball is entranced with this monitor and blocking it some while I type.  Now he is trying to play with the keyboard, so time to stop.
– 0 –
December 1, 1996
I'm getting discouraged.   Juli has gone to school only 1 ½  days in the last three weeks.  The first week she was mostly sick with some kind of stomach virus.  I sent her back to school on Wednesday, Nov. 13, and the teacher called at about 11 for me to come pick her up because she was laying her head down and her hair was wet with sweat.  They thought she had a fever.  (Your head doesn't sweat with a fever I tried to explain.)   But I came to get her and stayed home with her the rest of that day.  She just rested and watched some TV with no obvious illness, but rebellious and depressed it was beginning to seem.
The following week she refused to go on Monday.  I forced her to go Tuesday, Nov. 19, having to physically drag her out the door and force her into the car.  She opened the car door once while we were moving and threatened to jump out and walk back home.  I took her on and she had a horrible day.  For the first time she fought the teachers, acted like Terry, wouldn't do her work and spent much of the day in the Time Out Room for fighting the teachers.  She was grounded (from TV) that morning for fighting me.
After talking with the teacher and social worker, Sonja & Susan, and then later with Dr. Dozier, I have decided she is in depression.    I am basing it on her not wanting to do anything, sleeping most of the day, still not wanting to go to school even with TV off. She has a poor self-esteem and a poor appetite (won't eat Pizza or Cheeseburgers!).   Dr. Dozier agreed and we have tapered her off the Haldol and started Paxil on Friday.  She is getting 5mg per day and the doctor said it could take as much as two weeks to see results.  I may be overly optimistic, but I think I have already seen a slight improvement.
She would still not go to Sunday School this morning, three or four Sundays now. We have talked about the need for her to go to school tomorrow and she at first told me of all of her illnesses: nauseous and about to throw up and her stomach hurts.  She says "I don't feel good and I hate to go to school."  By then she was biting her hand and pushing me.
I have decided to give this December 1 entry to the teachers and social worker.   So in defense of some possible reasons for all of this behavior from Juli I must list:
1.     The Gynecologist, Maria Perales, has had her on the birth control pill for two months now and it really has caused nausea and Dr. Perales has provided a nausea medication.  But the nausea is real.  I am going to talk to Dr. Perales this week and maybe stop these pills, though they are needed for the hormones to get her periods straightened out.  I will see what she says.
2.     She has had this highly elevated level of Prolactin causing milk to come from her breasts and possibly other hormonal abnormalities.  The count was nearly 300 in October.  With the removal of Risperdal and the taking of Parlodel to lower the Prolactin, it was down to 110 about 3 or 4 weeks ago.  We are scheduled to check it again January 9.
3.     She has now had four changes in her behavioral medication this year, moving from Tegretol to Clonodine to Risperdal to Haldol to Paxil.
4.     She says she is picked on by the boys on her bus and at school.  She says she has been told that she is weird, has a funny shaped head, and is ugly.  She seemed to actually believe it when she told me the other day. She also blames the kids at school and her bus for the cussing she has been spouting forth much more regularly now.
5.     I have read a little more about her diagnosis of "Pervasive Developmental Disorder" and understand that it is now considered the umbrella illness that includes Autism, but because she doesn't meet the 12 characteristics of Autism, hers would be considered "nonspecific."  (From NICHY literature)
6.     She still doesn't understand why her mother moved to Texas and makes such little effort to contact her.  Her mother came to see her in July of '95 and has sent her 6 cards in the first 10 months of 1996.  She both misses her mother and is angry at her mother.
I love Juli and do everything I know how to do to make sure she knows she is loved and also to build her self-esteem.  I don't know what else to do.  I need help.  And on top of this, I am in a critical time at the office through January 6 as a team member helping introduce a brand new computer system.
Well, a journal entry became a letter to teachers and maybe doctors too.
Charlie Doggett
December 4, 1996
I am tired.  I stayed up late last night writing a long letter to Dr. Dozier with copies to Perales and the school as a replacement of the above journal entry on Juli.  It is printed below.    Today I had to come home early for a home visit from Juli's teacher and social worker.  We think she will go to school tomorrow since they said they would allow the birthday cake to be brought even though she has been missing school.  In the visit we talked together awhile and then Sonya took Juli to her room and talked and colored and Susan and I talked.  She suggested that I get more help.  She watched Juli hit me and called Sonja a bitch. She talked about hospitalization or some kind of residential program to help her.  I am now willing or even interested in some kind of residential program for Juli if appropriate for her condition and personality.  I have to have some kind of help.
Well, the letter:
December 3, 1996
Dr. Emmett Dozier, MD, Pediatric Psychiatrist
215 Centerview Dr.
Brentwood, TN 37027
cc: Dr. Maria Perales, Gynecologist
Genesis Learning Center: Sonja Durham, Teacher;  Susan Conrad, Social Worker
Dear Dr. Dozier:
I am addressing this to you because I think Juli's Pervasive Developmental Disorder and current emotional condition is her biggest problem. At the same time she seems to be suffering from many different ailments at the same time.  Her teachers and school officials are nearly as concerned and frustrated as I am and none of us know what to do.  I am at my wits end and becoming more depressed.  I think Juli's hormone imbalances and other gynecological problems are also a big factor in her current condition.  Here are a list of situations with Juli that concern me:
1.     She has refused to go to school for the last three weeks except for 1 ½ days, one of which was forced with me literally dragging her to the car. She stayed in the school Time Out Room most of that day for bad behavior.   She has been grounded from TV almost all of that time with no impact and threats of no birthday cake or no birthday party have not influenced her.  She now wants to argue with me about it every day.  She also refuses to go to Sunday School.
2.     She has had several, almost daily periods of violence in her insistence that I turn TV on or even that I approve of her not going to school.  She has broken one chair, uprooted one plant, stripped fern fronds, torn up whole boxes of Kleenex, thrown and scattered nearly every loose thing in the house.  And more than usual she is biting her left hand which she has done off and on for years.   This anger thing frequently happens in the morning after I have encouraged her to go to school or in the evening when I first arrive home and she immediately tells me all of her sickness reasons why she can't go to school tomorrow and I tell her I don't want to talk about it.  I have been hit, bitten, kicked, hair pulled, cursed and thrown at.
3.     She has had daily spells of crying and saying she misses her brother (instead of Mother now) or that she feels bad (while biting her hand).   At these times she wants me to rock her in a rocking chair as we did when she was little.  Or sometimes a long hug will do.
4.      When I leave in the morning she usually runs out to the car after saying goodbye at the door just to remind me to turn on the car phone or to convince me she is sick.  She has actually chased after the car screaming for me to stop to tell me something like that.  I always give her the attention she is obviously wanting and listen attentively, but I'm tiring of this too.
5.     She regularly mimics or acts like the Autistic boy in her class, copying mannerism, weird and pestering behavior.  I have read that her Pervasive Developmental Disorder is in the same family as Autism as a more specific form of her nonspecific disorder.   Maybe no connection.
6.     She sleeps most of the time now,  8 hours at night and long morning and afternoon naps.  She stays in her pajamas.  Refuses to get dressed.
7.     She has refused her allergy shots for a month or more, I have lost count. And her allergies are obviously worse: postnasal drainage, headaches, and dizzy (which might also be caused by medication or the birth control pill).
8.     Her female problems are multiple.  You know about the earlier surgery, having two uteruses, one kidney, and the highly elevated Prolactin, which may or may not have been caused by the Risperdal, but the MRI showed no sign of a tumor on her pituitary gland.  Also, she has had really bad periods and then gone several months without one.  Dr. Perales has her on a birth control pill Demulen 1/35-28 for two months now and I am calling Dr. Perales about stopping this. But how do we know if this is affecting her moods, emotions?  Maybe removing will help to tell.
9.     Her aches and pains are many.   Just tonight she said "My whole body hurts, my stomach, my chest, my arms, legs and feet."  At least once a day and more on the weekend I see her bend over at the waist, gasping for air and hollering "Help me, I can't breathe!"   At first I thought she might be hyperventilating, then faking it for attention, but not sure.  I always tell her to breathe slow, deep breaths while I rub her back.  She is okay.   She also complains about side aches, leg aches, back aches and being dizzy.  I don't know if it is real, psychosomatic real, or just great acting!?
10.  She is nauseous every day now and that became prevalent after starting the Demulen.  We do have medication for the nausea and it seems to help, with only a few actual throw-ups in the last two months.   Of course we were told to expect this with the birth control pill.
11.  She is not eating normally  which may also be the birth control pill, because some of her favorite foods make her nauseous and she refuses to eat, i.e. cheeseburgers and pizza.
12.  She says that "everybody at school" hates her and thinks she is weird and ugly.  She has had more than one boy tell her such things and the school bus in the afternoon is absolutely horrible and she keeps saying she will not ride it home again. As neighbor kids get older, they ignore her too, and that hurts.  Self-esteem problem?
13.  She still has real problems with her mother leaving and now her brother leaving, both for Texas.  Though she doesn't say it, I think she sometimes blames herself and certainly doesn't understand it.  I don't either!    Her mother has serious emotional problems and her brother is 23 without principles or a purpose in life, is my evaluation.  But family leaving is more than just self-esteem problem!
14.  In the last year she has had four changes in her behavior medication.  We have moved from Tegretol to Clonodine to Risperdal to Paxil.  I actually saw the most improvement with Risperdal, but it seemed to be taking the zip out of her at school and is maybe a suspect in the elevated Prolactin.  So we don't want that.  She fits my concept of depression, and so I hope the antidepressant Paxil will help.  But what is all this stuff and the changes doing to her?
My responses to her have been to try for natural effects of bad behavior, no TV now and other lost privileges which aren't phasing her much.  I also try to give her support and encourage the self-esteem and regularly assure her that I love her.  Anytime I try to correct her or get her to do something, she says she hates me and knows that I hate her.  And I know that she is also manipulating me. Without TV I offer to play a game or read with her each night which she sometimes accepts and sometimes not.  Her school social worker has helped me some with parenting skills, but I haven't arrived there yet!  I think I am an administrator who can balance and manage a lot of things at once.  But all that stuff above is just too much and too emotional.  I don't know what to do and I am getting discouraged.  I am asking for help.
Sincerely,
Charlie Doggett
Current Medications:
Paxil Tab, 10 mg, once a day for depression
Parlodel Tab, 2.5 mg, twice a day to help lower the Prolactin count
Demulen 1/35-28 Birth Control Pill, once a day for hormones except this week off for her period
Atrohist Plus Tab SA, antihistamine/decongestant, once or twice a day for allergies
Lodine Tab, 500 mg, as needed for Period cramps
Achromycin V Cap, 250 mg, for pimples, once a day on empty stomach (usually miss)
December 7, 1996
It has been 3 of the hardest days ever, December 5-7, 1996 and it is not over, but I am finally getting help with Juli.
RECAP
December 4 – The home conference and letter above
December 5 – By 6:30 AM she is refusing to go to school, even though I have the cake ready to take to school and she promised yesterday.  I tell her it is her choice, but if she doesn't go, I will remove all of the video tapes, since having TV off doesn't mean much when she can still watch dozens of videos.  She throws a horrible tantrum, beating on me and biting once, pulling hair.  She throws things all over the house including much of the silverware out of the cabinet in the kitchen.  The house is a wreck and she is fighting me so much I hold off on getting the tapes.
When she won't calm down, I call the "Mobile Crisis Intervention" number given me by Susan Conrad.   The lady said she would have to talk to her supervisor to see if they could come out, since it didn't sound like a suicide or the possibility of a killing.   Then I kept trying to get Dozier who eventually called back.  (By the way, he said to tell the Mobile unit that she is trying to kill me and they will get out here.)   Any way, we had about 3 calls/conversations and by then he had it arranged for Juli to enter Vanderbilt Adolescent Psychiatric Hospital and I did two calls to them to get admission all arranged.
Juli calmed some during all of this, but still would not eat breakfast and was still arguing that she was not going to school ever!   Now that hospital was arranged, I had to get her there.  I told her we would have birthday cake and open her presents and then we were going to see Dr. Dozier.  She didn't argue then because she was ready for birthday.   We did the whole thing; candles, me singing Happy Birthday, blowing out the candles, eating cake, then her opening her several presents.  She was delighted with each one and the cake was her breakfast and lunch.   I then told her it was time to get dressed to go see Dr. Dozier and she could take "Rex" the talking dinosaur with her (the toy she liked the most of her gifts).    She started the tantrum again and assured me she was not going.  Started hitting again, so I called Mobile Crisis again and told them she was expected at Vandy but I couldn't get her to get dressed to go.  She said she would send a unit out but it would be an hour or more and that after they assessed the situation, they could not transport her to the hospital, but would call Metro Police to transport.  Juli was listening and I repeated the part about the police.   She anxiously said she would go with me and so I dismissed Mobile again.
It then took her two hours to get dressed and out to the car.   But that was still better than the hassle and trauma of the police.  (And maybe as quick!)   In the car I told her we were going to his Vanderbilt office and he told us to go through a different door.  She didn't question much and it looked like a doctor office more than a hospital.   We went through lengthy admission procedures, papers and many signatures for me.   She played with Rex and only asked once when we would see Dr. Dozier.     Then they brought two nurses in who related well with Juli until one said "Let's go see where you will spend the night."   She went bananas; they ushered me out to the waiting room; they ended up tying her down on a gurney and sedating her with a shot in her butt she later told me; and I cried and called Susan Conrad and cried more with her.   I waited a long time before the Charge Nurse made it down; showed me around and did another interview about Juli's health and situation.  There I observed through the window her being introduced to the other adolescents in the unit and them all singing happy birthday to her.  I got to say goodbye to her and of course she had separation problems and they gathered around her and ushered me out.   That evening I brought her suitcase and her birthday cakes to share with everyone.  Then I treated myself to a steak at Barbed Wire.
December 6, 1996
I slept late and went to work late where I accomplished very little.  I talked with the social worked assigned to Juli, Deanna Cagley-Wesson.  I can call her Friday night 6-9 and visit her Saturday 2-4.   I ate supper with Reagan Frazier at Cracker Barrel.  The call was okay.  I think she was sedated still.   She asked for just three things to be brought on Saturday.
December 7, 1996
Today (when I wrote the above two entries) – I slept late, piddled around the house, took my laundry and got very little accomplished before going to visit Juli 2-4.  I was depressed and Juli's aches and pains and begging to go home just depressed me more.   We played one hand of Uno.  Talked some and I gave her a back rub, neck rub and wrote a new list of things she wanted me to bring.  She took my pen away from me and tried stabbing herself and me and I got it away from her with a fight and an attendant took her to the "Quiet Room."  And I was politely ushered out after I talked to a nurse about Perales' request for a Prolactin level check and if low enough, to lower the Parlodel quantity which Maria says is most likely what is causing her nausea rather than her birth control pill.  But she said we could skip this next month of the pill (beginning Sunday) in light of all else that is happening to her.   And I expressed some concern about her needing nausea medicine and that her pimples are worse.   They wrote nothing down.  Then they ushered me out.
I stopped by Santa Fe Cantina & Restaurant on the way home for Mexican food and a little glass of Sangria.  Hope it doesn't react to my Prozac or Trazodone!  I made some phone calls, a load of laundry, piddled at desk and this journal and I'm worn out.  I am skipping Sunday school tomorrow and still hope to do some Christmas decorations of which I did none today as planned.    I just can't seem to do much.   I am depressed and tired.   I'm sleeping late again tomorrow.   At least I have finished all of my Christmas Gift shopping.  Just need to wrap and mail some.
---
Juli being in the Adolescent Psychiatric Hospital was overwhelming for both of us. She got to come home in time for Christmas with a new set of medications.
Christmas 1996 Photo Album – not much, but a taste of our last Christmas together.
And our annual Christmas letter was sent before the hospital trip, so no mention of it to many friends and family: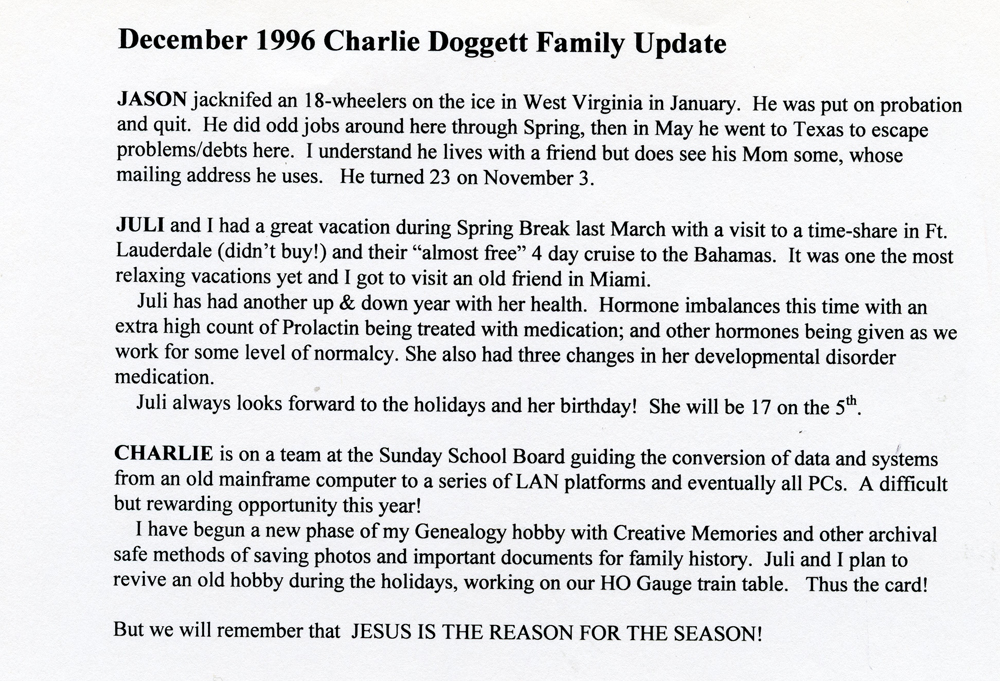 1997
January 1, 1997
A quiet day at home all day today after a little celebration last night with Juli. She loves to throw confetti and make noise when
the ball comes down" in Times Square.
For this year's resolutions I am using the suggestions for this date in The Language of Letting Go, Daily Meditations for Codependents by Melody Beattie who also authored Codependent No More and Beyond Codependency.
As suggested in today's meditation, "Goals give direction" and in particular "Goals give our life direction" I'm making some new year's resolutions. I may not complete all of my resolutions each year, but they give me direction and are a good start on the New Year. The following numbered bold headings are from the book, each followed by my response.
1. What would you like to happen in your life this year? This is the general statement spelled out more specifically in each of the following 10 more statements. I would like to be at peace about Juli and Jason, my own lifestyle, relationship with God and my plans for the future.
2. What would you like to accomplish?
A) Juli settled and happy in school,
B) A future plan, living trust and power of attorney for Juli after my death.
C) An exercise routine followed regularly,
D) The organization of all family history and photos in archival safe binders or boxes,
E) Completion of the NSS Correspondence Course,
F) Remodel at least two rooms in the house,
G) Complete The Mind of Christ study with regular quiet time daily, and
H) financial independence.
3. What good would you like to attract to your life? The likeness of Jesus.
4. What areas of growth would you like to happen to you? To be codependent no more and to be more like Christ
5. What character defects would I like removed? Talking too much, controlling others, and hyperactivity.
6. What would you like to attain or do in life? I would like to be a happy, productive person who has a more Christ-like spirit, attitude and actions. And to complete the accomplishments in #2.
7. In friendship and love? I would like to strengthen my friendships and begin considering a truly "best friend." I would like to resolve my negative feelings about love and marriage.
8. In Family Life? I desire peace about Jason and Juli.
9. What problems would you like to see solved? I would like to see Juli settle down and have the tensions with Jason and Ginger decreased or removed.
10. In my career? I want a clear purpose and direction in my job with a settling down of my job description and work. I would like a positive working relationship with all of my coworkers and a clear focus on what is important.
11. What would I like to see happen inside me? Peace, purpose and joy in life.
-o-
---
A LOT HAPPENED DURING THIS TIME with the main thing being Juli enrolled in the residential school King's Daughters in Columbia, 40 minutes south of Nashville. I will try to add more here or somewhere about this wonderful school, her last one.
---
June 1, 1997 – After  the Doggett Reunion, Warren, AR
I have had a full but wonderful weekend. The annual Wood Doggett Family Reunion weekend.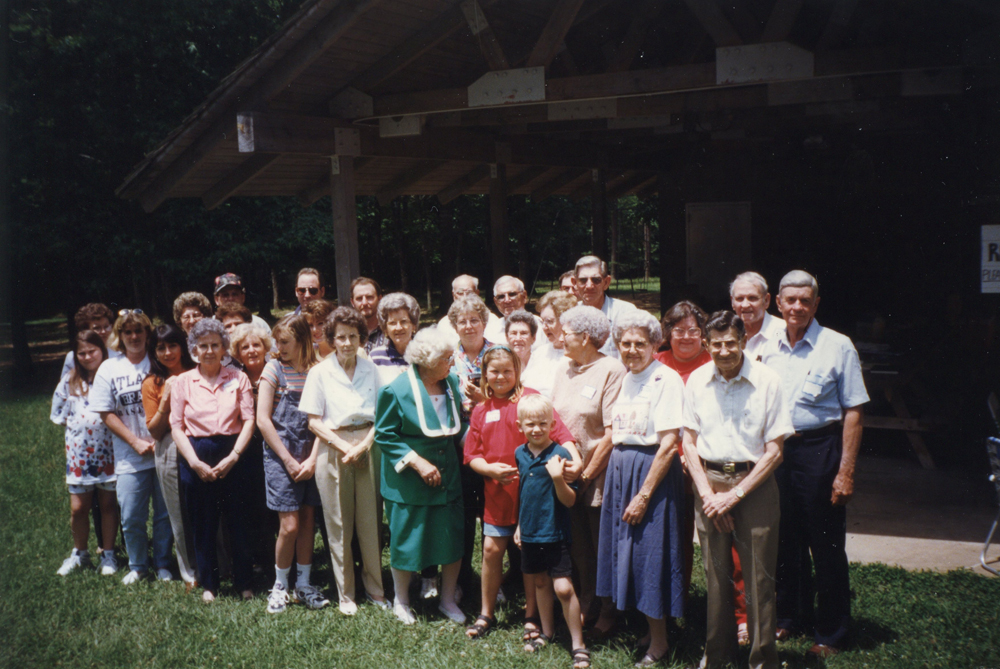 THURSDAY NIGHT I decided at the last minute to fly to Little Rock instead of driving all the way – cost me! Full fare! Corporate Express Airline. Then I got a rent car one-way back to Nashville with National, the only Car Rental here that does the one-way usually.
FRIDAY –  I drove only one hour from Little Rock Airport to Pine Bluff, staying in the Margland, a really nice B&B with a Jacuzzi in the private bath. It felt good that evening before bed after visiting with Glenn & Susan Railsback.
SATURDAY – I drove another hour only to Warren where a flood of memories and genealogical information started tumbling in. I talked with Dorothy Stuart by phone, visited with the other Charles Doggett at his Lasita's Garage and got the old Anderson Doggett family Bible to take to the reunion and for me to photograph. Then I checked in to the Burnett House B&B with a really nice Innkeeper, Greg Norton.
Then I went to Peggy Bowman's house to join the Bradley County Genealogical Society and buy the back issues of their quarterly publication and some other books she had for sale.
I then went to see Uncle Doc's house, photographed it (below) and peeked in the windows. It is being slowly remodeled for the purpose of another B&B in Warren at 306 Elm Street the owner tells me. (It never was finished.) I have lots of good memories with that house or our visits to Uncle Doc and Aunt Gay and later their adopted daughter Patsy.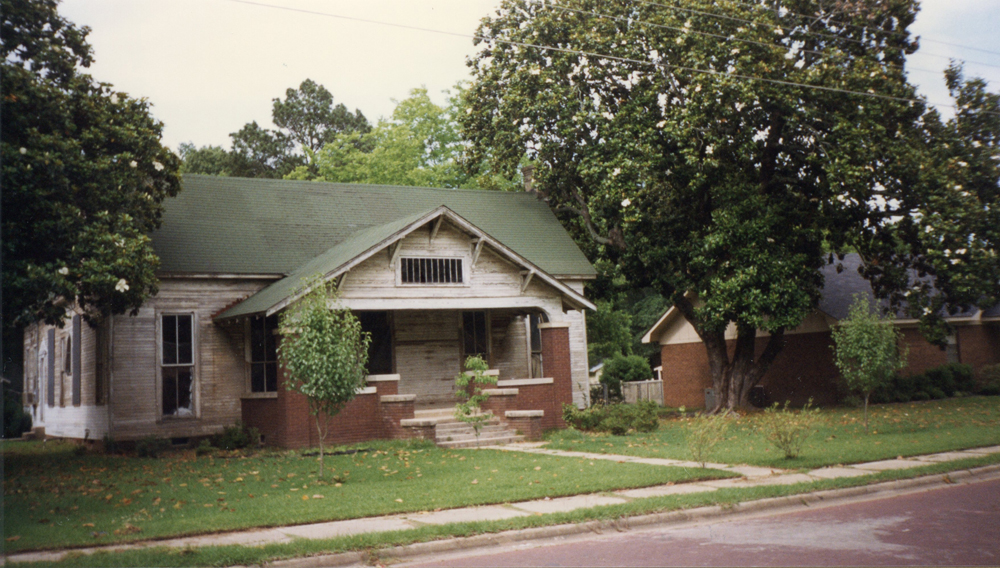 Then back to the Burnett House, showered, changed clothes, and went to Irene's house who always has a "get together" the night before the reunion. We went out to Ann's Restaurant for dinner, visiting and fun time together.  Then back to Irene's for more visiting and an hour or so of "Elder Tales" which I recorded. They are priceless! (Hope I still have that tape somewhere!) I plan to have them transcribed and printed. Hope to use in a family newsletter and in a future book. I slept well Saturday night. The Burnett House B&B had purchased my Uncle Alvin's old piano and it was in the living room of the house, in picture below: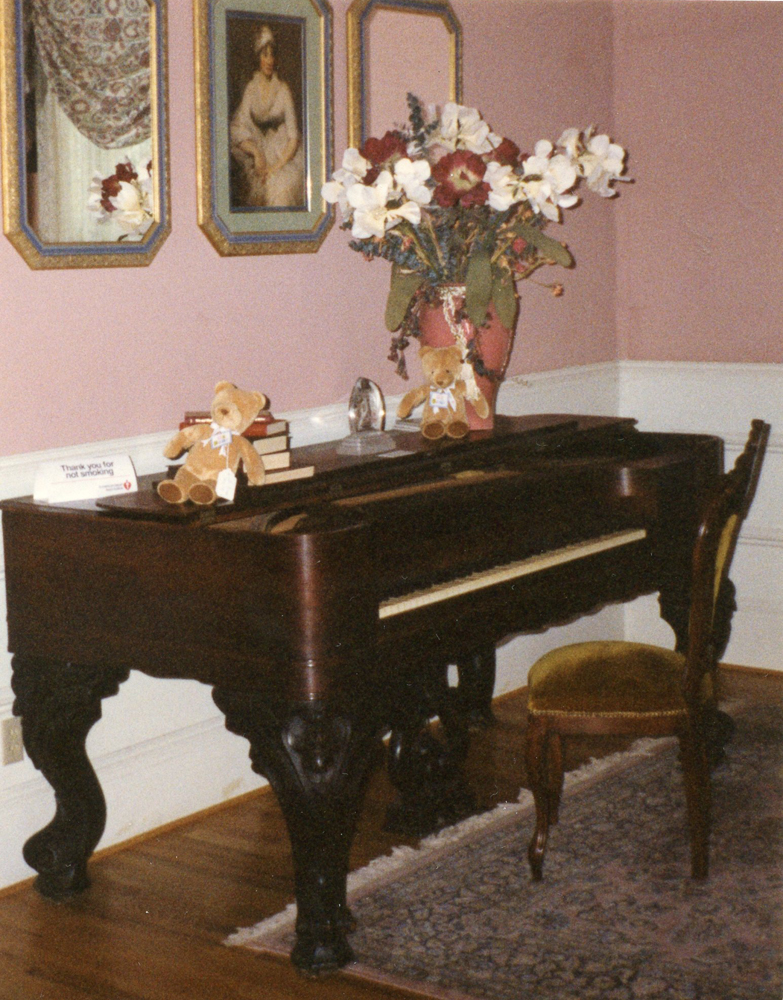 SUNDAY – was the official reunion day. I slept late, had a simple breakfast, went by Peggy Bowman's for the other books, then back to the B&B to photograph the old Bible and pack. I felt happy.
I bought some fried chicken for the potluck lunch and drove on to the Bradley County Park for the reunion. Lots of talk, photos and food! Always fun.
Afterwards I photographed the Count Courthouse, got a Parnell book from Hubert Parnell and headed for Greenville, Mississippi.
I'm now in the Azalea B&B in Greenville which is nice. I ate dinner at the Lighthouse Casino and threw away a total of $3 in slot machines! The first three dollars yielded $2.50 in wins, but instead of keeping it, I bet that and got $1.50 back then bet it and lost it all! What a horrible addictive way for poor people to lose their money!
June 30, 1997
I'm on the plane back to Nashville from Little Rock at 3:58 PM, late because of refueling delay in Memphis. It was a long and productive weekend for the Hardgrave Reunion.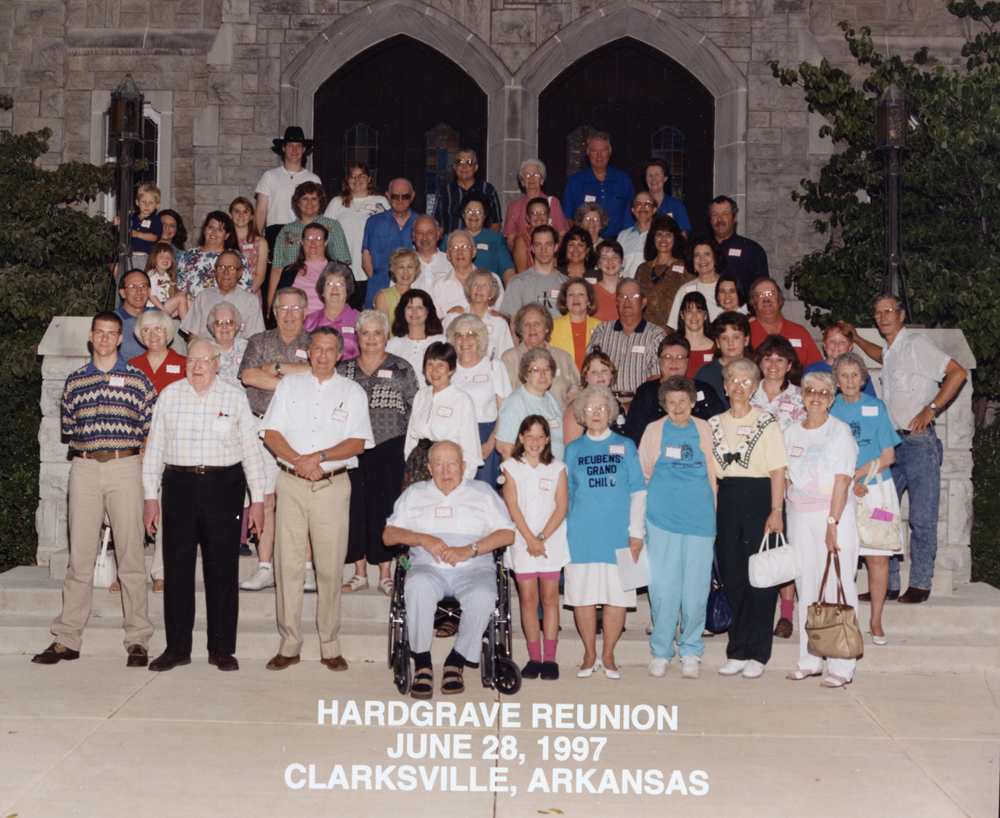 Friday (6/27) I flew to Little Rock and rented a car to Clarksville. I went to the Hardgrave Cemetery with Glenn & Susan Railsback and Ruth Red. We wanted to see the new entrance and gate which Gene Hugh Hardgrave had built. It is beautiful! Plus a new directional sign on the road.
Back at the Hampton Inn I photographed some of the old photos Gene brought and some other photos from other Hardgrave's. We had dinner at a BBQ and Carrot Cake restaurant. Fun!
All day Saturday was the official reunion, but I got up early and went to the Jackson Cemetery to photo some stones before going to the University of the Ozarks for the meeting. I was elected Vice President and we did the long auction to raise money, only $575. The rain stopped long enough for a group photo outside. It was amazing like God stopped it just long enough for the photo and it started raining again.
Then that afternoon the constant rain stopped long enough for the dedication of the new cemetery entrance. Wow!
I was one of last to leave and on the way back to Hampton Inn by myself in the rental car. I stopped to photograph a field of daisies and somehow locked my keys inside the car. No one came by and the nearest farm house had no one at home, so I threw a rock through the window and dealt with insurance and Budget Rental Cars on the damage later.
Sunday was officer's meeting at Katala and Clarence Williams house in the country. We all got assignments plus I promised to fix up the Nashville cemetery better with sign and fence maybe.
Sunday afternoon I went to the Ft. Smith Hampton Inn and spent time visiting with Aunt Iris. It was a really nice visit with Iris before, during and after dinner at Luby's Cafeteria. I taped some of our conversation for her memories of the Hardgrave family and my parents.
The biggest new revelation to me was that Harold was a "wild" teenager and his mother (my grandmother) could not control him. She sent him to Pine Bluff to live with Aunt Gyp and Uncle Glenn where he graduated from high school. That is where he met and ultimately married the Railsback's next door neighbor girl, Lulu Gillespie.
We talked about their young adult days and all of us cousins being born and growing up together to some degree. We also talked about Christmases, World War II and other things and then I went back to Hampton Inn and collapsed!
The next morning I had a similar visit with Harlan Hunt, Jr. where I also taped some of his memories and we talked about so many things including his memories of mother. Now my mind is flooded with so many wonderful roots and information that I am thankful for. Will I ever be able to write it all down or put it all together? There is so much to do and I seem to keep getting more responsibilities and so many questions about Juli's future that my mind is overloaded!
I then made a grocery list for when I get to Nashville and tried to divide up the days of the weeks by activities like letter-writing, genealogy, scrap-booking, finances, and reading; along with my job and church activities.   🙂
Sunday, August 17, 1997
The last month and a half has exhausted me and become another major page in my life and in Juli's. I returned her to King's Daughters after two weeks at home for her summer break, but the excitement, trauma, and new way of life began July 2 when she was rushed to the hospital after blood tests indicated she had kidney failure. I spent a week with her in the hospital in Columbia, then almost a week at home with her after hospital and now these last 17 days less the four Tuesdays and Thursdays when I got sitters and went to work. We have been going to dialysis MWF each week and it seems I have done a million things and that many more yet to do, all relating to her illness. I was further exhausted by a three-day visit from her Mom. Well, details later. More to do tonight and I must get to bed, I'm worn out. But mark this date as the end of a very hard period, especially the last two weeks.
-o-
THE VERY NEXT DAY JULI DIES
-o-
Monday, October 6, 1997   (I wrote in a devotional guide)
What God said to me: Give, even when I have little and God will give me new blessings and always care for me.
What I said to God: Help me to be unselfish. Help me to share. Help me to know how to share without encouraging irresponsibility. Help me to be like Jesus.
1998
January 17, 1998 – My Amazon.com book review
The Journey Is the Destination: The Journals of Dan Eldon by Dan Eldon
Edition: Hardcover
Price: $22.05
2 of 2 people found the following review helpful:
The Journey Is the Destination: The Journals of Dan Eldon, January 17, 1998
If you are expecting an extensive journal of his life adventures, you will be disappointed, as I was somewhat. It is more a work of art, a collage or scrapbook of several trips. His writing and handwritten notes are few and short.
But, for me, it instantly became an idea of one more way I can remember my 17 year old daughter who died this past August. I had already started putting scrapbooks together, so this book gave me more creative ways to do it! My Juli had also written in a few journals, and now I see a creative way to put pieces of them together as a story of her life with photos, her art work and some memorabilia.
Yes, a collage book is developing at my house, but without the expense of publishing it! Creative memories can mean more lasting memories! Thanks for the idea Kathy Eldon!     ~Charlie Doggett
The above online book review was written by me.
-o-
---
Christmas 1997 Photo Gallery  —  Just some scrapbook pages of 2 or 3 church Christmas Parties and my solo retreat in the Smoky Mountains. I'm still in deep grief over the loss of Juli.
---
1998
July 4, 1998
I'm 58 years old today, but really don't feel older. This is the first year since maybe 1990 that I spent the 4th in a conference. Back then it was at Glorieta with Juli who made sure we celebrated my birthday. I miss her!
This year was right here in Nashville for the 3rd an 4th at the Renaissance Hotel with the National Conference of the Compassionate Friends. Since December I've tried to ignore my grieving – just forget everything and stay busy. And I did! But this conference has put me back in touch with my feelings and memories and that it is not over. There is so much to do!
It has been good! Tonight I decided to stay here in the hotel and attend church from here tomorrow. After the candle light service banquet, I went to the end of my room's floor hall and watched the fire works out the window. It was beautiful and Juli would have loved it!
Then the share groups on the internet have peaked my interest in maybe starting a Nashville Chapter web page. Maybe! (I never did and certainly did not need another volunteer job!)   🙂
Tomorrow morning I teach fifth-grade boys in Sunday school. After worship I will have lunch with my singles Sunday school class. Right now I'm tired and ready to go to bed!     -Charlie
MY NOTES FROM THE CONFERENCE:
A quote from a speaker named Dennison:
"anything is bearable if you can put it into a story"
–
From a class on "Learning to Tell Your Story Effectively:"
JOURNALIZE: She said it was difficult for her at first, but you will forget the feelings if not written down. For her, writing was therapy. Emotions remember what the mind forgets, she said.
ORGANIZE: Put my thoughts together. Highlight or write down what you read in a book or magazine. Clip things out and save them. Save for speaking, writing or your personal use. You must start with an outline to speak or write your story. Use alliterations like Face It, Trace It, and Erase It. Stay alert to life!
CUSOMIZE: Know your audience and what they expect as you prepare to tell your story. Know who you are and share how you help yourself and how you help others. Don't push your faith on others.
INTERNALIZE: Make your points, instructions and examples part of yourself. Internalize and then practice, practice, practice. Psalm 16: "He gives me wisdom in the night." I believe God gives us memories so we can have roses in December.
–
SOME EXERCISES WE DID:
1. How did I feel about coming here?  I had mixed feelings as I always do with thoughts of Juli. Her death is in the past – but I still miss her. I'm okay now, but did I grieve enough? Did I grieve the right way? Is my constant busyness just an escape? I definitely don't want to participate in a "pity party" as I feel some are doing. That turns me off. I want to get on with life, serve God and people. I can't forget Juli. I'm doing scrapbooks. What else do I need to do? I don't know! Already this writing is honest and healthy I feel. Maybe this is what I should have done all along. As before, I'm going to say I will write a journal, but will I? The last times I've said that, I didn't follow through. Is it really better than living a productive life? Isn't focusing on living people more important? And doing a ministry? Can I do both? I have questioned even being here at this conference.
2. Who carried me like the man who carried the ill man to Jesus through the roof of the house?  Well, it has been my Sunday school class, fellow workers, and The Compassionate Friends. I guess Roy, Kerry and Allen have been the most sensitive – though no one wants to talk about the death or even about Juli now. I guess this is another reason I need to write and pray. What can I say or discuss? I like to tell things about Juli when she was alive. I can describe the sequence of things leading to her death, but I don't think I need help – I prefer to help other people. I have trouble accepting help.
3. Write a dialogue between you and your child.   ME: Juli, I think you know I loved you and still do. At times I fear I didn't do enough, didn't spend enough personal time with you and I'm sorry.   JULI: It's okay Dad. I know you love me and I love you. And yes I would have liked to be with you more, but now I understand. I love you.   ME: I've wished I had pushed the shortness of breath issue more – we might have given you more time. I don't know.   JULI: It's okay Da. I'm better off now.
–
Someone named Mary said:
"We are grieving for more than the child, but for our whole world that has changed."
–
And my last page of notes was suggestions for memorials:
• Frame her artwork or find other uses of it like in books
• Take her handwriting and use it on her tombstone or in a book.
• Use her name or photo on various objects
• Provide a scholarship in your child's name
• Plant trees in her memory
-o-
September 12, 1998
Well, I'm going to try to convert this journal to a prayer journal (I kept changing types of journals and still had trouble being regular in writing) and try typing some of my prayers. I believe it will help me to be more specific in my prayers and keep me from dozing off.
Almighty God,
I praise you and love you for who you are and for the loving grace you have shown and keep showing to me. Forgive me of my sins; self-centeredness or selfishness, sexual lust, and avoiding the main things (worship and witness) by staying busy all of the time.
Help me to get my priorities straight and to make you first in everything I do! May I never forget the question WWJD? Help me to be more like Jesus!
God, you know my concerns and desires with the considered move downtown. I continue to pray that it be your will and that it lead me to new ministries and witness downtown. Help me to realize that to be your servant, my hobbies must take back seat to you and your work and will for me.
Now Dear Father, please help me to be sure that this is your will. I have asked that you close the doors and make it impossible for me to move if it is not your will. You haven't done that yet. I am feeling good about everything so far. Help me to work out an acceptable contract with the builders if it be your will, and give me assurances that my condo will sell before I sign or initial the changes he makes. Soften Jimmy's heart that he will do right with me. I pray that my condo will sell quickly for any amount over $100,000 or at least high 90's or some other miracle to make this possible and without huge house payments. And within a month or two if at all possible Father. I am already tired and losing patience. I need your help in this Lord. I turn it over to you and all my worries related to it.
THANK YOU God for hearing and answering in your own way. I thank you that I can have peace about this, whatever happens, because I have faith in you. I trust you! Help me to be trustworthy to you, faithful to you! I thank you for Pastor Frank's message this morning and pray that faithfulness to you a part of my overall following and listening to you. Now help me to listen to what you say and hear what you are leading me to do.
I love you! AMEN!
1999
CATCH UP AGAIN!
Last year I moved into my first-ever new house, a townhouse connected to only one other house, so this year started with me continuing improvements on the house and especially the yard and adding a garage. That plus my "family" of singles at First Baptist for social and spiritual activities and of course my work at LifeWay gave me a full life and calendar! I did no journaling until after the shock of my job being deleted and receiving early retirement.
In August 1999 I had escaped to Walt Disney World for a vacation and quiet time. On August 22 I wrote the following entries after the fact to record the roller coaster of the past two months. From August 22 on, this journal is in real time.
Mid-May 1999 – My Job Deleted
I don't remember the exact date, but my supervisor Allen Adcox and I were called into our division director's office, John Kramp. Allen knew ahead and had given me a few hints, but it was still a shock to hear that our service division was costing the rest of our group too much and 26 jobs were being deleted. My job was one of those.
I was stunned a first, silent. Then I started to cry. I guess a thousand thoughts crossed my mind. I just bought a new house and I'm barely getting by on my current income, which I knew would be cut in half with retirement pension only. I also knew that my "points" (age + tenure) automatically provided me "early retirement" when my job was deleted. But I guess the bigger emotion was a feeling of not being needed AND the loss of one of my two local families: LifeWay and First Baptist Church. I really had no other family.
Allen was mostly quiet with John doing all the talking. Allen later said that this was the hardest thing he ever had to do or be a part of.
Then I said something like this to John Kramp:
"God's grace has gotten me through worse than this and I know He has something for me now. Nothing could be worse than losing a daughter – and God was good to me through it all and I know He will take care of me now."

~Charlie Doggett, May 1999
By then both John and Allen were crying.
I was then escorted to Gene Mim's conference room where Steve Lawrence of Human Resources presented both verbal and written rights that I legally have and the early retirement plan plus the severance package. Both sounded good or generous! I had no inclination to fight it.
SEVERANCE: I work through June, then receive seven months severance pay or through January 2000. Plus I will be paid for all unused vacation days in a lump sum on June 30. Plus they will pay for an outplacement service to find me another job. That is about as good as severance gets.
FULL RETIREMENT begins in July with a pension as if I was 65 on July 1. I'm 59, so this is six years early and three years before I could take early retirement at age 62 which I was already thinking about because of the ugly politics and commercial nature of LifeWay now. I can start receiving early Social Security at age 62, but I need to have some kind of job until then.  Overall, this is another good deal. LifeWay is being fair to me even if I don't think my job should be deleted. And yes, if I had worked until 65 or even 62 my monthly pension would have been larger, but I was getting away from a lot of crap at LifeWay and able to start a new life late in life. So I was satisfied even if hurt and a little overwhelmed about getting another job for 3 years!
So now I need to find work or some kind of additional income for three years or really cut back my living expenses to live on about half the income I have been experiencing. I immediately started thinking, "What kind of job can a 60 year old get to make even half what I now earn?" Then I started to realize that I would have to sell my new house and live less expensively.
I went back to the office, told a few people, straightened my desk, finished something and went home. It was after 4:00 PM. I was emotionally and physically drained. In a daze.
Late May to Early June – A Whirlwind of Thoughts
All I knew to do at first was pray and I was begging God for all kinds of things – not knowing what to ask for other than a job. My mind was spinning with what seemed like a million thoughts: What kind of job? Part-time or full-time? Sell the house? Try to make it with just part time work? Get a church? (Not likely for divorced 59 year-old) International Service Corp missions? The equivalent for home missions?
But whatever I do, I must not get angry or feel sorry for myself. Something will work! God is always there and always takes care of me and money is not everything! Plus I will be getting 1.5 times my salary through January. Not bad! Now, do I use the free employment agency or not? Oh God, please help me! I don't know what to do. Please give me a good job and one where I can serve you – please God, please.
For the next two weeks I began to tell people what had happened, assuring them that God's grace was sufficient – that He would provide some work and certainly not leave me without basic needs. But truthfully, I was scared.
I also prayed daily for God to provide a job and one where I could minister or serve Him. I was somewhat begging for something.
In the meantime I put out the word at LifeWay that I was available for writing or field service work on a contract basis or temporary part-time work which others have done after leaving.
Almost immediately I was invited by David Briscoe in Adult Sunday School to write and/or edit the Senior Adult teaching procedures. We talked and I accepted nine lessons for Fall 2000. I have finished 6 of the 9 by the time of this writing in August. The balance are due by September 17. It was a "God-send" and would not have been possible had I not been a teacher of our 40's & 50's single adult class – a requirement to write. It has turned out to be a big job, but the discipline, thinking, planning, and Bible study has been very good for me! And the $1,800 is certainly needed, especially after this vacation trip!   🙂    But, back to the story . . .
June 4, 1999 – Kenya Mission Trip Preparation
It is Friday evening and our second planning meeting for the Kenya Mission Trip 1999. I'm still planning to go! John Kramp knew how much last year's trip changed my life and how much it meant to me. He said "I'm committed to you going again Charlie, because I know how much it means to you." So I asked him if that meant money. I still owed $700 on my share of the trip expenses. He paid it immediately the week after the big announcement about the position cuts, long before this meeting. So another blessing!
Anyway – at the Friday night Kenya dinner meeting our guests were the former and the new IMB Associate Director for East Africa. After the meeting, I finally met the new director who was getting on the elevator to leave. We shook hands and in less than a minute I told him I was retiring this summer and might be interested in some ISC work if he had a need. Zip! The elevator door closed as he handed me his business card. I thought I might call him but probably should wait until after the Kenya trip in October and trying to find a job here in Nashville.
Monday, June 7, 1999
(I learned this after my phone conversation tomorrow – but this puts it all in chronological order. The conversation is created by me as I suspect it went.)
This Monday afternoon, the East and West Africa associate regional directors at the International Mission Board in Richmond, VA were talking. Ron Hunt says,
"We just lost our Business Facilitator in Banjul, The Gambia. Do you know of anyone who might be available very soon as a replacement?" The new East Associate Director replied, "Well, I met a guy Friday night in Nashville who is retiring July 1 who is interested in ISC. One of LifeWay's Vice Presidents, Jim Carter, spoke highly of him and said he would love to see him used by IMB. He was on LifeWay's mission trip to Kenya last year and is going again in October. Jim says he is on fire for missions and is in a business support role now at LifeWay. It might work!"
Of course I do not know what they actually said, but this seems possible.
Tuesday, June 8, 1999 – A Milestone Day for Me
This will undoubtedly go down as one of the most significant moments in my faith relationship with God during my entire life!
As I woke up – before the alarm went off – I laid in bed, looking at the ceiling and almost immediately started talking to God. I said something like:
"God, I'm sorry! For two weeks or more I have been begging you for a new job – even telling you what kind of job I want. I'm sorry. That has not properly expressed my faith in you God. I'm sorry."
"Your grace has always been sufficient. I praise your name and thank you for your goodness and how you have always been good, even when bad things happen. Thank you for getting me through a really hard marriage Lord – I didn't always put you first, but you were always there and I learned that regardless what happens, You are always first in my life. Thank you for getting me through the divorce, the worst thing to ever happen up until then in my life, unless it was the marriage. Oh forgive me Lord!"
"Thank you for helping me to 'turn loose' of Jason and know that he is on his own now. Forgive me for not doing more to help him know you, but he has professed you and I pray that he will come back to you and find real purpose in life in you."
"Then God, thank you for getting me through the truly hardest days of my life in the illness and death of Juli. Thank you for loving me through all those wonderful Christian friends. It was like you put your arms around me through them."
"And then God, thank you for giving me new purpose in life after the grief and healing and for leading me to Compassionate Friends who helped me process so much."
"And thank you that in this healing you allowed me to go to Kenya last summer and for the changes in my life that brought. Thank you for how it got me through the first anniversary of Juli's death. I praise you God! You are so good to me and I don't deserve it!"
"God – I believe. I have faith. I know that you have something wonderful for me in this job loss and early retirement! Forgive me for begging, because I do believe. I don't know what or when, but I will work on my lack of patience and WAIT ON YOU LORD!"
"I'm paid through January and if you want to wait until then, I will wait Lord. I trust you God to do whatever with my life, whenever, and wherever. Thank you God! AMEN"
I felt wonderful! Relieved! Sure! I already knew God would take care of me and use me, but it was like I needed to declare it – and I did to Him now, though I had already said as much to other people.
So, I got up, showered, dressed, ate my usual cereal breakfast and was off to work. The job I would have for only about three more weeks. But today I had a spring in my step. I felt good!
I went through the usual routine at the office: 1) Stopped by the cafeteria for coffee at "the table" with the usual morning coffee drinkers;  2) In my office I sign onto the system and opened Lotus Notes, Word and Excel to be ready for the usual tasks;  3) I record a fresh message on answering machine with today's date which is the policy now.
Now I'm ready to start on the first project on my list. But the phone rings. I remember it vividly:
"LifeWay Christian Resources, Charlie Doggett speaking."
"Hi! This is Ron Hunt at the International Mission Board. I'm the Associate Director of the West Africa Region. I heard that you are retiring this summer and might be interested in the ISC or Master's program."
"Uhhhhhh . . . Yes. But uhhhh. . . how did you know?"
He explained how he found out the day before (my imagined conversation above for June 7) and then he told me of the immediate need for a Business Facilitator in the mission office in Banjul, The Gambia, West Africa. He told me briefly about the job, the need to feel called, and that they can use someone for any length of time, 4 months to 3 years. But they would prefer to have me for 3 years if I'm over 50 and qualify for the ISC Master's Program.
I told him about my situation, the 3 years before I get Social Security and then about my prayer of this morning. We were both like, WOW!  God is in this!  We talked a little more and he said he would have the ISC office send the forms needed for me to be processed at IMB.  Two sets of forms, one for before the placement conference and the other forms for after placement (in other words assuming I am doing this specific job even though I must still attend the placement conference.)
I was quite excited all day – telling everybody about it and just praising the Lord! God is so good! And really, I have been excited ever since June 8, 1999!
COINCIDENCES?  1) I need work for at least 3 years and they want someone for 3 years. I think it was somehow used by God to solve my problem and get me to The Gambia.   2) I went to Kenya last year and came back a changed person. I don't think it is coincidence, but part of God's plan for me.   3) I felt called to missions while in college, but because of other interests and then marriage decision, I never followed through. It is like God is letting me experience my first calling or dream for at least a short while. God's grace!
Wednesday, June 9, 1999
In this morning's mail at the office I got another letter just addressed to LifeWay. The mail room has started sending some of the unusual ones to me to respond to.
A deaf student, James Burks of Ringgold, Georgia, was asking for money to sponsor him on a mission trip to Lima, Peru. Easy response – LifeWay can't do that or the word would get out and we would have thousands of requests. But the meaning in the letter for me was the Scripture verse he used at the bottom. Meaningful to me because my only concern about going as a missionary for three years was lack of money and less preparation for retirement and no house paid for to begin retirement. The ISC job only pays expenses, no salary or retirement. But anyway, I looked up his Scripture reference, Proverbs 22:4 TEV which says:
Have reverence for the Lord

Be humble, and

You will get riches, honor,

and a long life."
So Lord, why do I have any concern about money? You have always met my needs and keep humbling me that I might depend on you. Thank you God! I praise you!  AMEN!
All of August
I was very busy making preparations to leave the country, sell the house, finish some Sunday School lessons I was writing, etc. Too busy to feel retired yet!
13-14 August 1999
I went with other First Baptist Church members to help build a house for a family who lost theirs in a fire in Dunlap, Tennessee. I also tried photographing the Sand Hill Cranes which stop there on their migration route. It was not easy!
August 22, 1999 – At Walt Disney World
I'm on retreat at Coronado Springs Resort in Walt Disney World. I just wrote all of the above May and June report of what happened with the job deletion and call to The Gambia.
Now back to real time writing!
The house is for sale and I know will sell at the right time. I'm already whittling down my credit card balance caused mostly by landscaping the yard. I will sell my car at the last minute to cover that debt. When the house sells, I will pay off Jason's car and the rest of the credit card debt and then HAVE NO DEBT!  That is the way it should always be!
August 30 1999
Lord, I just sat down and thought again how much I need to do in just 4-5 weeks – I'm overwhelmed and yet I trust You to help me set priorities and do what must be done.
Help me to be wise dear Lord. I will make check lists with time limits and be ready when I leave here. Thank you God for the rest I got last week and all the things that have happened since July 1! It's been an incredible journey!
Now may I rest, but also work on schedule to take care of the priorities. Give me the leadership of your Spirit to finish the lesson plans before the ISC Conference. Help me to make the right decision on a laptop computer to take to The Gambia. Help me to pack light, but to take what is really needed. And to sell what I should for the minimal storage. Oh God, give me wisdom to get the needed things done soon. Thank you God! I love you and depend on you for the motivation needed now and the strength and wisdom to do it right. Amen!
3-6 September 1999
Ridgecrest, NC for Single Adult Labor Day Weekend Retreat
Note that I am writing the date differently. This is because the mission board and all the missionaries on the field write the date like this and I am "practicing" so I will fit in as a missionary! Day first, Month, then year – the way dates are written everywhere in the world except the USA.    🙂
5 September 1999 – Sunday of Labor Day weekend
Here I am God, sitting in the Ridgecrest Prayer Garden. I intend to be still and know that you are God. I just haven't been doing this, so I'm not good at it. Help me God to know you as I close this and be still.
I sat still dear God as I read Psalm 46 and focused on verse 10
"Be still and know that I am God."
I was still and waited while you touched me with your little drops of water, just a sprinkle as we say down here.
I looked into the gnarled and twisted branches of Rhododendron and saw you bringing beautiful leaves and flowers from the hurt and weathered life as you have with me.
I saw every limb and leaf looking upward as to you as I know I must always do, regardless how twisted and broken, for You are my strength and redeemer!
I read Zechariah 2:13
"Be still before the Lord, all mankind, because he has roused himself from his holy dwelling."   NIV
And I heard you god, blowing through the trees with a loud rush and then a quiet, gentle breeze. As I write I feel your touch gently blow my head and face. I KNOW YOU ARE GOD!
As I closed my eyes, your bird cawed at me as to say "open your eyes and pay attention to God!" I close this book again to just listen God – speak to me . . .  OH THANK YOU GOD!!!
I know you and know you are God. As I walked through this small, quiet place I thank you that the threat of rain has driven others away and I can selfishly be alone with you! I thank you for these old, tall, strong trees like the pillars of your tabernacle and like the strength I can have when rooted in You!!!
Thank you for the tiny stream flowing unpretentiously through this place, always flowing like your love, grace, and Spirit among us and in me. Your Holy Spirit is essential to my being as the blood is to my physical body. Flow through me almighty Father – touch and control every part of my life. Help me to truly follow Jesus, to be still every day and to know you are God – to listen and be guided by your quiet, gentle, presences. Forgive me for the rush, the haste, the constant attitude that I must do something, must take control, must plan every detail of my life. I'm sorry God! Help me! Help me! Take control!
Forgive me for pride, even in your call and placement of me on a mission field. Help me to always give You the glory in every testimony, every story, every experience of my life. I love you God! I want myself, my ego, out of the way that I might truly represent you, truly be "An Ambassador for Christ."  II Cor. 5:30
Thank you for this time and I know that I can do it more often Lord. Forgive me for not. Forgive me of selfishness, of lust, of ego and control God. Help me to continue to work on removing those stones of self and sin in my road to holiness. Help me to turn loose of my life Lord, to truly let go and let God . . . whatever with my life. I love you. I'm invigorated by this time with you! May there be much more like it! God I want to be with you more. God with me as I leave . . . Help me to spend more time with you this afternoon. It has been such a short 1.5 hours. PRAISE BE YOUR NAME!
7 September 1999
The weekend at Ridgecrest was good, especially my quiet times and the use of Scripture by 2 or 3 of the leaders and best of all may have been the fellowship with our First Baptist gang and others I met there. Sometime when you have a busy and tight schedule with too much to do like I have now, times of retreat like this and the WDW solo retreat are needed even more!
I just got back from lunch after the weekly Kenya Prayer meeting. It was a good time in the Spirit and I feel better about this year's trip than I have yet and about my feelings toward Paul who I disagreed with over him using all 10 commandments in his witnessing. I shared my concerns in an email and we hugged and prayed together today.
I was especially humbled and affirmed as three different people (Jim, Buddy & Paul) affirmed me or complimented me at the prayer meeting.
Lord, help me to never be proud! Help me to always give you the glory and credit for everything that happens good in my life! And Father, I pray that what he said about FBC is true – that things are changing, that evangelism will grow and produce and that missions will also grow and be a major work of FBC! I haven't done anything special to change the church Lord, but if you have used me or my experiences for any possible good, I just praise you and thank you god! I love you and I'm so happy to feel like I'm really one of your servants again! Oh Lord, help me to decrease as you increase!
Now God, help me to apply myself and finish the last 2.5 lessons quickly and in your Spirit!
KNOCK ON THE DOOR – It was another realtor who brought a young man by to see the house. He and wife are moving back from California. He works as a chef. They want downtown and this kind of neighborhood. He loved the house! He will bring his parents back tomorrow.
Thank you Lord! This just sounds like the one. I trust you Father, whatever happens. Thank you for this encouragement!
12 September 1999
I began the ISC/Masters/Journeyman Orientation Conference (Placement Conferrence) last night (a hotel in Richmond) and have worship about to begin this morning. Prescott shared a lot of logistics stuff last night and at breakfast this morning Tara really helped me understand the MLC (Missionary Learning Center) process and how we can learn. She is a teacher of new MKs at MLC.
Kent is my roommate and a really nice, quiet Journeyman candidate from Leavenworth, Kansas. He is a music/business graduate in July. He wants to go to China or anywhere in music. Well, worship is now starting.
13 September 1999
3:20 PM – Thank you god for the opportunity to pray for some people who are struggling here with what to do and thank you for already working in their lives today! I'm filled with joy God! This place or the meetings and the people are all just awesome! Oh god, I know you can and will do mighty things through this group of people – Oh Lord THANK YOU!
Just to sit here and listen to a student sing and play the piano while I write in the sanctuary blesses my soul. I'm among your people and I'm filled to overflowing! THANK YOU LORD!  I must go to my group meeting now.
14 September 1999
Father, My heart is full and joyful! You have spoken to me in so many ways in these full four days! It was Your Spirit in the faces, the stories, the worship, the sharing, the decisions and the enormous potential of this group of people. Oh God, thank you that I could be a part of it. Thank you for new friendships, new possibilities, new ideas, and new energy. Father I can hardly wait to go and to harvest in Kenya again! Then on to The Gambia! THANK YOU! THANK YOU!
Here is what I learned about some of my new friends concerning their placement on the field:
David Simpson will be teacher of the Kelly children in The Gambia with me! That was especially exciting to know someone else going to this little country previously unknown to me!
Brian Taylor will write music in native tongues in Togo, not too far from The Gambia.
Beverly Anderson will coordinate the Oklahoma Partnership work in Malawi.
Bonnie Waterhouse will coordinate medical volunteers and other medical workers in China.
Scott Simpson & Family will do research in Mexico.
And on it goes with some Journeymen going to live in mud hut villages while they serve, teach or otherwise represent Jesus around the world!
This is one of the most exciting things I've ever been a part of – Ohhhh THANK YOU LORD and please work in the lives of those who did not get matched to a job or in a few cases declined to go at all. Use their lives as a witness in the USA. Help Thelma to get her needs worked out.  AMEN!
15 September 1999 through 9 October 1999
This is a RECAP of a very fast-moving three weeks.
After the ISC/Journeyman Matching Conference, I finished up a lot of loose ends, trying to get ready for Kenya, hold a garage sale, move out of house, get ready for MLC and the move to The Gambia. There seemed to be continuous packing or re-packing; disposing of many things; meals and farewells with friends; sending change of address cards; lots of email exchanges and business; the farewell party at Roy McPherson's house by my Sunday school class and more. The class gave me a gift of a complete set of Veggie Tales video tapes that I can share with the MKs. I'm excited!
I had a great garage sale on October 2, making more than $1,600 including my bike, frig, TC, 2 stereos, all garden tools, carpentry tools, etc. On Monday, October 4 I moved everything else to John Ford's house. He is using my furniture which is needed because of a divorce with their furniture going with her! He also has space above his garage to store my boxes of books and other things. Plus he is going to take on my car and the car debt.
Whew!
I'm worn out!
6-19 October 1999 – Kenya Mission Trip
I was on the LifeWay Kenya Mission Trip. It was my second and maybe more meaningful this time. I got to baptize 25 new believers! Photos and some report information are in the first pages of my first Gambia album. Below are a few journal entries made on the trip:
10 October 1999
It's the fifth day of the Kenya Mission Trip and the second day on the field near Busia. There is a similar spirit among the participants as last year with first day of witnessing bringing much joy as did worship in Kenyan churches today. The Holy spirit is moving and more than 1,000 were saved yesterday! It was a lively happy worship time today.
I'm tired and may not write as much this year. I'm trying to get plenty of rest at night which is difficult. In some ways this is just part of my preparation for Gambia which I can hardly wait to get into.
Thank you Lord for the ways you have humbled me already this week. Forgive me for letting my ego or personality get in the way. Please use me to be your witness here and prepare me for what I will do in The Gambia. I love you Lord! I need you! Help me to be yielded to you. Bwana Asafiwe! Praise the Lord! AMEN!
13 October 1999 – Wednesday evening
We finished two days of witnessing in Namisi with many good families ready for a church and over 200 conversions. I was disappointed that the one who would pastor was not with us. I just pray that he will be there Sunday and get started with a good group, following up on every home.
My biggest sin today is running off my mouth. Forgive me and help me God.
I had a good talk tonight with Scott Jordon who is a good pastor in Gunter, TX with some of the same problems of many pastors.
I do the morning devotional Friday – I'm thinking I will do it on how this trip will change me when I go home. Lord help me with a Scripture passage to go with my testimony. I'm tired and going to sleep now.
14 October 1999 – Thursday
It was my hardest day yet with longer walks and hotter sun, and no rain. But the most souls saved yet – 49!
I was fortunate to be in an area with very receptive people. David Kitar and I witnessed mainly on the road.
My devotional is not tomorrow morning but Saturday morning I just learned. I feel led to talk about what we do when back home – What Now? I will call it and use Matthew 25:23, "Well done good and faithful servant . . ." Then I will read Acts 26:15-19, focusing on verse 19, "Therefore, King Agrippa, I was not disobedient to the heavenly vision."
15 October 1999 – Friday
It was another moving day witnessing and preaching! It is our second and last day a Sogora. Tomorrow is a new village and our last day on the field.
Dear Lord, please anoint me with your Spirit to say the right things in the morning devotional AND in witnessing and praying tomorrow. Thank you for your faithfulness to me – forgive my sins and especially my tongue or talking too much, especially when it hurts someone.
Give me a good night's rest and a right spirit tomorrow. In Jesus name, AMEN!
16 October 1999 – Saturday
Our van driver Anthony taught me this Swahili saying:
Haracha, Haracha
Hyena Bracaha
It translates to:
Fast, Fast makes mistakes,
So I come slowly
17 October 1999 – Sunday
We traveled to Nairobi today and I am tired. I'm with Jim Shull in the Utali now. We stopped by Brackenhurst, my first time to see it. It is a nice facility for conferences, the seminary, and the language school for new missionaries. Most of our group bought lots of gifts, etc. in the gift shop.
Jim and I have showered and it is after 6:00 PM, but we have to wait until 7:30 for dinner. We're ready now!
While at Brackenhurst I met the Melvins who are just starting as ISC missionaries there. He will manage the conference center. They were in MLC with Rob & Tina Torbert (FBC Nashville) who are now in Honduras.
Dear Lord, help me to be patient with Mr. Carter and all of the little aggravations that come in the logistics of this thing. Help me to hold my tongue with all.
Thank you for the experience in Busia again and help me to be faithful to you in all I do and say. Forgive me for not always staying focused on Jesus. Now, dear Lord, please have the computer there when I return and the house sold. I trust you Father – whatever happens. Mold me and make me.  AMEN!
18 October 1999 – Monday
Today we had breakfast, shopping, visit to Karen Blixen's house (Out of Africa), the Giraffe Park, lunch at Simba Saloon (Carnivore Restaurant), and then back to the hotel to rest. I'm in the lobby now waiting for the other group which went to Nairobi Game Park. I will give my key to someone else who will use it as a girl's day room before we leave for airport.
Like all, I'm tired and hope to sleep on the plane tonight. I'm about to go out on patio for a little breeze and to read.
I was disappointed that Carter told us no tips to the drivers. But I had already tipped Anthony yesterday.    🙂
19 October 1999 – Tuesday
We just took off from Amsterdam to Detroit. I actually got some sleep in the first flight from Nairobi. But not enough of course! The highlight of that flight was sitting by a 14 year old Somali boy, a refugee who has spent 8 years in Nairobi. His mother is in Toronto and finally saved up enough money to fly him there. It was a incredible time together with Sufiyana!
He had never flown and did not know how to fasten his seat belt or use the gadgets in the toilet. I had to show him how to open cellophane packages of peanuts and take lids off OJ and yogurt. He had never had yogurt and did not know what it was. His accent and quiet, barely opening his mouth talk made it difficult for me to understand him, but it was a wow experience. He is a neat kid, a "good boy" he said. We seemed to instantly bond and I plan to write him, though I know there is a danger of him begging for money or even his mother doing that. I will probably risk it anyway. (NOTE: I wrote and never heard back from him.) I also hope to write David Kitau, Titus, and the drivers Anthony and George.
It is so easy to get attached to people in Kenya or probably all of Africa. Simple living and faith put Americans to shame. The Christians and many others are so welcoming of white people and so loving.
Oh, I forgot to say that Sufiyana is a Muslim who is well trained in rejecting a Christian witness. I tried and left him with a "Peace with God" tract. I will continue to witness in any letters I write.
I just didn't write the details and encounter descriptions like last year, not even writing every day as then. Though not new and surprising like last year, the trip was just a s meaningful as then. I frequently thought about how similar it might be to Gambia. I think a lot, but won't know until there and out in the field. And of course most of my time will be in the role of business facilitator. But with that I should deal with nationals a lot.
This time last year (on return flight) I was developing my vision of what I would do to continue the spirit of the trip. Now I must think about what and how my new job will be affected by this trip.
First impressions: In working with the Jola people I hope to do a similar kind of witnessing. Though I think it will require much more cultivation since there is a 90% Muslim population. Using the parable of the sower, I will probably encounter packed soil as well as rocky and thorny. It will be slower than we experienced in Kenya. And I don't think our mass evangelism or "assembly line evangelism" will work in West Africa. I have some doubts about some of what we did that seems to be mainly for the numbers. But God does the saving and he can use all of us and all of our methods!
I haven't had any response to my e-mail about mission volunteers I sent to the missionaries in Gambia. So I will say nothing else until I'm settled in and working there. It must be the right combination of people and needs to be a success. It is serious business and I hope that I can and will coordinate mission volunteers there.
---
AT MISSIONARY LEARNING CENTER IN VIRGINIA
25 October 1999 – Monday
I arrive at the Missionary Learning Center (MLC) in the country outside Richmond, Virginia. Today I begin 7 weeks of training and other preparation for living on a mission field. I did not journal much! I think just two days plus including my first Newsletter back home.
26 October 1999 – Tuesday
MORNING
Everyone arrived at MLC by last night and we start this morning. I'm in a suite with Brian & Patrick. I room with Patrick, 24 from Raleigh but may have my own room by tonight. There is a vacant one between us and Bill & Judy next door. It is time for breakfast. Psalm 46 inspired me again this morning. God is in charge!
EVENING
It is the end of the first full day at Missionary Learning Center. This is going to be another experience of a lifetime. Great people, purposeful learning goals, and a wonderful atmosphere! I already like it! The three young children in our quad call me "Uncle Charlie." I like that and even got hugs before bedtime tonight.
I also love my new laptop on which I am writing now. This big 15" screen is just super! And the software and everything! I'm not using it for internet connection because the only connector is in Brian's room and only one in the quad can use it at a time and so far no one has gotten through on the phone line. I use one of the desktops in the computer lab to do email.
I had a great two-mile walk this afternoon and hope to each day. It is beautiful farmland out here and the fall colors are in full force. Just beautiful!
The worship was so good this morning and I love you so much God. Forgive me of letting myself or my ego get in the way of loving you more and praising you and depending on you and doing your will! Help me to decrease and Christ to increase in me.  Amen!
31 October 1999
I have learned much more about worship this week from Ron & Patricia Owens. This morning was their last time to lead us in worship and I hope I can remember the essence of what Ron said about worship. I must decrease and He must increase!  Revelation chapters 4 & 5 became lessons in worship, along with Isaiah 6. I must reject all glory or simply give all glory to God in all that is done. This will take a conscious effort in both my worship and in my daily living.  God help me to know you.
21 November 1999
The Newsletter #1:
From Charlie in The Gambia
A Prayer Newsletter for the Jola People
21 November 1999
MLC Is Preparing Me for a New Place of Service
Wow! I didn't realize how much there is to learn on assisting other missionaries and planting churches in an unreached people group!  So what are we doing for 7 weeks at Missionary Learning Center (MLC)?
We are beginning each day corporately with worship that has been some of the most meaningful ever for me!  Then it is classes and reading and activities until bedtime! We are organized into teams and the whole place functions by the work of our teams as it does on the mission field.
Who Are We?
We are 121 adults and 53 children, all soon to go overseas to every continent as Southern Baptist missionaries. There are many going as "career" missionaries, which means the beginning of a lifetime of mission service. The rest of us are going for 2 or 3 years in the International Service Corp (ISC), ISC Masters Program (over age 50), or the Journeyman program  (just graduated from college).
We are mixed in each house of four apartments so that there are all ages and stages of life to make up a big extended family like Africans. My "quad" has two couples with empty nests, one couple with three children ages 2-8, and three of us single guys, 22, 46, and 59. Quite a family! And we are all going to Africa!
Our Studies
Already we have dealt with fitness, travel, insurance, security, personal growth, witnessing, prayer, philosophy, strategy, cultural anthropology, chronological Bible storying, animism, folk Islam, cross cultural communication, worldviews, and lots of homework! Still to come are more on health, single living, a field trip to other religious groups in Washington, DC, spiritual warfare, church planting, team building, and utilizing you guys as short term volunteers when you come over (and I hope you do!).
My Greatest Need: Prayer Partners
The only way to introduce Jola people to Christ is for God to prepare their hearts ahead of me and that happens when God's people pray. What can you do?
1)     Pray that God will work in the hearts of the Jola people in the Banjul area where I will witness.
2)     Pray that I learn the language quickly.
3)     Invite others to be prayer partners.
4)     That my house sell soon!
CHRISTMAS?
will be in The Gambia for me and the Hutchison family has already invited me over for Christmas dinner.
My Schedule
Dec 10-11: Fly to Dakar for orientation
Dec 19: In my new home in a Banjul suburb:
Fajara Section M  or  Mail to:
PO Box 2376
Serekunda, The Gambia
West Africa.
Email: CharlieDoggett@HotMail.com
NOTE: I will put just the words of all my newsletters from The Gambia in this Journal. To see the actual newsletters with clip art and some photos, see my photocopies of the original newsletters with the artwork. They're on another page of this website with links to each individual newsletter like this one above:
---
EN ROUTE TO THE GAMBIA
10-11 December 1999 – Richmond to Brussels
Wow! The seven weeks at MLC flew by with many, many, and wonderful experiences! I'm not sure why I didn't journal it except that the full schedule down to dusk and much reading, homework, and even meetings left me ready to drop by 9:30 or 10:00 most nights. Then I was up again at 6:00 AM every morning. If I am to journal in Gambia it may have to be at morning, breakfast or maybe a dinner or early evening, depending on the schedules that will develop. It is not easy to be disciplined in journaling!   🙂
It is hard for me to summarize MLC, at least simply or in one sentence. I have learned so much and grown spiritually in multiple ways. Cultural Anthropology was a fun subject that helped me to get excited about the Jola people and want to start learning more about them as soon as possible and especially the language! The church planting classes were maybe the best as the "main thing" we must do. And what helped me most spiritually was Jerry Rankin's Bible study on "Spiritual Warfare." It helped me to understand what has been happening with Satan in America and how his work is different in Africa. I was motivated to go out and find a copy of C.S. Lewis' SCREWTAPE LETTERS to read again while in The Gambia.
I promised my covenant group I would read the book on boundaries my Nashville counselor prescribed. And I have expressed my intention to spend an hour each morning with God in quiet time plus 30 minutes at night. Maybe one of these times will include journaling. I have in mind getting up early, reading God's word and then walking for 45 minutes or an hour with prayer during the whole walk. A special kind of prayer walking.
I am determined to be a witness everywhere I go! The opportunities will be many!
IMB provided transportation after the graduation ceremony to the Richmond Airport. I had trouble with the airline accepting a trunk I planned to check. Ron Hunt rushed out and picked it up so he could ship it. Last minute challenges keep the adventure exciting!
The first leg of my flight was from Richmond to Atlanta. It was a privilege to witness to a young business man who is a Mormon by birth but not in his heart. I started out well, with him doing most of the talking – then I took away from what he was thinking by talking too much about myself and my life, problems, blessings and all. I should not have! I hope a lesson is learned! He did say he believed in Jesus. I will pray for Dewey who lives in Idaho Falls. It is time to board for Brussels now. (I slept most of the way to Brussels.)
11-12 December 1999 – Brussels to Dakar
My joy on this leg of the trip was witnessing to an Englishman who had retired from his own successful business. He was divorced ten years ago like me and we became instant friends. He is Ben A. Parker
My witness to him will strengthen the efforts of his evangelical lady friend, Rebecca, who has said she will marry him if he becomes a Christian. He asked several questions and we talked about being a follower of Christ off and on throughout the trip. We exchanged email addresses and I will follow-up on him via email. He came to Dakar to meet his 28 year old daughter who is trekking across Africa in a Land Rover and will meet him in Dakar in the next 2 or 3 days. He will travel with them for a month and then fly home from another city. Interesting!
IN DAKAR FOR INITIAL TRAINING
We arrive in Dakar at 11:30 PM Dakar time I think on the 11th. But it was nearly 1:30 AM before all the bags arrived and one of mine was missing. It was Al's computer of all things! (I had been asked to deliver a computer to one of the missionaries.) I was met by Al and the Kauffman's and was in my apartment at the Dakar Guest House by 2:30 AM Sunday the 12th.
I slept until 9:00 AM, went with the Hodges to International Baptist church which was African-led but very Western or American in worship style with all but special music in English. There was a good sermon and music. For Christmas we must give Christ to those who know not.
Lunch was with the Kauffman's and I took a walk in the afternoon. Al and I went to the airport to get his computer which did arrive. We then went to the Tim Mahoney's for a potluck dinner and visiting. I heard the Muslim Call to Prayer here for the first time and learned it is now the month of Ramadan.
I'm tired and going to bed though my next door neighbor, Tiffany, is having a going away party as she is leaving the field tomorrow with fellow-Journeyman Joel to get married. The guitar has started playing which might interfere with sleep, but I doubt it. I'm tired!
13 December 1999 – Monday
I slept well last night and until nearly 8:00 this morning. The Kauffman's were with me from 9:00 to about 12:30 for jola orientation which will continue for two more mornings. We had lunch together.
We talked about the team, the Jola people and what they will expect from me in the next 8 months while they are on stateside assignment:
1.     Learn language to at least level 2
2.     Learn culture
3.     Business facilitation in Bignona with at least one trip there per month
4.     Send monthly prayer requests to Sara Haun
5.     Develop Jola friendships
We also talked about language and language learning and they taught me some greetings. My tutor will be Ebrima Collie, beginning January 4. I will be with the facilitators this afternoon, but not sure when it starts. The culture here closes down for lunch from 11:30 or 12:00 until about 2:30 or 3:00. It is about 2:30, so I will try to see if Al, Tim, or Gary are back in the office yet.
I had a good visit with Gary on financial roles and responsibilities.
My first Jola dinner was with the Ibrahima Badji family who are dear friends of Lee and Donelle Kauffman. The oldest of their two sons is named after Lee.
The meal was very good or "sum sum" in Jola. It was my first served from a common dish. I ate from my pie-shaped section of the large bowl. It was chicken and vegetables on a large amount of rice. When through I patted my stomach and said "poin poin," which is Jola for full stomach.
On the 13th page of my journal book was printed Philippians 4:8
"…whatever is lovely, whatever is admirable – if anything is excellent or praiseworthy – think about such things."
Thus I made this list by the verse:
·       Friendly, helpful co-workers
·       Friendly, helpful nationals
·       Sunshine and breeze
·       Beautiful sunset last night
·       Photo opportunities
·       Singing of tropical birds
·       Opportunity to witness on plane
·       Many opportunities to serve, witness, and be a part of three church-planting movements
·       New friendships
·       Free time
14 December 1999 – Tuesday
I spent the morning with Lee & Donelle looking at vision-action plans, and covenants. I will need to have my covenant with them to Al by January 25. As well as the facilitation one which is separate.
We had an enjoyable visit without too much structure, then went to lunch at a pizza place that was really good! I told them my life story.
I did very little reading before time to meet with all three of FCTs, Al, Gary and Tim. We covered a lot! From calendar to job description and the calendar is full through April. BF is a big job, taking a lot of time! I see now how hard it will be to make time for Jola work, but I will do it!  Good Night!
15 December 1999 – Wednesday
The day started with Al knocking on my door as I was getting out of shower. I went to the door with a towel wrapped around me at about 7:00 AM.
Hans Bols of WEC was leaving from his visit with children in school here and Al had just arranged for him to take my two footlockers back to Banjul. Glad to get that done! I will start getting up earlier tomorrow!
Much of the morning was spent with the Kauffman's in Gary's office and Tim sitting in some. We went over all the details of what needs to be done monthly in Bignona and Ziguinchor. There are several salaries to pay and maintenance to check on and bills to pay or provide money for Jules to pay. I will also need to treat the village house for termites. (This job gets bigger by the day!)
On the next page of the journal is printed 1 Corinthians 13:6-8,
"Love does not delight in evil but rejoices with the truth. It always protects, always trusts, always hopes, and always perseveres. Love never fails."
Beside that I wrote "This is how I want to work with those in the villages and Bignona! As well as in Banjul and Farafenni!
I had lunch with the Kauffman's in my studio apartment. We had ham and cheese sandwiches.
They left and I read, then spent 3 hours on the internet reading and answering emails. It was kind of good to briefly be back in contact with "the old world," but I don't miss it nor have any interest in going back, just enjoy the emails!
Everyday I'm more convinced that this is what God wants me to do and where he wants me to be! I have learned that the job is BIG and could be overwhelming, yet I know God will not ask me to do more than I can handle. He is so good! And He knows that this job is just right for me – from the administration and detail work to the relationships with Jola people to driving a truck through the bush to the many villages! I can hardly wait to get started!
I probably would have gone down this evening or tomorrow if it were not for the Cluster 1 Christmas Party Friday night. They want me to be there and it will be a great opportunity to meet most of the missionaries. They then thought I would fly down Saturday, but there are no flights on Saturdays now, so it is Sunday night now when I fly to Banjul.
This change of plans can be good as I will have time to rest, be on the new time zone, and read some things which will be more difficult to find time for in Banjul, I imagine. So I look forward to this "down time" also. God is good!
It is 9:46 and I hope to be asleep by 10:00 and up by 6:30 in the morning. Praise God!
16 December 1999 – Thursday
I didn't make it up until 7:30, but blaming that on me still adjusting to the new time zone. After all, this is 2:30 AM back in Nashville! And I've been going to sleep by 10 at night here which would be 5 PM in Nashville. Whew!
Reading, emailing and visiting with Mike Sweeney in the office was how I spent part of the time. I walked to the beach overlook and then the two miles to the lighthouse which has beautiful views. I had a sandwich lunch by myself and then dinner with the Hodges making it a very restful day. There was little planned and little done! Sometimes that is nice! And I'm trying not to feel guilty!
This page of the journal book has Psalm 23:1-3,
"The Lord is my shepherd, I shall lack nothing. He makes me lie down in green pastures, He leads me beside quiet waters, He restores my soul."
I wrote: Amen! Praise God! From the creek trail at MLC to the ocean overlook a half block from here, the peace and power of God has been real!   🙂
17 December 1999 – Friday
I was awake by 6:00 and up by 6:30! Yay! I'm about on the GMT or Greenwich Mean Time which is the time zone here. Everywhere else is GMT +/- so maybe this is the real time!  🙂   I keep saying Nashville is 5 hours behind us, but I need to get on computer and know for sure and of course that changes with daylight savings time which they do not have here.
Last night the Austin's and Kelly's came in plus Ginny Sutin was to fly in. They are two neat families I will get to work with in Farafenni, though the Austin's will be in language study in Dakar the first 6 months, January to June. The Corbitt's will arrive today and in January they move from Farafenni to Lamin, about 10 miles out of Serrekunda, thus close to me. They will live in a rented house in a Mandinka compound with two Mandinka families. This is the new direction of the IMB work that really started here and is spreading to all regions.
This morning I walked to the ocean and mosque overlook again after reading 1 Thessalonians. It was a great morning quiet time with the beauty and power of God! And such a contrast to man's world as the spot where I stand is the corner of a garbage dump – contrasted with the mighty ocean surf, the distant horizon, and a gorgeous sky. The water is dotted with hand carved tree canoes, brightly painted and many patient fishermen with fish nets. The beach had two runners working out, more canoes, and many little shanty houses just below the huge, expensive, tiled mosque in contrast. It reminded me of a faith that spends more on worthless buildings than people, but are we not also guilty of that as Christians? We must get the message of Christ to all these people. It's a relationship!
I handled a phone message that Helen the maid is sick and will not be here today. I hope to do some good reading and organizing of ntoes today. Lunch will be with the Austin's and dinner is the Cluster 1 Annual Christmas Party. I need a white elephant gift! I'll write MORE LATER . . .
This page of the journal has Matthew 5:8,
"Blessed are the pure in heart, for they will see God."
I write: Oh God help me to be pure in heart!
I took army rations Tim provided me as a white elephant gift. It was fun and people actually traded for them. Mike Sweeney took them to have something to eat when he is in the village, where he lives much of the time. Then a lady took them from Mike to feed her cat she said! It was fun! I met lots of people, most of whose names I will probably not remember. I got acquainted with the Kelly's and Corbitt's who will be the only two families in The Gambia for several months. The Austin's will be in Dakar for language study and the Kauffman's on Stateside Assignment. The Hutchinson's have resigned and will be leaving soon. So I will be facilitating fewer people at first, but still have to manage the empty houses and other facilities, like two centers and some vehicles.
It is Richard and Fran Kelly with Alex, Daniel, and Patrick. Then it is Otis and Geri Corbitt with Kenyon and Devon.
18 December 1999 – Saturday
It was a quiet morning and I slept until 8:00 AM. I had cereal with banana and then a croissant with coffee. I went down and visited with Otis, Kenyon and Devon. Then I updated yesterday's journal above and had a devotional time. I hope to read a lot today and maybe walk to a place to eat lunch today – if not I have ham & cheese and bread here. Dinner tonight is with Tim & Jean Mahoney. I may get adventurous in walking around. I wish I had my camera and of course I need to read!
2:02 PM – I read some more in Boundaries, then visited with the Kelly's and saw them off around 12:30. They are driving back to Farafenni. I walked about 2 kilometers to the Le Regal Restaurant. There I walked in on two MK teens, one a Baptist and the other with YWAM. I joined them for lunch and they translated for me. As I was ordering, the Corbitt's walked out after their lunch and I spoke to them. So this must be a missionary hangout! It was an enjoyable lunch and then I walked back to the guest house where I am resting and will read some more.
Dinner with the Mahoney's was both memorable and delicious! Tim picked me up and we stopped by a market for some veggies and fruit on the way to their house in Dakar. I began to get acquainted with Tim & Jeanne and their children, Emily, Melonie and Andrew. Then the big event happened! Andrew was playing on a trampoline in their back yard and he fell off and broke his arm! I went with Tim to take Andrew to a private hospital "Clinique de CAP" where he was x-rayed and then got a cast on his arm. Andrew was brave for age 10 and I enjoyed getting to know him and his Dad better. Andrew has the neatest French accent and was a delight to talk to at the hospital and at home. We had a late but wonderful dinner and I was back in my apartment by 10:37 and quickly to bed.
19 December 1999 – Sunday
I was up by 7:30ish and ate all the leftover stuff for breakfast. Cleaned the kitchen and stripped the bed. I had most things packed for the flight before Gary picked me up for worship. I had thought we were going to a Wolof church, but I heard wrong. It was a special worship for all of the Wolof Team at the Yoff Center where we had the party Friday night. It was well-planned and really good worship service. The music and theme was the star of Christmas. The message from Jeremiah was about the only righteousness we can ever have is the righteousness of Jesus. They ended the service with the song "Shine On Jesus" as we all lit sparklers. We had to stop after two of the three verses because the room filled with smoke. But it was still nice!
Lunch was on the point of Dakar peninsula with ocean on three sides with nice views and good food!
FLIGHT TO BANJUL
Back at the guest house I finished packing and checked my email in the office. Then Tim took me to the airport. Tim was perturbed by the slowness of Senegal Air getting me checked in because he wanted to take a nap. But he finally got me in with only 8,000 Francs charge for excess baggage weight. He was pleased that it was no more. I think that it is about $10 or so in dollar comparison. He made some of the Gambians mad by trying to break in line. I have made it through everything to the loading gate with a little feeling of embarrassment sitting with all these people who were ahead of me. But it will be okay.
The majority had gotten off an earlier flight from Saudi Arabia, possibly to visit Mecca for Ramadan. There is one obvious Arab among all the Africans. So far I am the only white person waiting to go to Banjul.
Today has been the worst Harmattan day this week, which is winds blowing from the north, meaning  a lot of dust and sand in the air. We could not see downtown from the hill and the houses and hills on the other side of the runways are mostly shielded by dust in the air. My apartment had dust on everything, but then that was most of the week. I'm hoping that the sea breezes in Fajara will keep much of the dust away from the house and office. We'll see. Everyone says I will need a maid at least two times a week to keep my house clean and that she can cook some of my meals. I'll work that out with Lynn tomorrow or sometime this week.
Mike and Lynn Hutchison are to meet me at the airport tonight. I plan to finish this journal tonight and start back on the computer journal tomorrow.
-o-
COMMENT: I'm not sure about "the computer journal" but in 2010 this is all I found for 1999 as the above filled a whole journal book, handwritten. The next handwritten journal begins in March 2000 but I did find computer journals for January & February which are included in the next volume.
-o-
FROM MEMORY: The big memory from this first flight to Banjul in the above entry was the very large Gambian woman who sat next to me on the plane. She was returning from a Hajj to Mecca which she had done several times and showed me all her rings and told me a little about it. She was so large that she overlapped into my seat. It was an uncomfortable but short flight of about 30-40 minutes I think.
FINALLY IN THE GAMBIA
The Hutchison family was simply wonderful and I was quickly very sad they were leaving because of philosophical differences with IMB or the West Africa Region. They oriented me and had me for Christmas along with their senior adult ISC teacher of their children. The first week was so nice and the kids had made welcome signs at the big house where I stayed at first because the teacher was in the apartment. The Hutchison's ended up working with Africans in Paris through the moderate Baptist Fellowship.
I can find no more 1999 journal entries. Mike was the one who got me started in my job, the office and all. Sometime after Christmas or I guess in January they were gone. My first disappointment was to lose the Hutchison's.
30 December 1999
Newsletter #2:
From Charlie in The Gambia
A Prayer Newsletter for the Jola People
30 December 1999
Your Prayers Answered: My House is Sold!
I received the email from my realtor Christmas Eve that the closing was set for Monday, 27 December. And it did close! Hallelujah! Thanks to the Lord and Mandy for the best Christmas gift!
New Prayer Requests:
DEWEY in Idaho Falls, Idaho is a Mormon businessman. I shared Christ with him on the Atlanta flight. He asked questions and is "thinking about it." Pray that others will water and cultivate this seed!
BEN A. PARKER was beside me on the flight from Brussels to Dakar. He is from London, England, my age, divorced for 10 years like me, and now a friend. I was watering and cultivating the witness his evangelical girl friend is providing. Ben said, "This is strange that you would sit beside me after all Rebecca has been saying to me." My reply: "I believe it was a divine appointment!" He had lots of questions and we talked about Christ off and on for 6 hours! Rebecca will not marry him unless he becomes a Christian. He too is "thinking about it."
EBRIMA SANYANG is my relief guard for the other 6 guards at our 3 Baptist properties. Friday he was handed a Watchtower geared to African Muslims. He asked me about it. I took the approach that we Baptists are a "people of The Book" (a phrase in the Koran) and that some, like Seventh Day Adventist, added to The Book. As I began to talk about Jesus, he declined to talk further.
Muslims are taught not to talk about faith with Christians. I also forgot to use "Esa" instead of "Jesus," which is the Arabic name for Jesus in the Qur'an. I am now saying that "I am a follower of Esa." as I talk with people.
BOY DIES NEXT DOOR to me on Christmas day near midnight. A poor family lives in the incomplete compound in exchange for guarding it. They have 11 children and the 14 year old boy died. Sunday after worship I prayed with the mother and children in the name of Esa. The father was out digging the grave. Muslims must be buried before the next sunset after death. Pray that my contact will open the door for continued witness.
8 Days in Dakar, Merci!
My first week in Africa was with my supervisor and the Financial Facilitator for Cluster 1 (Senegal, Gambia, Guinea Bissau) in orientation to my BF work plus orientation from the Kauffman's on the Jola team I am a part of.
But I felt like I was in France! French is the official language of Senegal, with Wolof secondary. Wow! Enjoyed the missionary Christmas party & a Wolof team worship along with everything else!
First Week in The Gambia:
The Mike & Lynn Hutchinson family has been my wonderful and gracious hosts here. It has been especially fun being "Uncle Charlie" to their bright and well-behaved children Max, William, and Virginia and to have Christmas dinner and gift exchanges with them!
Since some have already asked, yes, this is the Mike Hutchison about whom an erroneous prayer request is still floating around concerning his auto accident with a Muslim boy. He was not hanged, as the email implied, and has been cleared by the government. But the sad thing for me is that they have resigned from IMB and will go back to the states January 13.
They have been orienting me to the job, office, personnel, and the Baptist properties in the Banjul area. They have also driven me around to the places to do business, shop, and eat! I drive myself now! Lynn has been serving as the "part-time" interim Business Facilitator.
Final Three Pieces of Luggage
As I left Richmond, a legalistic Delta/Sabena agent assisted me. He refused three of my excess bags, which caused me to hustle, with Ron Hunt's help, and get them shipped airfreight on December 10. They finally arrived Dec. 23 and picking them up was a comedy of African bureaucracy!
I drove the bumpy 30 miles to the airport and spent an hour getting my three bags. To the window with a clerk, then to the inside office to get the first papers which took three people and "That will be 164 Dalasis please!" (Handling fee of about US $16)  Then out the gate where for 75 Dalasis, a two finger typist types up a Customs Form for me. I take that back to the office; "please go to Window 3." I get quadruplicate copies of paper at each stop, including window one, back inside, then back out to Window 3, then Window 2, then to the shed where the customs agent signed most of the papers and sent me to Window 5 to have the official stamp put on every piece of paper! Then pages removed at Window 2 where I pay an 85 Dalasis Documentation Fee. "Please see the Customs Officers under the shed." By then my three bags are there! One officers does something with my big pile of papers while two others open all three bags, going through everything! Even counting my used videotapes! There is no customs charge! Just those handling fees!
Post Office packages are easier than air freight, but take longer to get here! My trial package took 2 months.
How I Know I'm in Africa:
I go to bed with the beat of African drums and many tropical birds. I wake up at 5:00 each morning to roosters crowing and Muslim prayer calls! I brush my teeth with bottled water and have already forgotten what a smooth road is like! And what's so special about dinner by candlelight! Yesterday's electric outage was for 24 hours. Blown my computer surge protector twice, and I've eaten things I know not! Love it!
Jola People
Well, said I would tell you about Jolas this issue, but no room! Really will next time! I can say that 6 of my 7 guards are Jola, so as I learn the language I will practice on them! My compound assistant & maid are both Fula.
Charlie
New! Home phone 220+37.06.98
Office phone 20+37.40.51
ibgambia@gamtel.gm  Office
See the  PHOTOCOPY OF THE ORIGINAL NEWSLETTER   above with artwork.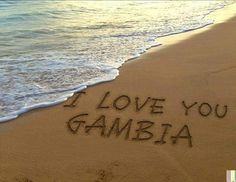 Go to the next set of Journals, Volume 3, 2000-2002 Journal (Gambia & The Return to Nashville)
¡Pura Vida!