I've always tried to photograph butterflies and moths, though for years my first interest was birds, especially when I first moved to Costa Rica. My Butterfly Photo Gallery kept growing the longer I lived here, and why not, since Costa Rica has more species than any country its size in the world? 🙂 And oh yes, the feature photo at top is of a Mexican Silverspot on a Red Vein Indian Mallow flower at Guayabo Lodge, Turrialba, Cartago, Costa Rica.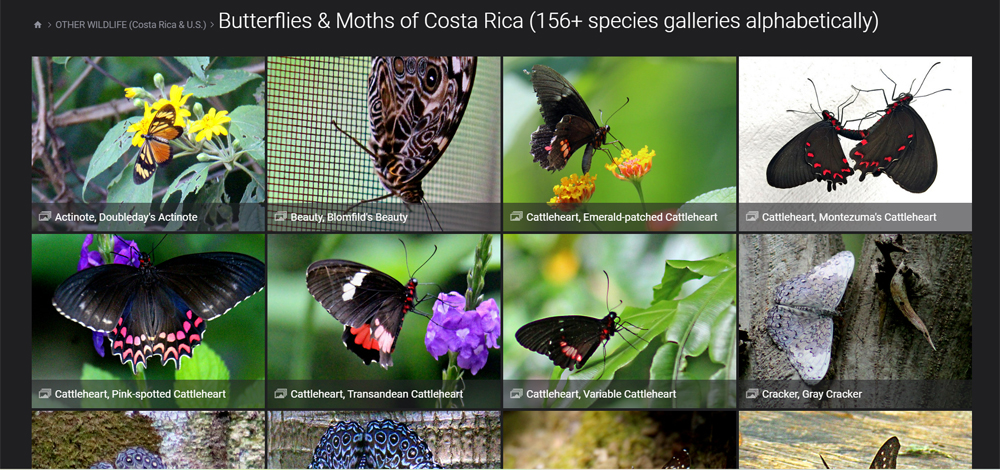 In 2015 I submitted the photo below of what was then the most unusual butterfly I had ever seen to the website butterfliesandmoths.org. It was the Blue-winged Sheenmark, Eurybia lycisca (link to that website's page on it). Or check out My Gallery: Blue-winged Sheenmark.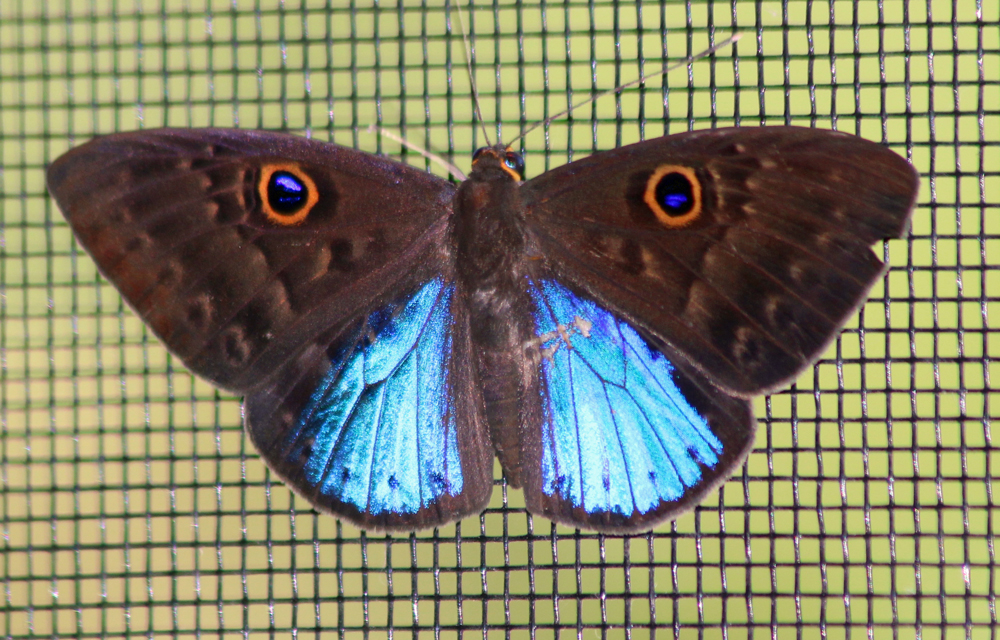 But I never got a response from them and did not see my photo on that site, so I forgot about it until in 2022 my interest in butterflies grew and I wrote the website above asking why my submission had not been accepted in nearly 7 years time? The director of the volunteer organization wrote back to explain that they were a group of volunteers and for that many years did not have a volunteer "Costa Rica Coordinator" for the site, who is the person to approve and identify the submissions from this country. Would I please consider being that volunteer? I could then approve my own submissions with help from other coordinators on identifications when I am stumped. I thought about it a bit and said "Yes." Then she gave me a backlog of 430 submissions to go through that took me about a month or so, with most submissions being from American tourists in CR on vacation photographing butterflies with fewer local people submitting photos. After all, local people speak Spanish and the website is in English. 🙂
This new volunteer opportunity heightened my interest in butterflies and moths and I ordered three more books to help with ID and expanded greatly one of my many hobbies as the "Costa Rica Coordinator for BAMONA" which acrostic means "Butterflies and Moths of North America," and though I objected to the name including "North." she assured me that they included every country south to Panama along with all of the Caribbean islands. The other site they work with includes all of South America but they are just butterflies only: butterfliesofamerica.com, and don't invite volunteer submissions like us.
We are a volunteer science database with recordings of the exact GPS location, date and time of every submitted photo. Most of the data can be retrieved by anyone plus anyone can submit photos to butterfliesandmoths.org, you simply register and then use the simple form to submit your photo of up to max of 8 mb and all the information you have on it and the location where you photographed it. The form includes a Google Map for you to indicate the location. Soon a coordinator will approve it and/or make an identification and your photo will be on the website as part of an important scientific database used by scientists and universities around the world. Thank you for participating!
¡Pura Vida!
My personal Costa Rica Butterflies & Moths Gallery.
& I'm CR Coordinator for: butterfliesandmoths.org