Capt. Driver's 'Old Glory' flew when Nashville fell to the North
Resident welcomed troops with open arms, unfurled flag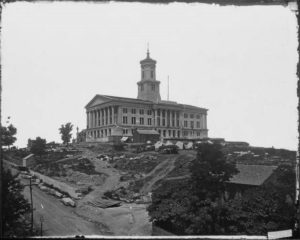 When Union troops under the command of Gen. Don Carlos Buell entered Nashville on Feb. 25, 1862, one resident welcomed them with open arms: former sea captain William Driver, who unfurled "Old Glory" and flew it from the state Capitol.
Buell, commander of the Army of the Ohio, ignored the directions of his superiors, who wanted him to take control of Union-leaning East Tennessee, and advanced into Nashville, capturing the state capital with little opposition. His army took advantage of the successive Union victories at Fort Henry on the Tennessee River and Fort Donelson on the Cumberland River, which fell to forces under the command of Gen. Ulysses S. Grant. Fort Henry surrendered on Feb. 6, and Grant launched an attack on Fort Donelson, which was 12 miles east of Fort Henry on the west bank of the Cumberland. Fort Donelson surrendered on Feb. 16.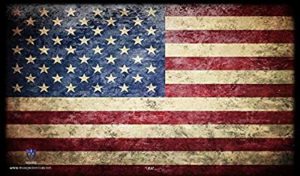 As Buell's troops entered Nashville, Driver retrieved his old ship's flag, a 17-by-9-foot American flag that had been sewn by his mother and her friends in Salem, Mass., and presented for his first command in 1831. He named his colors "Old Glory" and flew the flag during his whaling voyages around the world on the 110-ton brig the Charles Doggett.
Driver had moved to Nashville in 1837, when he returned from a voyage to find his wife had died, leaving their three children to his care. Driver retired from the sea and joined his brothers in Nashville. In 1838, he married 15-year-old Sarah Jane Parks, with whom he had eight more children.
Though a business venture with brothers, Henry and John, failed, Driver remained in Nashville, where he worked as a salesman. He lived at what is now 511 Fifth Ave. S. (site of a historic marker). He was a staunch Unionist and opposed Tennessee's secession, which finally passed on June 8, 1861, after failing in February; it was the shift of opinion in Middle Tennessee after Fort Sumter that carried the referendum.
When Driver sold his ship, he brought his magnificent flag to Nashville and would hang it on a line strung over Fifth Avenue on grand occasions; Nashvillians were well aware of "Old Glory." After secession, several attempts were made to relieve the captain of his Union symbol, including threats to burn down his home. Driver sewed the flag into the lining of a quilt and stowed it in a sea chest, where it escaped detection.
With the arrival of Buell's troops, Driver retrieved the flag and was escorted to the Capitol building.
Today "Old Glory" is on display at the Smithsonian Institution, a gift from Driver's daughter, Mary Jane Roland, in 1922.
Driver's grave in Nashville City Cemetery is marked by a monument of his design testifying to the voyage when "Old Glory" was first unfurled. On that voyage, a convoy of six ships left Salem for the Pacific; only his ship survived, reaching Tahiti in July 1832. In Tahiti, Driver was approached by 65 survivors of the 1789 H.M.S. Bounty mutiny who had relocated but wanted to return to Pitcairn Island. Driver charged them $500 to take them back.
During federal occupation, Driver was elected to the city council, serving 1862-64. He lost his election bid for mayor, and he also was defeated in a run for the General Assembly. Driver advocated that the property of former slave owners should be divided among their slaves as remuneration.
He died in 1886.
Frank Daniels III: fdanielsiii@tennessean.com or 615-881-7039
The Tennessean, February 25, 2013
Teachable Moments column on the Opinion Page, 7-A