Gambia Mission Trip Journal, November 2009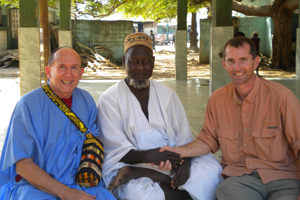 October 31, 2009 – At Home
I'm starting the journal again. There seems to be a juncture of many things in my life happening right now.
1. I felt lead into this Jahanka-Gambia Partnership I am calling it. Things have started slow with few participants, making me a little discouraged. Is it really God's will? I've turned it over to God – admitted I can't do it and waiting to see what He will do. I'm trying not to project my desired results but that is difficult. I'm puzzled and not sure what to do.
2. Several weeks ago I joined the class Pastor Frank is leading with the little book How to be a Blessed Church by Standish. It is a great book that has changed my thinking. I want to be more spiritual, more dependent on God, more expectant of God, more mystical, and more of a pray-er. I want to believe and trust God in prayer like I was the morning I was called to The Gambia. God help me to be like that!
3. And tonight I am finishing the little 3-chapter book suggested by Frank Lewis titled In the Name of Jesus by Henri Nouwen. It is more about being a spiritual leader and the importance of doing it in fellowship, in family, in Jesus name. Lord help me! Especially with the fellowship/family part.
4. In addition, tomorrow I will be ordained as a new deacon at First Baptist Nashville. I have turned down several previous nominations because I felt I am not qualified as a divorcee. Harold Bergan talked with me about that issue and right now I am feeling good and expecting a spiritual experience tomorrow and on the Gambia trip next week.
Now I am going to read the last chapter of In the Name of Jesus.
Today's blessing: I am thankful for good books and the joy of children this morning!
November 1, 2009
Ordained as a deacon today – a beautiful, loving experience I will always remember. Today's blessing: The love I experienced from the laying on of hands in service.
November 2, 2009
Today I am thankful for Gambia, personal time alone, and meeting Steve Sparks while walking.
November 3, 2009
Many good things were done today including printing 80 business cards just for the Gambia. They have my Yahoo email address, a Scripture verse and photo. It is coming together and I believe God is going to move in Barrrokunda and do something BIG next week. I'm asking for a miracle and that is what God does. I'm learning of others having conversions on their first trip and it can happen with us too.
I take a treadmill test tomorrow and expect to be pronounced healthy.
Friday, November 6, 2009
Today I'm double-checking my packing list and hoping nothing important is forgotten.
The LifeWay Reunion lunch was very enjoyable today, especially seeing so many old friends, most of whom said they would pray for us next week.
I'm turning it over to god – just need to practice my stories. As I told Marvin Nail today, when I try to do things myself it fails and when I trust God exciting things always happen. I have no idea what God will do but I believe He will do something big, something miraculous this week. That is my prayer. Surprise us God! This is so exciting!
Today I am THANKFUL for the several who promised to pray. God bless them!
Sunday, November 8, 2009, 5:45 AM GMT – Flying into Dakar
8-hour flights are no big deal anymore, but I still can't sleep very much on a plane. We will land in 30 minutes or so. Garry seemed to sleep pretty well. I just sat back and had dozens of things going through my mind.
I'm concerned about a period of thinking cynically about the way WA IMB does CPM. They did not share any positive results in Base Camp and Jeremy hasn't started any churches. Neither have the Kauffman's or Kelly's. Is God telling me something or is the Devil trying to make me cynical? I don't know. I will probably talk with Jeremy about these feelings. We will have plenty of time in the truck to talk today.
Don't know if we'll make it to Barrokunda tonight or have to stay in Soma. It all depends on the ferry wait I think. Well, we will soon land and start driving.
Tuesday, November 10, 2009 – Morning, Barrokunda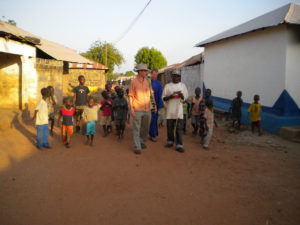 I got no sleep on the plane the 7th, a good night's rest at Palinding Camp in Soma the 8th. Last night was our first night in Barrokunda with very little sleep. They seem to stay up most of the night or until after 1:00 AM plus lots of noises and prayer calls beginning at 5:00 AM.
My big first impression coming outside this morning was the little boys on the teaching Bantaba practicing their prayers in Arabic – memorized of course. Others are reading their text books. If they offer breakfast we know it will be later. I'm reading my long obedience book now.
Wednesday, November 11, 2009 – Morning, Barrokunda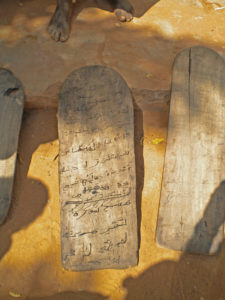 My bed was coming apart by morning prayers at 5:30, so I got up by 6:00 in the dark. I used the bath wipes and came outside where it is cooler. I started reading and a little boy came over to watch me, then another. There are now 6 boys watching me as I write. None speak English, but we can smile at each other. Cor-ti-non-tay (spelling) is the only Mandinka word they respond to. It basically means how are you or "how is it there." Three young teachers came back from prayers at the mosque and tried . . .
Yesterday we walked the village in afternoon after a morning in the compound. We met more new people, many who are Mandinka rather than Jahanka as our compound.
Our compound host is Al Hajji Mama Sware. We had a photo made with him and later one made with his brother, Al Hajji Sumeto Sware. We also met the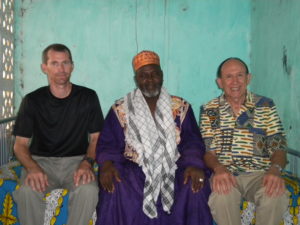 new headmaster at the public school named Jatta. He is different from the one we met in June. We also found the little boy named Batou that Joan Lehning had a photo book for me to give him and ask him to write her son Hank. His older friend, Yankaba, was one of our guides last time but was in Brikama this week. Someone rung him up on a cell phone and I spoke to him briefly.
Last night we sat on the street outside the compound with a herd of sheep and many children. When Garry called his wife he told her "We are sitting in National Geographic." When here it is like you step back in time 300 to a thousand years. It is another world from America.
Somata Sware just came by and greeted me. I assume he was returning from the mosque. The boys are sweeping the teaching Bantaba and putting out a big mat. Others are coming with the slates and/or books. They will practice or recite Qu'ranic verses and prayers – some read, but most from memory.
The women are preparing breakfast, bread and coffee. At least that is what we got every morning. Jeremy and Garry haven't come out yet, but are probably up. It is 7:30 AM. The compound is now alive with activity.
Wednesday, November 11, 2009 – Evening, Barrokunda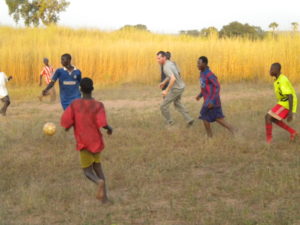 It is 7:15 PM and we just got back from a soccer game in a big field on the outer edge of the village. Garry played with them. It was interesting! It is very hot and on a very rough field that some actually played bare-footed on. The relationship building was great! I watched and made photos. I am tired. We have decided to leave in the morning for quick visits in Sutukung and Bereng and then on to Bird Safari Camp a day early.
We expanded our contacts here but did little storying or witnessing. We did pray for several. We will debrief but I'm concerned we did not make much progress.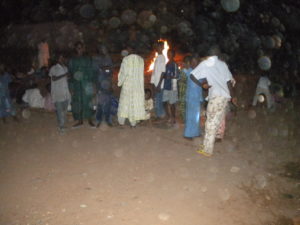 Thursday, November 12, 2009 – Morning, Barrokunda
It is 8:00 AM. All three of us have been reading our Bibles out in the courtyard which I pray will be a positive witness. I also read another chapter in A Long Obedience. We are waiting for breakfast and will then do farewells and leave with visits in Sutukung and Bereng before going on to BSC.
Thursday, November 12, 2009 – Evening, Bird Safari Camp
We walked around the Jahanka part of Sutukung before heading to Janjanbureh this morning and had a great experience, an answer to my prayers! After talking to two teachers, a young man came up to us in one courtyard. He said that his brother wanted to see us. He led us to the house of Mohammed Lamin Jatta. We decided he was seeking and wanted to know more about Jesus, like Cornelius of Caesarea sent his servant to bring Peter to talk with him. Thus we decided that Cornelius would be the code name for Lamin and Caesarea the code name for Sutukung. I shared the Creation to Christ story and then both Garry and Jeremy talked with him about many different things, answering questions, etc.
Before we left he begged us to return to talk more and that if we let him know in advance, he would get together his family and friends for the discussion. He is a textbook "man of peace" and we were all quite excited about this development!
Tomorrow, Friday, we plan to take the hippo boat trip down river. Then in the afternoon we will go shopping in Janjanbureh and look for the immigration officer Jeremy struck up a friendship with on last trip. Saturday we will head for Dakar.
Friday, November 13, 2009 – Evening, Bird Safari Camp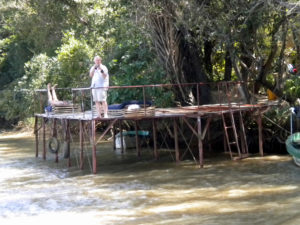 It was a pretty easy-going day. We spent the morning on the boat looking for hippos, monkeys, birds and other animals. We ate lunch at camp and spent the afternoon in Janjanbureh witnessing to the immigration officer we met in June. His name is something like Abdullie Morsanto. It was a nice visit with Jeremy doing most of the talking. We walked around town looking for a Gambia soccer shirt for Garry's kids, but no luck. We had a late supper at camp with Gambian music.
Saturday, November 14, 2009 – Evening at Dakar Airport
After jotting down some future travel info like most ATMs here take Visa Card more than any other and I jotted down ideas for an article on the trip for The Evangel. Then I wrote this as a draft for an Evangel article:
In Acts 10 you can read of the time Cornelius of Caesarea sent a servant to ask Peter to come visit him. When we entered our Caesarea and talked about Jesus with two different teachers, a young man cme up to us and said "My brother wants to see you. Will you come with me?" We followed him into a small house where we were introduced to Cornelius (not his real name). He is a young, well-educated, beginning Qu'ranic teacher. He began to ask questions and we talked about Jesus for more than an hour, mostly in English, though that is not his heart language. He begged us to come again, calling him first so he can gather together his family and friends to all "broaden their understanding of Jesus."
I had prayed that God would give visions and perform a miracle by preparing someone to seek and find Jesus. We belive that Cornelius of Caesarea is the "man of peace" for this trip.
I ask you to pray for others to join in this discussion there and in Miah. Please discern if it is God's will for you to go. We are hoping for someone to go every two months or so. Contact Charlie Doggett.
I wrote most of the above after getting on the plane as a jump-start for an Evangel article and something for the Jahanka-Gambia Prayer Newsletter.
Today was spent driving about 9 hours from BSC to Dakar. We are tired and hope to sleep on the flight. Before the airport we saw the lighthouse and ate a nice dinner at a Brazilian all-you-can-eat restaurant run by a Brazilian missionary using reclaimed street children as employees and all the profit going to support them. It was enjoyable and we met a bunch of teen girls and their house mother from Dakar Academy. Several were daughters of our Southern Baptist missionaries.
Sunday, November 15, 2009 – Washington Dulles Airport
I just spent an hour and 45 minutes in Customs because I was radioactive from my heart stress test a week ago. Strange! It is the first time I have ever been delayed that long, but we still made our connecting flight to Nashville.