Cruise Journal
March 30, 1996 – At Radisson Bahia Mar, Ft. Lauderdale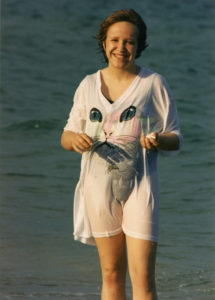 First day and it is good! Juli panicked just twice about flying and then became quite positive. It was a good flight, great hotel here on the beach in front and the intercostals waterway in the back with gobs of beautiful yachts. It is a playground of the wealthy!
A late lunch in the hotel café with overpriced food, poor service and a snooty attitude made us decide to eat in room or elsewhere for other meals. But everything else is great!
We swam & sunned at the pool with live music! We then played on the beach with Juli collecting coral and shells and had supper from the deli which we ate in our room. I think we are both already relaxed and ready to enjoy the week. We tour the time-share tomorrow and the rest is vacation! Juli was asleep at 8:15 Eastern Time! (That's 7:15 back home!)
Sunday, March 31, 1996 – Evening
Juli is in bed and it is reflection time again. Our first whole day and all day was restful (probably boring to some people). We slept late and had breakfast in the room. Then there was an hour at the pool before the big event! We went to the required tour of Vacation Break Property (time-share condos) which Juli hated and that just made it easier to say "No" to them. It was "Palm Aire in Pompano Beach."
We all liked the free lunch, but Juli really got restless when the tour and sales presentation began. She helped end it quicker and of course without me buying a room in a "co-owned" condo. Their best selling point is their connection with other vacation properties around the world and the extra weeks you can earn.
Back at the hotel I couldn't find a place open to ship our extra stuff home. We had a fruit plate supper and Juli went to bed early again. I packed for tomorrow morning and finished reading the book, A History of Bellevue which Gene & Joann had given me.
Monday, April 1, 1996 – Port Lucaya, Grand Bahamas
It was a long day with lots of long lines, but also a memorable one. We were up at 5:00 and to Port Everglades by 6:15. The boat left at 8:00 AM.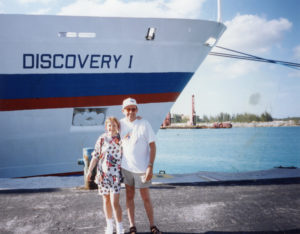 Juli liked the ship or big boat I called it for her. It is the DISCOVERY I. She also likes it here in the Bahamas! She got frustrated with several long waits and a mix-up on our hotel room. All they had at Port Lucaya Resort was a room with one bed. I demanded what we reserved either there or somewhere else. They put us across the street in the Grand Bahama Beach Hotel – wow! It is nicer and on the beach! Many would say we were lucky! We could just walk out the back door onto the beach! Now we cross the street for the boats and straw market – opposite from the others on our cruise. We also walk to the other resort for the one free meal included each day – dinner.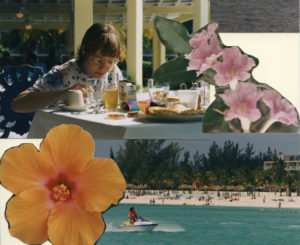 During dinner tonight the entertainer sang several songs Juli liked, calypso and a Lion King song; then when he sang the country song "I'll love you forever and Ever, Amen!" Juli cried. That is the line I give her when she asks me if I love her. She likes that part, but it also reminds her of her mother who not only left her but seldom has any contact with her and when she does it is mostly negative and expressing hatred of me which confuses Juli. It is amazing the emotions one little song can bring up.
Juli will sleep late tomorrow and I hope to get up and take some photos of flowers and maybe a sunrise.
Oh! Juli got a shell bracelet and had her hair braided – six strands with 2 beads on each. She loves it and wants more braided tomorrow. We are planning on a relaxed day tomorrow with pool and beach time and maybe a glass-bottomed boat ride.
Wednesday, April 3, 1996 – Port Lucaya, Grand Bahamas
Yesterday was a vacation day all day! We slept late, had breakfast on the patio overlooking the pool and beach with lots of palm trees and other tropical plants. It is cool in the shade and comfortable in the sun. We later learned that a cold front was moving through. It was cold all day until evening when it actually warmed up.
At 11:15 we boarded the glass-bottomed boat "Mermaid Kitty" which was a treat, sailing over coral reefs full of fish and other undersea life. I took a lot of pictures and hope some come out okay. It is not the best conditions for underwater photography!
After we were back on the dock, we had a 1:00 lunch at "Kenny's Rum Runner" sandwich shop. Then we walked around and settled down with Silva Cooper, a hair-braider who did Juli's six braids last night. She then braided Juli's whole head except for the bangs. Neat! She used all different shades of pink beads. Then it was finished up in front with one braid wrapped in pink and white threads and an extension making it longer than her actual hair. Cool! It cost me $75 which was probably not wise from a financial perspective, but for the joy it brought Juli, it was worth it. Silva said Juli could leave the braids for up to two months before taking down. It will be fun going back to school in a week. She can hardly wait!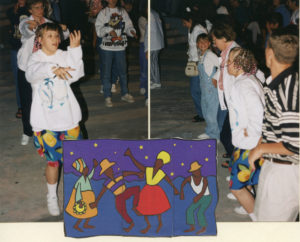 Then we went for our free dinner at Lucaya Resort and island music. Well, after eating she threw a fit because she had left her glasses in our hotel room. So we went across the street to get them and she wanted to stay but I wanted to see the limbo demonstration, so she came back with me and was glad she did! It was a fantastic limbo show! Young black Bahamian boys got down as low as the height of a beer bottle! The tourists got to try a much higher levels and it was fun! Then we all did the Macarena, a current dance craze that is something like a Caribbean Line Dancing. It was fun too! We were in bed by 10:30 and 11:00. And that was all yesterday!
Today we had breakfast on the patio again, watching the beach with warmer weather today. Then we checked out of hotel and have been on the beach or patio since 10:30. It is beautiful here!
There are a lot of games to play out here on the patio, but Juli doesn't want to play and says the pool is too cold. So at 12:50 we are sunbathing, with her sleeping and me reading Financial Peace by Dave Ramsey. I've also done some writing, people-watching, and nature-watching. I would love to stay here a whole week sometime! Plus I want to go back to St. John by myself again sometime. Well, we will soon walk around a little, have lunch and board the ship again for our return to Ft. Lauderdale.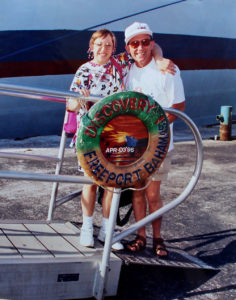 It was a great vacation with a special needs daughter who appreciated things like this! And it did not conclude when we got off the boat in Ft. Lauderdale but after another night in Ft. Lauderdale we traveled to Orlando for three nights there including an evening in Disney Village and a full day at Universal Studios, Juli's choice, and a day of rest and poolside at the hotel before returning to Nashville. Somehow I did not journal those days or cannot find it.