Hardgrave Family Connections
I got involved with this cemetery in 1983 when I learned that my maternal 5-Great Grandfather, Francis Hardgrave, had moved to Nashville in 1798. He had been a neighbor to Abraham Louis DeMoss in North Carolina and they were in the same NC Regiment in the Revolutionary War with Louis DeMoss serving under him. Those connections may be why he moved to the same area as DeMoss at the end of the century. He and later his adult sons bought land in the Bellevue area of Davidson County and land across the Harpeth River in Williamson County.
Someone told me about this cemetery in the middle of River Plantation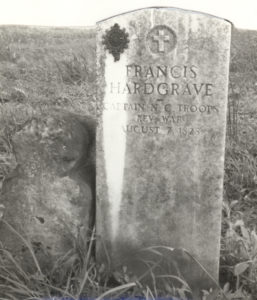 Condominiums and what a joy to find it, though overgrown at the time. It was especially exciting to find a DAR stone for my 5-Great Grandfather and one for one of his sons, Skelton Hardgrave. In the process I discovered the research papers of Edythe Whitley in the Williamson County Library. For some reason she was focused on the Hardgrave family while here and their influences. She found some good information and made a lot of assumptions without proper research data. One was that since the Hardgrave family donated land for the second location of the Providence Church next to this cemetery, then the Hardgraves must be buried here. (They are not.) From that assumption and her genealogical research on the Hardgrave family, she worked with her fellow members of the General Nash DAR Chapter to erect two DAR markers here. One was for Francis Hardgrave who served in the Revolutionary War. It is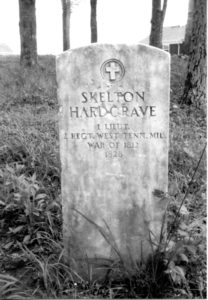 puzzling to me that she did not include one for Louis DeMoss since he also served in the Revolutionary War and was considered the founder of Bellevue. But she did not. She also got a military marker for Francis's son Skelton who served under Andrew Jackson in the War of 1812. These two markers were what brought me here and got me to research and start cleaning the cemetery. I also rallied the Hardgrave Family Association in Arkansas where the Hardgraves finally migrated. We had a family day of cleaning the cemetery.
On a 1995 research trip to the Bellevue Branch of the Nashville Public Library, I talked with a lady (and wonder now if it may have been Hodges or Cornwell). She said something like, "Oh honey, your grandfather is not buried there! That Edythe Whitley did not do good research and made a lot of assumptions. She should never have put those two stones there! But I know where your grandfather is buried." She gave me directions to a house in the Horseshoe Bend Subdivision across the river in Williamson County, just below Percy Warner Park. I knocked on the door of a beautiful large house and the friendly lady said, "Oh yes! There is definitely an old cemetery on the hill behind our house." She sent me up a rough trail but I came back without finding it in the woods and tall weeds. When I returned and told her, she grabbed one of her boys who walked me right to the gravestones hidden by tall grasses, shrubs and trees. What a delight! finding the resting place of about 30 of my ancestors and a few other people! I even found the original toombstone of Francis Hardgrave, barely readable along with his wife Sarah's toombstone, two sons and several grandchildren and others not labeled or readable. On a hill overlooking the Harpeth River was the Hardgrave Family Cemetery which has been my focus since.
After the 1995 cleaning of what I started calling the Providence Church Cemetery, I brought my relatives to the newly found family cemetery and we cleaned it too! In 1997 my cousin Gene Hugh Hardgrave came back from Arkansas with his big pickup truck and we moved the two Hardgrave markers to their proper place in the family cemetery.  Francis Hardrave's DAR stone now stand next to his actual burial stone. Skelton's stone is placed where we had no stones, since he is not buried anywhere in Tennessee! In 1828 he traveled to New Orleans to collect a debt. When he approached the man in New Orleans, the guy pulled a gun and shot and killed my Uncle Skelton Hardgrave. He was buried somewhere in New Orleans.
Charlie Doggett 2013 Addition
From the Time Line page are a few dates that help put the Hardgrave family in perspective with the DeMoss or Providence Church Cemetery:
1770's – Francis Hardgrave & Louis DeMoss fought in the Revolutionary War in the same North Carolina Regiment
1798 – Francis moved to Davidson County where Louis DeMoss also moved and bought land
1818 – Francis deeded a portion of his land to his son Skelton, which happens to be where this cemetery is located and the second location of the Providence Church later
1824 – Skelton Hardgrave "sold" a piece of his land to the Providence Church for $1.
1941 – Edythe Whitley had been assuming the Hardgraves were buried here since it had been their land, so she had two DAR military stones erected for Francis and Skelton
1995 – 5-Great Grandson of Francis Hardgrave discovers his true burial place in a family cemetery across the river in Williamson County
1997 – Hardgrave family moves the two stones to the Hardgrave Family Cemetery with Francis's stone being on his actual grave