I took a group of boys and two sets of parents from Miami, Florida to Ridgecrest Baptist Conference Center in North Carolina for a week of classes & activities in the summer of 1966. Afterwards, we moved our campsite to the Great Smoky Mountains National Park for the promised adventure.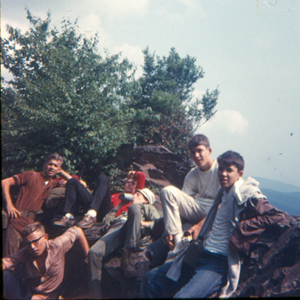 After the first night car-camping, the mothers drove us 8 guys to the mountain-top early morning. We hiked on the Appalachian Trail most of the first day, arriving at the log lean-to shelter for our first night. The goal was a 3-day hike to Interstate 40 where we would be picked up. The boys had complained all day about not seeing any bears in the Smoky Mountains as friends had told them they would.
When we arrived at the shelter a black bear was waiting on us! Some tried to take photos, and then we made noises to scare him away. The bear ran into the woods. We organized to prepare dinner. Two boys were sent down a trail to the spring for water and soon ran back hollering "The bear is there!" So we all chased him away again and returned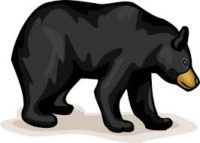 with water. Once the dehydrated food began to boil, the pleasant aroma brought the bear back with a buddy – yes, two bears now! We took turns scaring the bears off with loud noises until all were fed and we cleaned up. The park provided a food cache – a barrel buried in the ground with a bear-proof latch. Everyone supposedly put their share of food in the cache for the night.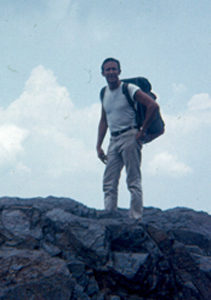 It began to rain after dinner, continuing all night, which thankfully kept the bears away until about 5:00 AM. The rain had stopped, it was still and quiet as are most mornings in the woods. Then I heard Keith Baker's stuttering, frightful voice, "MMMMister DDDDoggett, there's a bbbbear in here." I looked to my right where Keith was sleeping. There was a black bear bent over Keith, pulling his backpack from under his head. You see, this 14 year old had not followed instructions about removing food, then decided to use the backpack as a makeshift pillow. A thousand things went through my mind, like "How am I going to tell his mother?"
I took my flashlight and banged it against one of the logs that formed my ground bed. The sudden noise scared the bear away. KKKKeith was shaking in fear. When he could finally talk, he told us it was the bear's bad breath that woke him up. Our two more days of hiking were reduced to just one more, going back down to the car campsite with heavy rain all that day and some saying they'd had enough of the wilderness! But adventure is both exciting AND risky as this was!
Since then Park Services have placed chain-link fences across the front of all shelters in that park. In the 1990's I similarly camped at Mt. Le Conte, but this time saw the bears through a chain-link fence. Not as risky! Still an adventure!
And oh yes, The Featured Photo of the Blue Ridge Mountains is one I made several years later (2006) while retired in Nashville and spent a week driving the Blue Ridge Parkway between this Smoky Mountain National Park and the Shenandoah National Park in Virginia. Another great adventure with no bears to deal with! 🙂
¡Pura Vida!