The Photo Gallery tells the story simply in pictures or for more detail I am including my Journal Entries below, illustrated with a few of the photos plus links to galleries and websites about the various sites visited on my "Indiana Jones" style archaeological adventure into the seldom visited but largest El Peten Province of northern Guatemala along with some more traditional tourist sites afterwards with J.C. and Lilliana. This trip concluded 2006 as one of my best years yet of travel outside my time in The Gambia with '06 including Yellowstone, the Amazon River, Blue Ridge Parkway and Guatemala!
A super trip in every way possible! I planned it through online Guatemala travel sites with all lodging, tours and guides pre-scheduled as I prefer to travel, being just a little bit risk-adverse!   🙂    And of course an acceptable time was worked out with J.C. and Lilliana along with the five nights with them in their lovely house in Guatemala City from which we traveled in their car to Lake Atitlan and the famous colonial town of Antigua (former capital) and a driving tour of Guatemala City plus a half day visit to the Aurora Zoo there. Staying with locals always adds a lot to cultural travel! Especially when they are relatives!   🙂
"TO TRAVEL IS TO LIVE"   ~ Hans Christian Anderson
My Journal Description
December 10, 2006 – Guatemala City, Guatemala
Arrived on time in Guatemala City and settled into hotel for a short night. Excited about tomorrow.
December 11, 2006 – El Peten & Chiminos Island Lodge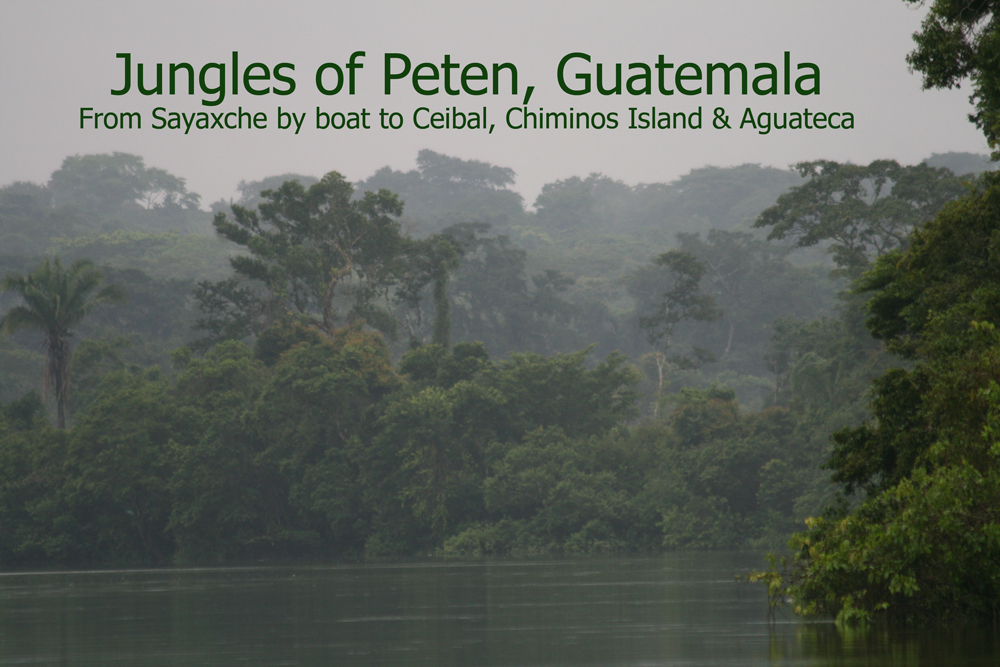 A super day en-route to Chiminos Island Lodge!
Up at 4 AM, shuttle bus at 5:05, TACA flight at 6:30, and arrived in Flores at 7:30 AM. Transportation was provided in a little Chevy hatch-back to Sayaxche (about an hour drive) where I met my boat guide for the next 3 days, Herman. Quiet, very polite, very knowledgeable of the Mayan ruins and moderately good with his English.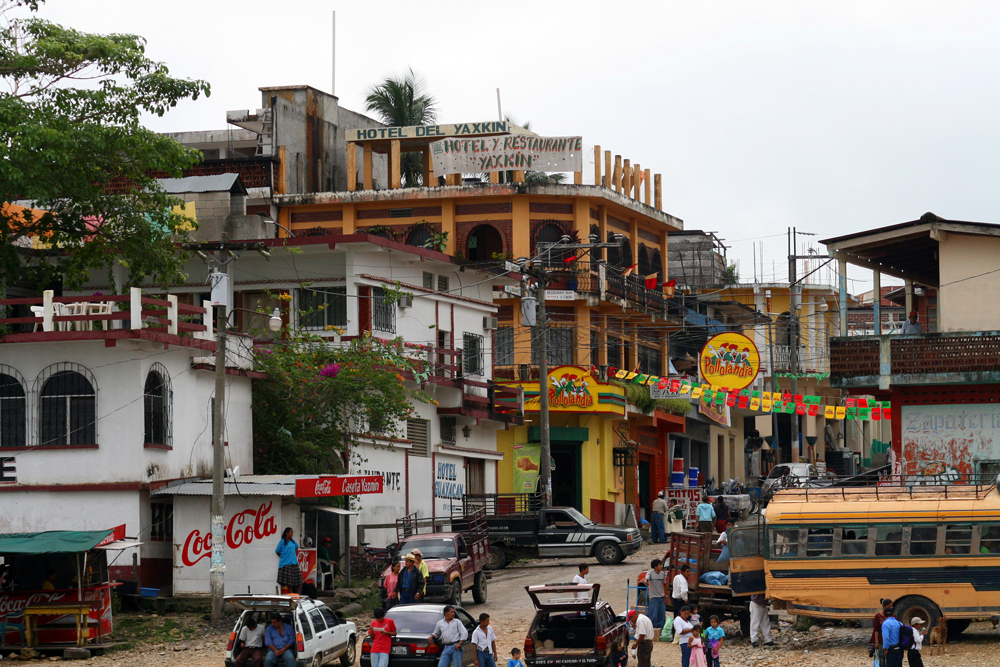 We went by boat first to Ceibal ruins (1 hour by boat) which was awesome as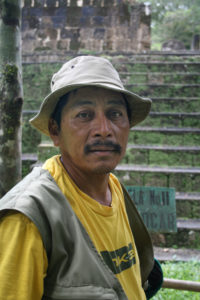 my first ever Mayan City to see. You arrive at this very small boat dock in the middle of the jungle with adventurous-looking stone steps winding up the hill around great trees and jungle under-growth. At the top of the hill we went in multiple directions to the astronomer's platform, dozens of stelae, a sacrifice stone with jaguar head on it and then to the Templo Ceremonial (what Herman called it) which was impressive and and surrounded by stelae. That is all they have unearthed and restored thus far. If they do it all, the place will be huge and take half a day to see, at least. We saw the shape of the largest temple under dirt, trees and undergrowth. It dwarfs the one little temple now restored.
After less than an hour boat trip back to Sayaxche, we got my luggage and headed for Chiminos Island and lodge,f which took another hour with several slow-downs for me to photograph birds. The ones I recognized were Cormorants and Great Egrets. Others I did not know.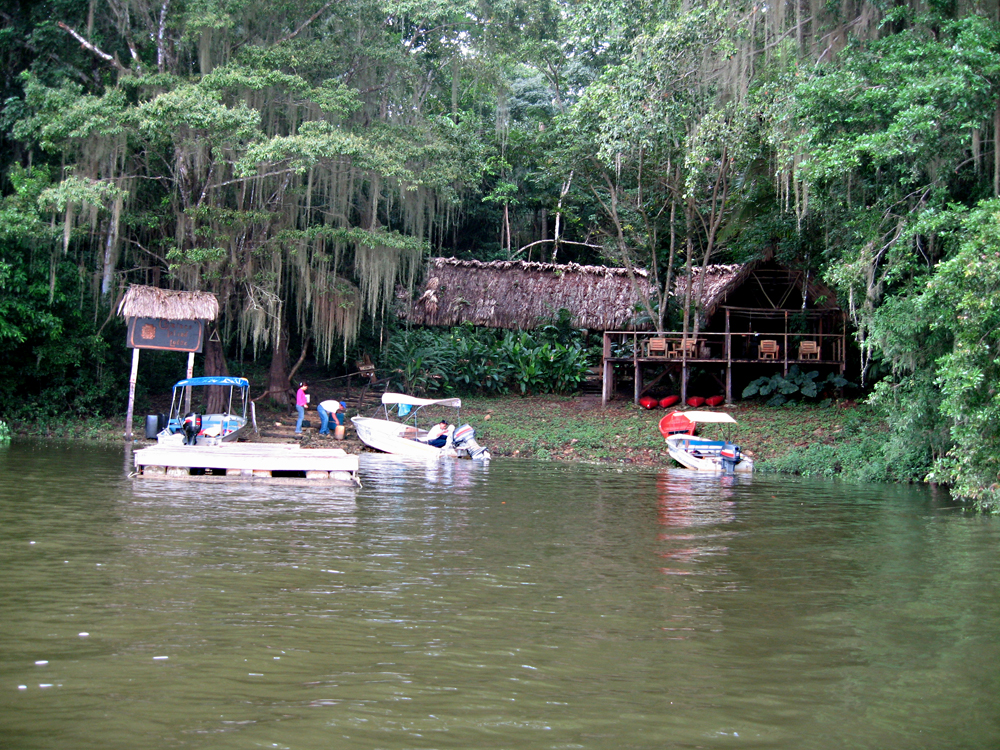 When I checked in Chiminos Island Lodge, Norma didn't have the room ready, so I talked with Herman the best we could with neither knowing the other's language well! Then I photographed some flowers and looked around the little island some until they announced that my room was ready. Norma doesn't know English either, so wow! We barely communicated.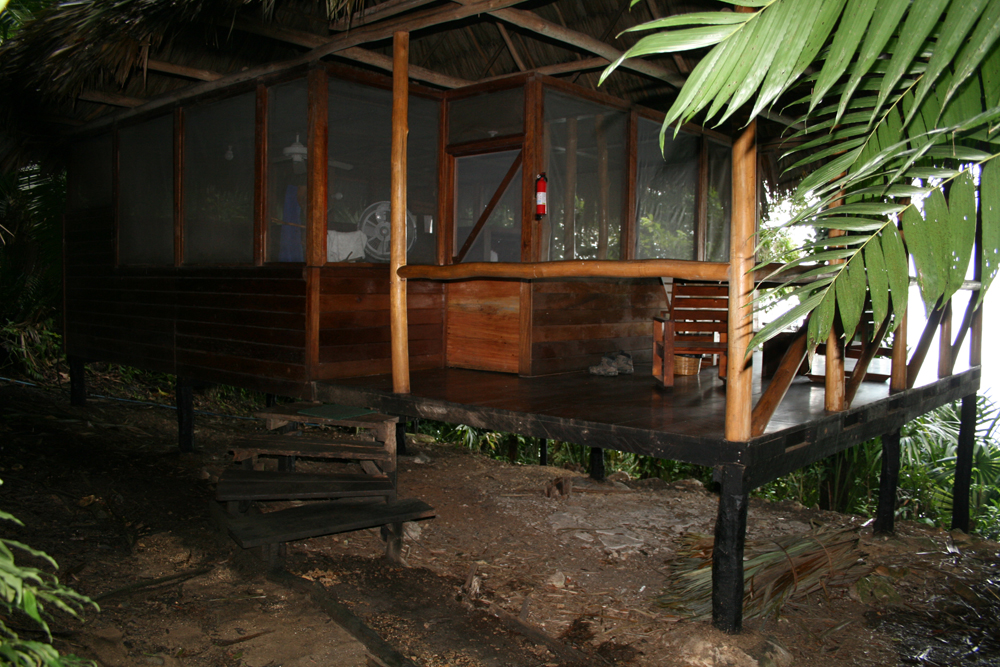 I'm resting now at about 3 PM in the perfect eco-lodge bungalow overlooking the lake and surrounded by jungle and insects and the sounds of birds in the distance plus a few monkeys earlier.
Herman kept telling me to be on the lake or dock at 5 PM to see the flocks of birds that will fly over.
I didn't sleep much at all last night with the CPAP machine, so who knows what will happen tonight without it. We have electricity for only 2 hours from 6-8 PM. But I am tired. We walked a lot at Ceibal and climbed a hill. Iff'm dozing off now, so there is hope for sleep.
AFTER DINNER
Wow! What an evening! In the late afternoon a party of 3 came in to keep me from being the only guest here tonight. I didn't know until just before dinner that the party of 3 was the Head Archaeologist of Aguateca Ruins that I'm visiting tomorrow. He is in charge of restoring and researching all of Aguateca, a hilltop Mayan City. Now I will get to see it tomorrow with the #1 expert on these particular ruins. He brought his teen daughter and a teen nephew to see his work.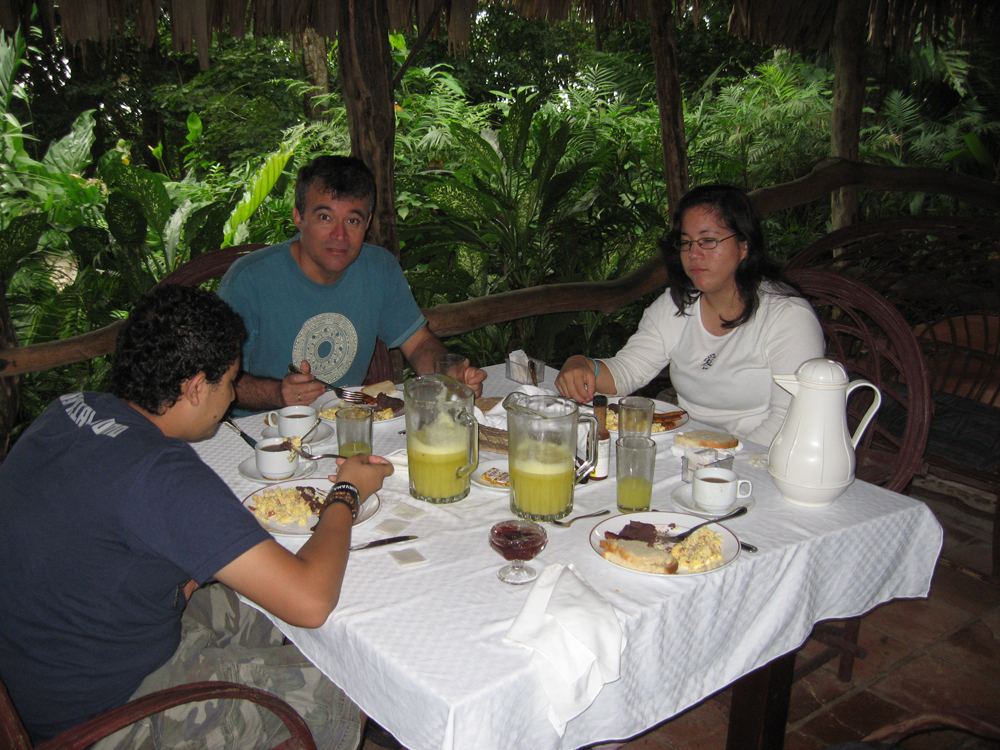 At dinner I learned that he got his Master's in Archaeology from Vanderbilt University in Nashville (what a small world!) and this teen daughter was born while he was there! I don't know why God keeps blessing me with these little "extras" in life, but it sure is fun!   🙂   And one reason he works in Guatemala is that he is married to a Guatemalan!   🙂
So I am more excited about the visit of Aguateca tomorrow and I even learned a little about it at dinner which was super good, like a 5-star restaurant!
During the meal I asked him how accurate the new Mel Gibson movie, Apocalypto was and of course he was a little guarded in his answer, saying that it was entertainment and not history, but that much of it was pretty true to what they now know.
I'm tired and hope to sleep well tonight!
December 12, 2006 – Chiminos Island Lodge, Guatemala
MORNING
About to go to breakfast. I had lots of loud howler monkeys all night and a lot of birds singing now. I seemed to have slept in little short snatches all night. Feel okay right now.
12:30 PM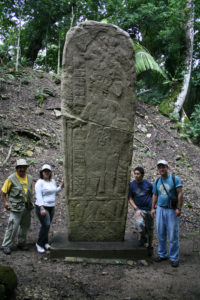 A good visit to Aguateca ruins with a short boat ride and a long walk and climb uphill to the old Mayan city. Once you leave the boat you must walk through a narrow, large, deep crack in the rock mountain single file, uphill to the top as the only entrance to the city on the mountain top. This made it well-protected from any enemies who might try to attack. The narrow canyon or "crack" in the mountain was spectacular to see and a challenge for some to climb. The city itself and the vistas from it were also spectacular to see! In many ways it was more interesting than Ceibal and of course I have yet to see the larger Tikal, but Aguateca, like Chiminos Island, will always be remembered as unique!
Eric and family came in after us and he was proud to show off some of his work of beginning excavation, especially some of the best preserved Stelae found anywhere. He share a little of the technical stuff and all was intriguing! Herman was a good guide, but to have the head archaeologist here was really special!
Among the jumble of rocks I found a flat one with a round hole in the center. I felt like an archaeologist discovering an artifact, which I gave to Eric. I hope some of my photos are good enough to show the feel of an ancient city being excavated in Central America!
Another fun incident was that along with the ruins I tried to photograph a monkey in one of the trees above us and when I did, he threw a nut at me! Really! Like he was saying to me, "Go away and leave me alone!"   🙂
After returning to Chiminos Island Lodge, I started to explore the few ruins of the small Mayan settlement or royalty home that was there, including some stone ruins of the main building on a hill, a ball court, and some small stelae. The rustic jungle eco-lodge becomes even more special when you realize it is in the midst of a Mayan ruins that they know very little about. I photographed some of it, even if not as impressive as Aguateca!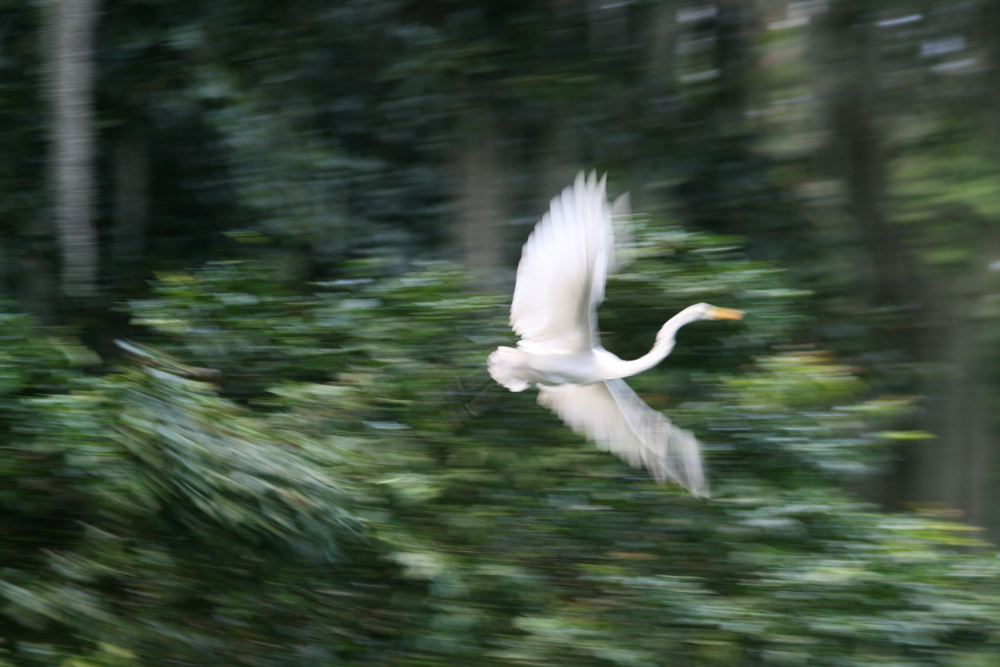 I rested a bit before going to lunch which was delicious! A beefsteak with carrots, potatoes, bread and some tropical fruit for desert, I think maybe it was what I have call paw paw in the past, but not sure. And three people from France checked in so again I am not alone here tonight, my second and last night here.
6:15 PM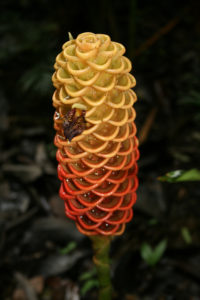 I'm basically waiting for dinner to be served which I assume will be about 7 to 7:39 like last night. I'm sitting in my room, having just finished reading the English portions of a large bound collection of research papers and magazine article on Chiminos Island, Aguateca and Dos Pilas, the other Mayan City nearby which was not on my schedule this trip. All is very interesting, especially the articles by Vanderbilt Professor Arthur Demarest, who earlier was a key archaeologist here along with the newer Eric I met last night. It seems that Vanderbilt University Archaeology Department specialized in Mayan ruins. Being from Nashville now, that gives me a special connection to all of the Mayan ruins here and in nearby Mexico!   🙂
I'm now reading about Tikal from my 2 travel guides in anticipation of being there tomorrow. I'm suppose to leave here at about 8 AM tomorrow by boat again to Sayaxche where my driver will meet me and drive me to the Zip Line outside Tikal through the jungle canopy before checking in at Tikal's Jaguar Inn.
Overall I have been pretty relaxed with it being as much a vacation as a photo trip. So far there are no great images it seems, but I have plenty of time. The amount of wildlife has been minimal and a little disappointiing. So far not as good as the Brazilian Amazon, but this lodge is better than Mamiraua's Uacari Lodge, especially with the food which has been like a 5-star restaurant here at Chiminos! Superb!
Well, I'm going to put on long pants or khakis and a clean shirt and go to dinner early, reading over there while I wait.
AFTER DINNER
Good dinner again! Fish, veggies, soup, and pudding desert. It is only 8:30, so I will try reading awhile. This first phase of my trip has been good. The neatest thing was having the archaeologist here yesterday. Photos are only so so. Wishing I had a tripod sometimes for sharper pictures, but a pain to carry around! I just realized that with the power on I can play with my photos on the computer, so I believe I will while I can. Buenas noches
December 13, 2006 – Tikal, Guatemala
Slept well the first 4 hours and then off and on to 6:45 AM for 8 hours of rest even if not all sleep. Another big breakfast of eggs with beans & rice, bread, coffee, jelly and pineapple juice. I was off by 8:15 with Herman in the boat he called a "launcha" for a one hour trip to the colorful town of Sayaxche and then an hour an a half car drive to Tikal.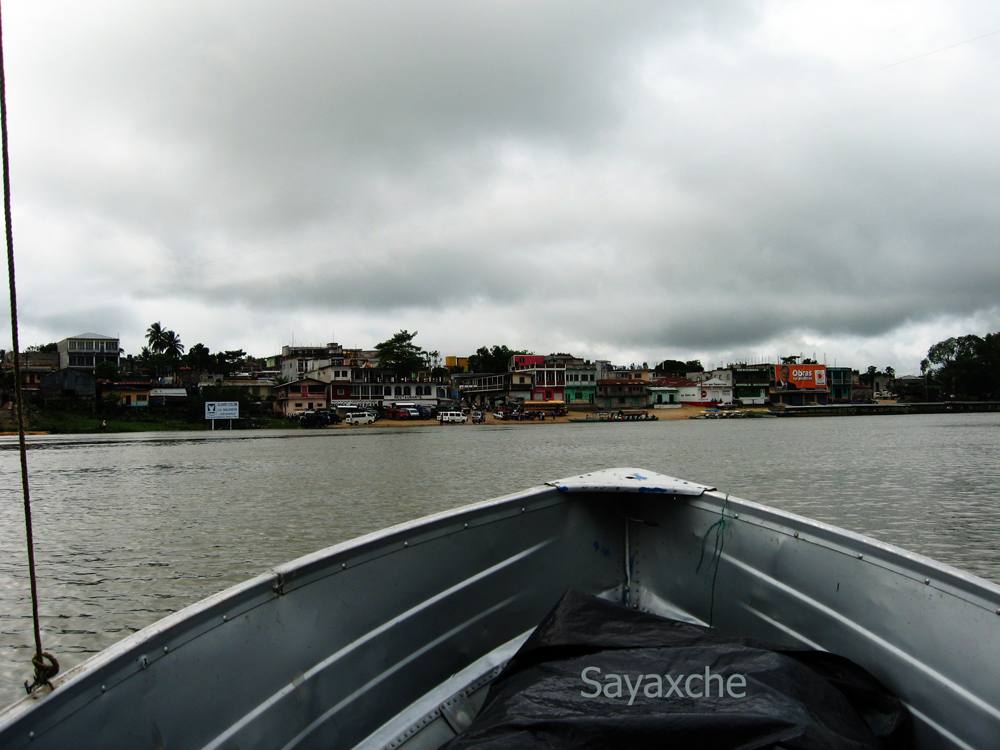 I got to Tikal about 11:30 to find out I can't check in until 2:00 PM. I would have arrived later  with the planned canopy tour on a zip line near the entrance to Tikal Park, BUT . . . it was raining hard and I thus postponed it with the staff until Friday.
It is still raining and I am stuck in the Jaguar Inn Restaurant (link to my photos) waiting for my room or bungalow to be ready and eating an early lunch, tho it is now 12 noon, so really not that early!  ?   I'm having tostados and guacamole with a pineapple bedida con leche. I thought at first I was getting a milkshake like back home, but with little electricity they cannot have ice cream, so it is just pineapple juice and milk. But I like to try new things! Ahhhh! My food and drink was just delivered and it is delicious! I will now read about Tikal and take my time with this light lunch. You can check out the Jaguar Inn Website for more info or be aware that there is a bigger, nicer and slightly more expensive hotel in Tikal also, called Tikal Inn and reasonably priced. If I go again I will use it.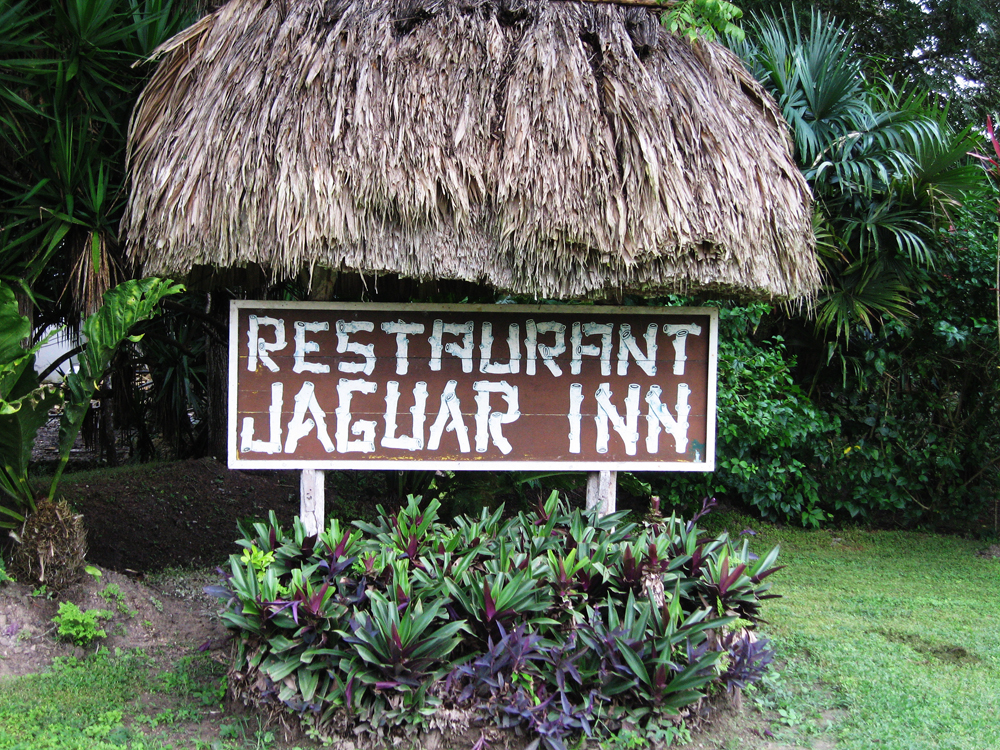 December 14, 2006 – Tikal National Park, Guatemala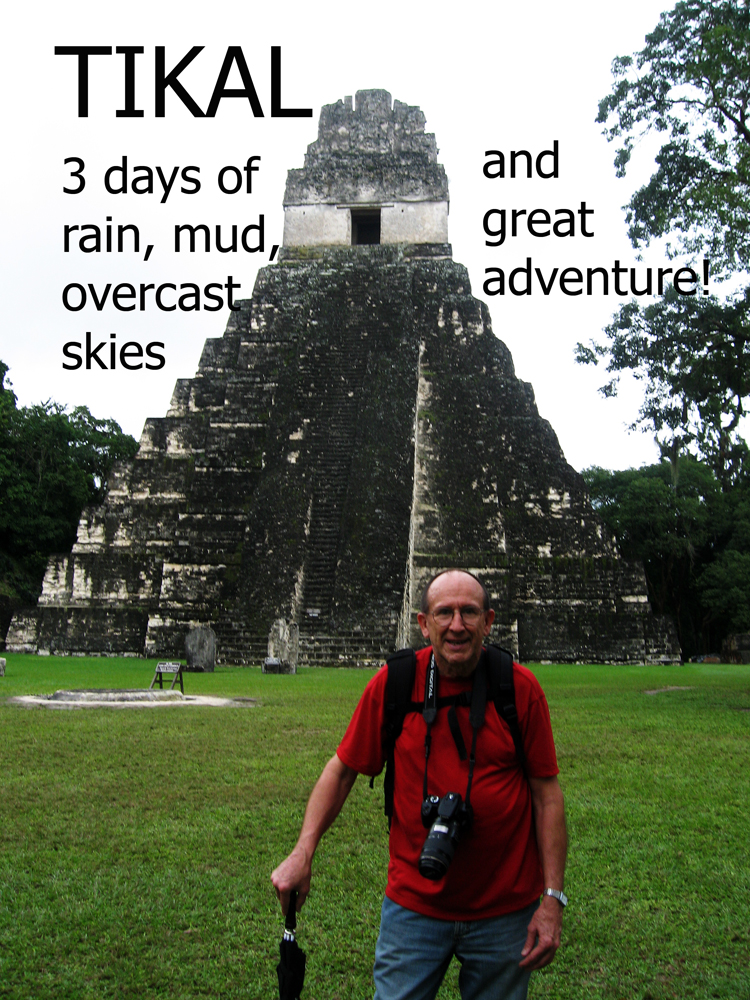 Yesterday afternoon was tough! After finally getting checked into my room at Jaguar Inn I decided to walk up into the ruins on my own for a preview of my big tour tomorrow. It was a 30 minute walk to just the entrance of the huge old city of Tikal. I was hoping for a sunset view through old Mayan buildings.
Well, the light rain turned into a downpour, my little collapsible umbrella broke, I slipped in the mud twice and my tailbone still hurts! I was soaking wet and my camera bag too! I was kicking myself for not bringing the rain jacket to go over my camera backpack! I came back to Jaguar Inn miserable!
It rained through dinner and all night and of course none of my wet items are dry yet. I did have a great dinner last night and got some photos sorted before the power went off at 9 PM.
It is 7:20 AM now and I just ordered granola for breakfast. I go up to the larger hotel at 8:30 AM for a guided tour of the Tikal ruins. I'm hoping for sun or at least minimal rain. I did buy a new umbrella last night and will take my gore-tex rain jacket today!    ?
This tour includes a box lunch and will take most of the day! This is a huge city! The archaeologists are working on the Court of 7 Temples now. It is neat to see them working – well, their apparatus and efforts – they were not actually working in the rain yesterday afternoon.
There are other solo travelers on this tour besides me, all young, including one single girl/woman. At breakfast I over-heard two young guys comparing notes of their adventures and getting directions from an employee to some off-the-beaten-path kind of place that adventurers like to explore.
This Jaguar Inn is the cheaper lodge of the two in the park and the grounds are filled with tents and there is a pavilion with hammocks for even cheaper housing. Jaguar Inn is the kind of place you expect to see a lot of world-traveling college students. It has that wild, "campy" feel, an eco-camp kind of place in the jungle for cheap lodging, though my "bungalow" is pricey compared to the campers and of course I am probably the oldest person here. Most older adults are in the expensive big hotel up the road closer to the city ruins. I like the youthful, campy atmosphere and being so close to the largest of all Mayan cities. It is different from Chiminos Island that did not have the young people or camping, though they might allow it there – I don't know.
Well, I'm finishing a second cup of coffee and then to the room before walking to the "Jungle Lodge" now called "Tikal Inn."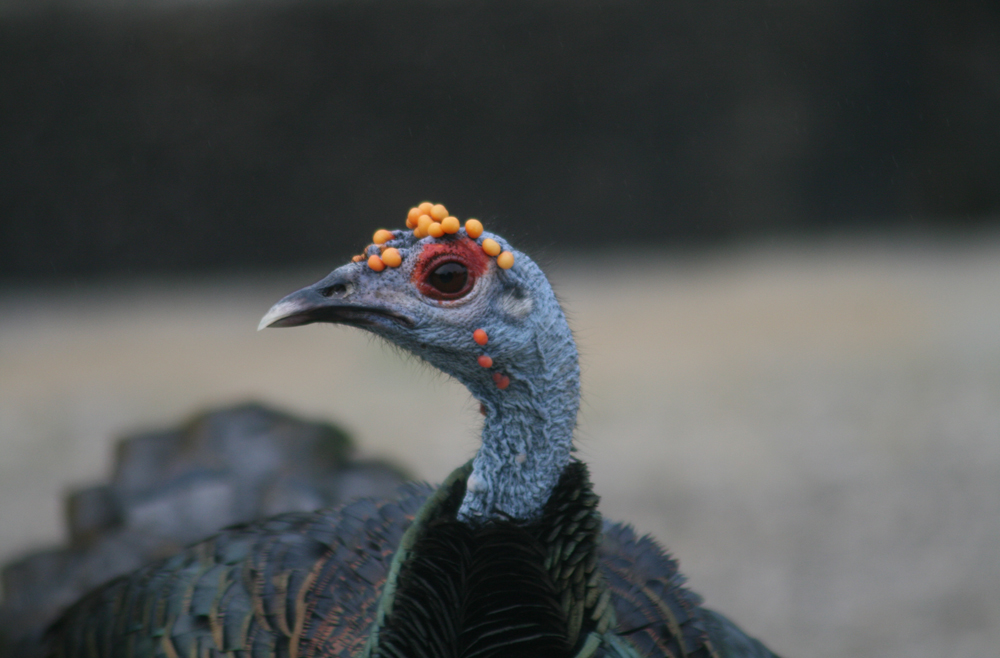 Friday, December 15, 2006 – Jaguar Inn, Tikal, Guatemala
It is after 8 PM and I'm trying to get packed and ready to go at 5:50 AM tomorrow morning before the power goes off at 9 PM tonight.
Yesterday was a great day with the excellent all-day tour of the city! Today was also an excellent day, starting with a morning bird-watching hike with an excellent guide! We saw or heard 20 birds plus other wildlife including the rodent called Agouti, lots of Coatis and a few monkeys. I cut the birding walk short because my bruised tailbone was hurting plus my left leg for some reason.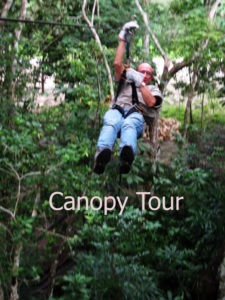 This afternoon I did the postponed "Canopy Tour" which is just a zip line through the tree tops, a real rush and a neat view of the canopy of the forest but not much wildlife (too noisy), though we did see one toucan at a distance, even with the noise.
The bill is paid and I should be ready to go when the driver gets here at 5:50 AM in the morning. The second half of my adventure will be easier I expect.
December 18, 2006 – JC & Lilliana's House, Guatemala City, Guatemala
Wow! Time has flown and me not writing! A quick review of the last two days:
16th
I overslept as I accidentally turned off the alarm sometime before it was to ring. I was 20 minutes late leaving but still made the plane okay from Flores to Guatemala City.
I visited with J.C. and Lilliana and they showed me around Guatemala City plus we ate three great meals at their house! Latin American people are so welcoming and hospitable! Including their maid and cook!
17th
We had a long beautiful day driving to and around Lake Atitlan which Aldous Huxley called "the most beautiful lake in the world." And I tend to agree. I got several beautiful photos of the lake while there. It was a perfect weather day with blue skies and white fluffy clouds. We had a delicious breakfast on our way to the lake and a gourmet lunch at a classy hotel on the lake! Muy bueno! Candy, Lilliana's sister, went with us and I made lots of photos!  A perfect day!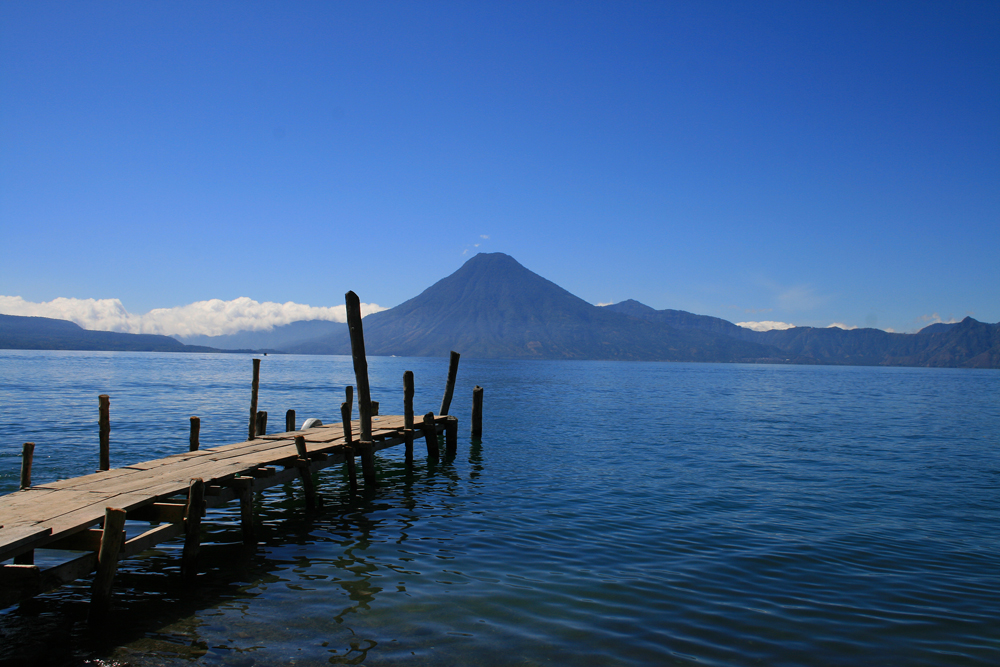 TODAY – December 18, 2006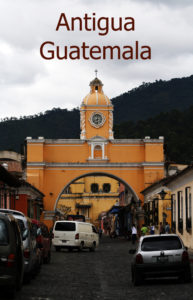 It was a shorter, easier day going to Antigua, the old colonial capitol of Guatemala. It is old, historical, arty, picturesque and with a lot of architectural interest. Muchos fotos again and the best meal yet at a hotel-restaurant in an old monastery. I'm eating too well! Fantástico! It was a short drive there and back, just the three of us. And it is now another one of my favorite places!
I forgot to say about last night, that one of Lilliana's sisters and her 2 children stopped by. She is a single mother with a 10 year old boy, Pablo, who loves animals. I gave him my card and told him he could go to my website gallery someday and see my wildlife photos. He immediately went to his Aunt Lilliana's computer and looked at them and I then showed him my Yellowstone photos. He has a teenage older sister.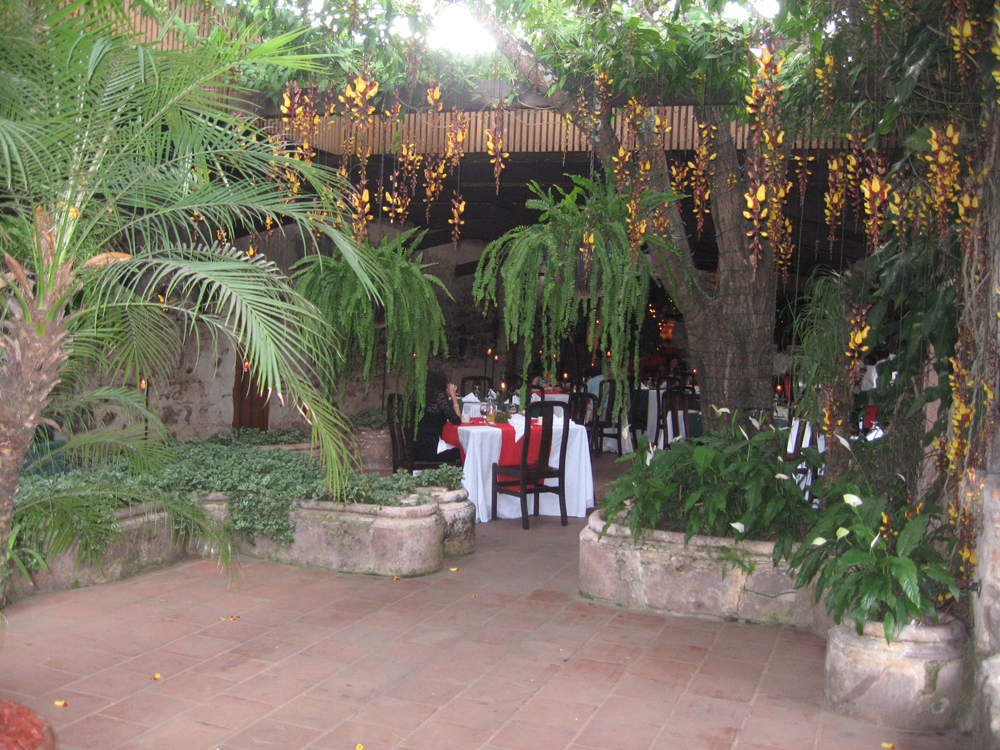 Tonight I'm going to watch Monday Night Football with J.C. (football not my favorite thing, but I like being with J.C.)
Tuesday, December 19, 2006 – Guatemala City
MORNING
Well, last night I was working on my photos during the game and JC brought in his poetry which I had shown an interest in the night before. So we ended up turning the TV off and reading poetry for 2 or more hours. It is 8:10 AM this morning and they are not up yet. And oh yeah, JC's poetry was written over the years and he has one long one about the Mayan people. Quite interesting! He has tried to be published and got no interest (reminding me of Jerry and his rejection by publishers).
I went to the kitchen at first this morning but don't know how to order much in Spanish and decided to wait on JC & Lilliana. But now I think I will go down for a cup of "Café Negro" at least, one thing I know in Spanish! "Black coffee. "
Well, I did and the cook is making coffee now and the canary is singing. This big ol' Spanish style house is beautiful with all tile floors, many windows, tropical plants and flowers outside and in with Poinsettia bushes growing in the yeards here and servants to wait on you and the most gracious hosts in Lilliana & JC and Candy too! This has been a great vacation just being in their house. The father of Lilliana & Candy still lives here with them though he has had multiple strokes, but still responds to some conversation. I have enjoyed engaging him through the interpreters.
Well I got a "plato de fruta" and Juanita gave me the Spanish words for each:
Watermelon = Sandia
Papaya = Papaya
Cantelope = Melón
Pineapple = Piña   (which I had learned at Tikal)
I actually knew all of that except the word for watermelon. If I finish before they come downstairs, I will go to the upstairs TV Room and work on my photos. I will just eat and relax now.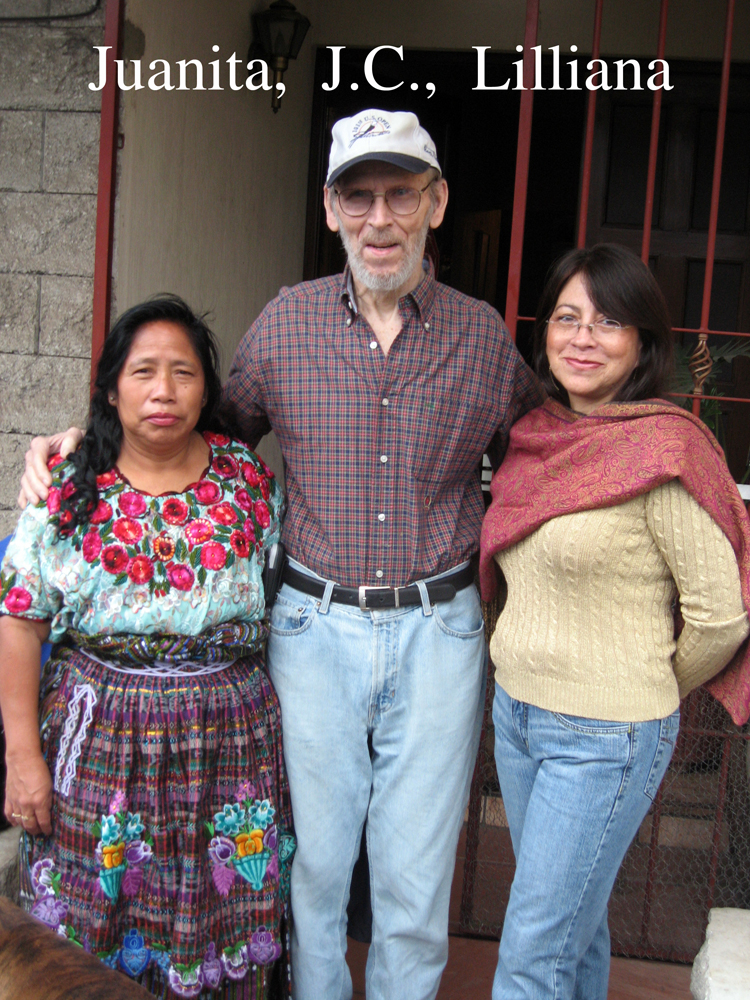 EVENING
We went to the Guatemala City Zoo this afternoon after a traditional Guatemalan meal called the same word as "cook" in Spanish. A soup broth over rice with many different kinds of vegetables and beef.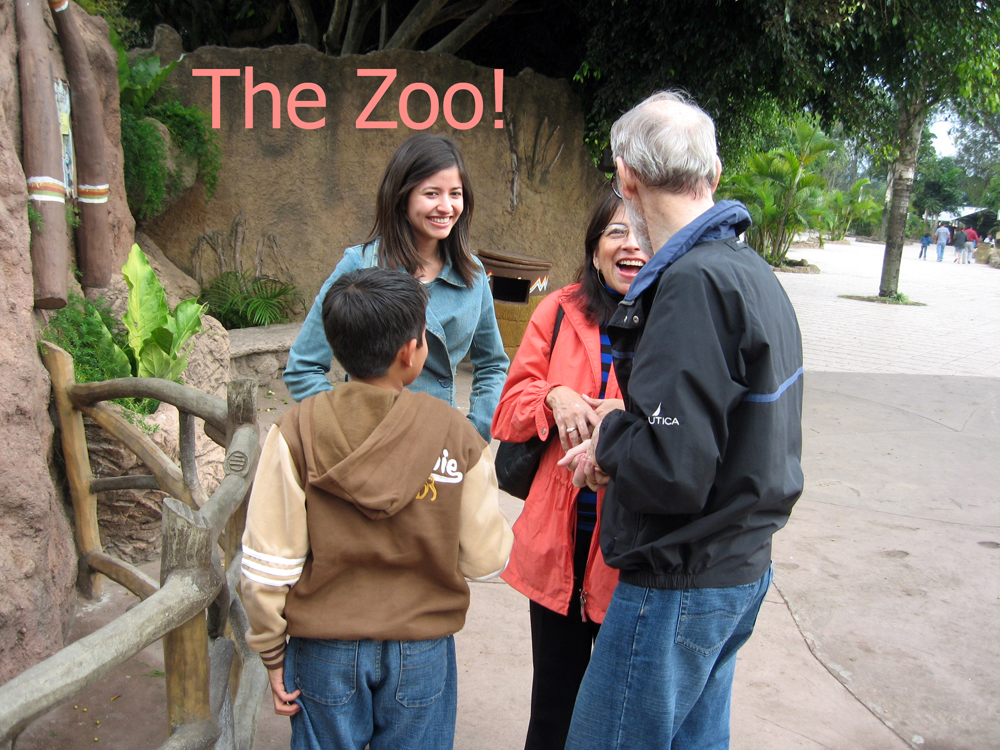 La Aurora Zoo  in Guatemala City is a big and very nice zoo. The only one I've seen bigger or better in Latin America is the huge Mexico City Zoo. The above link is to the zoo's website or you can see my photos of the zoo.  We took my young cousins Christy and Pablo and really had fun, plus me getting some okay photos!
Tonight's meal was black bean soup and tostado with guacamole. The cousins were here all evening as was Roberto, Candy's boyfriend.
After dinner I was torn between Pablo and JC for my time. I gave Pablo a CD with the zoo photos from today. And my showing an interest in JC's writings has really encouraged him I think or at least he has said so.
I have really been immersed in the Guatemalan culture by staying here 5 nights. It has been fun to see the multi-generational family members interact, share, talk and enjoy one another. Tonight we had 10 people for dinner counting the 2 servants. The love, laughter, joy, sharing and good manners or kindnesses has been refreshing and encouraging to me.
Nothing planned for tomorrow except eating at their local chicken franchise restaurant and me doing a slide show of my El Peten Trip. I'm still working on that! Buen provecho and now buenas noches!   ?
Wednesday, December 20, 2006 – Guatemala City
It is a little after 5 PM and I haven't left the house today. The slide show is ready. I ate at Pollo Campera for lunch, a Guatemalan KFC type restaurant and have visited with JC off and on today. The compound is locked, so I'm waiting on him to maybe go ao a little walk in the neighborhood (near downtown) in a few minutes. The kids are coming over for dinner and the slide show tonight. I called to reconfirm my flights which are both at different times than originally scheduled. I won't get home until 10:15 PM tomorrow night which is later than originally planned. I will get to the airport here 3 hours before my scheduled flight at their suggestion, which will be at noon tomorrow. I'm winding down now. The adventure is nearly over. And the days here have been as much an adventure as trekking through El Peten!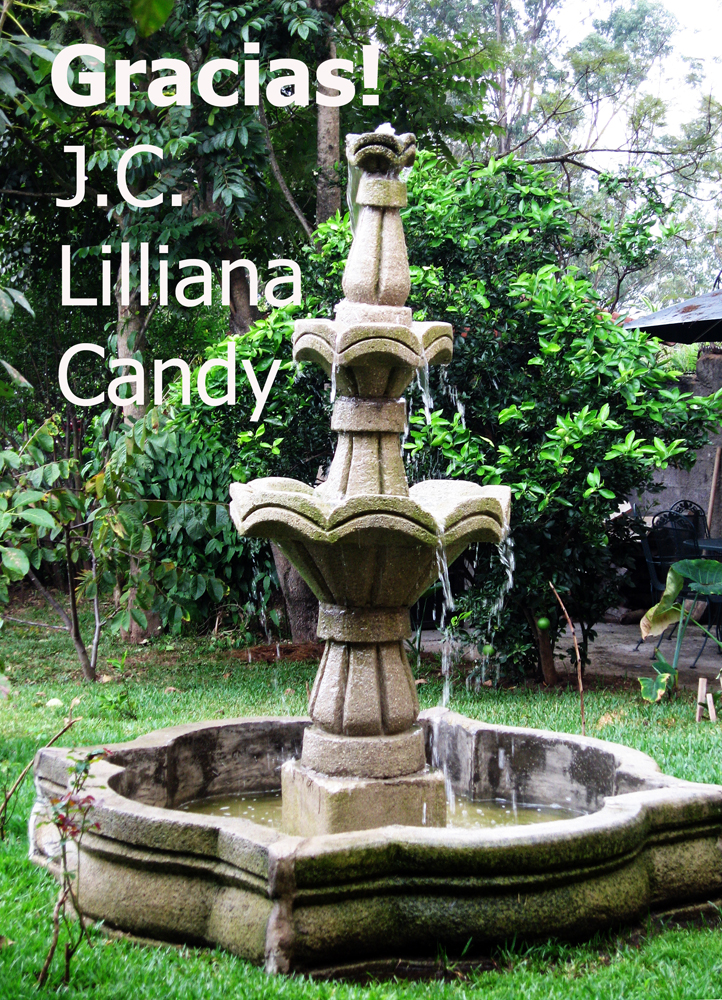 Thursday, December 21, 2006 – Guatemala City to Nashville
Last morning, sitting at dining room table drinking Mango juice with my pills and wondering how I can order bacon & eggs in Spanish. I know the word for eggs but not for bacon. Hmmm. I may go upstairs and get one of the books with a list of foods translated. I did and can now order eggs & ham. Then Candy is up and told me that bacon is "el tocino."
Now Candy has Juanita preparing Bacon & Onion Omelet for me! Plus she is making "mosh" from scratch, not the instant oatmeal.
This morning I woke up realizing that I had not told JC about how he could self-publish his own books of poetry on CafePress.com or several other online publishing sources. So I am excited about showing him on the computer. And I would even be willing to publish his poetry for him through my shop. I'm not sure what his interes will be in any of this – we will see.
I was asked to send my photo of Juanita to: J.C. Doggett, 34 Calle 11-26, Zona  11, Las Charcas, Guatemala City, Guatemala.
AFTERNOON AT GUATEMALA CITY AIRPORT
It is about 2:12 PM at the airport where I have been since about 12 noon. It took an hour to get to the gates and then I shopped and bought another nativity scene. I also had a giant cookie with coffee and have been reading my Tikal guide book. I hope to put together some info with my photos on a web page separate from my gallery. There are several college-aged young adults traveling for Christmas I assume and others waiting here are possibly "going home" for Christmas. It is at this time of year that I am sometimes tempted to be a little depressed not having much family and as usual, no plans to be with either Jason, Jerry or Bonnie at Christmas. But I am thankful for the time with JC and Lilliana and will call Jason, Jerry, and Bonnie over the weekend.
And after being surrounded by people this week it will actually be relaxing for me to be alone again! It is possible that I will have my Guatemala Gallery made and an album ordered by the day or two after Christmas. Then on to another project!
4:30 ON THE PLANE
I'm sitting next to a really nice High School Senior who is the son of a Wycliff Translator in The Gambia! We have been talking for one and a half hours – very enjoyable! His parents are now in Florida and his Mom has cancer. He needs someone to talk to and we have several things in common. "Thank you God for this little experience!"  Now I'm going to the bathroom.
11:15 PM AT HOME IN NASHVILLE
I checked phone messages and now I'm going to bed. VERY TIRED! But this was a great trip!
ADVENTURE NOW!
"If we wait until we are ready, we will be waiting for the rest of our life!"    – Lemony Snicket
🙂
¡Pura Vida!