My Daughter Juli, God's Precious Jewel
The sparkle in her eyes
Attracted me & all the guys.
The glow in her precious face
Won the Special Olympics race.
We laughed, cried, and played,
While at home she wanted to stay.
But in travel and in the parks,
Kites and fishing were a lark!
Special needs and disorders,
I didn't mind, she's my daughter.
Family, church, and school
Molded God's little jewel.
Kidney failure, operations head to toe.
Congestive heart failure, she must go.
God gathers his jewels says Malachi 3
And I thank Him for sharing with me!
A child's perfect love she had for me,
As God would have mine be for thee.
She taught me that love is God's rule.
My daughter, God's precious jewel.
~Charlie Doggett, August 22, 1997
Here is how I printed it and gave it to family & friends using the last decent photo I had made of Juli, this one in April at Falls Hollow on the Natchez Trace Parkway near Columbia on one of our weekend trips: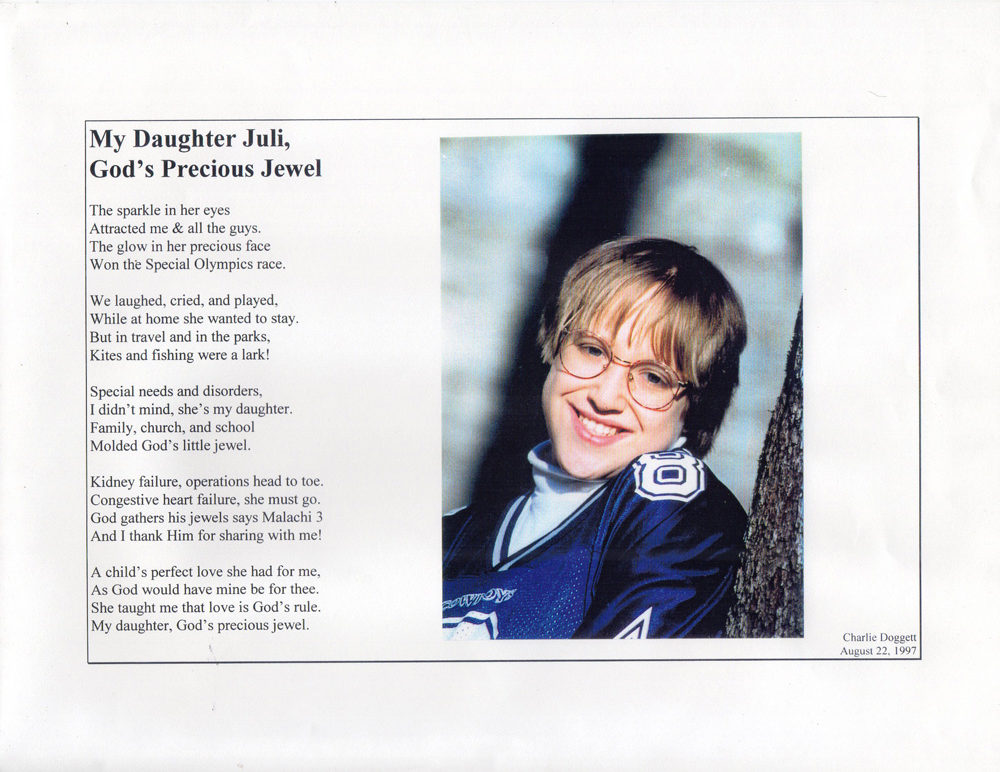 And for those interested in the scripture verse, here it is in the KJV, the only version to use "jewels" to describe really believers or followers of Christ.
Malachi 3:16-17

 

Authorized (King James) Version (AKJV)

16 Then they that feared the Lord spake often one to another: and the Lord hearkened, and heard it, and a book of remembrance was written before him for them that feared the Lord, and that thought upon his name. 17 And they shall be mine, saith the Lord of hosts, in that day when I make up my jewels; and I will spare them, as a man spareth his own son that serveth him.
Another "Jewel" Story About Juli
In earlier years as a smaller child Juli had an even younger special needs friend who had speech problems. He could not pronounce "Julianne" or "Juli" and therefore called her "Jewel," which we all liked, not knowing that Russ would use the same nickname at her funeral, pronouncing her "One of God's Jewels!"