It was nearing sunset on River Gambia as the service began.

Geri Phillips reading Psalm 23
The Lord is my shepherd, I shall not be in want,
He makes me lie down in green pastures,
He leads me beside quiet waters, he restores my soul.
He guides me in paths of righteousness for his names sake.
Even though I walk through the valley of the shadow of death,
I will fear no evil, for you are with me:
Your rod and your staff, they comfort me.
You prepare a table before me in the presence of my enemies.
You anoint my head with oil; my cup overflows.
Surely goodness and love will follow me all the days of my life,
And I will dwell in the house of the Lord forever.
Prayer by Charlie Doggett
Almighty God! Our perfect shepherd!
Comfort us as we walk through this shadow of death.
May it remind us that only in You are pastures green and waters still.
As we share our memories of Steve, may we learn from him and grow in you.
Amen!
——————————————————–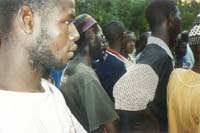 A Time of Sharing about Stephen
There was great participation, especially from Janjanbureh and surrounding villages. From the chief to a worker in the camp, many positive memories were shared. This was the highlight of the service!
(See the separate page with written memories of Steve sent in, a few in time to be read at the service)
———————————————————————-
Charlie's Discussion of Death
Lucy said, "We're so afraid of being sent away, Aslan." . . .
"No fear of that," said Aslan. "Have you not guessed?"
Their hearts leaped and a wild hope rose within them.
". . . you are – as you used to call it in the Shadow-Lands – dead. . .
The term is ended: holidays have begun.
The dream is ended: this is the morning."
-C.S. Lewis, The Last Battle in The Chronicles of Narnia
Morning has broken! Dawn the new day!
Yes, the Sun has set on Steve's earthly life.
But morning has just broken for him in eternity!
As a Christian, Stephen Jones believed Jesus who said, "I am the way, and the truth, and the life. No one comes to the Father except through me."(John 14:6 NIV). He rests in the familiar John 3:16 NIV, which says:"For God so loved the world that he gave his one and only Son, that whoever believes in him shall not perish but have eternal life." In Christ, Steve is in heaven with the Father God. Why, he may have already met the apostle Paul, who told us:
"Death has been swallowed up in victory.
"Where, O death, is your victory? Where, O death, is your sting?"
"The sting of death is sin, and the power of sin is the law. But thanks be to God! He gives us the victory through our Lord Jesus Christ." 1 Corinthians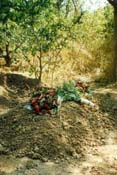 15:54-55 NIV
Jesus made the victory by paying the price of Steve's sins on the cross. And Steve accepted God's gift.
You may be thinking, "Well Stephen didn't go to church and though a good man, he certainly wasn't perfect! But you know what? God's grace (undeserved favor) is more than sufficient, even in death. I claim the grace of God for Stephen Jones!
"Now the dwelling of God is with men, and they will live with Him. . . He will wipe every tear from their eyes. There will be no more death or mourning or crying or pain, for the old order of things has passed away." Revelations 21:3-4 NIV
So, you see, Steve's last adventure is his best one! He is with the one who created those five species of owls he was so proud of here, and those yellow bats, tropical birds, fish, monitor lizards, hippos; this entire beautiful world Steve enjoyed so much!
Like Steve, I enjoy adventures and God's creation; and it's that final one that I look forward to the most! See ya' up there one of these days friend!
Closing Prayer 
Dr. Linda Barnett
Gambia Department of Wildlife Services
---
Menu – Steve Jones Funeral
Funeral Message  (you are on this page)