It was summer, so maybe I was really an eleventh grader, only one year in Tulsa and Will Rogers High School, after my family had moved from South Arkansas the previous summer. Band had been a favorite activity in junior high, as a cornet player; now it felt like "the big time" in this large high school, though I was relegated to a sophomore band, with no promise of getting in the main band for concerts, football games or marching in parades.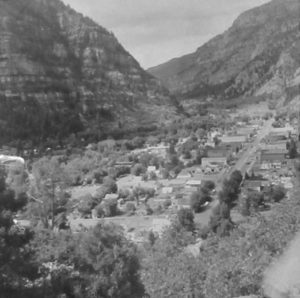 But I was young and hopeful, plus our director said our chances were greater if we attended the Summer Band Camp at Western State College, Gunnison, Colorado. Our fundraising paid the tuition for the camp if we could just pay our share of the charter bus cost. Mom and Dad agreed to supplement my meager savings and the most exciting trip of my life began.
There were 36 of us from Rogers, the largest group to ever attend the band camp in its 23 year history. My best friend, John Murdock, traveled with us, a long non-stop drive, arriving at our college dorm room around midnight, too excited to sleep, though I hated driving through the mountain scenery in the dark.
This was the furthest west I had ever traveled, first travel without parents other than Scout camping trips & summer camp, and the biggest mountains I had ever seen! My new Brownie Hawkeye Camera was ready to record it all for my scrapbook, as I envisioned great mountain scenic photos.
Our routine for two weeks was morning and afternoon classes, a little free time in late afternoon and a concert most evenings. The thrill of a lifetime for me was at one of the concerts with Rafael Mendez playing his trumpet live and in person! He was my new role model, playing a perfect rendition of "Flight of the Bumblebee" and the lively "Mexican Hat Dance." Wow! This is the best trumpet player in the world and I'm right here hearing and watching him play!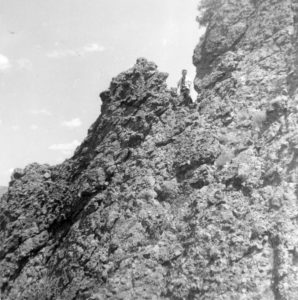 I also made a new friend from New Castle, Colorado, Clifford Goldman, who went with me climbing up a little mountain one afternoon as a special adventure. Plus our bus took us over the "Million Dollar Highway" to Ouray and Silverton, on our in-between weekend, a crowning glory to my visual "Rocky Mountain High," long before the song was ever written or sung by the younger John Denver! The whole trip was surely an emotional high for an impressionable 15-16 year old cornet player. I turned 16 that summer. Funny thing is that the following year I got more serious about academics and possibility of pre-med studies and less hopeful for the main band and dropped out of band. Oh well . . . a grand experience anyway!
Rocky Mountain High
John Denver – 4 of the 9 verses
When he first came to the mountains his life was far away
On the road and hanging by a song
But the string's already broken and he doesn't really care
It keeps changing fast and it don't last for long
But the Colorado rocky mountain high
I've seen it rainin' fire in the sky
The shadow from the starlight is softer than a lullabye
Rocky mountain high (Colorado)
He climbed cathedral mountains, he saw silver clouds below
He saw everything as far as you can see
And they say that he got crazy once and he tried to touch the sun
And he lost a friend but kept his memory
Now he walks in quiet solitude the forest and the streams
Seeking grace in every step he takes
His sight has turned inside himself to try and understand
The serenity of a clear blue mountain lake
Songwriters: John Denver / Mike Taylor
Rocky Mountain High lyrics © Sony/ATV Music Publishing LLC, Warner/Chappell Music, Inc, Reservoir One Music, Reservoir Media Management Inc, BMG Rights Management
Clifford Goldman – Pen Pal Through Graduation
A shy boy from a small town in Colorado, we became instant friends, hiking mountains and other things together, then corresponded through the rest of high school.
Scrapbook Pages on Colorado Trip
Click an image to see larger or start a manual slide show of scrapbook.
A Colorado Rocky Mountain High!

John Denver
¡Pura Vida!