Hardgrave Family Cemetery in Nashville, Tennessee is located on a hill overlooking the Harpeth River. It is just south of Percy Warner Park barely across the county line into Williamson County in the Horseshoe Bend subdivision. For more details of research and photos of individual stones click the links below.
Also note that the Hardgrave Family is related to the Providence Church Cemetery  (Also called DeMoss Cemetery) now within River Rest Condominiums in Bellevue area of Nashville. Skelton Hardgrave donated the land for a church building and cemetery where the cemetery only is now located. See my separate page detailing what I know about that cemetery and its significant history. It is the burial place of Louis DeMoss, best friend of Francis Hardgrave and considered the founder of Bellevue. His cabin has been restored and sits in the Red Caboose City Park and is probably very much like what the Hardgrave house would have looked like. It is a great place to get a feel of how our past relatives lived.
But here we focus on the Hardgrave Family Cemetery across the river from Bellevue in Williamson County where my 5 great grandfather Francis is buried:
Hardgrave Family Cemetery Menu (Subpages)
Readable Stones
Photos of Stones
Deeds Research
Time Line
1997 Family Report
State Archaeologist Visit
Directions to Cemetery
Related Pages & Photo Galleries
Red Caboose Park Bellevue with Louis DeMoss Cabin – Photo Gallery  —  Francis Hardgrave probably lived in a cabin very similar to this.
DeMoss Cemetery Web Page   (where we first thought Francis buried)
Hardgrave-Hunt-Jackson-Ogden Family History Photos – Photo Gallery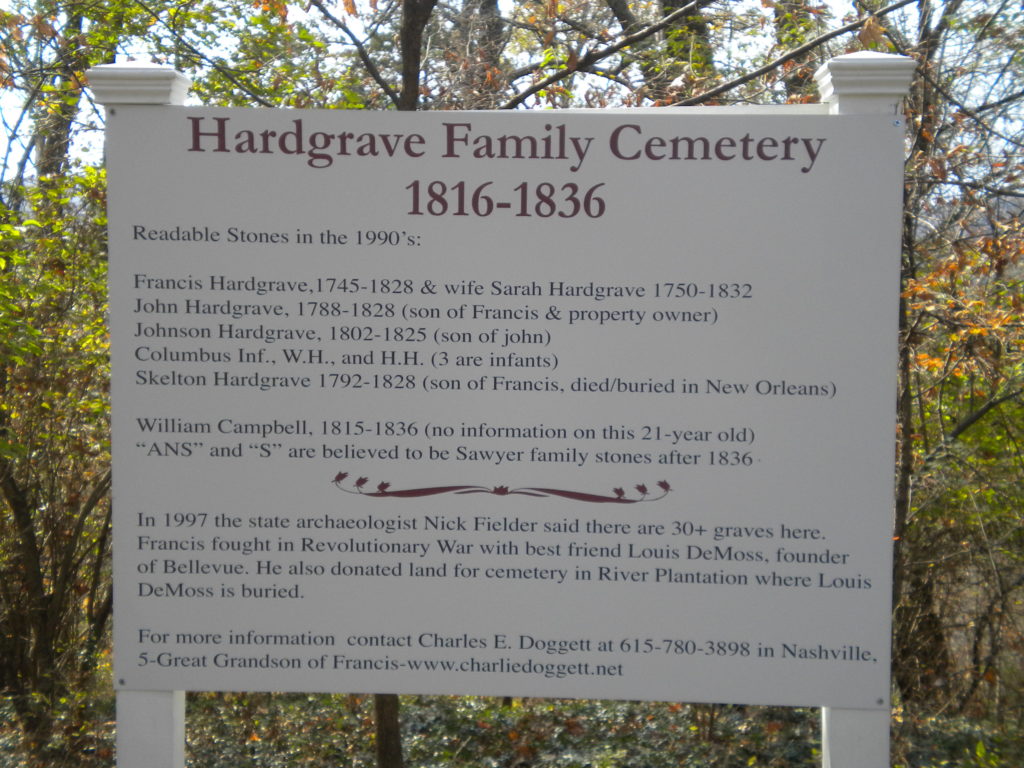 Forests may be gorgeous but there is nothing more alive than a tree that learns how to grow in a cemetery.
~Andrea Gibson