Below the menu is a little history of my photography hobby in retirement. The featured photo above is me with one of my many Costa Rican birding guides in Corcovado National Park, near Los Patos Ranger Station.
Photographer MENU
"Photography is the story I fail to put into words." 
— Destin Sparks
History of My Photography

I sort of began retirement during my last full-time job as the Business Facilitator of the Baptist Mission in The Gambia, West Africa, AND that is sort of when I began photographing nature & travel as a hobby AND it is also when I began this website AND it was when I took a particular interest in photographing birds! So you might say it has been my main thing since around the year 2000 or since The Gambia! See also my Africa Porfolio that includes Kenya & Tanzania photos.
I returned from The Gambia in the Fall of 2002 and began life as an official retiree, living in a row house in downtown Nashville. From late 2003 until spring of 2008 I worked pretty hard at selling nature photos calling my business Nature as Art. I set up my tent in dozens of Arts & Crafts Fairs; had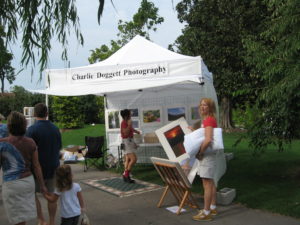 several indoor shows and at one time was in three local art galleries, one restaurant and the Nashville Farmers Market. See "Photo Exhibits" in the Photographer Menu above for photos of a few of these shows.
It was loads of fun at first and I sold a lot of photos. But it was also a lot of hard work, almost full time; it kept me away from church and friends often; all the heavy lifting and long hours standing created serious backaches; and after 4 years I was still losing money. So, I sold my trailer, tent, displays, tables, everything! Out of business! And ended up giving away more of the leftover photos than I could sell. But actually a relief!
Since 2008 photography has been for my own enjoyment with no efforts to sell. More fun now! My biggest joy has been maintaining two large online galleries (cut down to one gallery now) that have had about three million visitors so far with some nice comments. I also self-publish a photo book about every major trip and an occasional subject book or family history book. See "Bookstore" on the main menu above. You can see every page of every book for free in the online digital "Preview."  Enjoy!  🙂
I also display some of my photos in my home and they are also displayed back in the states in other people's homes, churches and some businesses. Nashville Zoo has used a lot of my photos for promotional purposes, signs, etc, though less since they got an official photographer.
My newest online gallery started just for Costa Rica (now incorporates my old photos as my only gallery) and has an ordering service! When I want a print now, I just order it  through multiple suppliers with my SmugMug.com gallery, Charlie Doggett's COSTA RICA. I'm currently partial to the glossy metal prints for display and have several in my Costa Rica house.
And Shannon Farley featured me in her "Enchanted Blog," focusing on my Atenas photo book but also describing my retirement hobby.
My older art photos of Tennessee, The Gambia and other travels have now been added to my Costa Rica Gallery in my "Pre-Costa Rica TRAVEL" gallery or for the ones already sized for particular dimensions as I sold them are in a gallery called "Pre-Costa Rica ART PHOTOS," what I sold in those art fairs — Nature As Art!  and family photos at "FAMILY HISTORY Photos."   so that all my photos are in one place now and growing!   🙂   Check out my all-inclusive Photo Gallery if you haven't already.
"I believe the world is incomprehensibly beautiful – an endless prospect of magic and wonder."     -Ansel Adams

My Vision Statement

Since childhood I've seen nature as the art of God. I love being outdoors and trying to capture it in the camera. Rather than being a technical photographer who depends on many gadgets and skills, I see good photography as more about the eye and the soul. I hope my images bring new appreciation of nature and God to those who see them. 

(Written for the Arts & Crafts Shows of 2004-2008)

"In photography there is a reality so subtle that it becomes more real than reality."
— Alfred Stieglitz
¡Pura Vida!
Back to the ABOUT page.