Origin of the Doggett Name
In 2020, Family Tree Online had this many Doggett's in the top three countries:
United States
5,195 people in Family Tree
England
2,660 people in Family Tree
Canada
164 people in Family Tree
I think most of us in the states have our roots in England and thus there are surely many more in England that just don't have an online Family Tree!   ?
My Earlier Research
which is not shown in any of the websites I find now on surnames, said one of the etymology origins of Doggett was a name Doggeshed who were the "Keepers of the Dogs" in the early Tudor castles. Makes sense to me. Most of the junk below is "double talk" or stuff that doesn't make much sense.
This name derives from the diminutive of the Medieval English 'dogge' meaning 'dog' and was originally given as a nickname to one having dog-like characteristics i.e. faithfulness, friendliness etc. It is first recorded as Dogget in 1199 – the Pipe Rolls of Huntingdonshire and as Doget in the Pipe Rolls of Herefordshire 1203. It became a surname three years later. In the modern idiom the name has two spelling variations: Doggett and Dockett. An interesting name bearer was Thomas Doggett, author of a comedy 'Country Wake' in which he acted himself (1696). He was joint manager of the Haymarket (1709) and subsequently of Drury Lane until his death in 1721. The first recorded spelling of the family name is shown to be that of William Doget. which was dated 1206 The Assize Court Rolls of Lincolnshire during the reign of King John nickname Lackland 1199-1216. Surnames became necessary when governments introduced personal taxation. In England this was known as Poll Tax. Throughout the centuries, surnames in every country have continued to "develop" often leading to astonishing variants of the original spelling.
From House of Names you get a different description of the name and a coat of arms that they will gladly sell you printed on many items.   ?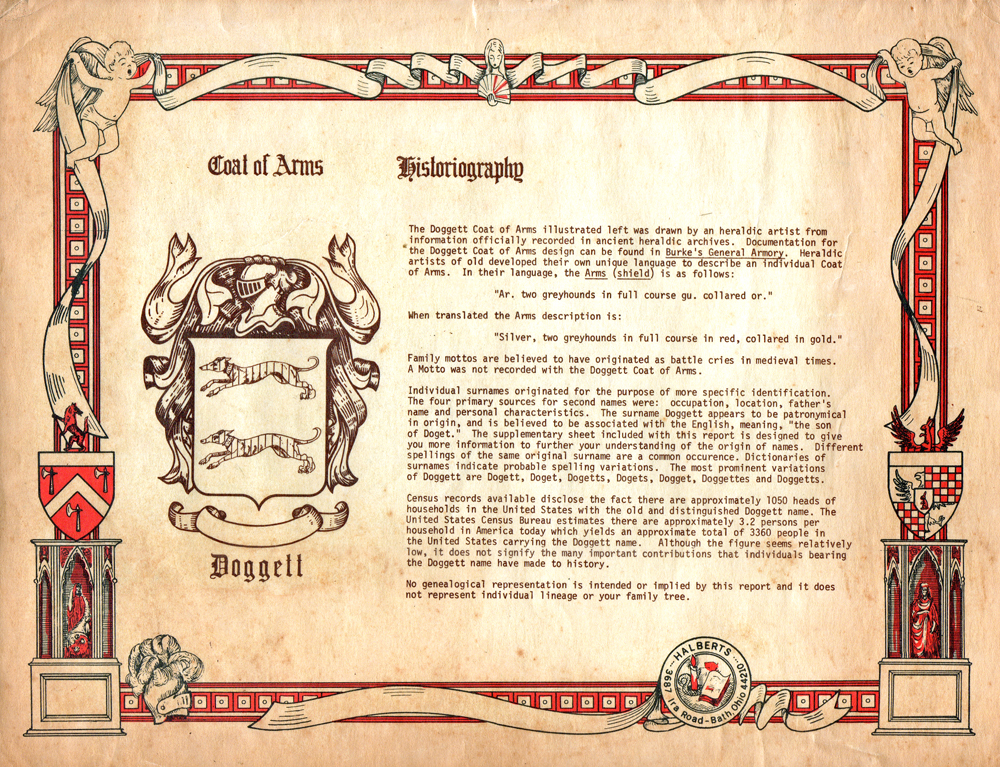 From Ancestry.com is a little different background and some information on my line's first to arrive in the states, Rev. Benjamin Doggett – but of course they are first wanting you to join Ancestry.com!   ?
The Forebears website has still another take on the name.
Find My Past UK website has and even different approach to name origin.
http://britishsurnames.co.uk/surname/DOGGETT  has only this:
DOGGETT. An old London name, probably corrupted from Dowgate, one of the Roman gateways of the city. Ferguson makes it a diminutive of the Icelandic rwr, aud the English docj, but no such duuinutive is found.
Lower, Mark A (1860) Patronymica Britannica: a dictionary of the family names of the United Kingdom. London: J.R. Smith. Public Domain.
I hope to do more research for better information than most of this.