Gambia Mission Trip Journal, June 2009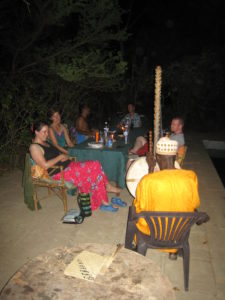 Monday, June 1, 2009 – Bird Safari Camp, The Gambia
Joan, Jill and I had a long flight from Nashville to Atlanta and then Atlanta to Dakar. We flew much of yesterday and all night last night. Jeremy met us at airport and we made the 8 to 9 hour drive to Janjanbureh, The Gambia where our residence for the week is Bird Safari Camp. We relaxed and had an African dinner with Mark Thompson, getting to bed about 10:00 PM GMT.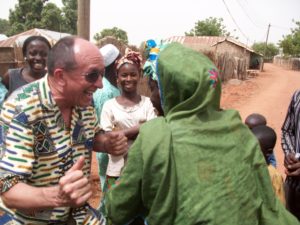 Tuesday, June 2, 2009 – Camp & Janjanbureh
Many tropical birds and one monitor lizard and one monkey outside my tent this morning.
Later we spent time in Janjanbureh which was open with many good visits. We ate lunch in a home, met a singer who called himself MC Hammer and Mrs. Katchikally whose mother the famous Katchikally Crocodile Pool in Bakau is named after. She was fun to visit with. We are all getting very comfortable visiting with Africans now. It is hot today at about 108 degrees.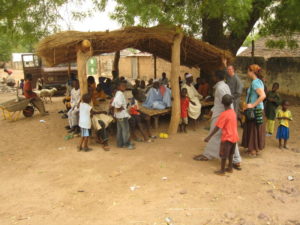 Wednesday, June 3, 2009 – Kunting & Yonna
We spent most of the day in Kunting with the Selah family of teachers. They served us something like Chicken Yassa in a common bowl. We got a complete tour of the Qu'ranic School and much of the town, including the public school. We visited in every Selah home plus several others.
On the way back we stopped in Yonna which is about half Jahanka, but a smaller village. We were worn out by the time we had dinner around 8:00 PM.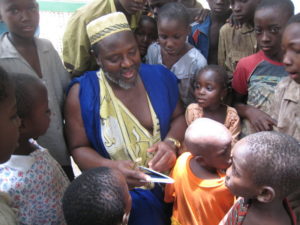 Thursday, June 4, 2009 – Barrokunda
We had a great reception and visit in Barrokunda today, especially for Jeremy. It is about 1.5 to 2 hours west of Janjanbureh, but with significant Jahanka Qu'ranic schools.
We ate another bowl lunch today in the home of Wahab Sware, our primary host. On the way back we drove through Sutukung and Bereng as two other possible villages with a Jahanka presence.
When we got back to camp I had two cows and a black cobra waiting by my tent. Only in Africa!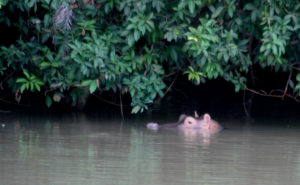 Friday, June 5, 2009 – Boat trip on River Gambia
No journal writing today. We saw hippos, lots of birds and people along the river and a few monkeys. Tropical river trips are always a joy!
Saturday, June 6, 2009 – Kuntar Fula Kunda & Jakaba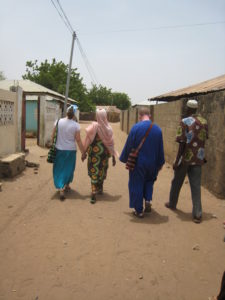 Most of the day was in Kuntar Fula Kunda and next door in Jakaba. Both were very friendly. We visited many compounds and at least two Jahanka teachers. We also met the Fula Alkalo (Chief) and his 1st Lt.  who is an important officer in the national police drug control for MRD. They were very inviting but not Jahanka, our target people group. They also asked for aid or money.
We had lunch at a Jahanka teacher's compound, the father of Kolibah Fofana. At the smaller village of Jakaba next to and touching Kuntar we visited a wedding party and met a Peace Corp couple.
I had hoped for more people from First Baptist Nashville to go on the trip, but the three of us has a great experience and learned which villages we could return to for future church planting if First Baptist chose to accept the challenge. I was disappointed that there was not more interest in FBC and that we never followed up as a regular once or twice a year mission trip. I did get another church interested and they followed up briefly but did not continue long term either.