Schools help form us, especially in the younger years. They are very important to who we are. First I include a photo gallery with one pix of each school campus. Click thumbnail to see larger image. Then I will write a little about my schools and what I say could change from time to time! 🙂
In the above feature photo I am the 5th boy from left on the center row in my 3rd Grade Class photo at Yocum Elementary School, El Dorado, Arkansas. I was in this school for 2nd through 6th Grades or 1947 to 1952. I remember nothing about my 1st Grade Class in Pine Bluff, AR and have no photos, thus not included here. So technically there were 7 schools in my life! 🙂 CLICK an image to see larger.
MY 6 SCHOOLS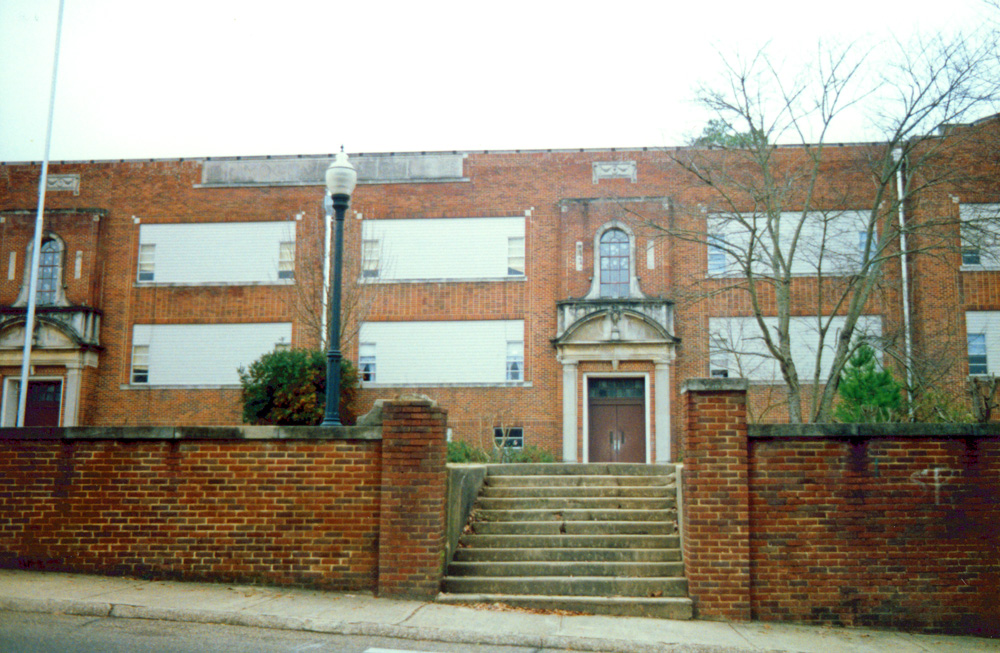 Pages on My School Experiences – Photos, Stories, Memories
UNDER CONSTRUCTION – still working on these pages . . .
First Grade in Pine Bluff, AR (no info available) 1946-47
Yocum Elementary School, El Dorado, AR, 1947-52
El Dorado Junior High, El Dorado, AR, 1952-55
Will Rogers High School, Tulsa, OK, 1955-58
University of Oklahoma, Norman, OK, 1958-59 (3 semesters)
Ouachita Baptist College, Arkadelphia, AR, 1960-62 (5 semesters)
Southwestern Baptist Theological Seminary, Ft. Worth, TX, 1962-65 (3 years off & on)
My Former Schools' Current Websites (All are different now.)
Things About My Schools to Brag About
The El Dorado Junior High Band had a big positive influence on my life which I plan to share on the Junior High Page linked above.
My fellow high school Class of '58 graduate Anita Bryant was Miss Oklahoma and Runner-up for Miss America in 1958 and a popular singer for years, though I did not like her arrogant right-wing, anti-gay activity later. We were in "Youth for Christ" together at Rogers.
Also in my high school graduating class was David Gates, lead singer for the music group "Bread." He sang at the one '58 Class Reunion I attended, our 35th Class Reunion in 1993.
Things I'm Not Proud Of
Today I do not like to claim either Ouachita University or Southwestern Seminary because they have become so right-wing politically, though they were fine when I was there and I have some good memories of each which I plan to share on the School Pages linked above.
Ouachita is the alma mater of both Mike Huckabee and his daughter Sarah Huckabee Sanders (years later than me, he in 1978 & she in 2004 with me graduating 1962), both of whom I distance myself from because of their radical right-wing philosophies and support of the immoral, lying President Donald Trump.
The seminary I attended was later nearly destroyed by the architect of the "conservative takeover" of the Southern Baptist Convention who later became president of the seminary and in so doing the enrollment dropped to about half. Fortunately in 2018 Paige Patterson was fired because of his sexist philosophies and for defending a rapist while in another seminary. Patterson, like Trump, is an evil man, not following Christ and I believe his judgement by God will be severe.
Fortunately some really good people also graduated from Southwestern and Ouachita.
Continuously involved in Schools for Life
During my career life I was constantly back in school for college classes, training programs, and even fun learning. Then countless "employee development," especially when computers came along! I enjoyed being active in both my children's schools in multiple ways from PTA to scouts and special projects at Burton & Stokes. When Juli was at Genesis Academy, I produced a yearbook two years in a row gratis and was named "Parent of the Year" one of those years. 🙂
Now in retirement I had a ball as a reading tutor for 1st and 2nd Grade at Tulip Grove Elementary. See my page Reading Tutor. And here in Atenas, Costa Rica I have volunteered as a helper in both public high schools for their annual "English Language Festival" and I led the after school conversational English club of nearby Colegio Liceo (college-prep high school) students going on a student exchange trip to the states. I also helped a private school 6th grade class start a student blog online at Atenas Escuela Colina Azul. And ever since I moved to Costa Rica I have been in Spanish Classes trying to learn a language as a slow-learning old man! 🙂
So schools are still fun and important to me! 🙂
+
The things taught in schools and colleges are not an education, but the means to an education.

– Ralph Waldo Emerson
¡Pura Vida!
Back to the ABOUT page.