Wow! What a difference one generation of time makes! Growing up in the 1940's and 50's for me meant that grandparents, aunt & uncles, and of course cousins were all part of the family that we related to regularly even when living many miles away. From birth to high school there was never a year when we did not spend time with our extended family on Mom's side. She never particularly liked going to the Doggett farm or other places to visit with the Doggett aunts, uncles and cousins and Dad did not demand it, thus we were never as close to them, even though we actually lived closer to most. And that is another story. 🙂
The featured photo above is me with the Hardgrave cousins around 1941-42 or at least before Jerry was born in 1943, left to right: me, H.L. "Bubba," Barbara Ann and Don. And below is the same group +3 about 3 or 4 years later.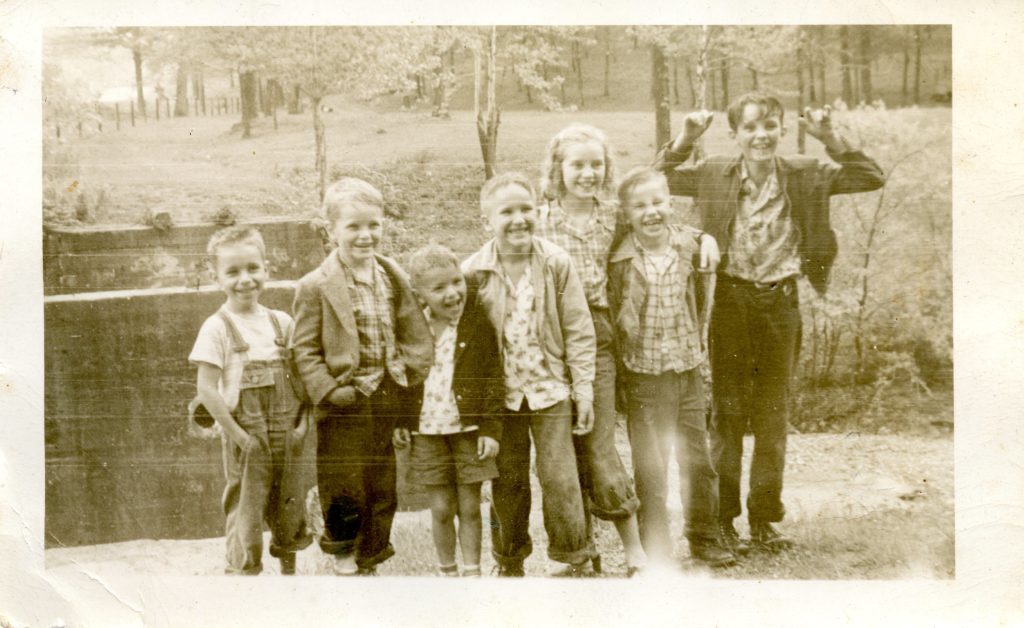 In my generation, more people moved further away from family because of school, marriage, work, etc. and by not living close it is more difficult to experience extended family. Thus my children never got to know their cousins on my side of the family and there were none on Ginger's side of the family.
In contrast, Mom's brother Gene's children all stayed in or near Fort Smith and they and their children & grandchildren are all close, while Mom's other brother Harold had a mixture of separation and closeness with most somewhere in Arkansas and one in Texas, but closer than our family with cousins. And then on my Dad's side it was a similar mixture with many staying in or near Warren and a few moving far away for work, meaning that many of those cousins (some I never knew) were closer than others.
While my children never really got to know their cousins, the children of Jerry or of Bonnie. In fact, they never really got to know their Uncle Jerry or Aunt Bonnie as I would have liked. Partly because of distances, with all three of us living in different states, and in my case a wife that refused to spend time with my relatives which reminded me a little of Mom not wanting us to spend time with Dad's family and those cousins. Oh well, life goes on! 🙂
In my later years in the states I began to renew those family ties through the Hardgrave Family Association activities (especially with Gene Hugh) and travels in my work allowed me to visit Mom's closest cousin Ruth Hunt Quattrucci in Providence, RI twice and Mom's Aunt Bonnie and daughter Lucille Morris Kartun (Mom's cousin), once in Fort Worth and once in Hawaii. I sort of keep up with the Hardgrave cousins today with Facebook and an occasional email, but of course living in Costa Rica means no physical visits now. And in the last 10 years in the states I attended most of the annual Wood Doggett Family Reunions, which was my only contact with Doggett cousins except for one who "stopped by" Nashville on her way to the Smokies. The slide show below are some of the photos I found showing the extended family on Mother's side of the family:
Hardgrave-Hunt Extended Family Photos
Harold & Lulu with Bubba & Barbara Ann

Family at Grandma Hunt's

Aunt Gyp & Sons, Albert & Churck

Me with Hardgrave Cousins

My Birthday with Hardgrave Cousins

Hardgrave Cousins

Hunts & Hardgraves

Hunts & Hardgraves

Fishin' with Bubba

Grandma Hunt & Children

Hunt Family

Hardgrave Cousins

Harold & Kids

Me & Ruth 1992

Ruth's Family 1992
Doggett Extended Family Photos
There are also galleries for the "Greater Hardgrave Family Reunions," one "Hunt Family Reunion" 1995, photos of Hardgrave Cousins together, and for more ancient reunions, see the Hunt, Hardgrave, Jackson, Ogden Gallery. On the Doggett side I have a gallery of photos of all the Wood Doggett Family Reunions that I attended and for other distant family history there is the Doggett-Parnell Family Lines Gallery. Visiting Ruth in Providence in 1960 and again in 1992.
Most of our time with cousins, aunts and uncles that I remember was during the time we lived in El Dorado; while I don't remember as much of my pre-school days, when I was very small, we were possibly with them even more then. I remember playing with Gene Hugh & Don the most, then with Bubba (H.L.) and Barbara Ann, while Tommy and Kathy coming later and closer to Bonnie's age I guess, were never much a part of my life. Part of that time Gene's family lived next door to Grandmother Clemmie, meaning we saw them every time we visited Grandmother. And a little bit with Harlan Junior's children (2nd cousins) who lived on the other side of Grandmother next door to Great Uncle Harlan (Grandmother's brother), adding another generation level that we visited regularly in Fort Smith including Grandma & Grandpa Hunt, he being who I was named after. Also of that generation was Uncle Glenn in Pine Bluff and Uncle Doc in Warren (Grandmother Clemmie's other two brothers) we saw somewhat regularly and their children and grandchildren. Glenn Albert Railsback III (2nd cousin) in Pine Bluff was the only cousin there I remember seeing much along with Patsy Ruth Hunt (1st cousin 1X removed), the adopted daughter of Uncle Doc.
In Fort Smith we mainly played in Grandmother's yard, but occasionally went to a creek in the mountains at "Silver Bridge," or Uncle Harlan's cabin on Mulberry Creek. When cousins came to El Dorado, we mostly played in the yard but I remember one time the adults dropping us all off at the Rialto Theater for some kind of movie together. Back then it was mostly Tarzan, one of the many cowboys, a war movie, or comedy of either Bud Abbot & Lou Costello or Dean Martin and Jerry Lewis. "Those were the days!" 🙂
By high school cousins began to become distant relatives to me until later years when I got into genealogy and family history, mostly with Gene Hugh for Hardgraves and Glenn Albert for the Hunts.
No matter how you feel about your extended family or family gatherings you will be attending. This is because now the ultimate reason for attending family gatherings is for your children to have the time of their lives with their cousins. Little kids love their cousins. I'm not being cute or exaggerating here. Cousins are like celebrities for little kids. If little kids had a People magazine, cousins would be on the cover. Cousins are the barometers of how fun a family get-together will be. "Are the cousins going to be there? Fun!

~Jim Gaffigan
¡Pura Vida!
Back to Family of Origin Page or the bigger FAMILY Page.