An overbooked Eastern Airlines flight gave me a free round trip airline ticket and thus my only trip to the U.S. Virgin Islands. The photo gallery for this 7-day trip is mainly shots of the scrapbook pages since I only shot print film back then.Most of those scrapbook pages are also below mixed with my journal of the trip. And remember that in November 1990 I was in the middle of a messy, difficult divorce, exhausted and depressed. This trip was like therapy!   🙂   Also be aware that I was camping on just one island, St. John, and there is much more to the Virgin Islands than my little nature experience! But I think I chose the best part!   🙂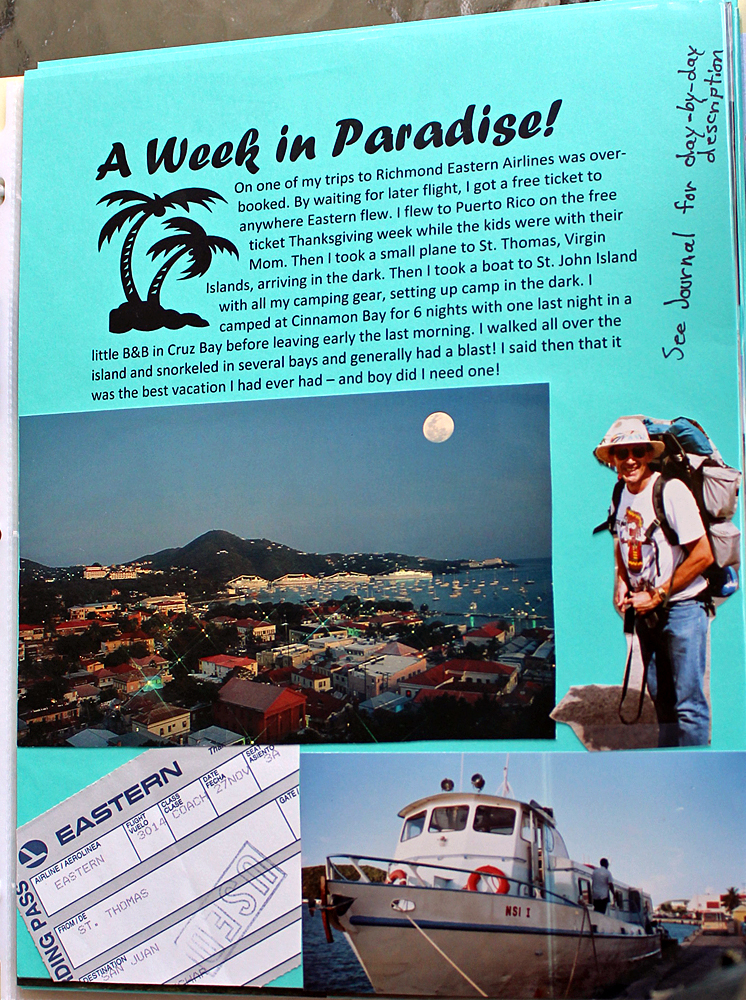 JOURNAL
November 20, 1990
9:45 PM Atlantic Time
I have just now got settled in my little Eureka dome Tent at Cinnamon Bay
Campground, St. John, Virgin Islands National Park. Simply put, I volunteered to give up my seat on an overbooked Eastern flight to Richmond for a seat on a later flight and a ticket to anywhere Eastern flies in the U.S., Canada or to San Juan, Puerto Rica, which I took!
I quickly renewed my interest in camping and hiking, got some new
equipment, my free ticket to San Juan and a purchased one from San Juan to
St. Thomas. The reading, planning, packing and preparing for the trip was a big
part of the fun.
But today the adventure began! Here's what happened:
6:30 AM – Jason took me to the airport
8:05 AM – After having my saw and Sterno cans removed, I managed to get
my 45 pound backpack on the plane in one of the closets and left for Atlanta.
10:00 AM – Now Eastern Time – In Atlanta I made a quick business call to
Carol concerning a book reprint for IMB. Then I rushed to be one of the first
ones on the San Juan flight so I could get a closet for the backpack.
11:50 AM – Plane finally left, after an hour delay to repair or replace a
gauge. Otherwise a good, friendly flight with good meal and views from my
window seat.
4:08 PM – Atlantic Standard Time now – We arrived in San Juan just after
my connecting flight left. I was put on standby with many others for the 6:00
PM flight and was the only one to make it!
6:00 PM – After a noisy flight with 10 passengers and beautiful views of the
Caribbean, we made it to St. Thomas.
I took a taxi to the beautiful waterfront of Charlotte Amalie where I
ate at Burger King and got the boat or ferry ride to Cruz Bay, St. John. It was
beautiful and quiet except for the boat motor and wake with the lights of
Charlotte Amalie fading in the background as we passed two cruise ships and
buoys. This was equaled by the perfectly clear sky with thousands of stars and a beautiful quarter moon with the spray and smell of salt water.
Then we pulled into the quaint little Cruz Bay with fewer lights, less
hustle, palm trees, strains of music from one building and only two taxis.
One, open-air safari-style taxi waited until he had seven of us before
he left on the four to five mile drive through a mountainous jungle to the
campground (see map below). Two were going on to Maho Bay and five of us got out at Cinnamon Bay Campground.
The lady was closing up because it was after 8:00 PM, but she got the
young couple to their pre-set tent and assigned me to my "bare site" space. It
was at least 100 yards in the dark on a narrow, muddy trail barely seen in the
dark to site #36 up on the side of a mountain or hill with water dripping from
the thick jungle foliage from a late afternoon rain. I could hardly see a thing! (See camp photos below.)
It took me about an hour to get all set up with very muddy shoes but a
dry tent. I have been writing by candle light which is hard, but adventurous.  🙂 The sounds are multiple. I hear the heavy surf about 150 yards away and jungle birds and animals which I cannot yet identify. There is the occasional drip of water on the tent top. THIS IS REALLY A CHANGE OF PACE!  Well, good night for now!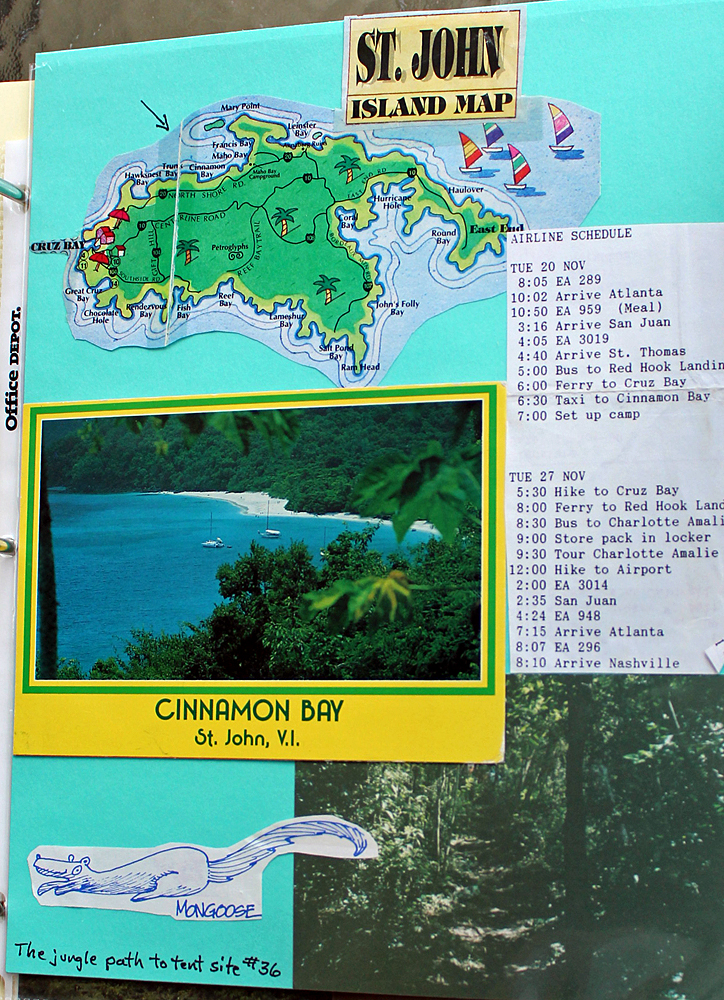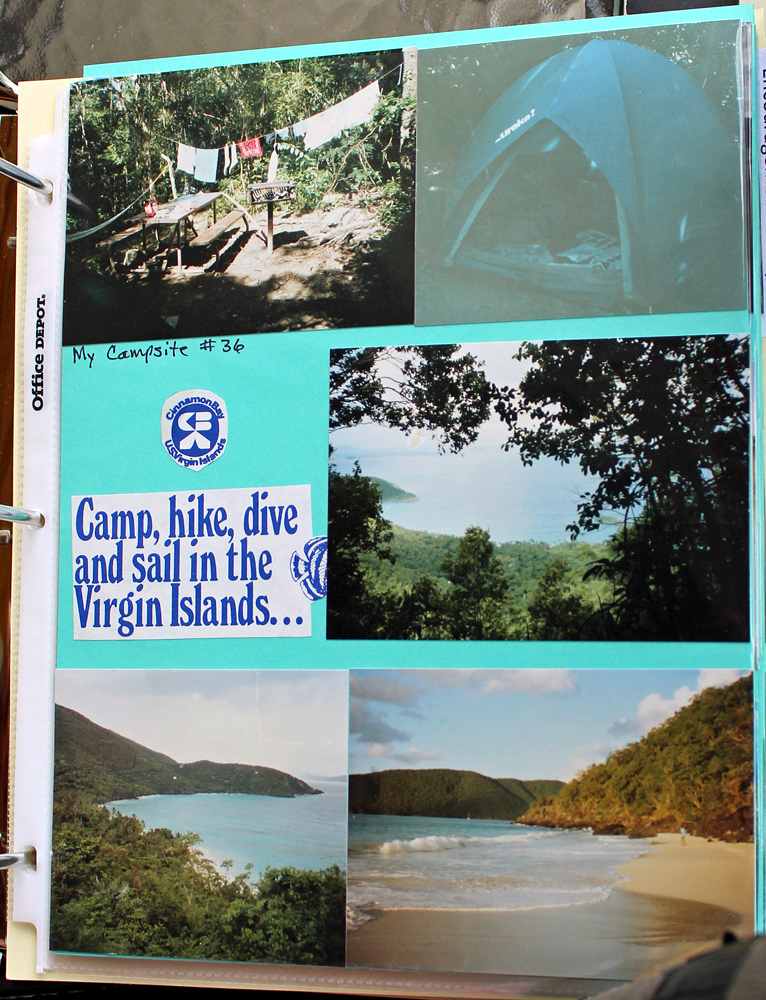 Wednesday, November 21, 1990
Cinnamon Bay Campground Cafeteria, Early Evening
I'm not eating here now, but listening to Calypso music with electric guitar and steel drums (photo below). I'm waiting for my 7:30 PM ride to Fred's for a night of Calypso, Raggae, dancing, food and drinks. Several people and one of the books recommended Fred's Bar & Grill for the best music on this island. I'm not sure about the food – we'll see!
RECAP OF MY FIRST LAZY DAY (today before writing this):
I slept until 7, then breakfast of granola, bathroom and off to the cafeteria for coffee. Swam in the bay, made photos, and sunbathed on the most beautiful beach anywhere! (See photos below.) But surf is up today, so no snorkeling. Water is too rough and murky. I stayed on the beach until 1:00 or so, then fixed up camp a little more – hung my hammock and laid in it for two hours or almost. Then before that or after the beach I showered, etc. Then I walked around. The beach was a little crowded, but not too bad. Otherwise it is very quiet around here and the "bare site" campsites are isolated even more. I like that!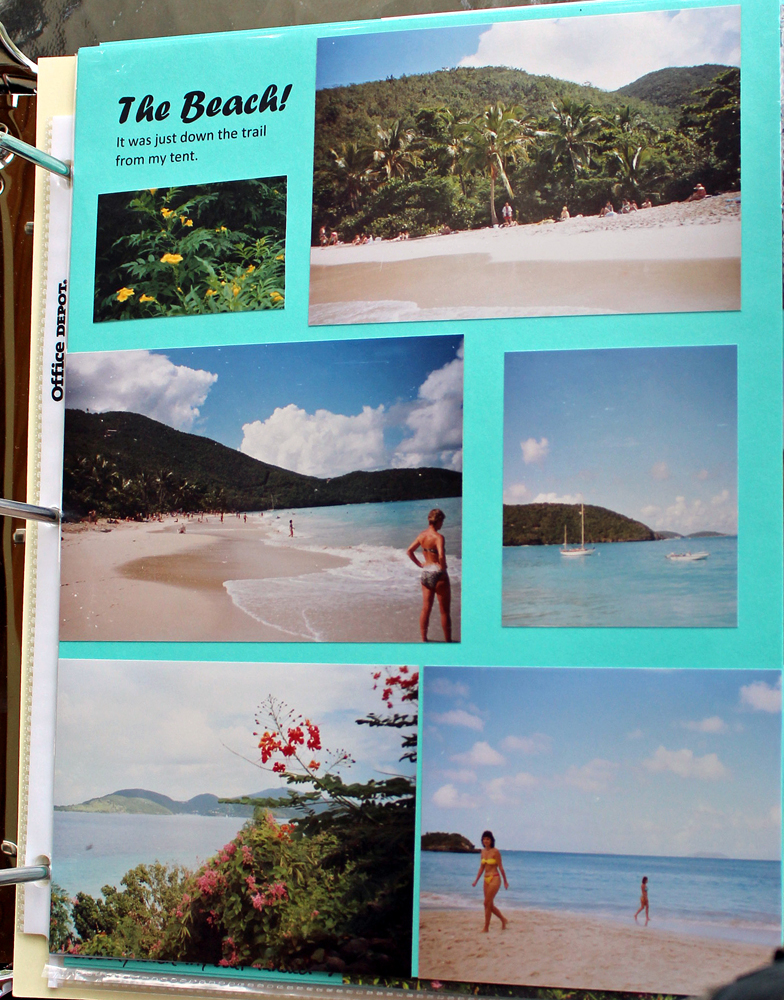 I'm a little unsure of myself going out for music and dancing tonight, just as I was sunbathing today in a bikini (neither is a part of this ol' Southern Baptist worker's lifestyle!), but I'm trying to loosen up, relax and escape from my Nashville world and this is the place and time to do that! I'm not sure what a week of this will do for me, but I expect to have a somewhat different attitude and hopefully be relaxed at the end.
Tomorrow I plan to hike to Annesburg (old sugar plantation ruins). We'll see if the music until 11:30 tonight "does me in."   🙂    Hopefully it will help me to sleep. I didn't sleep too well last night. OK . . . the ride is here! Party Time!   🙂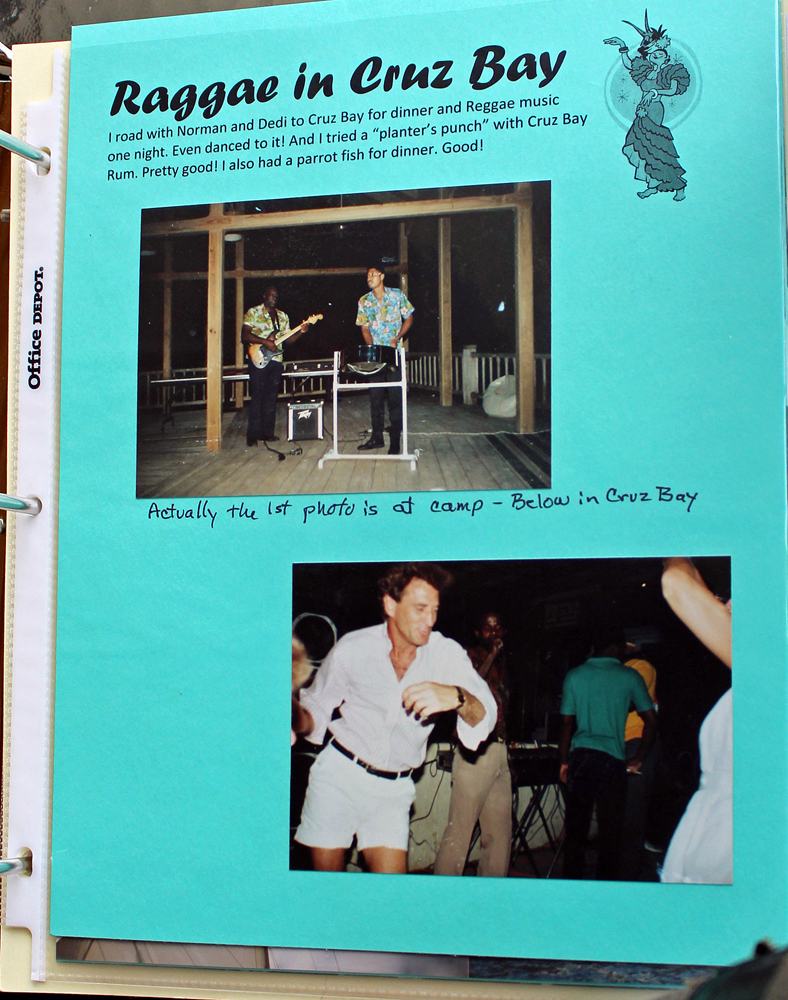 Thursday, November 22, 1990
12:17 AM (yes, just after midnight)
In the tent at Cinnamon Bay
Irie mon! Wow! What a night! Here's a report of the night in town: While waiting in the cafeteria, after writing last night's note, I met and talked with Larry from Detroit about 15 minutes. I ate some of his peanuts.
Then we boarded the bus taxi to Fred's in Cruz Bay. The group was really interesting. There was Rudi & Susan whom I checked in with the previous night. Plus I met Nathan & Dedi, married just 3-days and here on their honeymoon. He is from Great Britain and she is a Hawaiian from California. Then there was Howard the grandfather bachelor from Alaska and another couple named Fred & something.
The band wasn't ready when we got there, so I went shopping for gifts. I got shell necklaces for the secretaries and a raggae t-shirt for me and some post cards. Then I ate conch cooked in butter at Fred's before the music started.
The music was wild and loud with 3 singers, 2 guitars, 2 trumpets, 1 trombone, drums, keyboard, and lots of electronic sounds with big amps. My eardrums are still vibrating – well, almost.
I had two rum punches (the most alcohol in one night ever for me), two cokes, and danced quite a bit, mostly by myself, but once with a local black woman. We had calypso, reggae, Creole, and one rock song. We left at 11:30 on schedule on the taxi of "Lover Boy John." This was a new experience of really loosening up. I expect to sleep well the rest of this morning!   🙂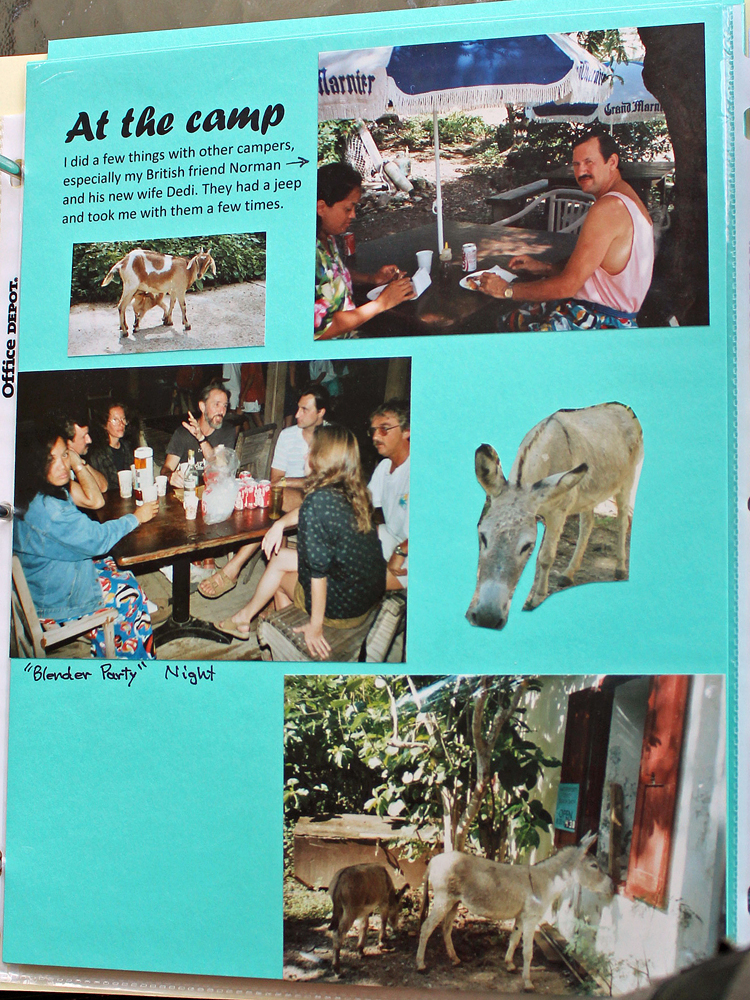 Thursday, November 22, 1990, 4:36 PM
On the beach at Cinnamon Bay
I slept well last night (or this morning) until nearly 8 AM. I forgot to describe last night's encounter on the road with a giant crab. Just his body was larger than a dinner plate, then with long legs added, it was a big wow! He was on the beach road on the way walking to my campsite. He is probably the same one Alan from Alaska saw night-before-last. Something else to talk about!   🙂
This morning after breakfast, I saw two of the donkeys which run wild around here. Then coffee visits with Alan, Rudi & Susan.
I did laundry (I'm camping & brought very few clothes) and then began my hike in the rain to Annaberg and Waterlemon Bay. The old sugar mill at Annaberg is somewhat like the one across the road from Cinnamon Bay, just has the remains of the old round windmill and is on a point with a lovely view of Waterlemon Bay and Leinster Bay. There were many pretty flowers too!
This island is beautiful!
Many were snorkeling at Waterlemon with good successes in seeing fish and even some turtles. I purposefully didn't take my mask and snorkel because the surf was still high and rough at cinnamon Bay and it was raining. But two bays over was different! From now on I will take it everywhere with me just like I do with the camera.
I stopped by Maho Bay to check it out. The tents are really nice, all fancy platform tents with porches and patio furniture. The tents are nicer than the ones available at Cinnamon Bay, but they don't have bare sites and a pitiful beach compared to ours.
I'm sunning on the beach now after a quick dip. I will soon shower, shave, put on my new reggae shirt and eat Thanksgiving dinner at the Camp Cafeteria. I plan to opt for red snapper over turkey and dressing, but will go for all the veggies, pies, etc. Maybe I'll cook supper tomorrow night.
THEN PARTY TIME AGAIN: After a medium good dinner our Fred's group, Rudi, Susan, Fred, Allie, Norman, Dedi, Alan and I hung out around a couple of tables until after 10:00 drinking rum punch or rum and coke and talking and telling silly jokes and just generally loosening up again. Wow! I'm not used to this! The next table over brought a blender to mix drinks and we inter-partied some, especially Lois from their table. What a different Thanksgiving this was! Nothing like back home!   🙂    It is fun to socialize with people of a totally different background than yourself and to experience how others live!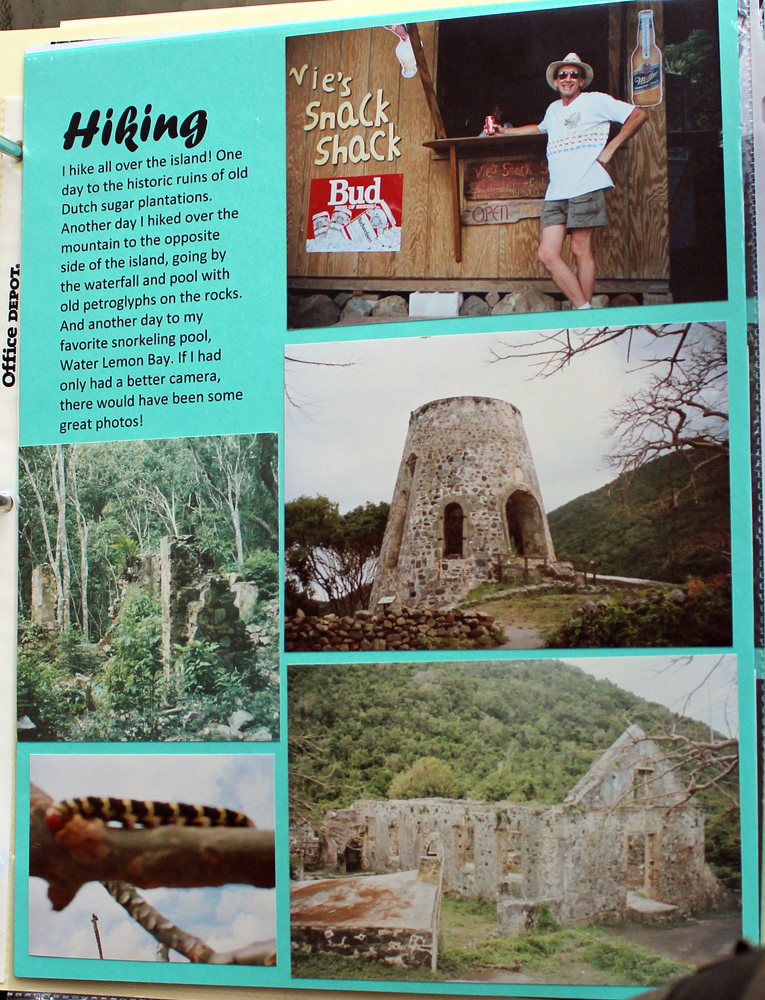 Friday, November 23, 1990
In my tent at about 9:30 PM
Today I went with Norman, Dedi and Alan to Waterlemon Bay with snorkeling gear this time. The neatest, most beautiful experience yet for me! I loved it and felt I could have floated forever watching fish and much other sea life:
At least 20 different colorful, tropical fish
Sea urchins
Large sea turtles
Sting Rays
Octopus
Eel
Some living coral
Sea plants of all kinds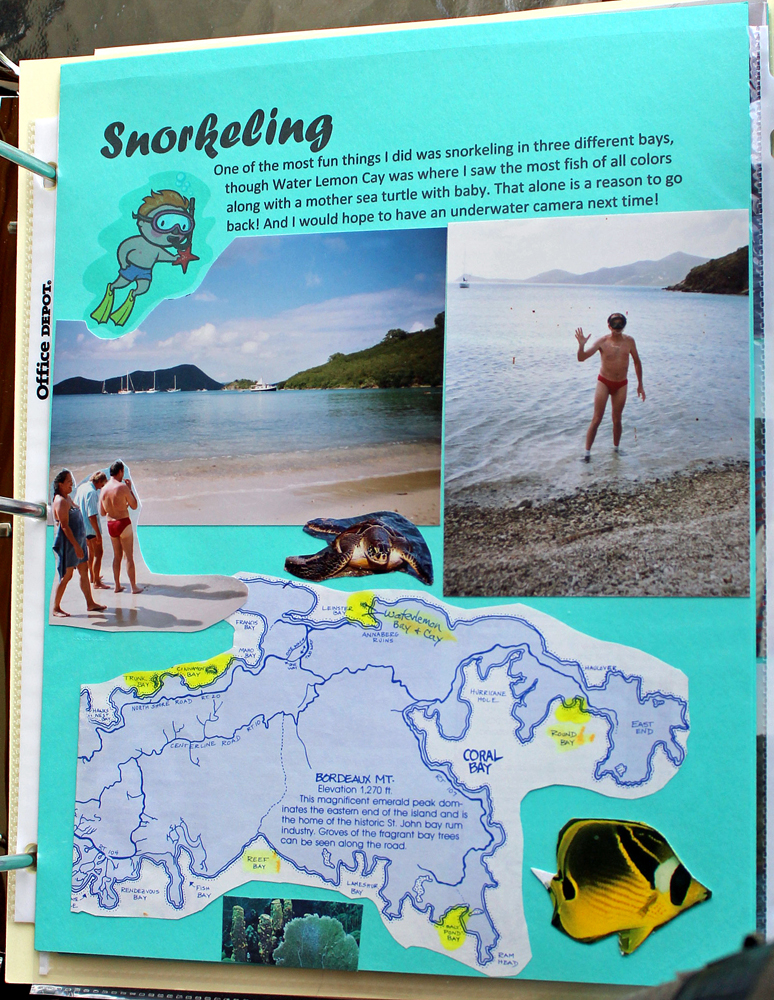 As if that wasn't enough, I signed up for a sunset sailing trip this evening. It was the most peaceful, beautiful activity I've done other than snorkeling, and maybe more so. Rick was the captain for 5 passengers on the Gratia sailboat. The actual sunset was medium because of clouds, but the 2.5 hours of sailing around Tortola and Josh Dyke was beautiful, memorable, and very relaxing. I hope to sail again someday.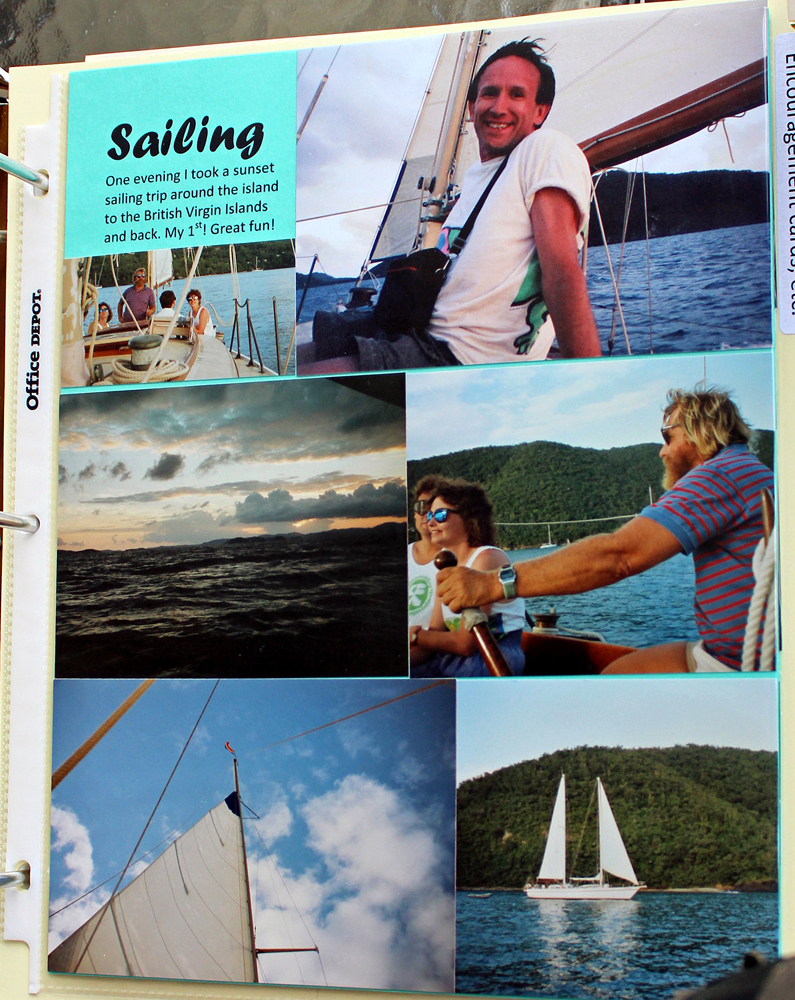 I ate supper in the cafeteria with Alan, Norman & Dedi. I didn't have a flashlight with me to get back to my tent, but a stranger guided me back. Then I got to help my neighbors from Missouri back because they forgot their flashlight too. Took a cold shower (no hot water here) and writing this before going to bed at 9:30 PM.
Saturday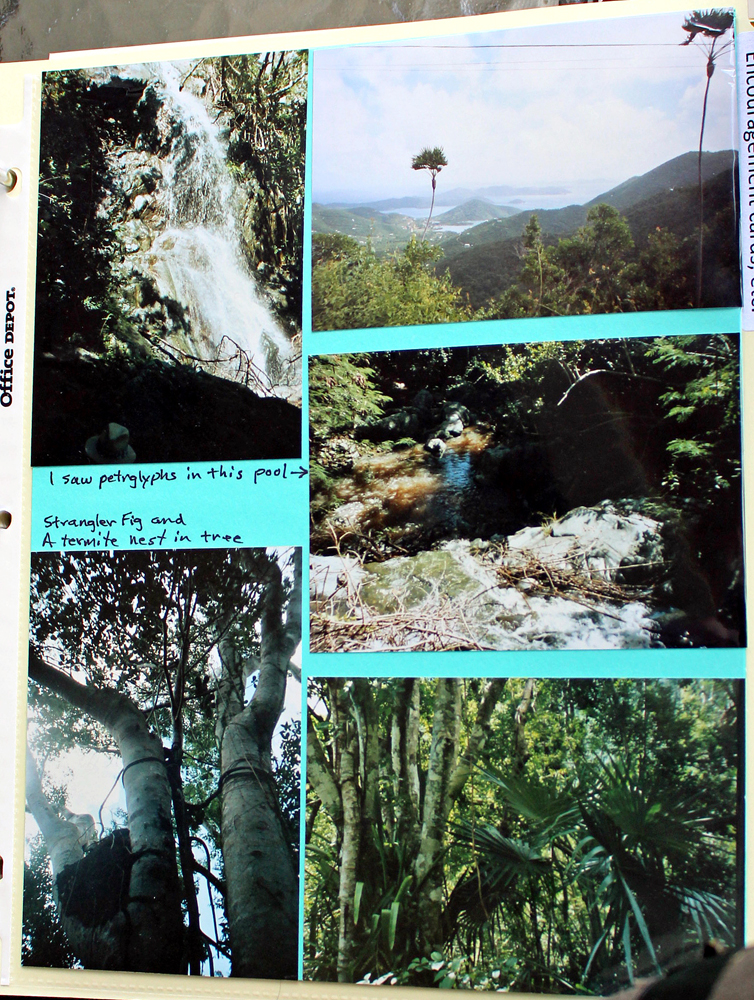 Saturday, November 24, 1990
Reef Bay Beach
I left camp at 9:30 AM hiking 1.1 miles up a mountain on the cinnamon Bay Trail, then 1 mile on Centerline Road to the trailhead of Reef Bay Trail which was about 4 to 5 miles plus 0.6 mile round trip to see the petroglyphs. All of these trails are dense jungle with lots of weeds and insects right on the little narrow trail with no other hikers.
(See above photos.)
This beach is on the south side of the island at the ruins of the old Reef Bay Sugar Factory. I'm about to head back now after I eat my lunch and get a little sun. I expect to be at Cinnamon Bay between 3:00 and 4:00 PM and maybe spend a couple of hours on that beach.
There are just 2 more days after today. Maybe I will loaf more and sight see less, yet this is quite relaxing to me. And I do want to snorkel some more!
Evening in My Tent
I spent 3:30 to 5:00 on the beach herewhich means not much sun or suntan yet – the one thing I expected from this trip. I haven't slowed down enough to sunbathe much, though I wear these bikinis (like everyone else here) when I do. Also I am using sunscreen when on beach or swimming to avoid a burn. I guess I'm getting too much sun protection or just in the jungle too much!
Supper was simple and good, a trail-pak of dehydrated red beans and rice with a little red wine. Then I went to the cafeteria to party with "the group" again. We had more rum punch and visiting. I was so light-headed when I left that I decided right then to stop the drinks – no more after tonight. I will be like the 21 year-old Mikeel from Denmark who was traveling to see the world. He said he would just have "Coke on the rocks." Good idea! I think I have loosened up enough now and relaxed enough. The 10-mile hike round-trip to Reef Bay was tiring, but rewarding and healthy. Glad I did it! The waterfall at the petroglyphs was the most beautiful of today's sights.
Sunday, November 25, 1990
On the beach at Cinnamon Bay
Well, I'm sunbathing again and with a weaker sunscreen. Also the sun seems to be healing my toe blister from yesterday's hike. I hope I can snorkel by this afternoon. A ranger will take a group out at 2:00 and I may go with them. I'm reading, resting, writing, and sunning now. Water conditions are suppose to be better today, but they look about the same to me with a rough surf.
From 2:00 to 4:00 I was part of the National Park Beginner Snorkeling Class. It was great! There was about 30 minutes of lecture on equipment, techniques, coral, fish, safety, etc. Then more than an hour of snorkeling, swimming around the little Cinnamon Cay (pronounced key) which is a tiny little island in our bay. We had views of dozens different corals and literally hundreds of fish of many species. Viewing sea life is like being in another world; fascinating, colorful, peaceful and relaxing. It is also tiring from all the swimming.
I then sunbathed another 45 minutes and was off to shower and eat a dinner in the cafeteria tonight. They had a steak cookout which was very good! Then a park ranger talked and showed a movie on the coral reef before more partying. Only 2 little drinks tonight and no more tomorrow! It is "detox" time! This is the most alcohol I have ever drank in my life (and never did again).
The four girls who brought the blender for mixed drinks each night are going to leave it for someone to share "Blender Party Time" in their place after they leave. They asked for someone to pass it on for them and start a new Cinnamon Bay tradition. It is a cute idea, but drinking is not my thing nor healthy nor acceptable with my faith nor good for our society. Yet, in this case it helped me and others unwind, escape, have fun, socialize and probably sleep at night. I won't do it again for a long time, if ever. I can't afford to become an alcoholic like my Dad and so many others who have let alcohol mess up their lives. Plus I don't want to hurt others. The truth is I could have had fun without a drop of alcohol and will make that one of my goals in the future. That will apply to even future get-a-way vacations like this. But this experience has acquainted me with another side of the world which I don't know very well.
I will not talk about it when I return home – just the tropics! This overall has been and experience of a lifetime!
Tomorrow I may snorkel with Norman and Dedi at a new place.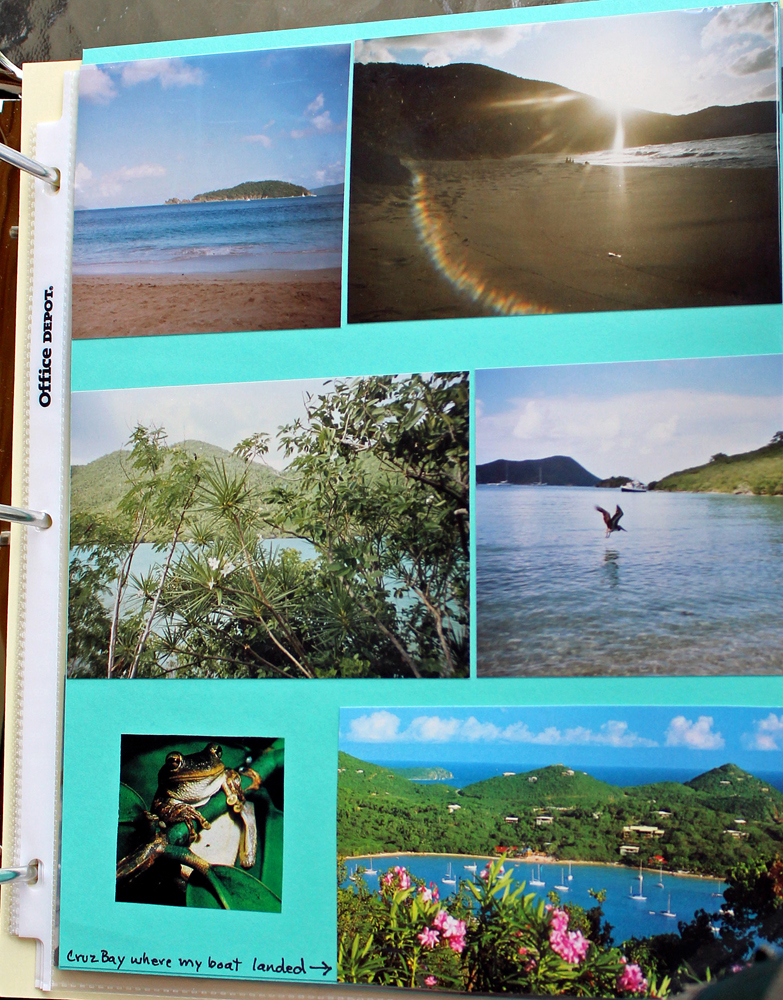 Monday, November 26, 1990
After breakfast I went snorkeling with Norman and Dedi. We went first to Haulover Bay which was beautiful but too rough for swimming or snorkeling. The road there was on a neck of land with another bay on the other side. It was a cove off the larger Coral Bay where we found the perfect calm, clear water with the most living coral yet. It was much better than Cinnamon Bay and had lots more colorful fish. We saw Tandies and Parrot Fish plus a beautiful large, bright purple Fan Coral. There were also orange coral, gold coral, brain corals, fire coral and one called a feather duster coral. This is so neat!
After about an hour of snorkeling we had lunch out on the east end at Vie's Snack Shack. This was all local color! There were colorful chickens, goats, children, tropical plants, and views of the bay. I ate a delicious conch fritter. Norman and Dedi had garlic chicken. A fun break from camp!
We then went to Water Lemon Bay again. The snorkeling was not as good this time, though there were thousands of minnow-like fish, a school of barracuda and best of all several turtles, including a mother and child turtle feeding in the sea grass. This was neat, beautiful and peaceful. I just didn't see as many colorful fish here today as I did the other day when here. No sting rays this time as before. But oh will I ever remember these snorkeling scenes forever. I hope to snorkel many times again in the future.
By now I had decided to spend a dry night in town with a hot shower and a good meal before traveling home. I packed and Norman & Dedi cleaned up. We drove in their rental car by Caneel Bay on the way to Cruz Bay. It is a rich Rockefeller Resort. It would be the place to stay if you had the money!
In Cruz Bay we did laundry at the one and only Laundromat at $2.50 per load. They watched mine while I checked into Cruz Inn, a little bed and breakfast place. I took a shower and still had to wait for my clothes to dry.
I then treated them to dinner at Old Gallery Restaurant, known as the most authentic native West Indies food. It was great! Norman and I tried fungi with onions and ate parrot fish or goo tu fish as it is also called. It was one of the fish we saw snorkeling. I drank passion fruit juice and water with my meal. It was a real feel and taste of the islands.
By then it was 9:30 and time to wind it down for me with a long trip the next day. I slept at the quaint little Cruz Inn with a lizard on my window screen all night to protect me from mosquitoes. It was more comfortable than sleeping on the ground, but the same jungle noises, plus roosters who began crowing at 3:30 AM. Robert, the night clerk and his wife were very nice, helpful and friendly. The room was small with open windows and a ceiling fan. Bath was old and on the hall to share with others. It was a simple, tropical island atmosphere. But without being soggy wet with mildewing clothes and walking in nothing but mud. The rain forest during the rainy season is a tough camping challenge! But I still enjoyed every moment of it and the week is one I will never forget!
Here are my highlights or favorite activities of the week:
1. Snorkeling was my favorite! Beautiful & peaceful!
2. Seeing the most beautiful beaches in the world
3. Socializing with new and different friends
4. Hiking & sightseeing was very enjoyable!
5. Some time alone was planned & helpful, peaceful.
I will do this sort of vacation again and going alone is nooooo problem for me. In fact it is quite enjoyable compared to years of traveling with Ginger.   🙂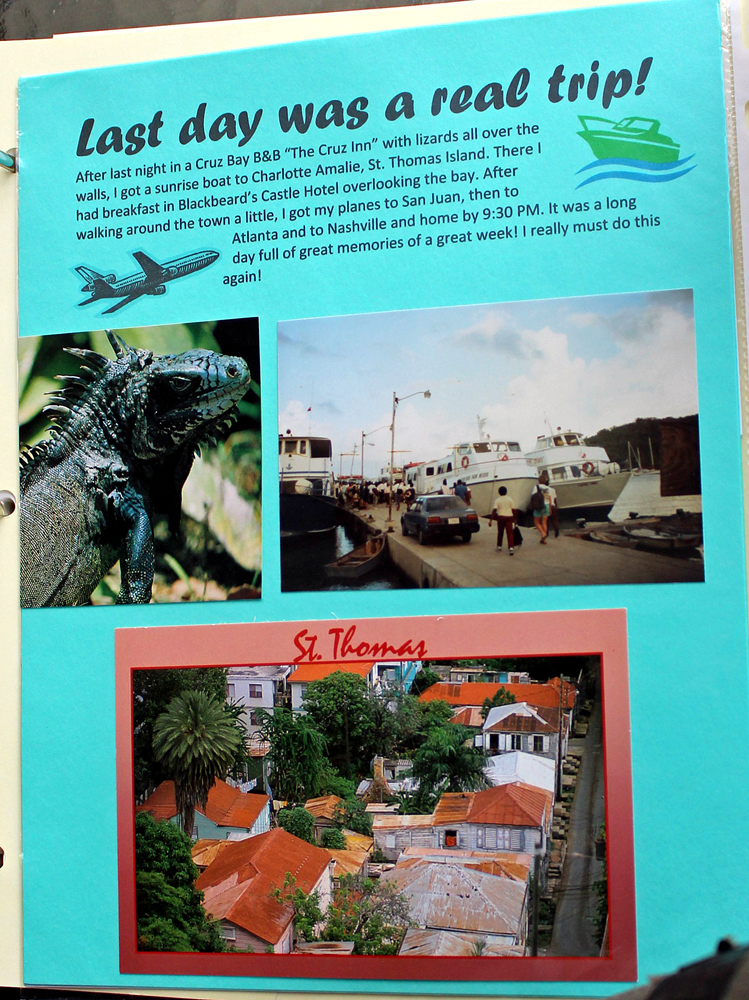 Tuesday, November 27, 1990
I left early from the Cruz Inn for the ferry dock where I met five others from Cinnamon Bay also on their way home. I had a cup of coffee, then off to St. Thomas.
Wow is it busier, more crowded and like a city here in Charlotte Amalie! I like the peaceful St. John Island better! But this is a very interesting place. I left my film in a one-hour photo-finishing place. It was half price because they messed up some of my images. They even gave me 7 rolls of free film, though that doesn't replace the lost photos.
I then stored my backpack in a hospitality center and had breakfast at Bluebeard's Castle on the hill overlooking the bay. After breakfast I got my photos, some postcards, a poster and a taxi to the airport. Everyone I have ridden with or get stuck with anywhere are all so friendly and interesting to be with.
The earlier flight to San Juan had space, so I left an hour earlier. I just looked around in the San Juan airport and ate lunch at a Wendy's and started work on my photo album. I'm on the plane now.
-o-
For just the Scrapbook pages, see my Virgin Islands Photo Gallery. 
For tourist information try this website:   U.S. Virgin Islands Tourism,  but they won't suggest the above kind of simple camping trip which you plan on your own!   🙂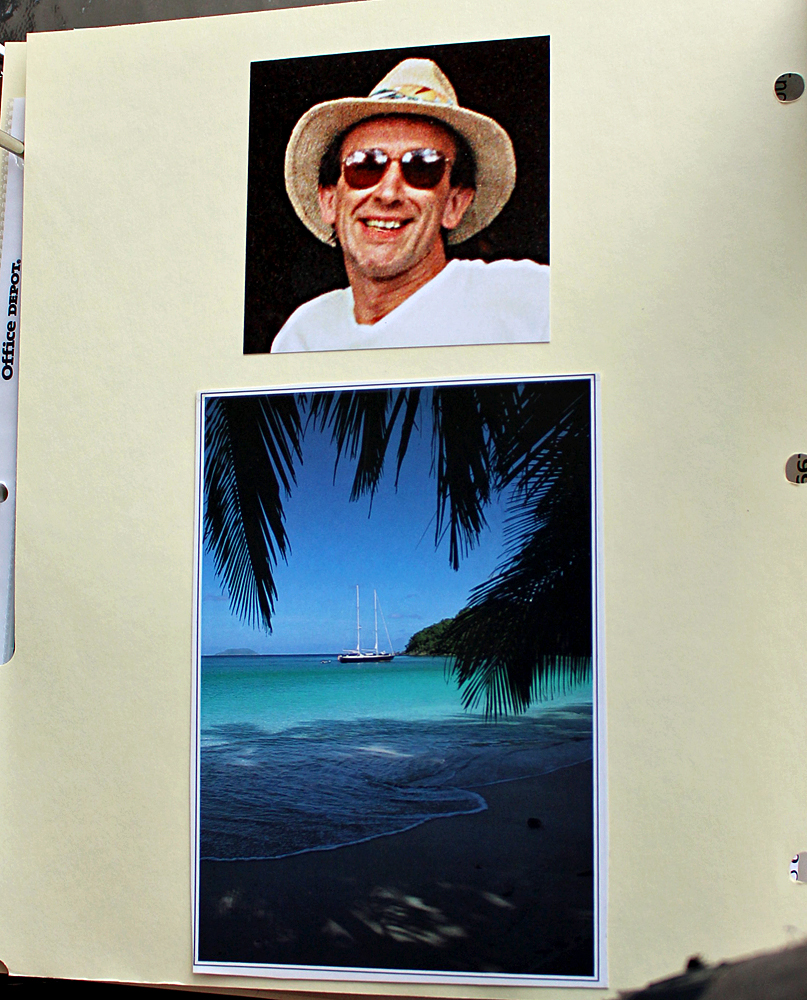 And at the end of the day, your feet should be dirty, your hair messy and your eyes sparkling.   
🙂