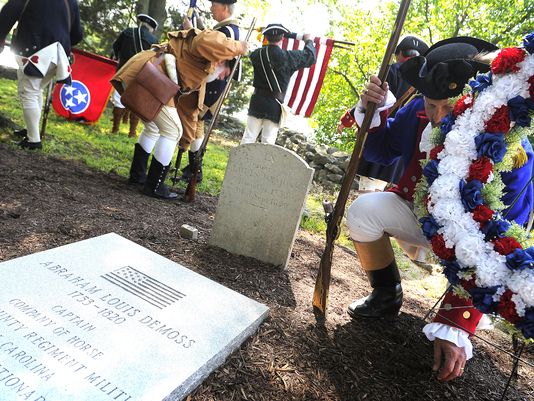 New headstone unveiled for Bellevue founder
By Kevin Walters
kewalters@ tennessean.com
BELLEVUE – The gravestone of Abraham Louis DeMoss, a Revolutionary War soldier and the founder of Bellevue, sat leaning against a tree, a few yards from where he was buried on Sept. 16, 1820.Then Bellevue resident and retired teacher Nina Tackett discovered the broken headstone and set to work.
"I thought 'This is not right' especially since he was a Revolutionary War militiaman," said Tackett, 70. "They should be shown more honor than that."
A year of fundraising by Tackett and other volunteers was capped Sunday with the unveiling of a new $5,000 granite marker for Bellevue's founder at the old DeMoss Cemetery.
About 100 people — including descendents of the DeMoss family — attended the ceremony, which included a history of the DeMoss family from Ridley Wills, a song and a musket salute from the Andrew Jackson Chapter of the Tennessee Society Sons of the American Revolution Color Guard, who dressed in period uniforms.
The new marker for DeMoss won't be the last work to occur here. Supporters hope to raise more money to repair other headstones, said Betty Lindsey, historian with the Campbell Chapter of the Daughters of the American Revolution. About 70 graves are known to be in the cemetery in the River Plantation community.
The importance of preservation increases as development accelerates.
"It's so easy in a developed area, particularly in Davidson County, for sites to be overwhelmed," said Robert Nash, past president of the TSSAR. "Development is the enemy of all types of sites."
Reach Kevin Walters at 615-771-5472 and on Twitter @thekewalters.
The marker is located in the Old DeMoss Cemetery in Bellevue off Todd Preis Drive.
FROM THE TENNESSEAN ONLINE