Before 1948 there were no vacations that I know of except going to Grandmother's house in Fort Smith or Grandpa Doggett's farm in Warren and maybe weekend picnics. But from 1948 there was a vacation trip every summer through 1955 except for '52 when Bonnie was born. For a poor or middle class family in Arkansas, we did well and going to Panama City Beach Florida became the ultimate vacation which we did our last summer in El Dorado, 1955 and repeated from Tulsa once in 1957. The feature photo is of me and Jerry in front of our Panama City Beach Motel Room with our '49 Chevy family car. I believe that little motel across the highway from the beach was called "Borum Courts," probably run by Mr. Borum. 🙂
We went to the Ozarks of North Arkansas and Southern Missouri multiple times and Mother liked that because we could go by Fort Smith to see her mother, plus she loved the Ozarks.
Here's the vacations that I have photos or scrapbook pages from while we lived in El Dorado with trips from 1948 to 1955. It's all I could find on vacations from El Dorado plus one of my school trips:
1948 -North Arkansas Ozarks
All I have on this vacation is five pages from my 47-48, 2nd Grade Scrapbook about our family trip to North Arkansas which of course included visiting Grandmother and cousins in Fort Smith. Though the photo of all us cousins lined up by size may have been at another time other than our vacation trip. I don't know for sure, but I think it was at the Albert Pike Recreation Area between Hot Springs & Fort Smith where we occasionally met for family reunions with Mom's brothers and their kids for a big picnic. The above linked scrapbook gallery has larger file images for saving or printing, but for a quick look here's a slideshow of the photos of web-sized scrapbook pages:
When this young, going away from home anywhere for any purpose is a vacation, so spending time with Grandmother and/or cousins was a vacation too! And notice that on this vacation trip I had my 8th birthday at Grandmother's house with cousins singing happy birthday and eating cake with me.
This is the earliest vacation photos I found and I think they tell a lot about life in 1948 and the quality of photos then. 🙂
1950 Texas & Arkansas Trips ( 4 or 5)
I'm 10 and much more interested in traveling now, with family central to most travel. The 4 or 5 trips this year seemed to have been (1) Going with Dad on a business trip to Dallas, (2) A weekend or day trip to Hot Springs National Park, AR, (3) Family vacation to Devils Den State Park, AR, (4) Staying with Grandmother in Fort Smith which was probably part of or after the Devils Den trip, and (5) a week at Grandpa Doggett's Farm near Warren, AR. The larger photo files for saving or printing are in my 1949-50, 4th Grade Scrapbook as always, while this slideshow is with smaller web-sized photos of the scrapbook pages:
We vacationed at Devil's Den State Park at least twice and loved it there; swimming in the creek, cave exploring and playing in the woods, eating in a restaurant. Dad's business trip to Dallas was for him to buy clothing for his department store and it gave us an excuse to see another part of the world not experienced yet, even though we did not go to tourist places. Mom liked staying in the hotel, but we walked around downtown Dallas some, though I don't remember what we saw this time. Note that we went again in 1955 and wrote more details about that trip. But here is what the 10 year old write to Grandmother Clemmie from Dallas not readable in slideshow: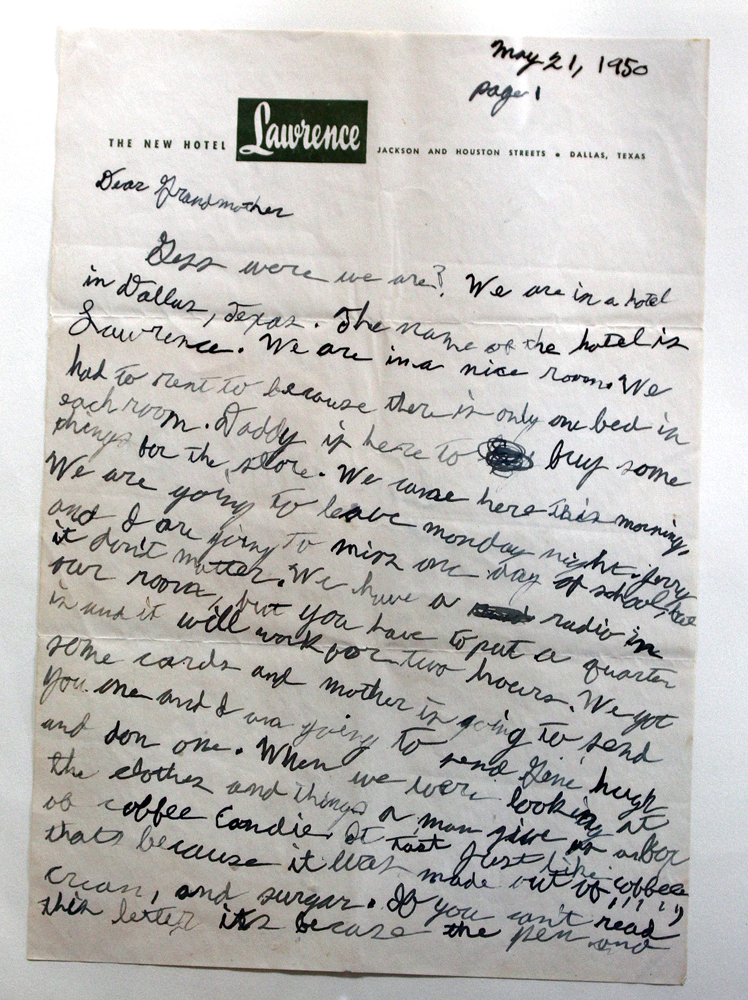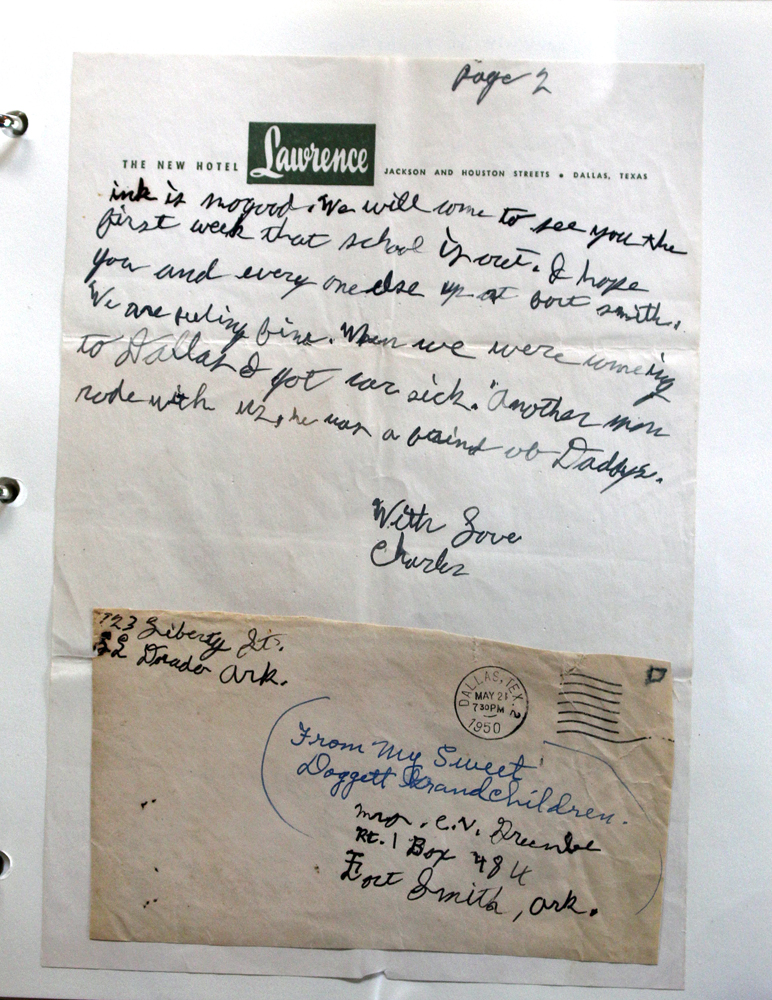 Here is what I said on that scrapbook page about visiting Grandma & Grandpa Doggett:
Farm Visits: About twice a year we would go see Grandma & Grandpa Doggett near Warren. Such a visit to the farm might mean to the hayloft too! It was a treat to us "city" kids, but we didn't care for "raw milk" direct from the cow. I remember how different a wood-burning kitchen stove, coal oil lamps for light, and drinking well-water with a gourd dipper seemed to us!
Summers: Two summers we stayed a week or two which meant taking a bath in a wash tub in the back yard, using the outhouse, helping bring in the hay one year, going to bed soon after dark and up at sunrise! Every boy needs this!
Adventures: We would get to play with some of our Doggett cousins we seldom saw. We played army in the gravel pit, had a cor-cob fight, found petrified wood in the gulch, ate a fresh watermelon in the field where it grew, hide & seek in the corn field, a hike to the creek and one time fishing with Grandma a strange way in the creek. We muddied the water on one side chasing the fish toward her and she caught them with her hands and put them in a bucket! 🙂 All fun things we never did in El Dorado!
Another time we watched a hog-killing and salting for hanging in the smoke house. And on one weekend visit we helped fight an approaching forest fire to protect the house and barn. Wow! What adventures! By age 10 I was hooked on traveling and exploring the rest of my life! 🙂
1951, Devils Den State Park, AR
We returned to Devils Den State Park this year the best I can tell, also seeing Natural Dam and maybe some other sights. The photos I have for this year's vacation are in my 1950-51 5th Grade Scrapbook. I'm questioning one or two of the photos though because I think I look like an 11 year old in all but the one in front of Natural Dam Sign and us three guys walking down the road in which I think I look older – but maybe just my imagination because Bonnie is not around, so I can't be a teen. Oh well, check them out in the scrapbook or here's a slide show of the 3 pages from that vacation:
Nothing else about travels in 1951, though I imagine we saw both sets of grandparents at least once.
1953 Missouri & Arkansas Ozarks +
I turned 13 this summer and I considered the vacation trip very good, even if I was in my first year of teens! 🙂 And I remember much of it, though not positive this was the year we stopped by Dogpatch USA amusement park near Harrison, it probably was and I just don't have photos. It was not much, but fun for kids.
In addition to Marvel Cave we also saw Hurricane Caverns, "Shepherd of the Hills" (book Mom had read) country and all the places in that book story which were only important to Mom. 🙂 But interesting to us. And this was Bonnie's first family vacation which she was probably too young to remember, but fun to have a little sister along for the first time.
The photos include either other trips or stops on our way to the Ozarks: (1) At Harold & Lulu's House, (2) Picnic with Gene & Iris family, (3) Gene's family at our house, and (4) A stop at Dick Huddleston's General Store near Van Buren, AR made famous on the Lum and Abner Comedy Radio Show. These are all from and are bigger in the gallery 1952-53 7th Grade Scrapbook, reduced here as web-sized:
And that is what vacationing in the Ozarks was like in the 50's. Though no photos at Grandmother's house other than the meal with Harold's family, I'm sure we stopped there either on our way to or from the Ozarks. This was my first trip as a teenager and I was coming to love travel and want more!
1954 Camping with Dad
Okay, so this was not a total family vacation but one for me and Dad (part of family) on Labor Day Weekend as the only time he ever took me camping, fishing and hunting. We went with one of his men friends to the Albert Pike Recreation Area in the Ouachita National Forest on the Little Missouri River, northwest of El Dorado or southwest of Hot Springs. I was a good place and I enjoyed it.
I find no record of the usual family vacation in 1954 and suspect that Mom was not well and didn't feel like a trip. She seemed to never be well after Bonnie's birth. But we did visit relatives and thus I include a favorite photo of us 3 kids with Grandmother Clemmie as one of this year's trips, evidently in the winter by our clothing, probably at Christmas. The three photos here are web-sized but are full sized ones are in the 1953-1954 Scrapbook, 8th Grade.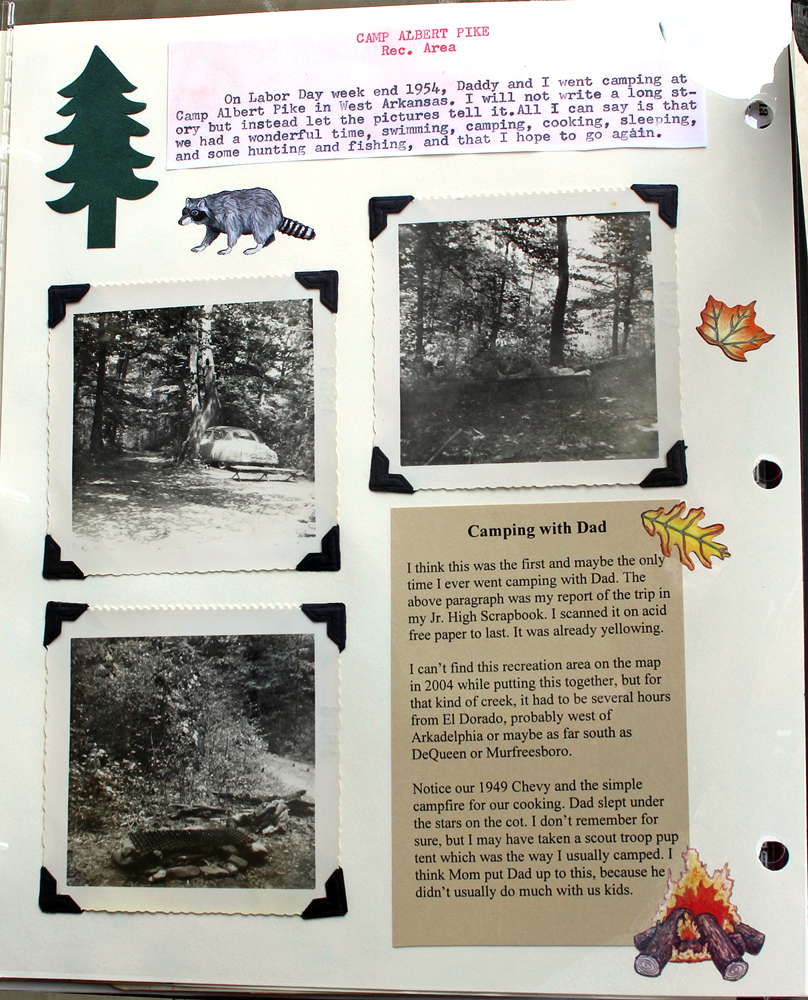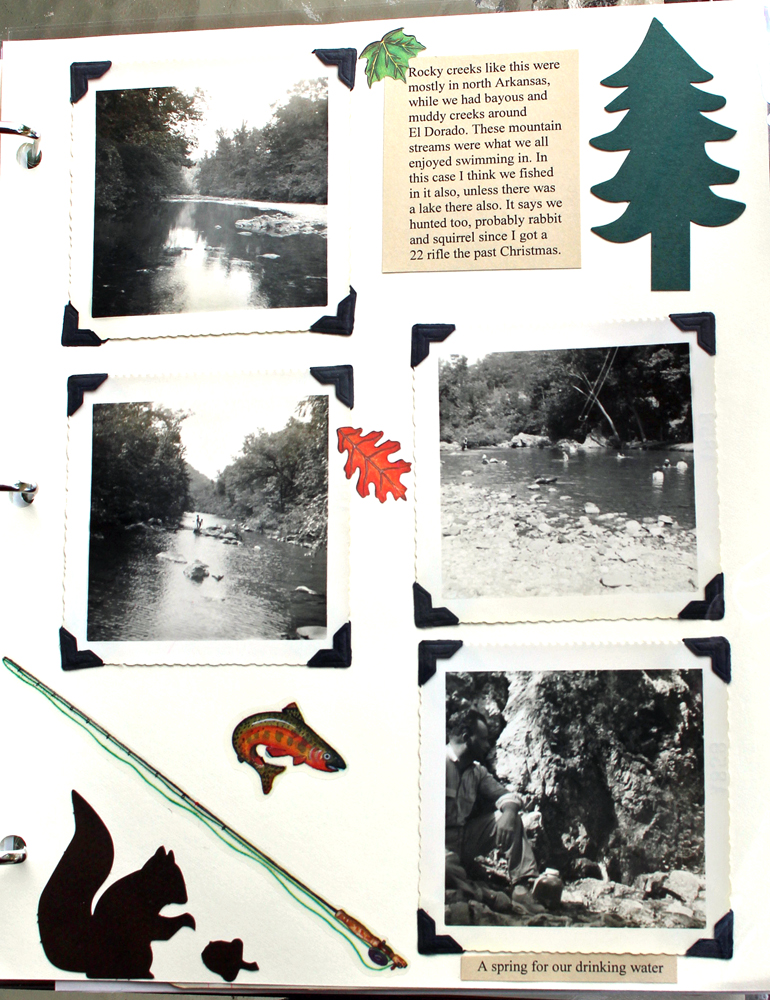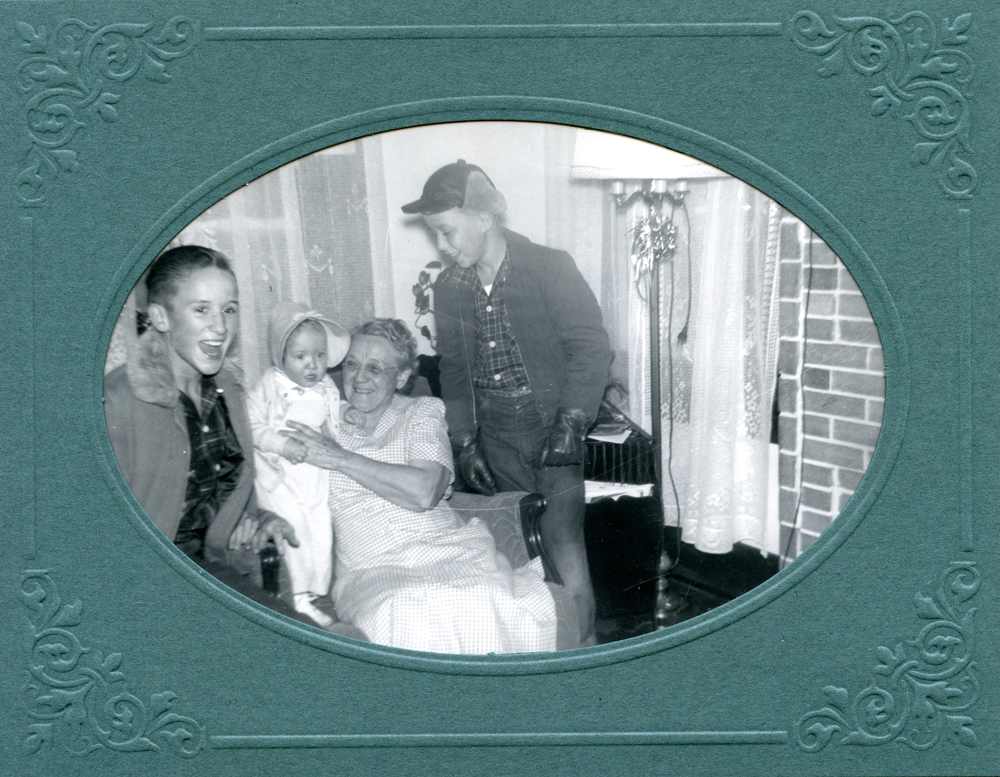 1955 Arkansas & Texas Trips before Panama City Beach, Florida
I was really getting into travel by 1955 and loved every bit of it back then like now!
Band Trip to Hot Springs
During the school year I had two school trips, one with the band to a state-wide band competition in Hot Springs National Park where me and another guy entered a cornet duet contest right after hiking up a mountain in our "free time." Needless to say, we were winded and didn't get real high marks on that one! 🙂 No photos or souvenirs.
Trip to Fort Smith & Grandmother's House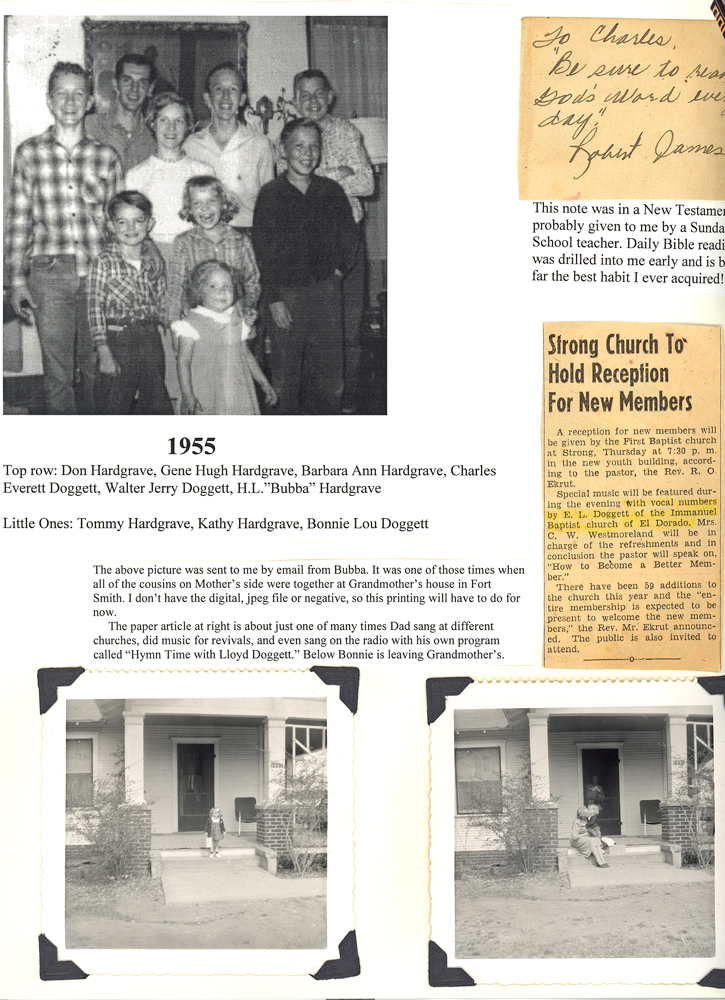 School Trip to Little Rock for Historical Buildings
It appears that I was wanting to be a travel writer back then! But the photos do not go with the copy! My article is about the current state capitol of which there are no photos here! All the photos are of the two historical former capitol buildings in Little Rock. Oh well, I did some sloppy work as a Junior High kid! 🙂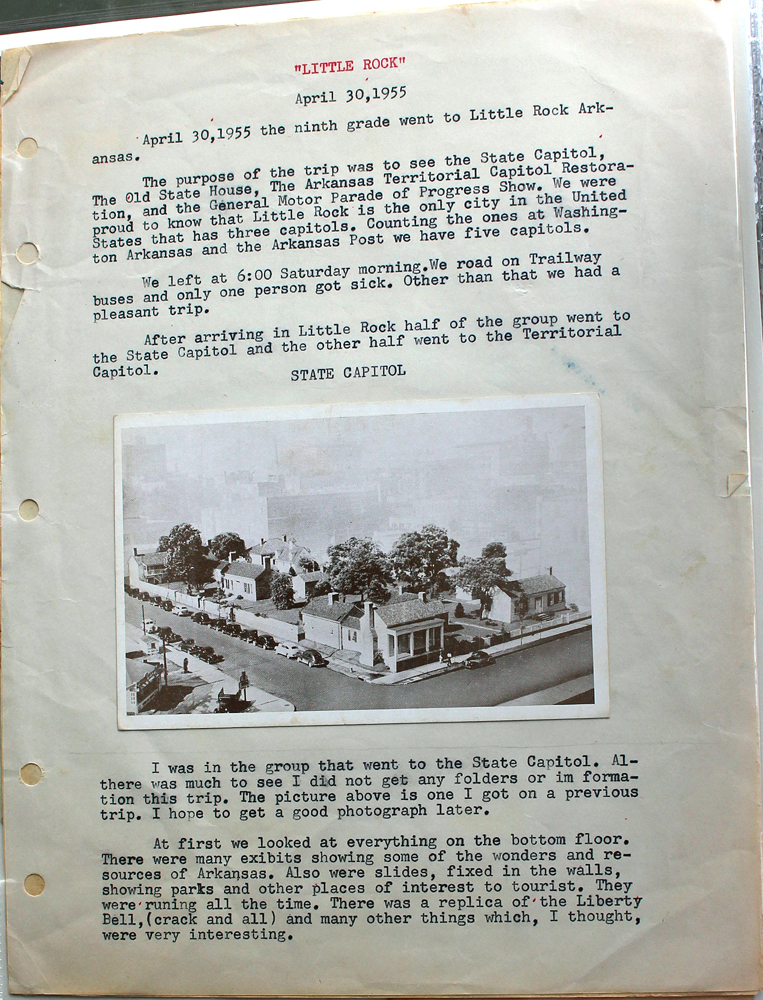 With Dad on Business Trip to Dallas
This was at least a second trip to Dallas with the family going with Dad to buy clothing for the department store (See above 1950 trip). I have no photos but here is my sloppy penmanship and spelling. 🙂 I should have been better as a 15 year old! It is on hotel stationery and pretty much tells the story. And maybe this is another effort at being a 15 year old travel writer! Sure wish I had photos, but they were less ordinary and more expensive back then.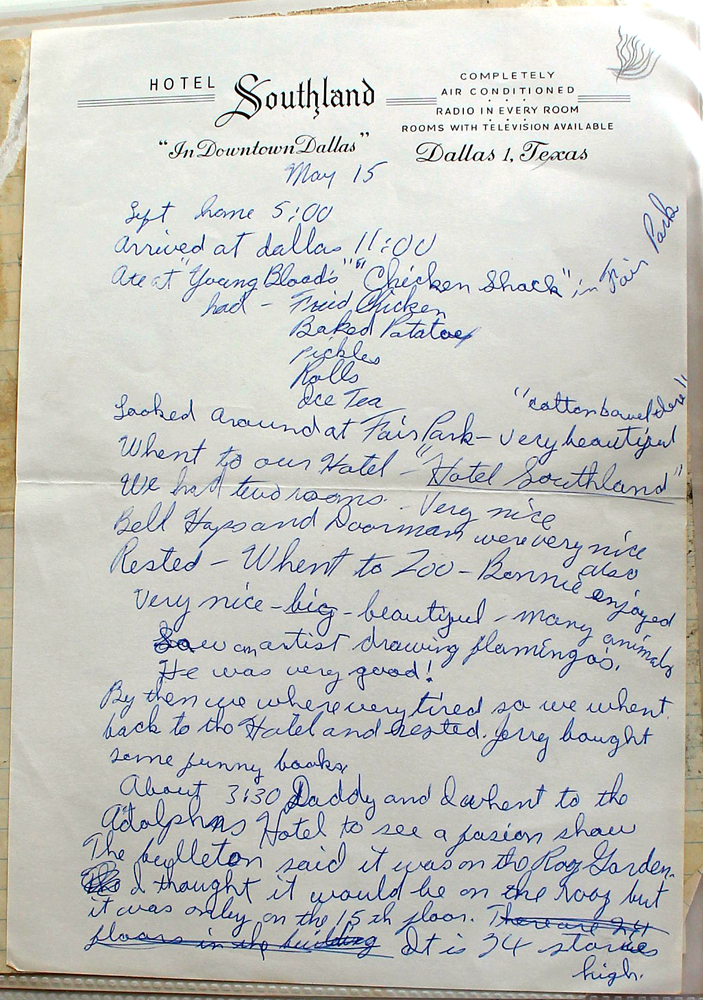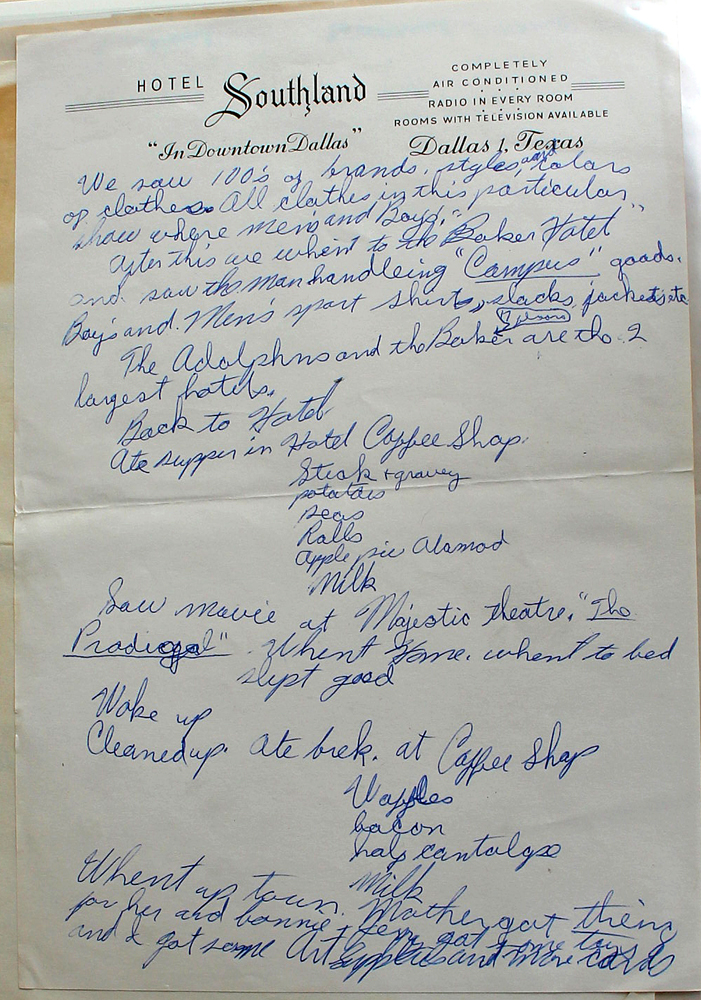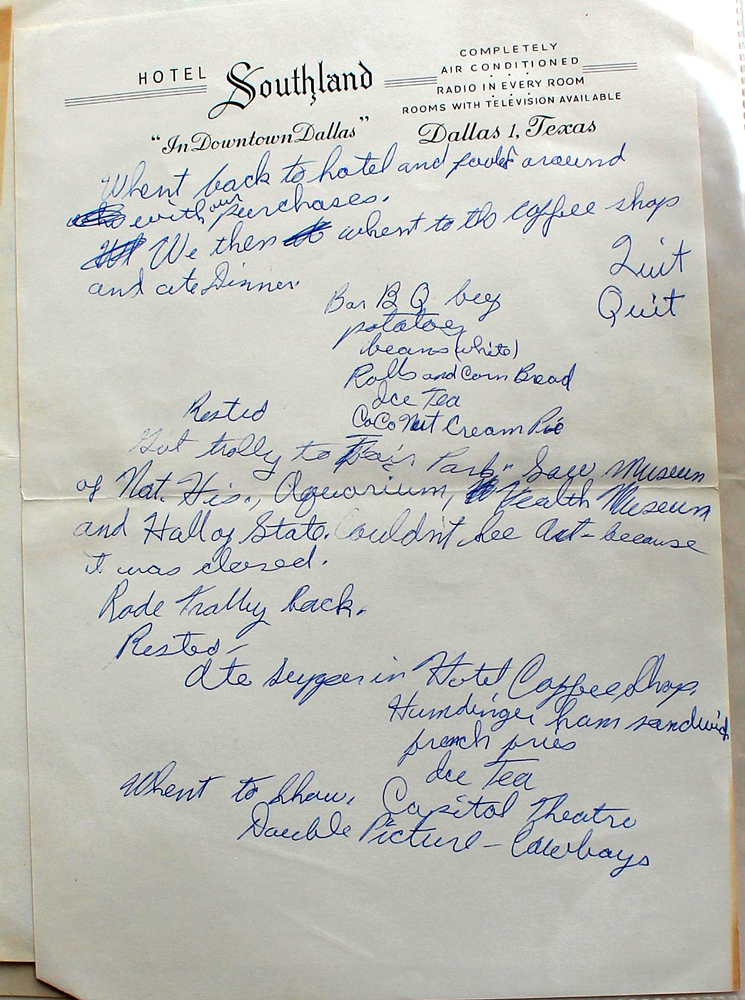 The Big Florida Vacation
This was our biggest and best vacation yet Jerry and I thought, since we would each see the ocean for the first time. And Bonnie too! Though she was too young to have the sense of adventure that Jerry and I had. Why, I even buried a bottle in the sand with a message in it and a couple of weeks later some kid from somewhere else wrote me that he found it! 🙂
The slideshow below is of the Louisiana-Mississippi-Alabama-Florida trip. The scrapbook pages are what I did then as a 15 year old with a new portable typewriter and my collection of post cards, other souvenirs and the few photos we made. Again, looks like I was trying to be a travel writer way back then! 🙂 The same photos are larger and more readable in my 1954-55 Scrapbook, but this slideshow is a quick overview of my 30-page vacation scrapbook back then . . .
In 2020 it is interesting to see how important the old south Confederacy was to people back then while watching Trump supporters today trying to revive the confederacy again this many years later. Scary!
"Travel is the only thing you buy that makes you richer."

~Author Unknown
BACK to the El Dorado Page or the larger Family of Origin Page.
¡Pura Vida!