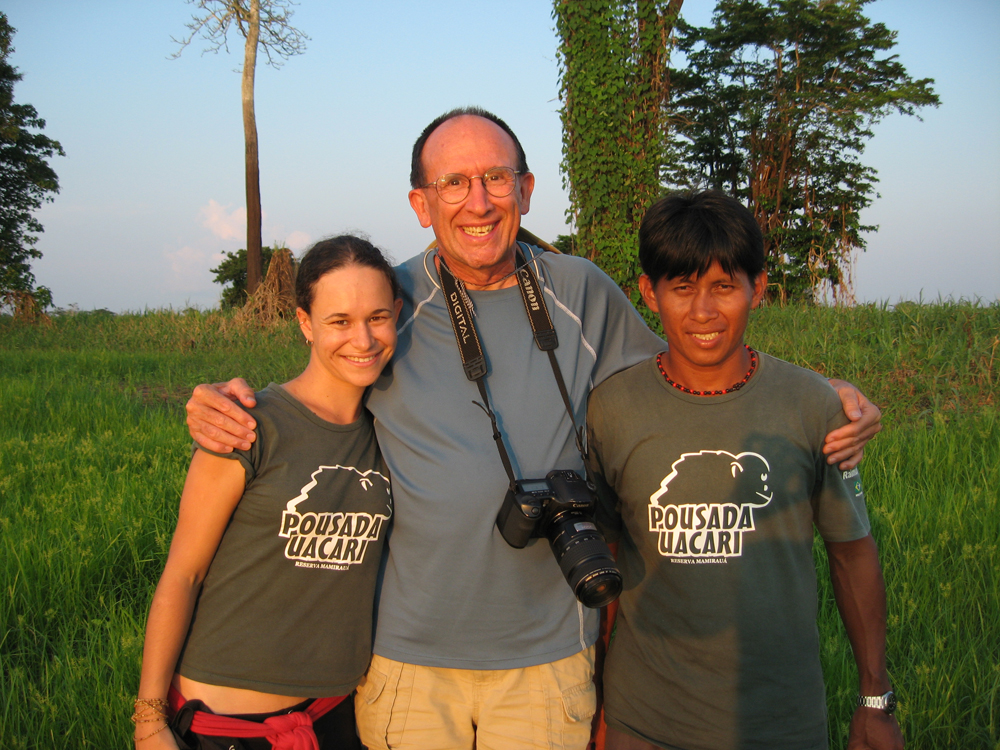 NOTE: This trip was preceded by an Amazon River Mission Trip (17-23 Aug) – this link is to the Journal entries for that part of the total trip which was mostly on the Purus River, a tributary to the Amazon. The below journal includes two days in Manaus before traveling to the jungles of Mamiraua Reserve.
Though a few illustrative photos are included in this journal, see my PHOTO GALLERIES for all of the photos from this trip:
Mamiraua Reserve Rainforest Trekking GALLERY
Purus River Amazon Mission Trip GALLERY
---
Journal
And now the day by day description of one of my best tropical adventures:
Thursday, August 24, 2006 – Purus & Amazon Rivers to Manaus
Plus My "MANAUS ADVENTURE" Before Jungle Trekking Mamiraua
Up early on the Marco Polo boat and on down river to Manacapuru Port near Manaus after breakfast. It was a nice trip and final visits with the mission team and all our new Brazilian friends. When we crossed over the Rio Negro on the ferry I said goodbye to all the other mission team members who were all going to the airport and back to Nashville. Never wanting to miss another adventure opportunity, I got a taxi to my Hotel for three nights, The Tropical Manaus Hotel. It is huge and very nice though mostly old, colonial style with one modern tower of newer hotel rooms. I'm in the old part which is more interesting, colonial and colorful. (Since writing this on the trip I have learned that the modern tower is separate now as a Wyndham Gardens Hotel and that the old hotel I was in went bankrupt and closed. Hope someone saves it – a cool old hotel!) Thus there is no link to it.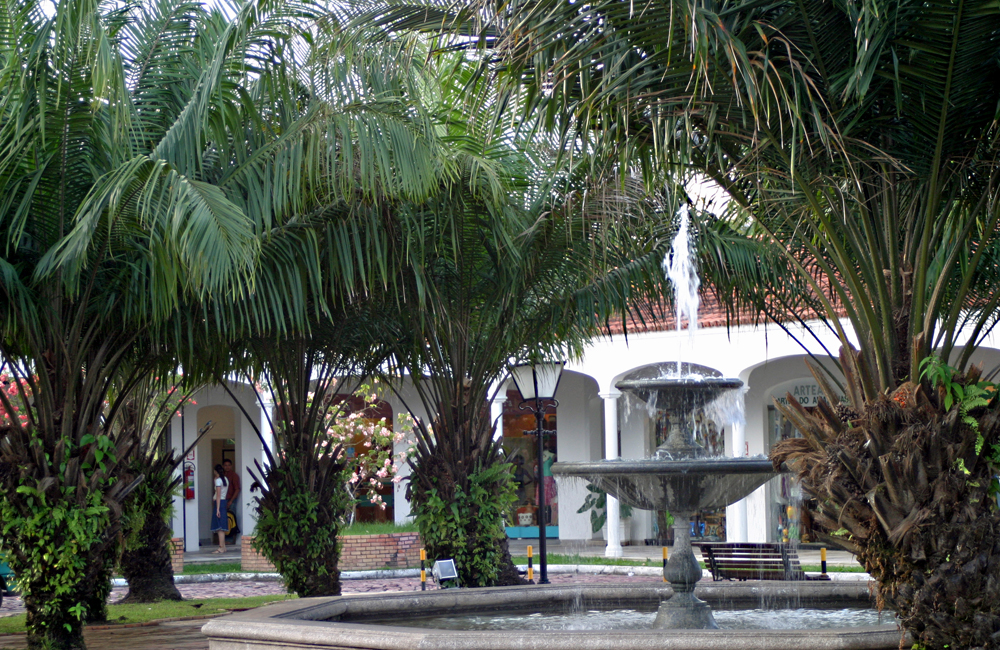 I had lunch and met my local travel agent so we could discuss Saturday plans. Then I explored the large hotel grounds and got on a list for a plane trip over the "Meeting of the Waters" where the two different color rivers come together, Amazon & Negro. They must have at least two people to fly, so I hope someone else wants to go. I will check back with them again in the morning.
I also plan to meet the biologist in the hotel zoo tomorrow, check email, rest, swim, and play with my photos – possibly a full day tomorrow!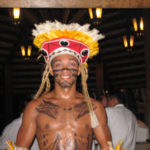 Tonight I went to the dinner show off Indian dancing which was really good but not real indigenous people. They were all college students (or that age) doing what might be authentic cultural dances or just story-telling about the indigenous people of the area. But whatever, I really enjoyed it and now it is after 10 and I'm off to bed!
Friday, August 25, 2006
Wow! It is already 2:15 PM! I was in bed a full 8 hours with about 4 hours of deep sleep and the rest off and on as usual with the CPAP machine. I have decided to not take it to Mamiraua. Hope I don't regret that, but we are limited in what we can carry on the "speedboat" to the reserve. I even plan to do without it tonight so I won't have to pack it in the morning. That means 6 nights without it. A real test! Hope I get enough sleep.
After a huge breakfast (A "Tapioca Omelet") She used tapioca in a skillet to make something like a crepe. I chose the ham, cheese, tomatoes and onion in mine. They also had fruits and jellies you could use. Then I got several cool pastries that are all so good here! All that with 2 cups of coffee and finished with a plate of fresh fruits and a glass of orange juice to wash down my morning pills. I will miss all that tomorrow! I leave too early!
After breakfast reading my Amazon Wildlife book, I checked with the seaplane people to see if someone else had signed up. No! I even checked with Maristela for some other option with no help.
Then I went swimming and sunbathing & reading a little until it started raining. I've spent most of my time since backing up and erasing my photo disks to be ready for Mamiraua. I took a walk around the pool close to me and through their bosque or forest, photographing some interesting plant life and one yellow and black bird too far away.
One of the times I was in the room, right after the rain I think, the seaplane guy called to say he had another single passenger wanting to fly and they will do it for the 2 of us. So I am scheduled to meet them at 4:00 PM and fly out at 4:30 PM – a 20 minute flight over the city of Manaus and "The Meeting of the Waters" where the Rio Negro and Rio Amazon merge but don't mix at first, meaning a two-toned river for awhile. I'm looking forward to this and hoping for some good photos. Then tomorrow my water taxi/bus might drive through it. We will see.

I love the Amazon and all of the people! Plus this hotel is really nice! Even the old colonial par that I'm in. This feels more like Brazil than a new one would. I love the colonnades, many courtyards and fountains and the rich-looking gardens with tropical flowers of course!
I have seen 3 swimming pools and there may be more. The one just out my window has a waterfall, fountains and multiple sections or walled off areas. And they have a wave pool here!
Their "Zoo" is great for kids but would never pass AZA rules! And the cages don't allow for good photos. The biologist who was supposed to guide us through it this morning never showed up! Nada!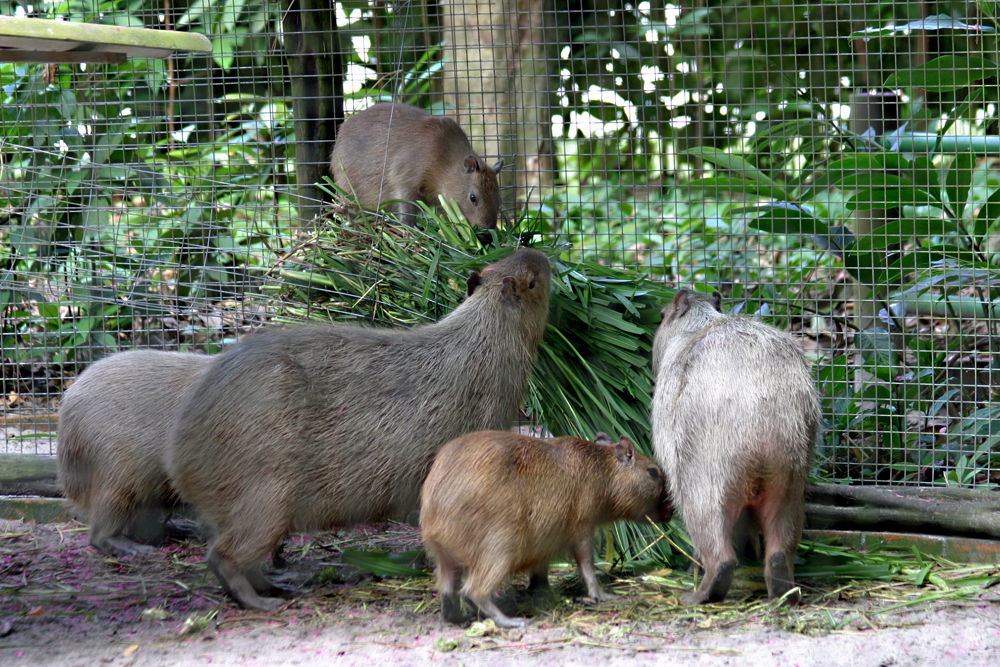 I'm missing lunch today. I had a granola bar and water earlier. I'm now tempted to get the can of cashews and the Guaraná Drink in the mini-bar. I love this distinctive Brasilian drink made from the beans or fruit of the Guaraná Tree that grows only in the Amazon. They pronounce it with a rolled "r" in the middle that sounds to me like  "Gwa – ta -naa."
Well, nearly three, so just an hour to play with photos and have my snack before the plane ride.
7:45 PM
The second person for the seaplane trip did not show up after we waited until 4:30. The price for a solo trip is R700 but they gave me a special price of R550 making the discounted price about $200 for me and I accepted it because I was really pumped to go, though I thought a little expensive, but then planes and pilots are expensive!   🙂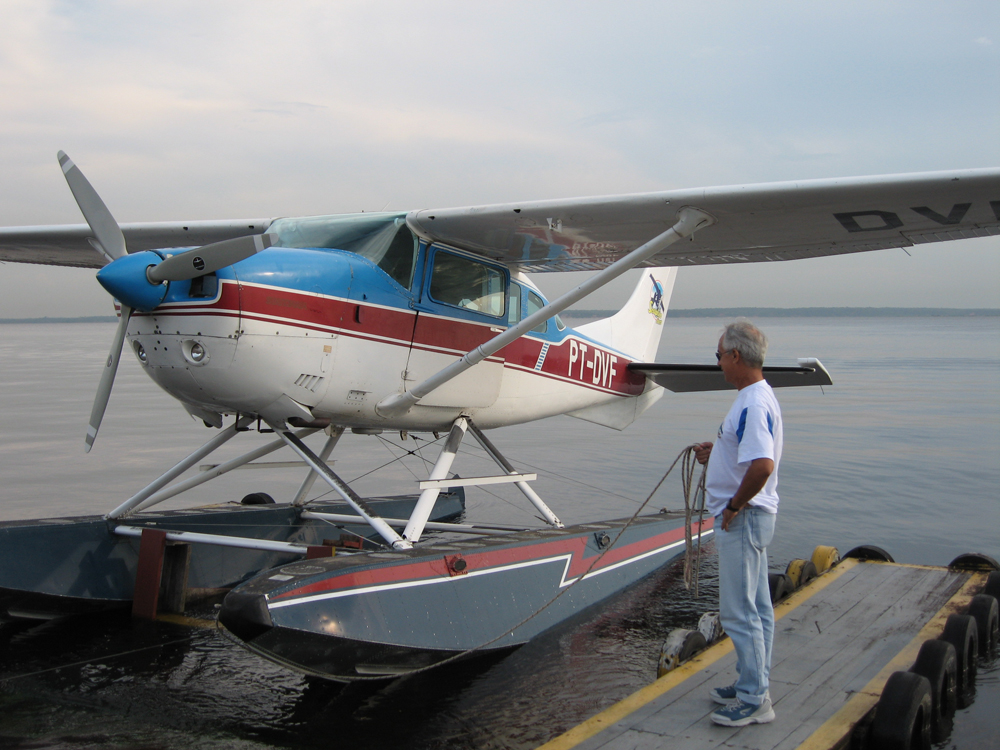 It was a great experience and worth the increased price! My first time in a seaplane which took off from the water of the river by the hotel. The views of both rivers and the city of Manaus were great. I hope the photos turn out okay.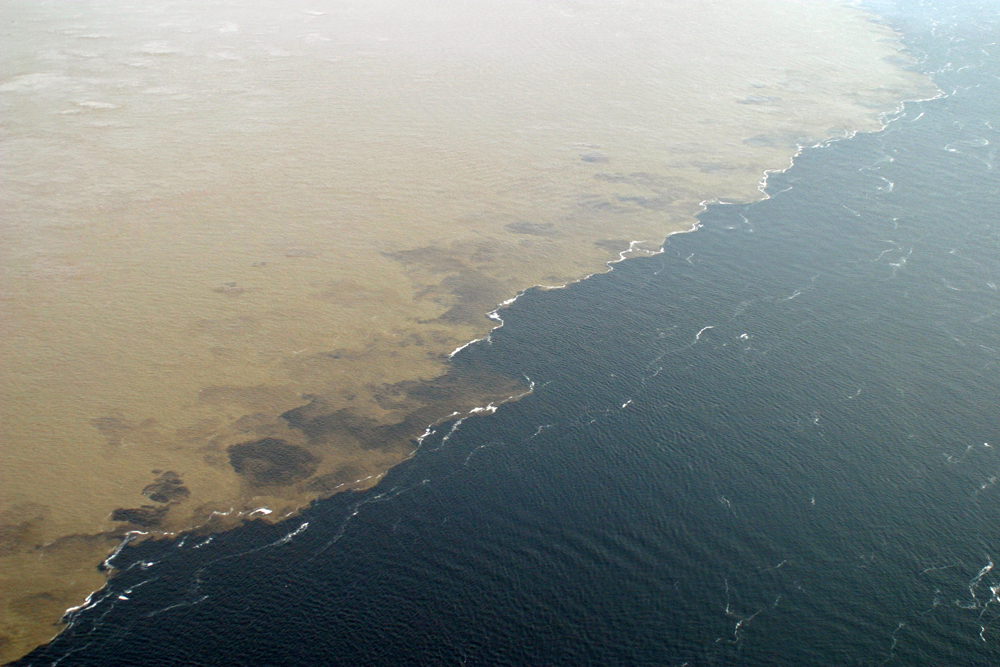 I then dumped all the images off my cards and charged all my batteries in preparation for the jungle tomorrow. I'm getting excited!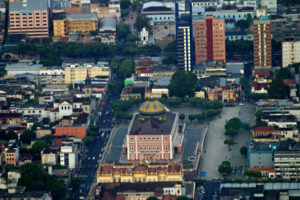 Then I had dinner as a sandwich or Brazilian hamburger in the little cafe next to the coffee shop which is also next to a game room with pool tables and other game tables like for cards and gambling with green felt tops. I had a unique Brazilian ice cream made from the fruit of some tree that was fabulous! I hope to get the name when I'm back here the 31st.
I'm going to organize photos for awhile then off to bed. Alarm is set for 5 AM.
---
P.S. EXPLANATION OF WHY THE BOAT TRIP TO TEFE TOMORROW:
My original arrangements were to fly in a small plane from Manaus to a little landing strip in Tefe, the closest village to Mamiraua Reserve and the Uacari Lodge. The last week before coming down for the mission trip I received word that the little plane airline could no longer fly to Tefe because the Chief of the village had moved their garbage dump to near the landing strip, bringing vultures and other birds that can cause a small plane to crash. "But don't worry." the travel agent said, "We have arranged a speedboat for you to go up river, meaning that you see more scenery. And since it takes 12 hours, your first night will now be in the little hotel in Tefe." I understand that some people canceled because of that, but me and one other solo guy from Paris, France did not cancel and we were the only 2 in the lodge that week.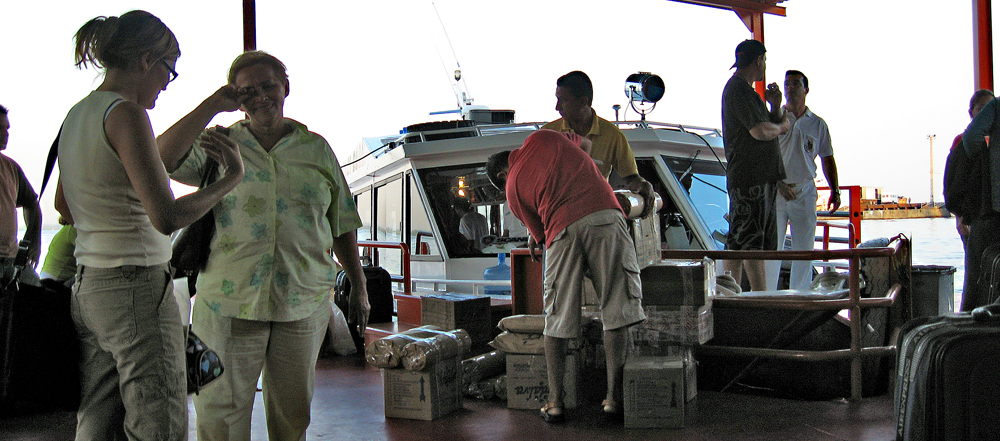 ---
Saturday, August 26, 2006 – Boat Trip to Tefe, Brazil on the Amazon River
My next adventure is beginning! Up at 4:47 AM. I decided to take the CPAP after all since I did not sleep well without it. So before checking out I had to retrieve it from the stored bags. Then I checked out of the hotel with them promising to take care of the bag I left with them.
I did not sleep much last night, just short spells. I may have woken every 15 minutes it seemed, and my mouth was dry all night, waking up with a sore throat, plus my legs were stiff or hurting which is another sign of Sleep APNEA. It looks like I am destined for the CPAP the rest of my life.
After visiting with the nice desk clerks I was taken to the Port of Manaus by Maristela's brother for US $20. It is a long, covered boat with windows all around and air-conditioned! It is more than I expected! It's more like a floating bus with a center aisle and two seats on each side like a bus, plus a bathroom and kitchen in the back. I was assigned Seat #4 and I hope it is by a window for my photos.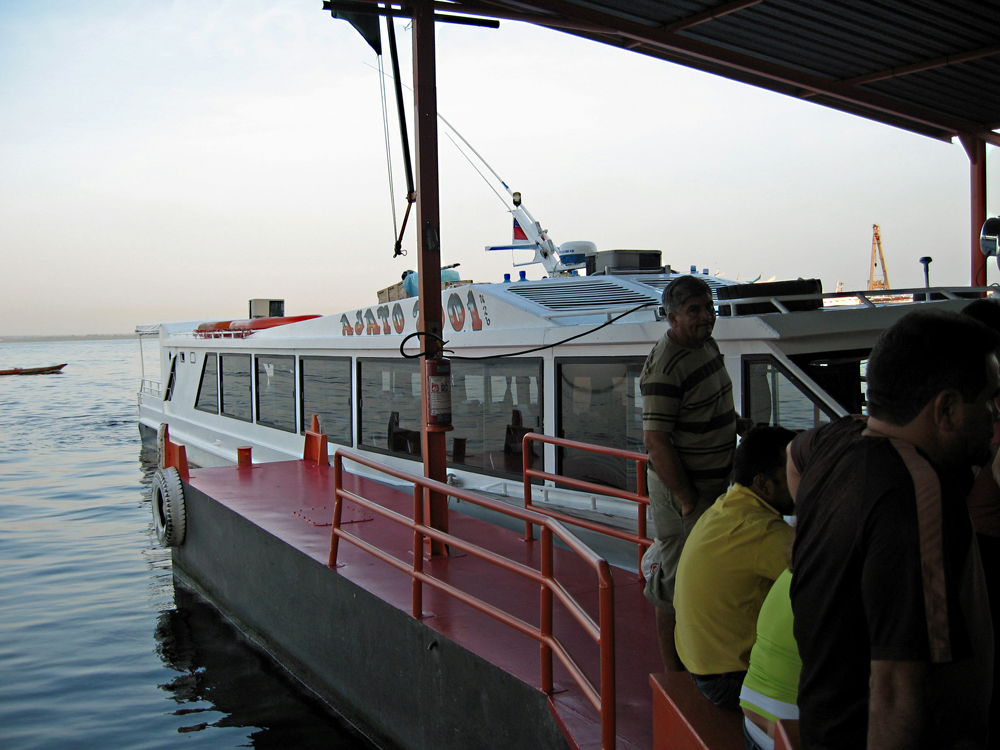 The dock is packed with people, luggage, many boxes of freight shipments I assume, etc. It looks like it is going to be a full boat. So far I have found no one who speaks English including my car driver to here. They are selling breakfast food on the dock. I got a ham & cheese sandwich and coffee for R2 which is about a US $1. Not bad!   🙂
I just gave up my seat on the dock park bench to a lady. Hey! I will be sitting all day!   🙂   It is scheduled to be an 11 or 12 hour trip arriving in Tefe at 6 or 7 PM. They still haven't started boarding people yet, just all the luggage and freight, but it is 6:50 and we are suppose to leave a 7 AM.
I'm on the boat now! As expected, it is packed! Maybe every seat. It is less roomy than a greyhound bus, but I'm thankful to be by a window on the right side up front. I'm shoulder to shoulder with a guy on my left who does not speak English and I only learned a few phrases in Portuguese. And my knees nearly touch the legs of the guy in front of me who is in a seat facing the aisle. Twelve hours packed in a sardine can – wow! But it is part of the adventure and I will read my wildlife book now.
11:00 AM
They just served lunch which seems a little early to me, but I will eat. It is a dry fish hash or chopped up fish with vegetables, white rice and brown beans plus the ever-present maniac crumbs and a banana. I ate all of the beans and rice, some of the fish hash, all of the banana and a little cup of Coke. Some have been drinking beer all morning and the increased volume of talk and laughter seems to indicate it, and the smell.    🙂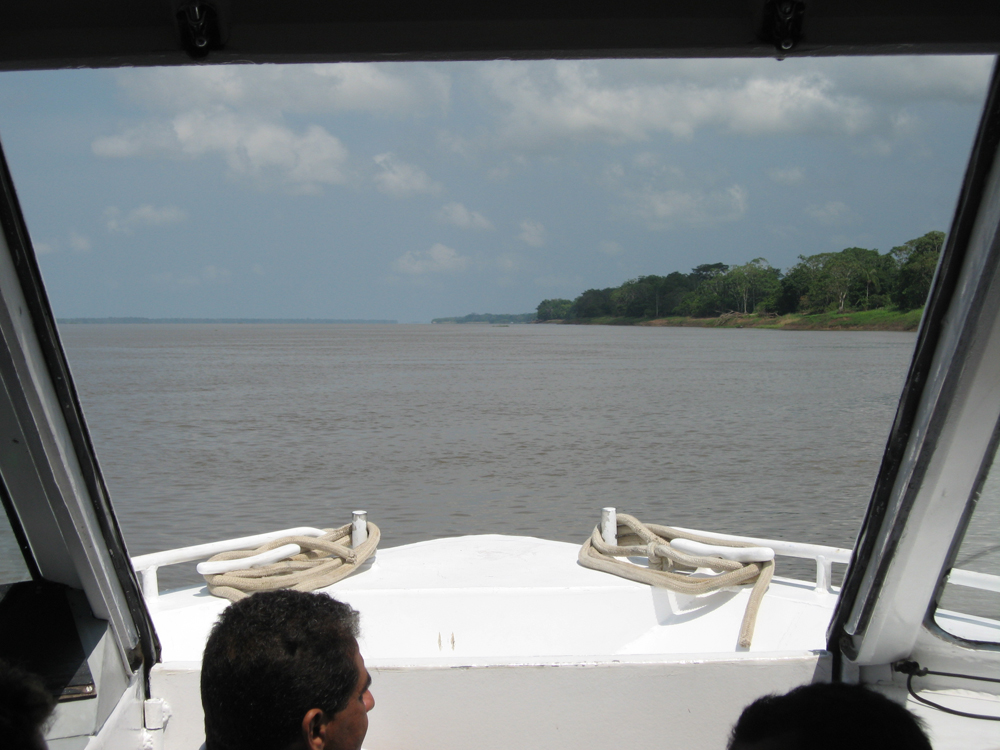 I've  made only a few shots with my little pocket camera, missing some good ones because I am so conspicuous, sort of standing out in the crowd of locals as the only gringo tourist, especially when I bring out the camera! I'm going to hope I get all the shots I need at Mamiraua! But I was pleased to photograph a moth on the dock before we left.
The passengers seem to be all Brazilian except me and maybe one casually clad young man in the back. I have been wondering if he is going to Mamiraua with me. I should know by tonight if I don't get a chance to talk with him before then.
This Discovery Channel Insight Guide to Amazon Wildlife is very good and broadening my insight into the whole Amazon and maybe I will see some of it for real and hopefully get some good photos. Of course much of the wildlife, like the cats, are nocturnal and we will never see, but hopefully some birds and maybe other creatures.
The boat is very fast! So my travel agents description as a "speed boat" was fairly accurate. Hope we don't hit anything! With the front windows open we have not needed the air conditioning yet. It is hard to believe that we still have 7 or 8 hours before Tefe! I am already tired and getting sleepy but can't sleep like this! I will try reading again.
There is a beautiful child on board, about 2 years old I'm guessing, who is entertaining all the passengers. All of the people are so friendly. I just wish I spoke the language!
The crew is putting out some bags for what I assume will be a stop soon. I was beginning to think it was non-stop to Tefe. Well, we did not stop in a town, but to transfer a family to another, smaller boat at the mouth of a tributary. I think we are beyond the Purus River and this one looks smaller too. And it looks like the cute little 2 year old boy left with the family.
After that we did stop in a town with a name that sounded something like "Pavie" to me but I doubt I spelled it right! At the dock a big gang of young men were greeting what I'm guessing is a soccer hero and their coach who got off the boat here.
4:00 PM – We stop again at a much bigger town with a name that sounds to me something like "Tucumcari" but again probably not spelled right. Many people got off here but almost an equal number got on for the continued trip up the Amazon River. It is an interesting "collectivo" style floating bus that changes passengers at every stop.
9:40 PM – I'm now writing in the Hotel Egas in Tefe, Amazonas, Brazil. I'm dry again and sitting up in bed since there is no chair in the room. The 12-hour speedboat ride took 13.5 hours plus another 30 minutes to get my checked bags.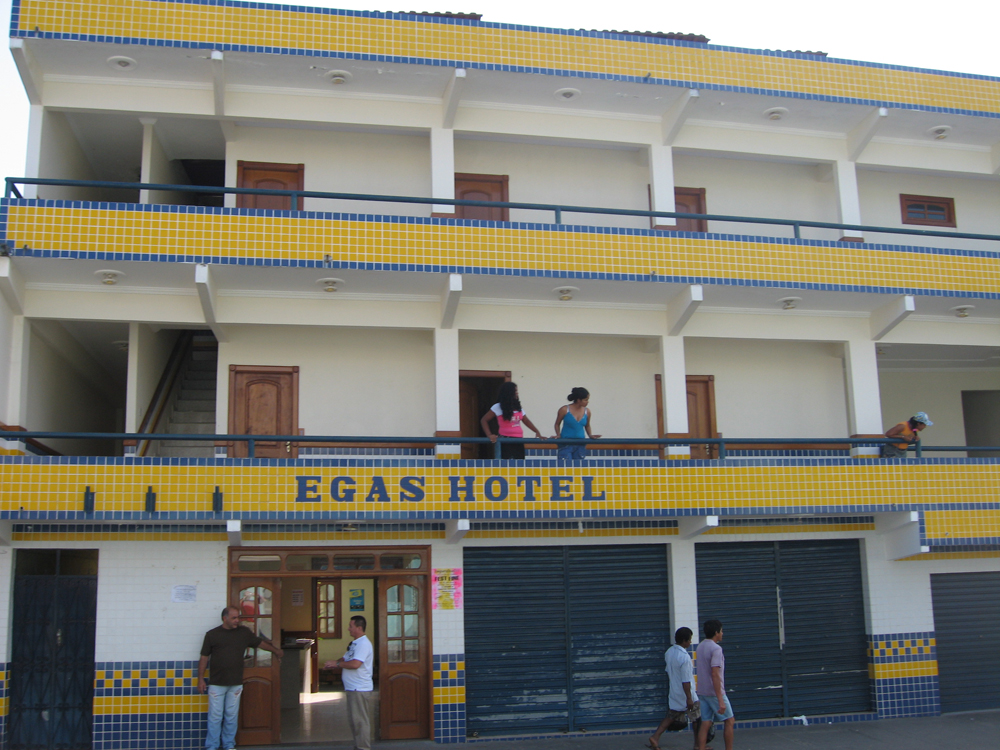 A girl representing Uacari Lodge in Mamiraua Reserve met us and put us in a taxi for the short distance to the Hotel Egas. The "us" is me and the only other guest in the lodge this week, a younger single guy from Paris, France named Jean-Luc. I saw him on the boat and guessed he was also going to Mamiraua and sorry we did not get to talk on the boat. He says he has been traveling internationally since age 14 and has been to Brazil 8 or 9 times but never to the Amazon here, though he has been on the Amazon in Peru. He usually goes to Rio when in Brazil. He speaks 5+ languages including Portuguese and English.
Leaving the dock to the taxi we had to walk over several planks over water. I slipped on the last one which was wet and fell down into the water, getting my right side wet & muddy from sandals up to my shorts. I just showered and rinsed the muddy side of the shorts.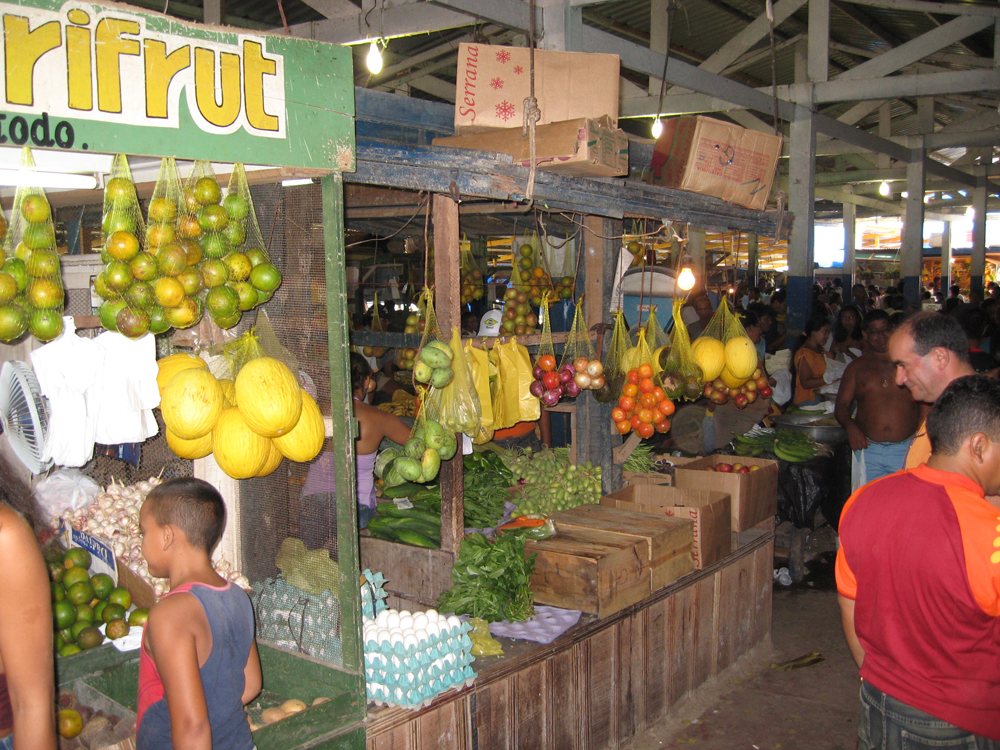 This looks like a frontier town, rough, simple board buildings and this  Hotel Egas is just the basics! No restaurant that I could see. I always have granola bars to fall back on when needed for breakfast, if I don't find a restaurant in the morning that I like the looks of or maybe the hotel will serve something, we will see.

I got tired of reading on the boat, but may a little now to just get sleepy. I'm glad I brought my CPAP machine. Now I know I will sleep better tonight. If I wake up early I will go out for sunrise photos of the town or just explore the street in front.
Sunday, August 27, 2006 – Tefe & Uacari Lodge, Brazil on the Amazon River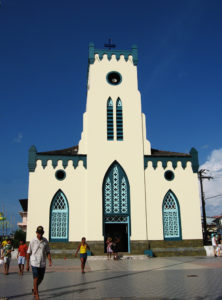 Wow! I slept nearly 9 hours in Hotel Egas with the CPAP machine and it is a good thing because I just earned that the rooms at Uacari Lodge have no electric outlets. So four nights coming without the CPAP which probably means little sleep! Oh well – part of the adventure!  Que sera, sera!
At about 7:45 AM I ate breakfast in the hotel dining room next to a courtyard, kind of nice! They served a typical Brazilian breakfast of coffee, breads and a pastry with lots of fruits and two fruit juices. Then I walked around town for some photos.
On the boat ride to the Uacari Lodge in Mamiraua Reserve I photographed several birds including two kinds of ducks, one being Black-bellied Whistling Duck and the other I don't know yet. There were also both Great Egrets and Snowy Egrets along with a Wattled Jacana. I'm feeling like this is really going to be a good place!

Lunch is at 12 noon and our first hike at 3:30. Jean-Luc and I are the only two guests here, so we should get a lot of attention!   🙂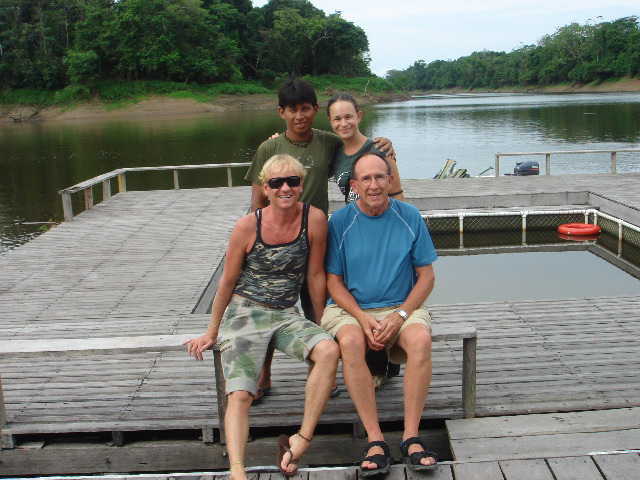 We had a very good lunch with lemon icebox pie for dessert. Yummy! I drank star fruit juice for the first time. Delicious! Fran is our house host and she ate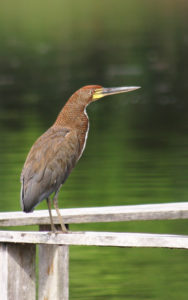 with us. I forgot the name of our guide, a local indigenous man who will take us hiking at 3:30. And I am really enjoying visiting with Jean-Luc, a 43 year old single dentist in Paris, France. He is in a group of dentists and can take off for a month at a time, with the others handling the business and patients.
It is 1:45 PM, raining with me sitting on the porch of my room writing and I will soon be reading again or photographing birds that are flying over even in the rain.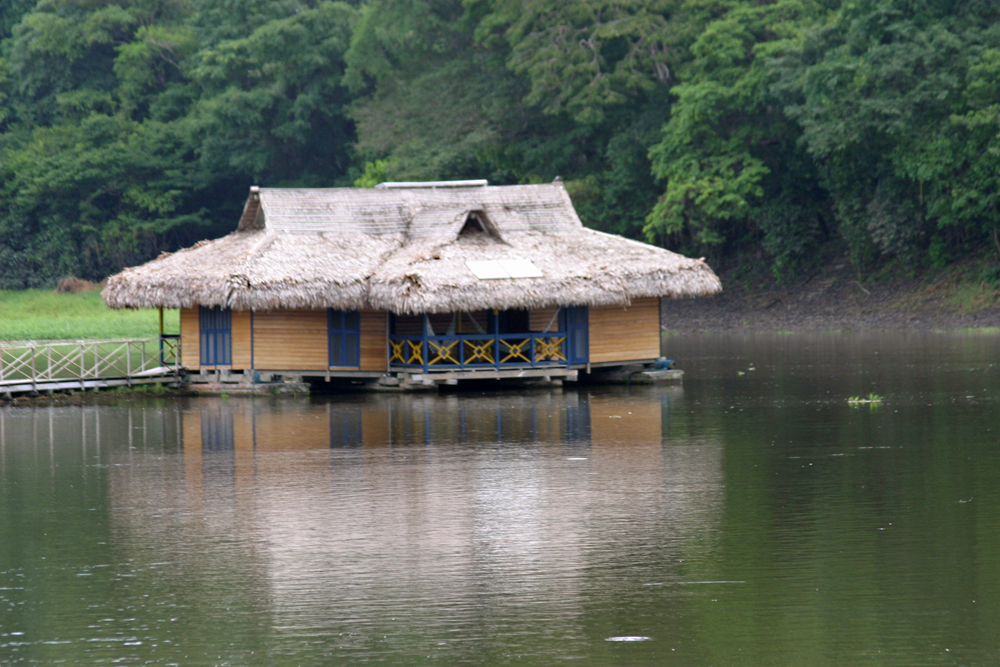 6:00 PM
At 3:30 we took a canoe across the bay and then walked a trail for 2 hours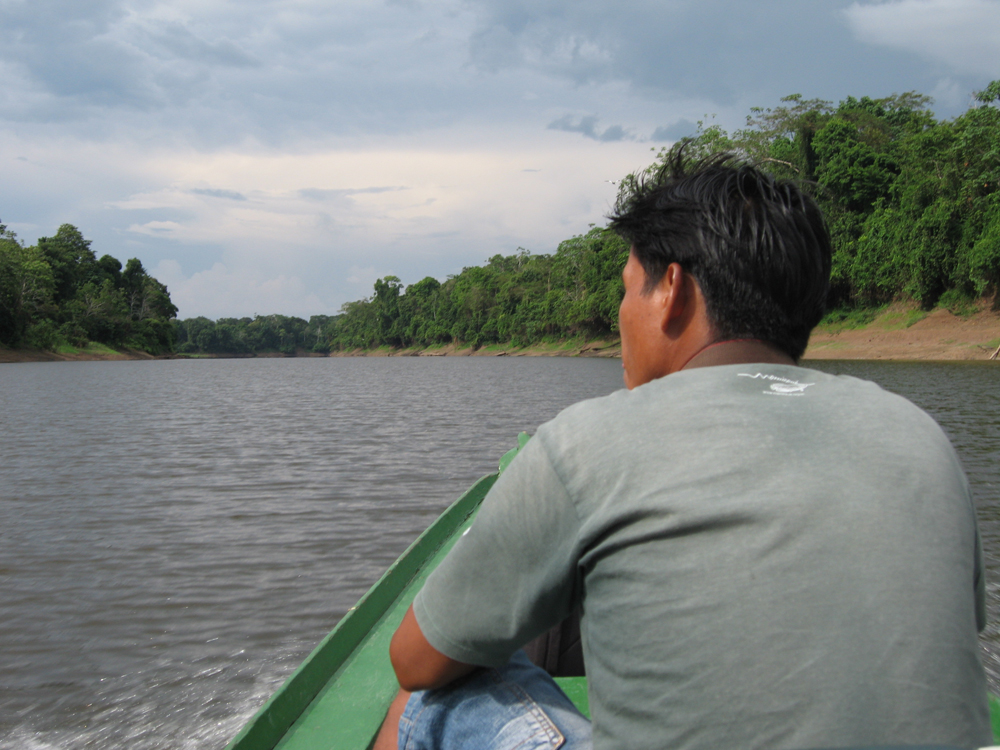 with talks about the flooded forest which is not flooded right now, thus we are walking where it floods part of the year. Though I was hoping to see wildlife,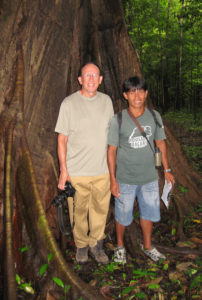 this is very interesting and their first activity for all visitors. I photographed many trees and plants which I will never remember except the Strangler Fig Tree and the Rubber Tree. I was wishing I had taken this notebook/journal with me to write down the names of trees. I did photograph one bird which I will try to identify later, using their good bird book. We also saw a Squirrel Monkey and a Capuchin Monkey at a distance too far for a photo.
Fran went with us and was the talker and the translator with Raimundo the indigenous guide at front of the line as spotter of wildlife. We also had 3 or 4 Brazilian college students doing research here to go with us. This "Várzea Forest" or flooded forest is amazing.  We will have dinner at 7:30 PM and a talk afterwards. I think we go out in a canoe tomorrow morning.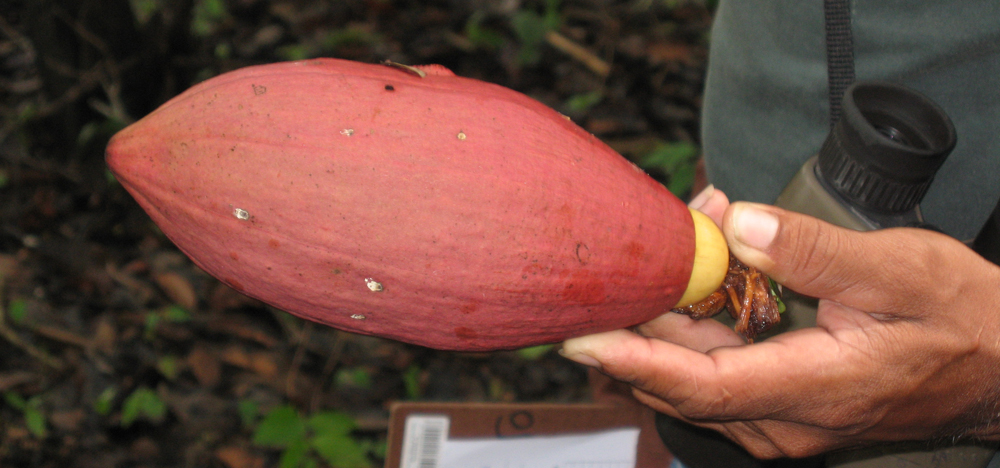 Monday, August 28, 2006 – Uacari Lodge, Mamiraua Reserve, Amazonas, Brazil
I did not journal today but will catch up tomorrow.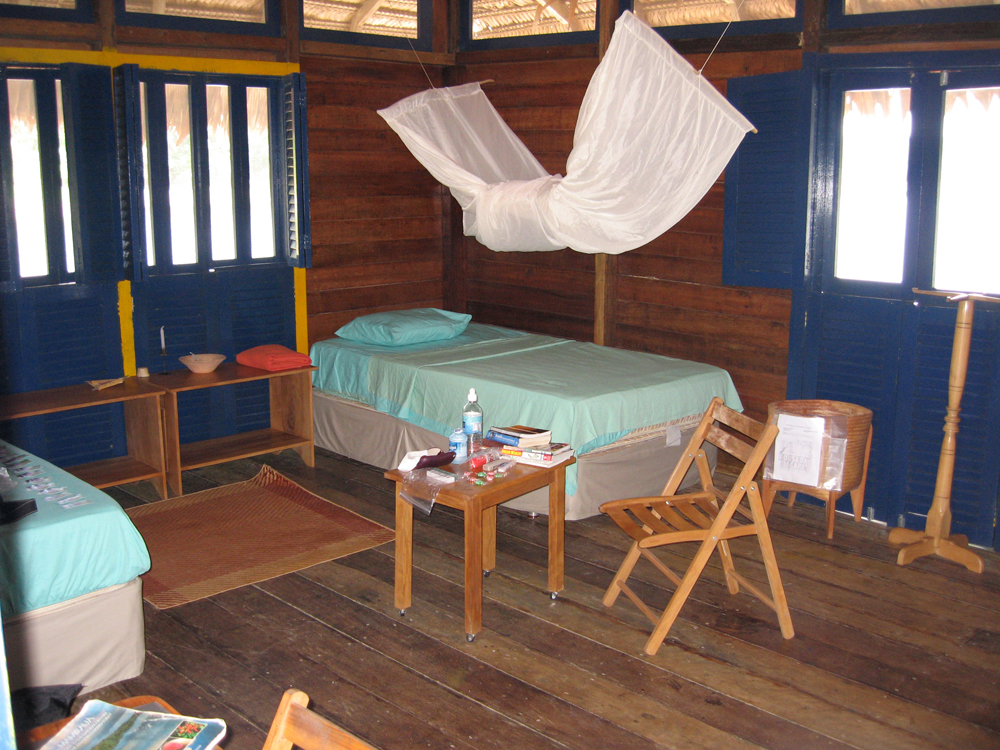 Tuesday, August 29, 2006 – Uacari Lodge, Mamiraua Reserve, Amazonas, Brazil
YESTERDAY CATCH UP!  –  Monday, August 28
Yesterday morning we went to the indigenous village of Caburini by boat. It is one where people of the Caboclos Tribe live. On the way we saw many birds and the most number of dolphins yet – mostly pink or "Boto" dolphins as they call them here for their bottle-shaped noses. I think in English they are called Pink Bottle Nose Dolphins.Beautiful creatures but nearly impossible for me to photograph, staying under water or just an occasional dorsal fin showing. You would have to have your camera pointed in the right direction for when they occasionally break the surface of the water. And jumping out of the water is very rare they say.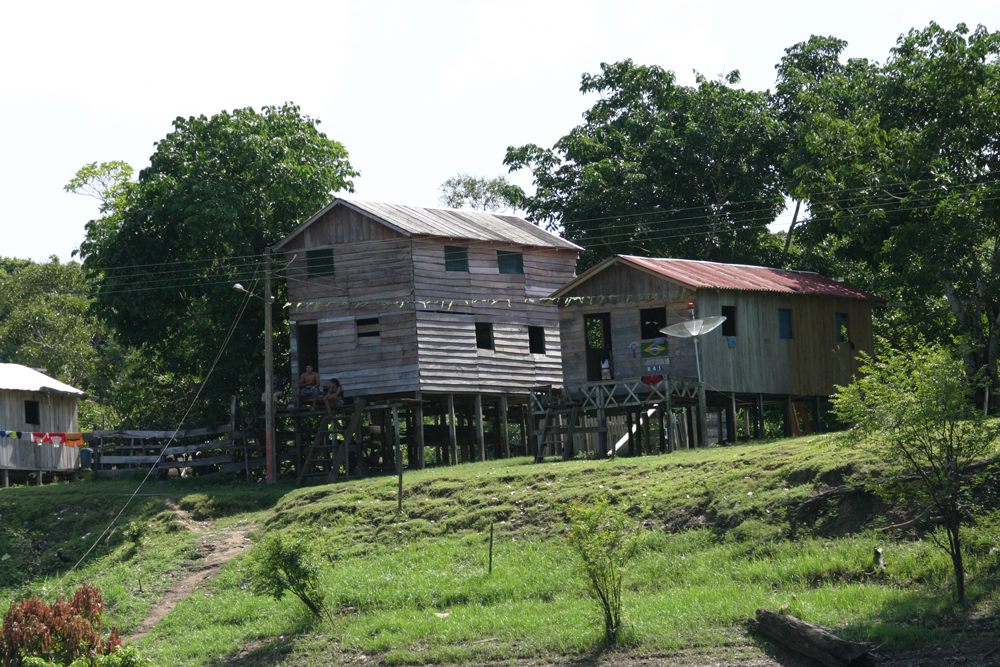 The village of Caburini was a nice visit but no better than most we visited on the mission trip. The only house we went in was our host's and then at the end of our visit in a house to buy necklaces and bracelets. I got a set for Bonnie.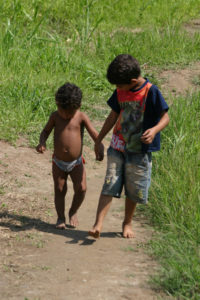 In the village we went into the little catholic church which was primitive and interesting for photos. Saw his medicinal garden where he explained what some of the plants are used for from headache to itch. He also had a little herb garden and a bigger vegetable garden. We also saw the community planting of beans and corn on the beach of the river while it is is not flooded.
He further explained how the village collects turtle eggs laid on the beach, keeping them in a fenced area to protect from predators. Two weeks after hatching, they put the baby turtles back in the river. Mamiraua Institution has been teaching all the villages to do ecological activities like this. I photographed some bird eggs on the beach and some children in town. A nice visit.
Caboclos Village of Caburini
This slideshow requires JavaScript.
After lunch at the lodge and a time to rest, we went on a canoe trip to spot birds and monkeys. It was raining most of the time, thus we didn't see much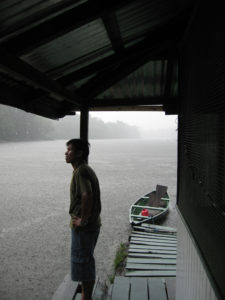 wildlife! We waited out the worst of the rain in an abandoned or vacant floating house where I made one of my favorite photos of Raimundo looking out into the rain (at right).
Last night we did a night hike with Raimundo carrying a car battery and flood light to see more. In the canoe trip to the trail head we saw hundreds of red eyes of the caiman. We didn't see much on the trail at night but heard lots of sounds and Raimundo "talked" to one of the birds.   🙂
BACK TO TODAY –  Tuesday, August 29, 2006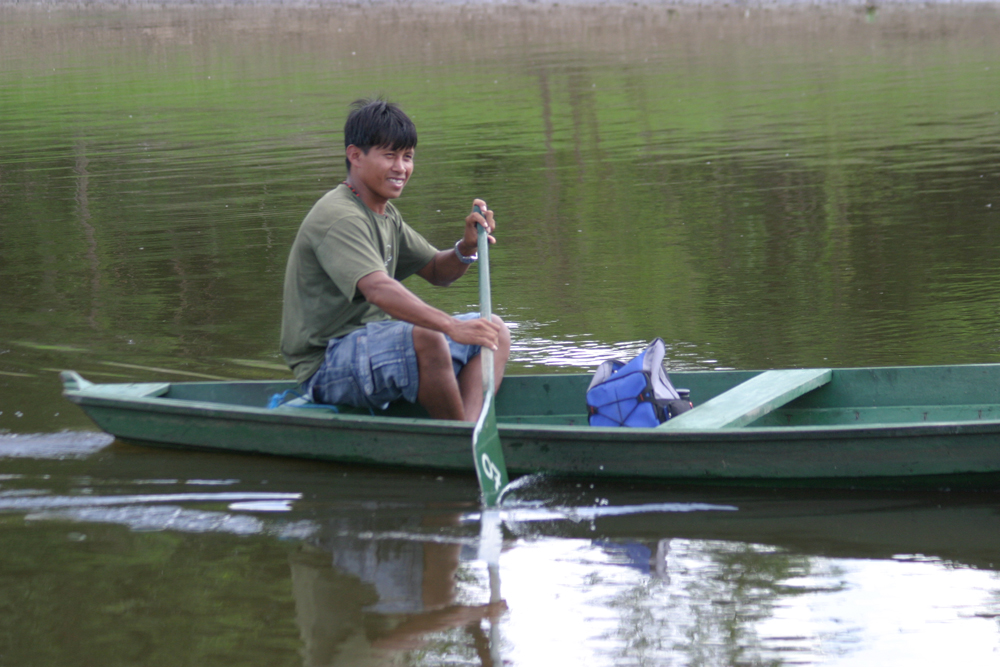 This morning we took our quiet hike to spot animals for 3 hours on a 5 kilometer trail. We saw many things from a distance but none close enough for good photos. I only tried a few and it was raining hard half the time. But from a distance we saw 3 kinds of monkeys: squirrel, howler and the rare Uakari Monkey plus many birds I don't have the names of all now but included toucans, parrots, hoatzins, black-collared hawks, and some he rattled off the names in Portuguese plus the usual lakeside egrets, herons, terns, kingfishers and others. We saw two beautiful blue butterflies but they didn't hang around long enough to be photographed. I shot a few more plants in the once flooded forest or Varzea.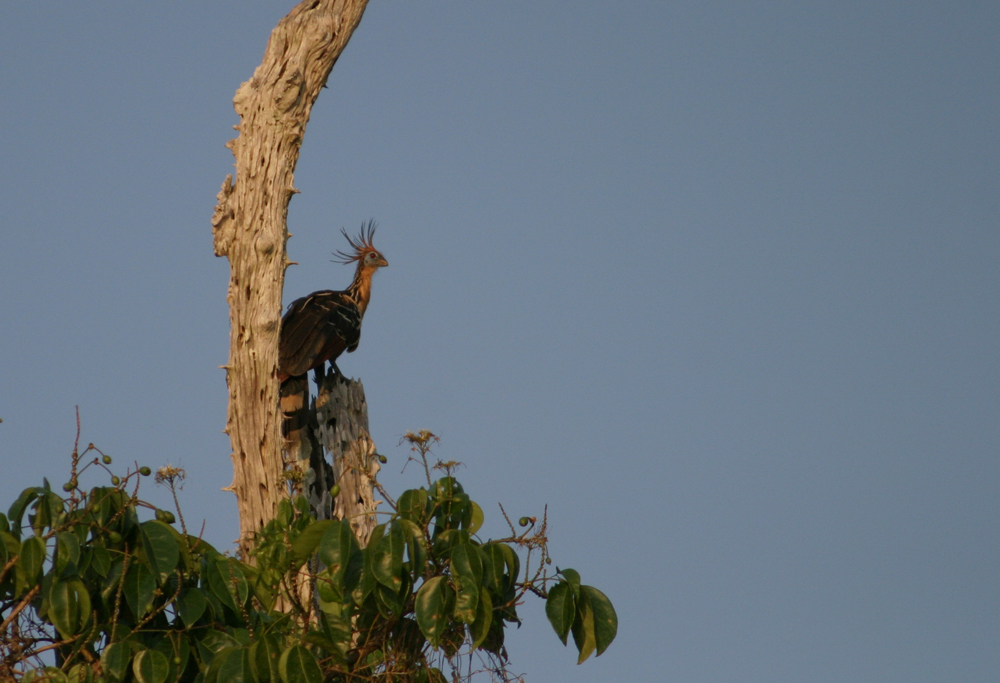 I'm now lying in a hammock on my room's veranda with dolphins and perarucu jumping up around me and the ever-present caiman. There are dozens of birds in sight all of the time. It is an incredible place!
At 3:30 we are going to the Pink Bottled Nose Dolphin Research Center on another floating house nearby to learn about the research. I will nap or rest awhile before then.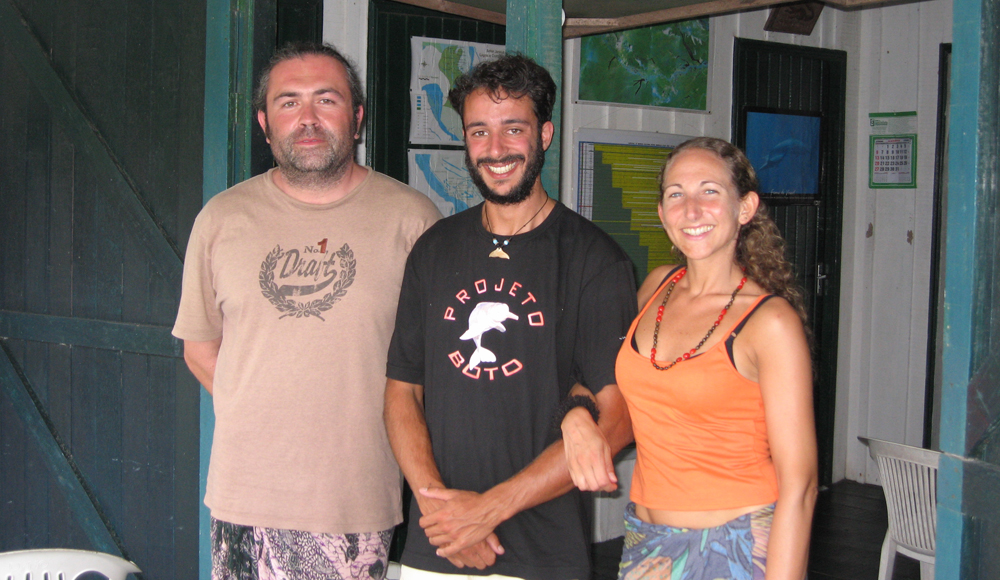 7:15 PM
I'm ready for dinner at 7:30 and really enjoyed the visit to the "Boto Projeto." A your man from Portugal made the very interesting presentation. They are looking for volunteers to come for 2 weeks or more and help count dolphin. We visited for awhile. Two volunteers were there from London, a married couple. We saw several dolphins again but seldom surfacing much and difficult to impossible to photograph.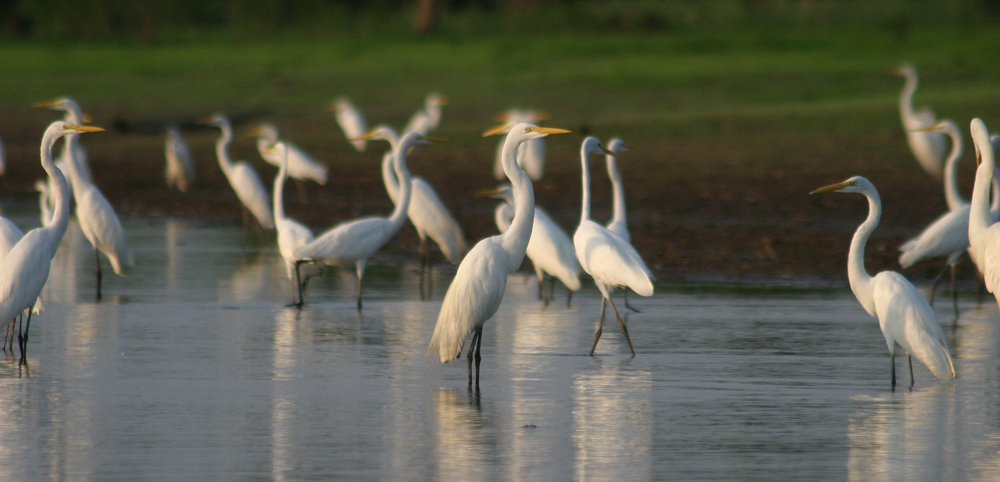 AFTER DINNER
We talked and visited for a long while instead of seeing the scheduled BBC Documentary on Mamiraua because her TV was not working.
Wednesday, August 30, 2006 – Uacari Lodge, Mamiraua Reserve, Amazonas, Brazil
Breakfast and hiking two trails this morning. The first was full of Uacari Monkeys(in local languages spelled with a "k" – Uakari but English is with "c") and the second, shorter trail to a little lake had the very large lily pads which Raimundo said were even larger in the Rainy and Flooded Season. It is noon now after a very refreshing shower. Lunch is always at 12:30.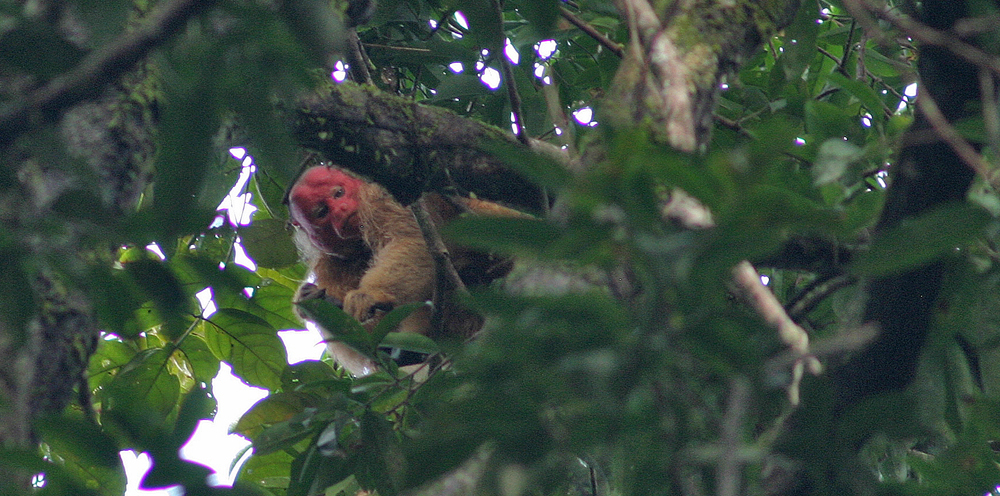 AFTER LUNCH
I'm in the hammock on my veranda, writing, resting and hearing the pitter-patter of bats in the ceiling, pirarucu and dolphins jumping in the lake and the constant sounds of hundreds of birds and occasional roar of a howler monkey. To me the howler sounds like a deep wind blowing just before a big storm or at other times a little bit like a lion roaring. There are bird sounds I've never heard anywhere else and of course I can see the constant silent presence of Black Caimans all around the floating lodge.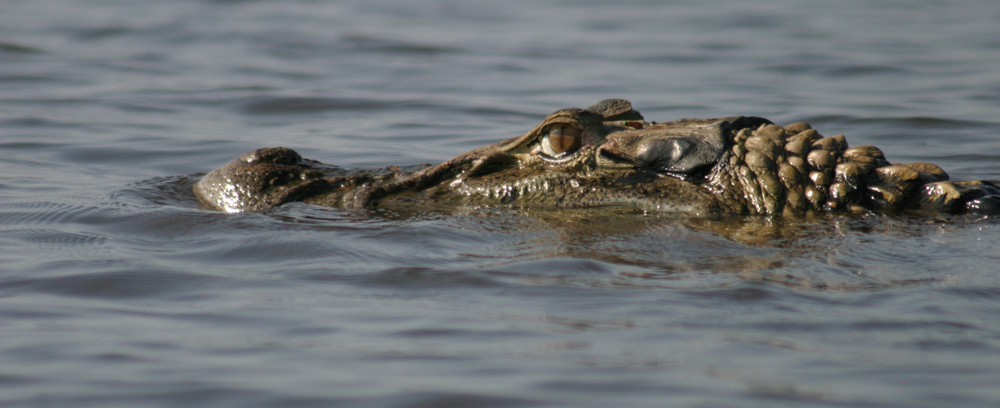 And oh yes, I forgot to say earlier that on the first hike this morning Raimundo asked our permission before taking us off the official trail, which may be why we saw so many Uacari Monkeys! (See photo  up above.)  And he removed his boots, going barefoot like a real indigenous guide!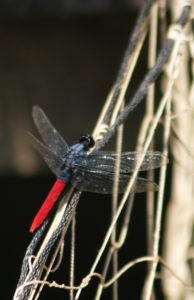 And the lunch was good, sort of – though I'm getting tired of fish, beans and rice. We also had something made of manioc maybe but more like some kind of fruit. The fruit juice today (different every day) was strange to me and almost tasted like soured milk. I would not finish it and ordered a Guaraña which they were out of, so I drank a Coke instead.
Fran is trying again to charge my computer battery which did not take last night or she didn't connect it right or not long enough. I should have told her I would wait until Manaus tomorrow to charge it.
Jean-Luc just cleaned his boots and I must do the same now! Tonight is our last night here.
Thursday, August 31, 2006 – Leaving Mamiraua Reserve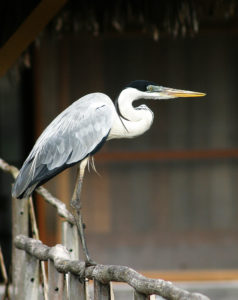 Last night after a late dinner we finally watched Part 1 of the BBC documentary on "The Flooded Forest of the Amazon." Very good! I would like to see Part 2!
I was up at 4 AM this morning, showered and waited on the others at the dock with a clear sky full of stars. Spectacular!
Then the 1.5 hours boat trip to Tefe mostly in the dark. Many fish jumped in the boat again, one slapping me in the face!   🙂   This is some unique place! I was afraid they were piranha but they assured me they are harmless. Nothing else big happened on our way to Tefe and our boat-bus at the dock.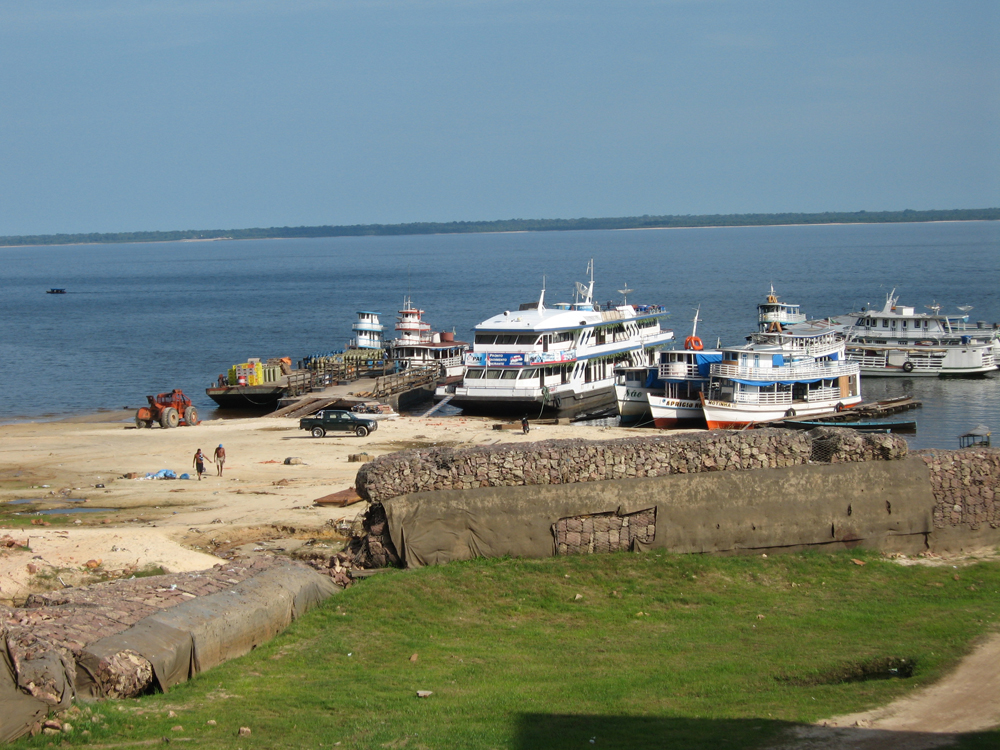 I'm now on the "speedboat" which will take at least 12  hours to get to Manaus, though we are going downstream this time, so hopefully quicker than the 13.5 hours coming upstream!   🙂
My mind is still trying to absorb all of this most unique experience in the rainforests of the Amazon. There have been a lot of "wow factors" and things that I will never forget! I still don't know how to put it in words. Not everything I expected (like more wildlife photos), but a true wilderness experience! Once I go through all the photos I will be better able to get a handle on it – maybe. And maybe by tomorrow night in Miami I'll get started. I didn't see Jean-Luc get on the boat and I don't see him on the dock, but guess I'll see him later.
I walked to the back of the boat to get a cup of coffee to go with my granola bar and I saw Jean-Luc asleep in a seat near the back. I have tried to sleep but can't – and really not comfortable enough a seat for sleeping. I drank coffee standing on the back deck but came in when I started getting wet.
They are showing American movies on TV with Portuguese sub-titles, but the sound is not on and I can't follow. Occasionally he puts in a concert DVD but also with Portuguese sub-titles, so I'm basically ignoring the TV.
We are going downstream on "Rio Solimóes" (what they call this upper Amazon River) with mostly clear skies and sunshine. River is wide and beautiful, lined with thick forests of huge trees.
9:05 AM —  We seemed to have been stopped by a police, navy or other military type boat. A guy with what looks like sergeant stripes on his uniform is looking at our boat record books and writing something in his book. Maybe just a routine inspection stop.
There is also a lady who was moved up front to catch another boat I assume, like the family did going up the other day. Or maybe she is waiting for a village stop. It is hard to know what is going on when you don't understand the language! But never a dull moment!
LATER . . .
The man and boy sitting behind me evidently heard me struggling to talk with the Brazilian man beside me. He interpreted for us and then asked if I was an Americano. Si. It turns out that he and his family are from Indiana and he is an Independent Baptist Missionary in a town at 4 hours drive east of Manaus. He of course has to raise his own support and since he is a pilot he is praying for God to provide him a small seaplane. We talked about so many things for the rest of the trip. He and his 13 year old son Caleb were just delightful! His name is Mike Dunn.
Somewhere in the middle of the river about halfway to Manaus we were stopped again, this time by the Federal Police, two boats of 8-10 heavily armed men. They spent at least an hour searching for drugs in every single bag, both checked bags and carry-ons. If they found drugs, they didn't tell us and didn't arrest anyone. They did scold one woman who had turtle eggs and another who had an ice chest wit Pirarucu fish, but they were working for INPA (an environmental agency) and so no fines or confiscations.
We were in Manaus Port about 8 PM and it was 9 Pm when I got to the hotel, but I'm eating anyway. And even here at the big Hotel Tropical Manaus, no one speaks English – falo ingles! But I get by just like I did all week in Mamiraua.
At another table here in the cafe are 4 American men talking in English. A Brazilian soldier came by and gave them something. Their conversation is hard to hear except for just a few words, but I think they are here consulting with the Brazilian military. One said, "I don't think the civilian population will accept that." Another one talked about "other countries" and another one was constantly on a cellphone that is larger than usual, maybe a satellite phone? Interesting!
Friday, September 1, 2006 – Manaus & Flight to Miami
Eating another great tropical breakfast here at Hotel Tropical Manaus. It was so quiet and peaceful here last week and now the hotel seems to be nearly full and it is hard to find a table for breakfast. I left this pad, pen and a plate of fruit on my first table. When I got back with more food a Japanese man was drinking coffee at my table and refused eye contact. Rather than confront him, I just picked up my stuff and found another table. Some people are rude.
The windows surrounding the Coffee Shop look out on to a "mini-rainforest" of trees surrounding the hotel. This is so much better than a downtown hotel surrounded by dirty buildings and slums!
There are more Brazilian soldiers here this morning with some kind of meeting that I assume includes those Americans I heard last night. There are also a lot of European tourists and Brazilian tourists here as the majority, but some Japanese together in a tour group I assume. But no one here looks like an American and I usually can spot Americans!   🙂
Out one of the windows is a tall tree with 20 or more woven bird nests (like Weaver Birds in The Gambia) and birds are flying in and out of the nests. This is a neat place!
Yesterday I observed Mike Dunn parenting his 13 year old, plus he talked a lot about his theory or approach to parenting. I kept thinking of Jason and things I wish I had done. I'm now thinking about writing Jason a long, frank letter telling him everything I feel, know, and think about life – lessons learned and my feelings, concerns and hopes for him without being preachy or telling him how to live his life as he always tells me I do anytime I talk or write seriously to him.
Yet, knowing Jason, such a letter or conversation could alienate him even mor or just maybe strangely bring us closer together and/or help him with his life. Though every time I've tried he has rejected and resented me. But as I write this I think it might be worth the gamble again. We will see.
12:25 PM
I just sat down on the plane. I finally found the little Mamiraua shop in the airport and bought the Mamiraua Guide book I wanted and they didn't have at the lodge. I had just enough Reas to buy a small basket with RI left as a souvenir I guess. I'm in a middle seat – ugh!  I will read my new book now.
(In Miami I spent the night at the Airport Hampton Inn)
Saturday, September 2, 2006 – On flight between Miami & Nashville
I'm now on an American Eagle flight about halfway to Nashville from Miami. For the first time I bought their snack box for $4 to go with my "free" Coke. It was okay but I could have done without it.
Last night I ate dinner across the street from the Blue Lagoon Hampton Inn at the Casa Juan Cuban Restaurant that I had heard good things about. I asked the waitress for her recommendation and she suggested a Cuban Lasagna with chicken and bananas. It was one of the best I have ever eaten! Unusual but delicious! I worked on photos about an hour and then just 30 minutes starting on my "Full Mailbox" of about 3,000 emails – ugh – and then off to bed for a good a good solid 6+ hours of sleep I hope with the CPAP. It definitely makes sleep better, though I was surprised at how sell I did at Uacari Lodge with it – like 4 hours solid sleep and then off and on for another 3 maybe. Now I know that I can survive without it and might get back into camping. On that photo club camping trip I didn't take my trazadone and the other reason for no sleep there.
Well, we are now scheduled to land in Nashville in about 50 minutes, 1 PM Central Daylight Savings Time. And as at the end of most trips I am about ready to get home – and anxious to order a couple of photo albums from mypublisher.com.  (I did two photo books on this trip which are no longer available as "mypublisher" went out of business. Maybe I will someday redo them on Blurb.com.)
Of course I will have to grocery shop first, and unpack, and do laundry, etc.  🙂  As of right now I plan to skip church tomorrow and work on photos. Still hoping for some good wildlife photos, though it did not seem like I got any other than a few birds. We will see. I will now do just a little computer work before we land in Nashville.
THE END   (Of this trip!)