August 2-4, 2001, Charlie Doggett & Ismaila Bojang on Jola Prayer Walk

A Daily Journal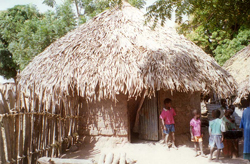 Thursday, 2 August 2001 – Kanoli – Ismaila Bojang, my only Christian watchman, traveled rough roads with me to our first village, Kanoli, the home village of our Gambian President Jammeh. We checked into the Sindola Safari Lodge and waited until after 2:00 prayers at the mosque before we began our prayer walk until after dark. We first visited and greeted the Alkolo (chief) of the village with gifts of Kola Nuts, a new Bible provided by the Faith & Fellowship Class of FBC Nashville, plus Scripture portions in both English and Jola. And a gospel tape in the Jola language. (I had prepared a plastic bag for each village with the same items in each.) Here it is important to go through channels and in a village it is one man. He gladly gave us permission to pray in his compound and others in his village. I prayed in English and Ismaila repeated my prayer in Jola. As in almost every compound in every village, there were tears in many eyes after the "Amen." They immediately heaped their blessings on us and welcomed us more. Prayer is important to most of these people and their image of Christianity (Westerners) is not one of prayer!
The Alkalo appointed one of the men in his compound to take us around to the other compounds and we prayed in almost every home in Kanolai! All heaped blessing upon us and many wanted to feed us, but we were fasting while we prayed. After our guide left us we began to walk toward the president's large compound when we noticed a compound behind the wrestling arena whom we discovered were almost like gypsies, serving as the president's cultural troupe for local dances, music, drumming, crafts, and other cultural activities for state affairs, rallies, big meetings, and festivals. It was here that we received our warmest welcome and had the "Miracle of the Leaf:"

In quick summary, I began praying under the tree as the wind started blowing like a sign  of the Holy Spirit's presence. I pray, as they pray, with hands in front of me cupped open as if to accept any blessings from God. Before I finished the first sentence of the prayer, a leaf fell or blew from the tree into my open hands. As I continued to pray for forgiveness of sin through Jesus, and blessings on their homes and crops, and for peace; the wind continued to whip the leaf up into the air and gently drop it back into my hands until the "Amen" when the leaf and wind stopped. Ismaila tells me that the men were exclaiming to one another in their Jola language about the miracle of the leaf and how God is surely here now. I smiled, praised God, and asked that He continue to reveal Himself to each of them. God is so good!
Then we went to the gate on the road into the president's compound and prayed for him and each of the soldiers in front of us and for the country. Yes, even one of the soldiers had tears in his eyes. I tell you! God is touching these Muslim people! We then visited in one of the employees home and finally prayed at the gate to the presidents house with more soldiers. God was there! Praise His Name! It was dark and we quit for the day.
Friday, 3 August 2001 – Gikess & Funtang – We headed through rain and mud on "tracks" through the bush for what was to be our first village, Gikess. On the way we picked up some men going to the "2nd Day Charity" for someone who died in another village. I knew one of the men from his time in Banjul area, Ismaila's uncle. Once we stopped at the tiny village, I asked if I could pray a Christian prayer for the family at this time of mourning. The uncle inquired and returned with, "No, not now. Why don't you come back by later." So we went on to Gikess where most of the men were gone to the charity and thus moved on. Driving over bushes and little tree stumps and deep mud puddles as most of you think it is like in Africa. And it is!
We got to Funtang and a very warm welcome by the Alkolo and all the people. Again, he appointed someone to take us around to every compound and we prayed with every family in that village, including the family of one of my employees in Banjul. All the families in this village except two are Sanyangs and Jola. Again we turned down food and accepted more blessings from them after we had prayed for them in Jesus Name. It was glorious! And on THE day of prayer for Africa! (A Southern Baptist Mission Board prayer emphasis that year.)
Back to Gikess where many men were back and we were again welcomed by the Alkolo and all the families who told me this could be my village. This time the Alkalo himself took us around to every compound with such a warm reception! This village also included the family of one of my employees who was himself there on leave to work on the farm. It is a whole new bond with him and all the other Badjies in that village. It was hard to say goodbye, but I still hoped to pray for the family who lost a father and then a long bush drive back to our room in Kanolai, with rain falling. When we stopped again by the home of the death, we were told "No, you cannot pray here." So I silently prayed for them anyway; that God would open their eyes and give them new hope for life and eternal life in Jesus Christ. We were tired that night, but knew that we had again walked with God!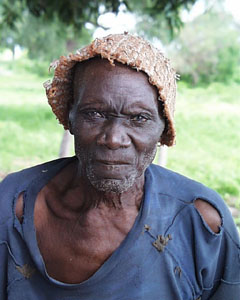 Saturday, 4 August 2001 – Ballen – We left immediately after breakfast for Ismaila's home village of Ballen. It is located beyond the two we visited yesterday, so a long drive through a lot of mud since it had rained all night! I waved at my new  friends in Gikess and Funtang as we passed through. And we made it to Ballen! (I was using the truck without 4WD and was a little concerned about getting stuck!)
The village of Ballen welcomed their son Ismaila back and me very warmly. There was a lot more greetings and visiting for Ismaila to do and he enjoyed it. But one thing was different. While he had been praying loud and with fervor in the other villages; he prayed quieter and with less response from the people in his village (All Bojangs except 3 families). I couldn't help but remember that Jesus, when he went back to his village of Nazareth, was also not responded to spiritually and He even said, "A prophet is not without honor except in his own land." I discussed this with Ismaila later in the truck.
But the visit was great and the prayers certainly accepted! He and his family wanted photos, so this was the only time I pulled out the camera. The man in the photo is supposed to be the oldest man in the village of Ballen. I asked him how old he was and he didn't know. One of the young men said, "Oh, he is probably around a hundred years old." That is possible, but doubtful with the average life span less than 50! They do not have birth certificates and most older people do not know their actual age or even birthday sometimes. As we left, another young man came to me with a black plastic 2-liter bottle still marked for SAE 50 motor oil. He handed it to me and said, "This is a gift. I hope you like milk." That was just as we were leaving, and of course I received it graciously.
We took a shorter road to the highway where we flagged down a "gillygilly" or van taxi to take Ismaila back to Banjul. I gave him the milk in appreciation of his good work! I headed the other direction for Sedhiou, Senegal in the Casamance where I would rent a house for the Kelly family the next morning (Yes, Sunday; but after we worshipped!).
Then Beth Heyer and the Arkansas volunteers, who had been prayer-walking there, followed me and my two new African riders from Sedhiou for 6 hours back to Banjul. Both me and the truck were tired!
OurJola prayer walk was right where the word "GAMBIA" is located on the map.
The Mandinka prayer walk was about where the lower word "SENEGAL" is located on the map and that is where I rented the house for the Kellys.