I decided to pick only one of my many hawk photos and honestly, I'm not sure why I liked this one best. The Common Black Hawk is the one I've photographed the most with the Road Hawk a close second and I have some good photos of both. The Gray Hawk (eBird description) is common and sure of himself and seems determined in this photo. See others I've photographed in my Gray Hawk Gallery from many locations. And read below The Backstory on how and where I photographed this and the other Gray Hawks in my gallery.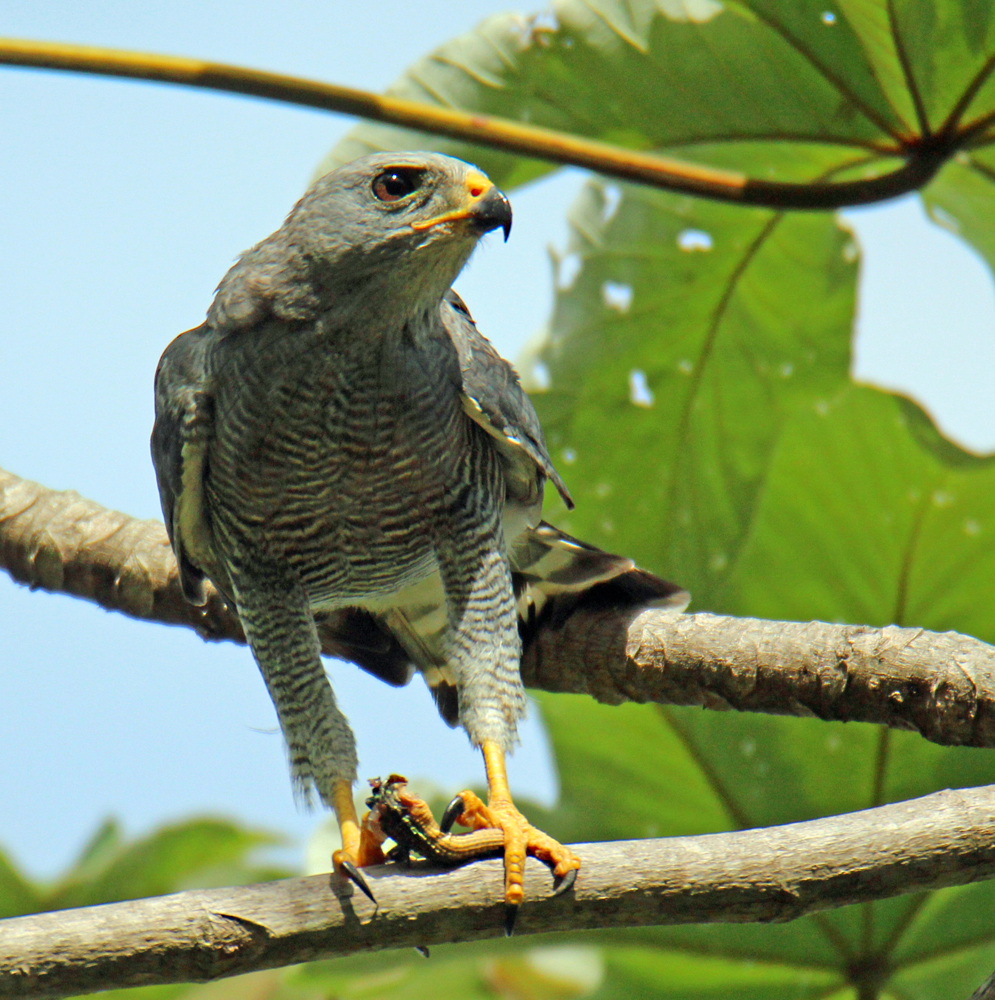 The Backstory
Hotel Villa Caletas, Jaco, is where I made this featured photo, my best of a Gray Hawk. The beach for this hotel is very private between big rocks separating it from beaches north and south and it is at the bottom of a steep hill from the hilltop hotel. I only wanted to photograph it and asked for the free transportation down to the beach. I was alone on this shuttle and told the driver that my interest was birds. As we approached the beach at the bottom of the forested hill, the driver pointed to this Gray Hawk in a nearby Cecropia Tree as he pulled over slowly and stopped for me to photograph it. The bird was unconcerned by our presence and I guess finishing his snack of the half-eaten lizard you can see in his claws. It was another one of those brief intimate moments in nature.
Tapanti National Park and Carara National Park
I also have two shots of a captive mature Gray Hawks whose lives were saved by the Rescate Wildlife Rescue Center, La Garita, and Jaguar Rescue Center, Puerto Viejo, Costa Rica. Though I prefer photographing birds in the wild, I also like the closeness you can sometimes get in captivity, plus I like to give these great rescue centers publicity or attention for the very good work they do.
On Nicaragua Birding Tour was another good shot of a Gray Hawk in the wild! 🙂
The TRIP GALLERIES
"The presence of a single bird can change everything for one who appreciates them."

– Julie Zickefoose
Religious Art & John Denver Prayer for COP26
"The wind is a symbol of all that is free."
¡Pura Vida!