Way back whenever I first started reading Agatha Christie books, it was always paperbacks. Then I got a Kindle and read so many more electronically – until I got to the last two books or stories about Hercule Poirot (33) and when I downloaded the last two of his mysteries, neither would open up on my Kindle (the only 2 books I've ever had trouble with electronically).
So the cumbersome effort of calling Amazon Help and finally getting a live person then the wasted time of several efforts to make the books load, none of which worked. And finally given credit for the electronic books which they removed from my bookshelf. Soooo . . . to complete my goal of reading all the Poirot books (including that book of short stories), I order the last two books she wrote as paperbacks – back to how I started his stories! Poetic justice to modern electronics! 🙂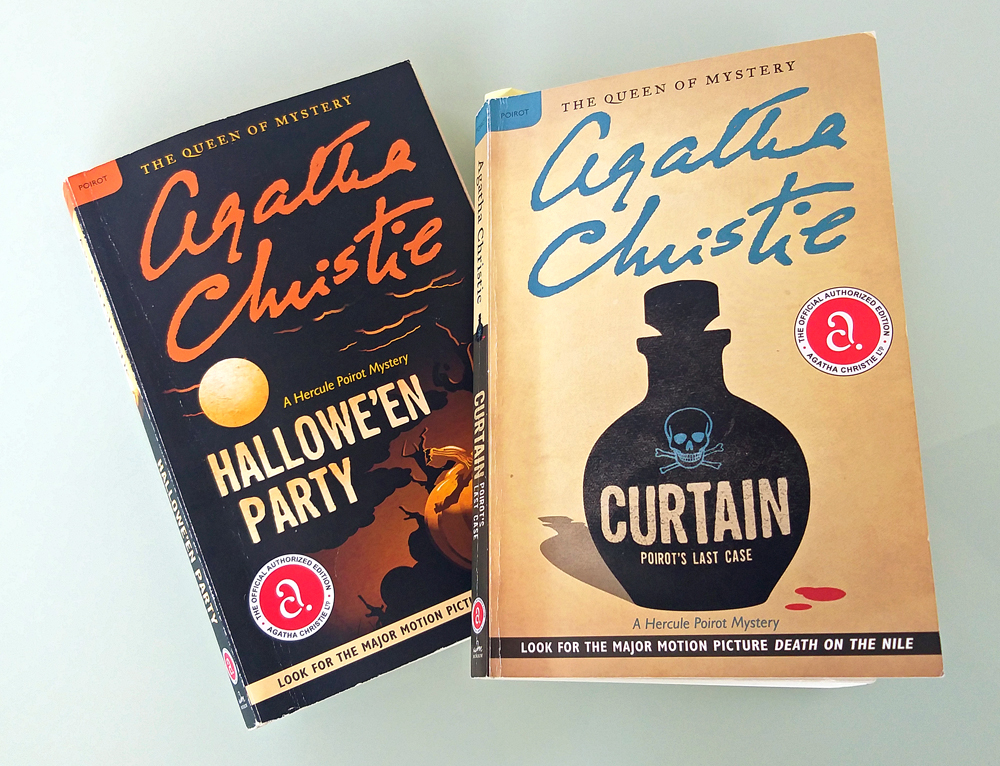 And bear in mind that this is not as easy to happen with a U.S. company when you live in another country! But finally I receive and finish the last in the Poirot series, Halloween Party and Curtains, and of course enjoyed these old-world England stories as much as the first two back whenever.
I'm still experimenting with other types of books that sound good or I think I may like – most of which I don't. And if I don't enjoy a book after a few pages or chapters, I now just quit reading it. Like I just started reading (again) All God's Creatures Great and Small and then remembered that I had tried it once before and just did not enjoy his detailed description of birthing a calf with his arm up inside the womb of the cow and will probably drop this book again. I report on most of my book reading through Goodreads.
Along with Poirot, I did read some of Agatha Christie's Miss Marple books and may next try to finish that shorter series. Of course I saw most if not all of the TV series "Murder She Wrote," based on the Miss Marple books, but that is never the same as the books. The same with the TV series on Poirot.
When on my only trip to London, I did get to see Agatha Christie's play, The Mousetrap, the world's longest running play. Cool! A great British experience!
And I'm afraid my reading will be slowing down now with only one good eye. Though I can read for short periods with my left eye uncovered, it soon starts burning and watering and I cannot continue long. One-eye reading is possible but not as good and soon that eye gets tired too. Just one of the many side-effects of my cancer and the loss of a facial nerve. You just do the best you can with what you have in life. 🙂 And at 80 I no longer expect all of my body to work perfectly! 🙂
¡Pura Vida!