If one must stay at a hotel for a long period of time, it helps to have several dining options. And that is one of the reasons I chose this over 2 other hotels within walking distance of radiotherapy. There are 3 restaurants within the hotel or attached and up to 4 more within walking distance. Read on for my comments & photos of the 4 I've experienced so far . . .
My Favorite: Free Breakfast in the Garden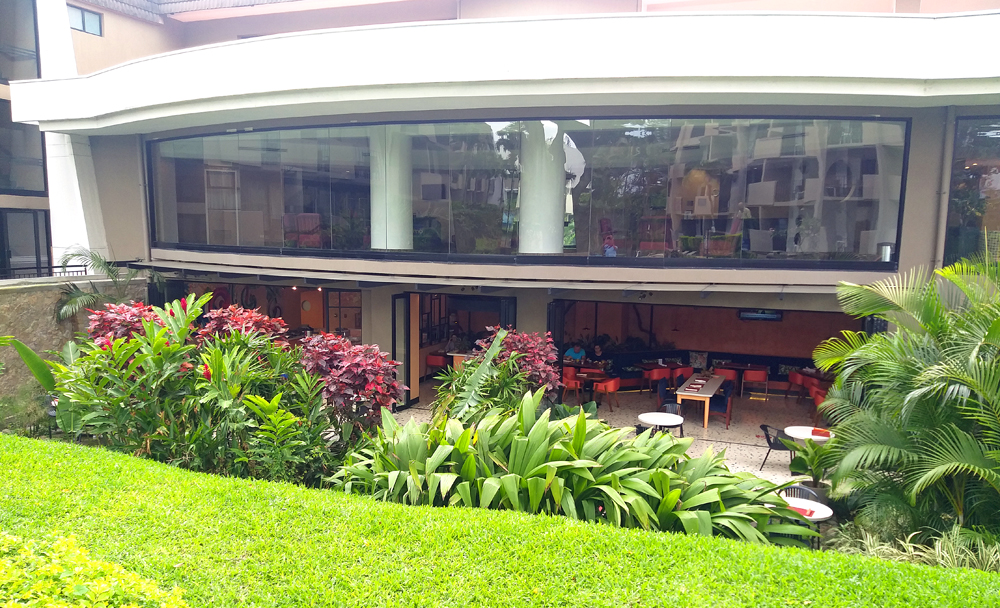 An excellent hot breakfast every morning along with options of fruit plate, cereals, breads with marmalade, etc. and all the usual drinks and it comes with the room! With Covid, you need a reservation so as to space out the customers, but not much of a problem with a nearly empty hotel, since very little tourism now. One morning was busy because of a group of young adults here for a tech conference of some kind. Otherwise, near empty.
The Biggest Restaurant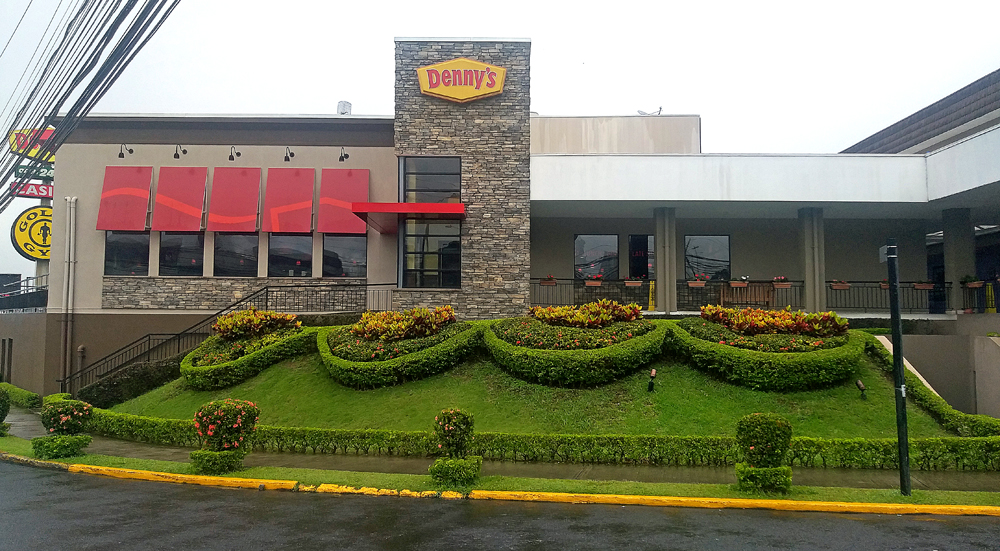 This is where I will likely eat most of my dinner's and I don't eat lunch. Possibly Denny's best category of food is breakfast, but the hotel's free hot breakfast is so good with excellent service. I may just choose from breakfast menu for dinner occasionally. This place serves "American Comfort Food" which is generally good food, well-prepared and is in several locations in this big city and a few tourist hot spots (I've only eaten at the one by the airport), BUT – the big problem with Denny's in Costa Rica is that they are way over-priced! They must ship the food and everything from the states which would partly explain their high prices – much higher than in the states. But still popular with a lot of Ticos and when there are American tourists here, they do even better! It still amazes me how many Americans travel to foreign countries and look for American food to eat! 🙂
Sangria's – In-house Bar & Grill, Mexican, Tico, Burgers & Pizza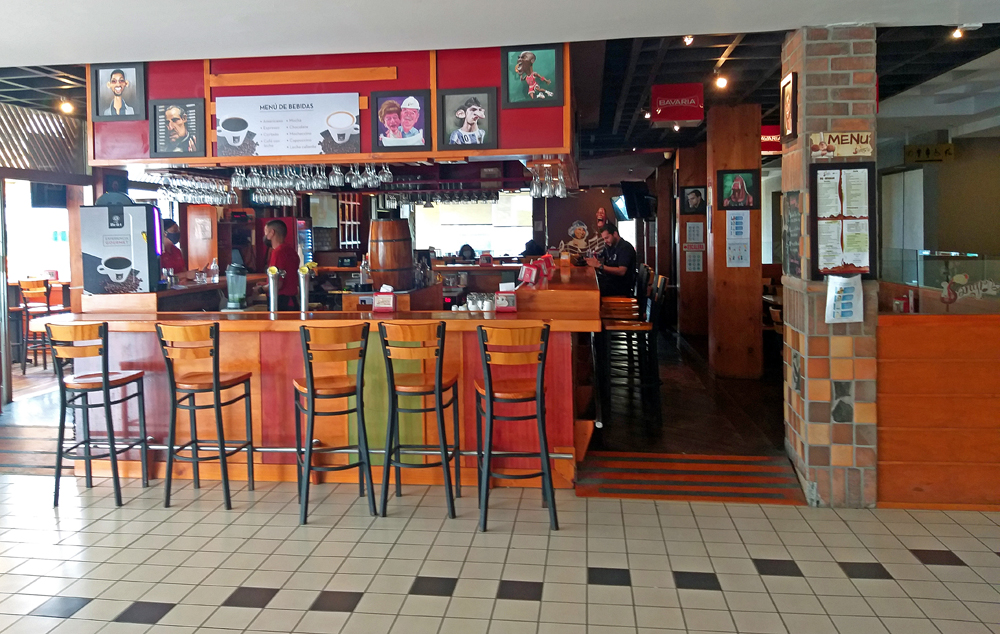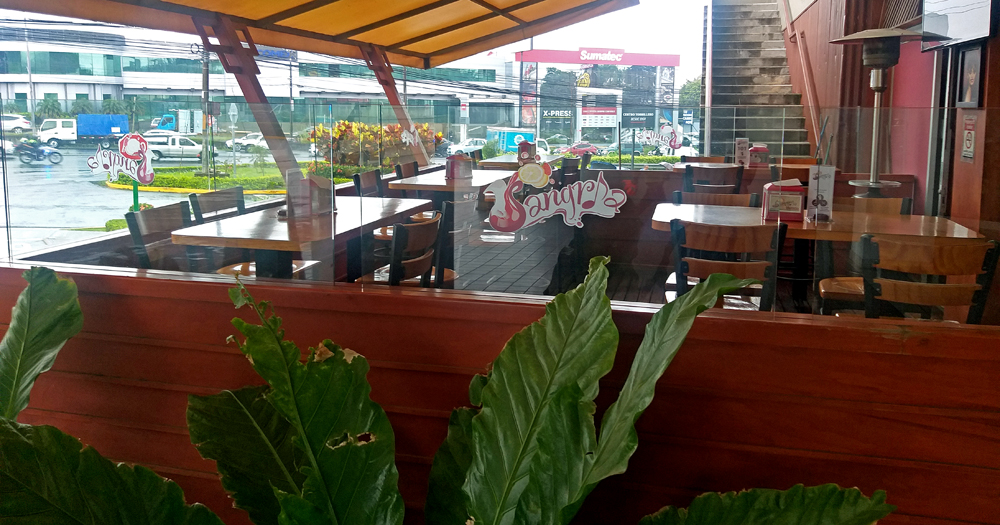 My nurse at the clinic said she comes here for lunch occasionally and it is popular among locals, more for lunch than dinner and I guess a bar hangout for some. Their prices are much more reasonable than Denny's and their nachos have a whole lot more meat on them than Denny's. That is all I've compared so far. Their only American food would be the hamburger and pizza, while all other is either Mexican or Tico plates and appetizers. Though I love sangria, the beverage, but I must avoid all alcohol during radiation treatments. So no sangria at Sangria's! 🙂 It will be my Mexican place! 🙂
Subway Sandwiches Across the Street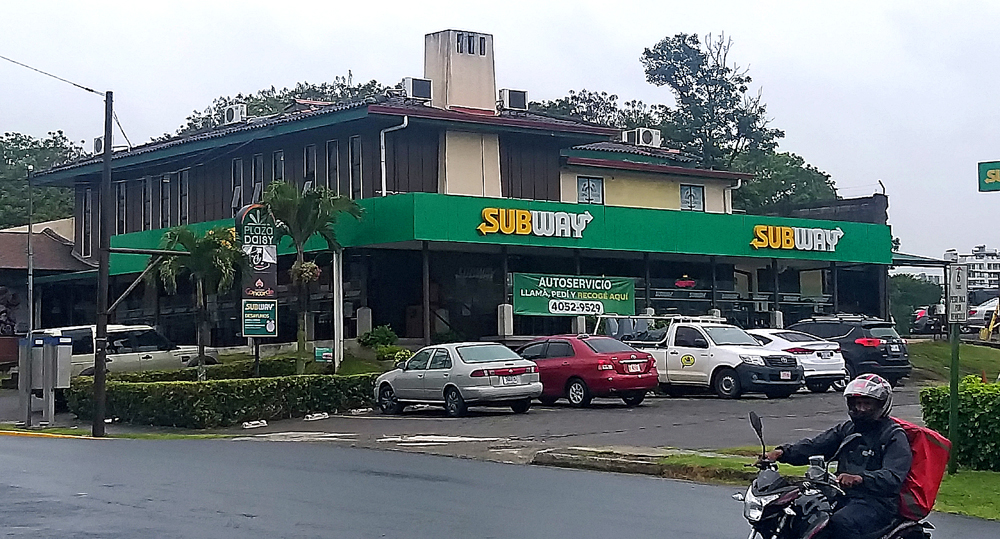 I had a sandwich here my third day and it was my first Subway to visit in my 6 years in Costa Rica, though they are all over the big cities and in a lot of tourist places. And I like them! But it had been so long that I forgot the procedure, like choosing your type of bread first, etc. They too have both indoor and outdoor covered seating. Everyone here loves to eat outdoors! And this one has curb service for "to go" orders, called "para llamar" here or called in orders you go by and pick up.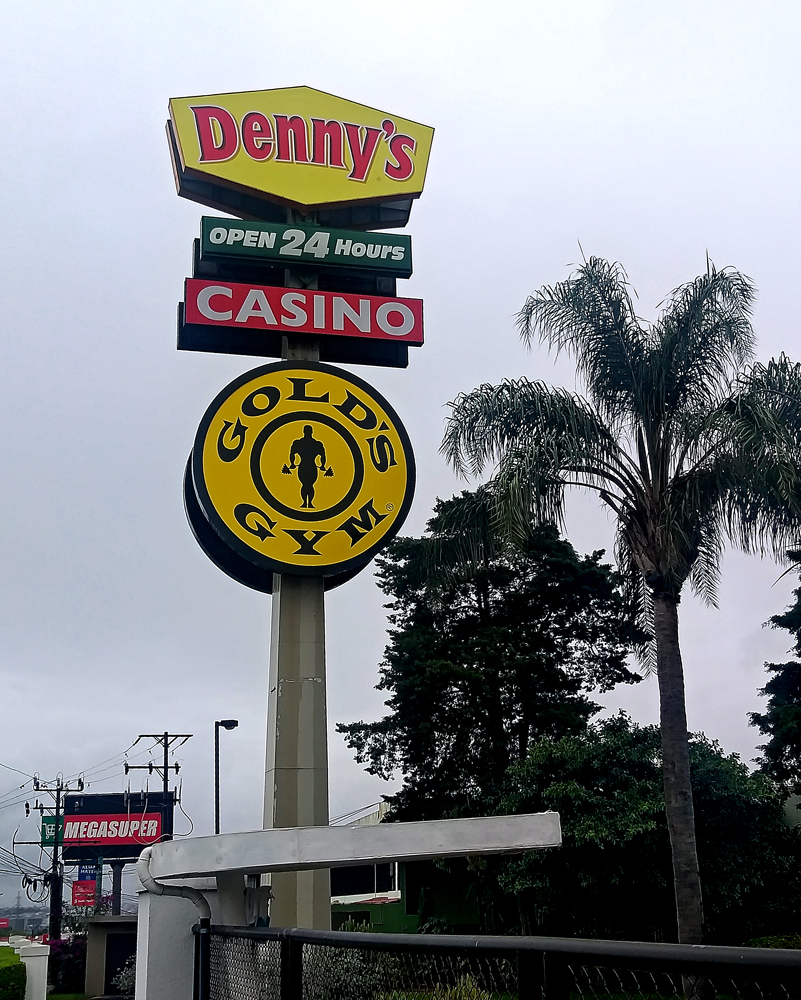 Next door to Subway is a little Tico Restaurant I have not tried yet and no photo of.
So you see, I will not get bored of the same food all the time, probably having more variety than I do at home! 🙂 This was part of my plan for the 6 week+ radiation adventure. Hoping I don't get the side effect of losing my taste as some people do. 🙂
We will see! 28 more days of treatment to go! 🙂 And oh yes! in the above photo behind the big sign is a "Megasuper," one of Costa Rica's big supermarket chains. Hey! Another option! 🙂
P.S. – A postscript I added later in the day: Note that all these American restaurants are in San Jose, Costa Rica's largest city and capital, the only kind of place American investors will risk or set up shop and occasionally in some big tourist locals. Thus they are a novelty to me. I'm like a visitor in the states from another country.
We have no American chain restaurants in Atenas, the little farm town where I live, not even McDonald's or DQ. Repeat: 0 – nada – none! All our small restaurants in Atenas are local Tico-owned, family operated (and struggling with Covid) with the closest "American cuisine" being a Tico version of a hamburger, which I love, and pizza in too many places now and that I'm tired of.
¡Pura Vida!