Well — still slow progress on Central Park remodeling. Yesterday they were finishing up two bench type seating along the sidewalk. These seats will face the playground equipment to be added in that open dirt area. With everything in the park remodeling so far being very modern or contemporary, I can't wait to see what swings, monkey bars and other playground equipment will look like in a contemporary style! 🙂
These latest benches will be closer to the playground for those parents who feel they must keep a close watch on the smaller children. The circular seating area beyond that will be on the other side of the radial sidewalk running from the central kiosk to the southeast corner of the park. That seating is for parents of older children maybe? Or the one who aren't "helicopter" parents. 🙂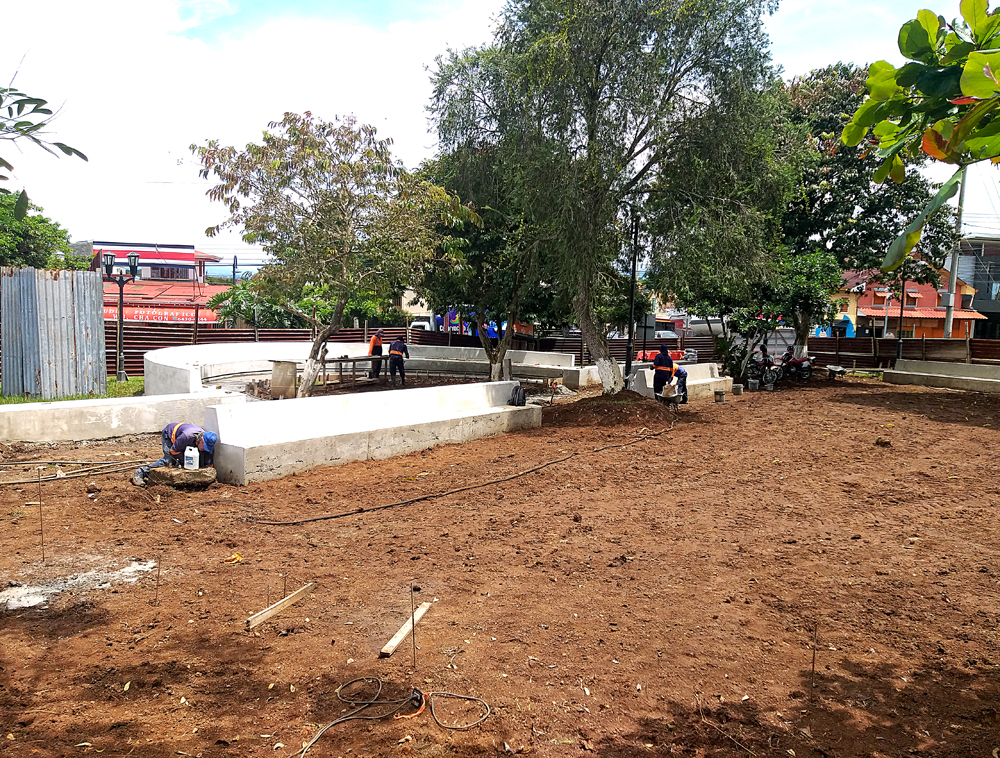 My ongoing GALLERY is growing: Remodeling Central Park Atenas
And what the old playground looked like in this same location (bottom photo in the above remodeling gallery).
¡Pura Vida!
Misc. Personal Updates
I may have already blogged that I am now walking with a fancy Black Diamond telescoping "trekking pole" that hikers use, especially in the mountains or in snow, as my preference over an old man walking cane. I've had three major falls this year and just need to be more careful and this hiking pole is like a third leg to keep me more stable and help me not to slip and fall, especially on the many hills or inclines here. They are sold in pairs, but I will just use one at a time. 🙂 I got it in a hiking & camping store in the Santa Anna suburb of San Jose closest to Atenas. And I'm still walking as much as I can! I put in over 8,000 steps on my cellphone pedometer yesterday with a walk to town and back plus another long walk in Alajuela in-between!
And by the way, I'm pretty much over the effects or cancer and that radiation treatment with the only aggravation now being my left eye which does not function well and waters almost constantly due to the loss of my left facial nerve in the cancer surgery. I try not to wear the eye patch too often because I see better with two eyes, but if watering or hurting much, I can't use it and so on goes the black eye patch. Everything else is almost normal now! 🙂
A bus trip to Alajuela yesterday morning was to pick up a package at Aeropost which I still use for things I want in a hurry. They get packages a week to 10 days faster than the two options here in Atenas (Atenas Webshop and Cost Rica Shipping) that also ship through a Miami address but are much slower, though pickup is more convenient here in Atenas. I've used all three and will probably continue to, depending on urgency. I will use them when there is no rush or I don't want a trip to Alajuela, but actually these morning bus trips there are a relaxing adventure for me now and I get my packages quicker. Yesterday was a part for the machine that keeps my CPAP machine clean, thus needed quicker. 🙂
I just reported on Goodreads that I finished the first of 50 books in the Kindle volume 50 Masterpieces you have to read before you die Vol: 1 and the first one I read was Little Women, which most of my generation had to read in High School, but as I remember it, we boys had other options that weren't considered "girl's books!" So I didn't read it then, preferring Mark Twain or James Fennimore Cooper! 🙂 It is kind of like a Victorian prim & proper soap opera about a family of 4 girls growing into adulthood. I can see why girls would really like it! The second book in that collection is Jane Austen, so I may skip the second "girl's book" and check out something else that I haven't read. 🙂 And we will see if this kind of large collection is going to work out as I catch up on old classics. 🙂 I'm up to about 14 books read this year, so not bad with 2 1/2 months still left in the year! My goal for this year was 12 books.
For many reasons including a dearth of birds in my yard this year, I have switched my main photography focus from birds to butterflies and having a great time discovering new species almost every week! It kind of happened when I wrote butterfliesandmoths.org to ask why they had not published the photo of an unusual butterfly I sent several years back. The director of this volunteers research organization wrote to say it was because there has not been a Costa Rica Coordinator for years and that volunteer position processes all the submissions from Costa Rica. Would I be willing to take it on? (with over 400 submissions waiting!) Well . . . I'm now the Costa Rica Coordinator for butterfliesandmoths.org and having fun with it plus proud that Costa Rica has more species of butterflies than any other country! 🙂 By the way, wherever you live, you can submit your butterfly photos to that website and contribute to research data on the shrinking number of butterflies worldwide. Check it out: https://www.butterfliesandmoths.org/
¡Pura Vida!