One of those thrilling moments of discovery was the first time I finally saw a Sunbittern, even though planned and expected but not guaranteed, there it was! And after a few shots of a plain walking bird along the stream, he finally opened his wings for this shot of spectacular color and design! Read the Backstory for more on the experience.
The Sunbittern (eBird description) is found along water in Central America and the northern half of South America. See my Sunbittern Gallery for my images made at La Mina near Rancho Naturalista, Turrialba; Macaw Lodge near Carara NP; and at Tapirus Lodge, Braulio Carillo NP. See links at bottom of post for all three of these trip galleries and links to these 3 lodges in The Backstory.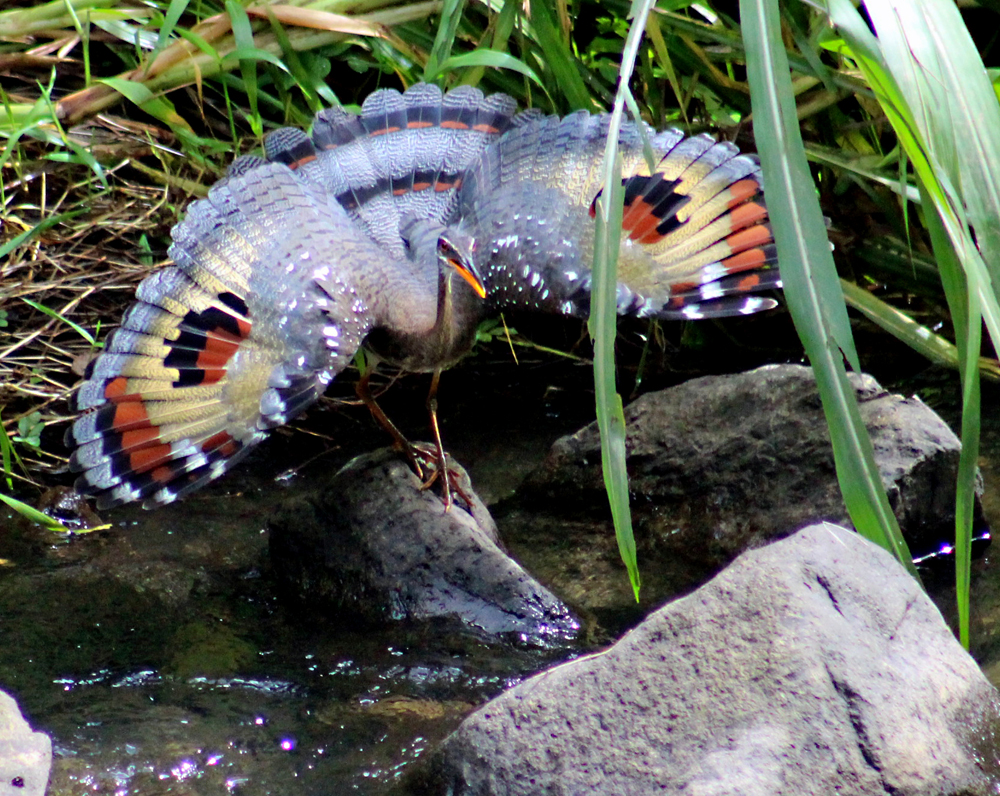 The Backstory
Rancho Naturalista, La Mina: In July 2017 I went by bus to Rancho Naturalista near Turrialba for my second visit to this excellent birding lodge, knowing from the previous year's visit that I would see a lot of birds. This time they had a new girl birding guide who was really good at finding birds. On my first hike with her asked if there really were Sunbittern here as the lodge list said. She told me they were off-campus on a little stream called La Mina and that she could go with me there if the lodge had transportation (neither of us had a car). So the next day the manager took the two of us to the stream in her pickup and said she would be back in an hour to an hour and a half. So we walked along the road which was beside the stream. For a long time nada! We saw other birds but no Sunbittern. Then all of a sudden there was one hopping from rock to rock in the stream, occasionally spreading wings to glide to another rock looking for fish. He finally realized that we were following him I think and to scare us off he spread his wings, looking like a larger animal with two big eyes for me to get this one picture of the wings.
Macaw Lodge, Carara: On my visit to Macaw Lodge near Carara NP I heard from one of the staff that a Sunbittern had a nest at the top of the lodge waterfall. I hiked to the falls and saw one climbing up the rocks beside the falls, going to the top where the nest supposedly was. Not a good photo, but a thrill to see one again, my second Sunbittern.
Tapirus Lodge, Braulio Carillo: For Christmas 2019 I spent the week at Tapirus lodge on the edge of Braulio Carillo NP where I photographed my first wild Baird's Tapir and photographed about three Sunbittern in the stream on two different days. My third and last time to see the elusive Sunbittern.
The TRIP GALLERIES for where I photographed these Sunbittern:
"Traveling – it leaves you speechless, then turns you into a storyteller."

– Ibn Battuta
¡Pura Vida!