The first in my series of favorite bird photos since moving to Costa Rica is almost everyone's favorite, the Resplendent Quetzal (eBird description) found in the cloud forests of Costa Rica and some other Central American countries that is an endangered species or "near threatened." See my other photos of this beauty in my CR Resplendent Quetzal Gallery with photos from three different trips to San Gerardo de Dota and two trips to Monteverde, the two best places to find and photograph this colorful bird in Costa Rica. Note that it is the national bird of Guatemala, but on my three trips there I never saw one.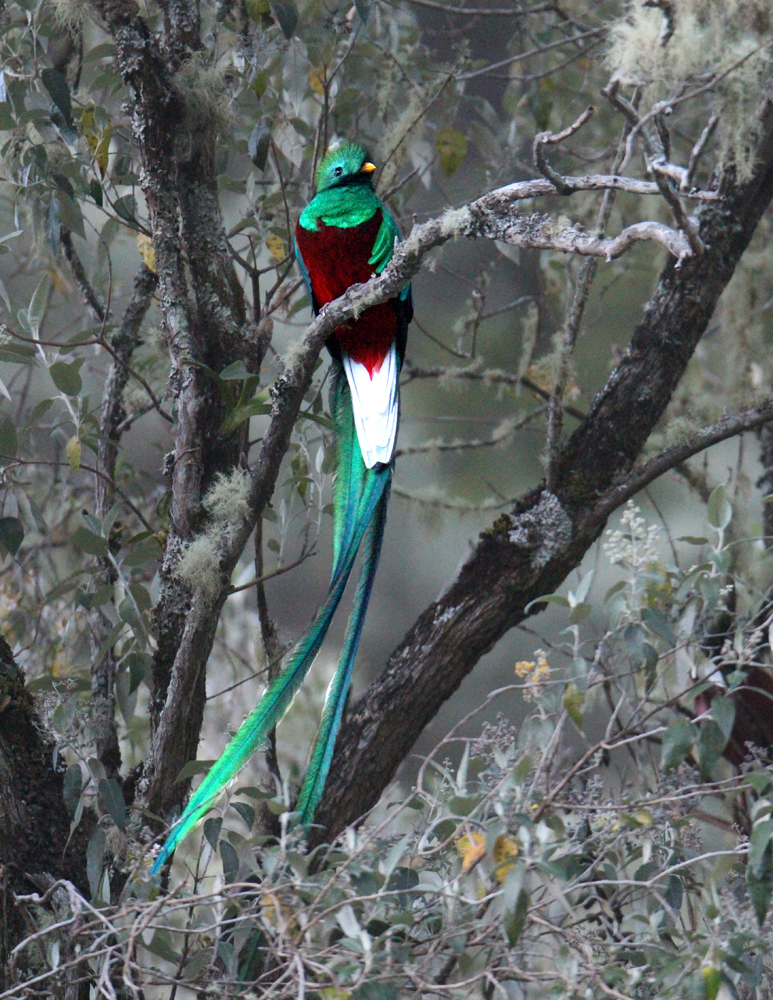 Backstory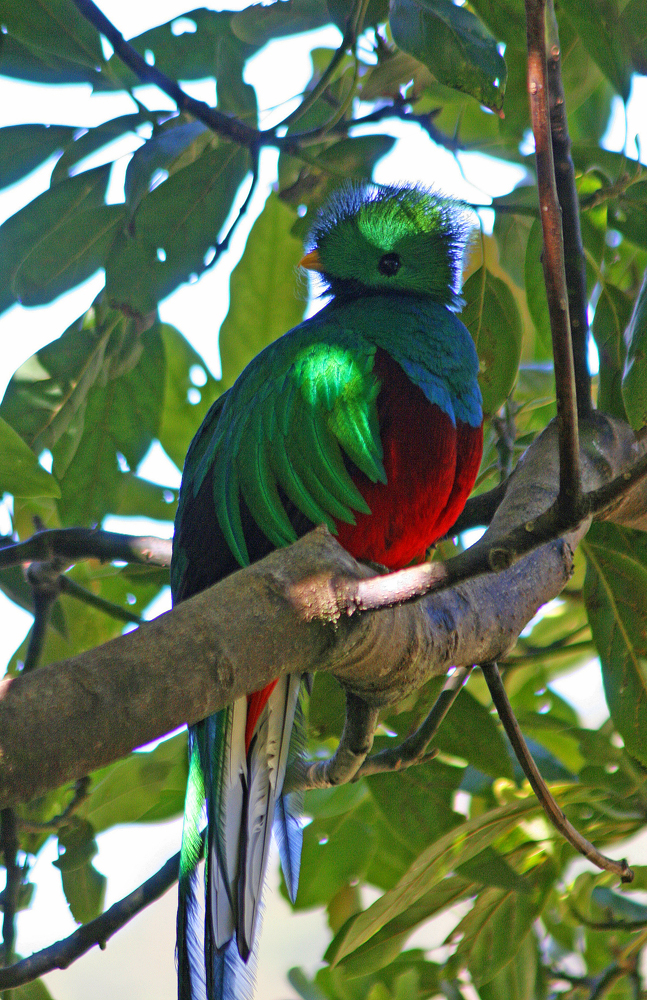 On my first trip to Costa Rica in 2009 on a birding tour, one of our stops was the Hotel Savegre in San Gerardo de Dota and I made this close-up here of what I think is a younger male Resplendent Quetzal than the one in the top photo because his tail was not as long. They took us to a nearby farm and pointed to a wild avocado tree where Quetzales would come to eat if we waited patiently. Most everyone sat on a little hill beside the tree to see the birds when they came in and that was where I started . . .
But when someone else crawled down under the tree to shoot from below, I decided to also be different and joined him. A good decision! we were much closer to the birds when they flew in and that is how I got this closeup shot of a young male in brilliant Christmas colors that served as my Christmas card one year! The other shot above this is I think of a more mature adult with long flowing tail that was made this year in January during a week stay at the remodeled and enlarged Hotel Savegre! I love it there! 🙂
San Gerardo de Dota
I love all of San Gerardo de Dota and have had good experiences in 2 other lodges there, Trogon Lodge and the simple little cabins at Cabinas El Quetzal, then called Mariam's Cabinas. But without a doubt, Hotel Savegre is my favorite for service, food and facilities plus the number of birds seen. See my photo galleries listed below for photos from each location.
Monteverde
I found it a little more difficult to find Quetzales in Monteverde, but they are there and you will see in my galleries I got some good photos there too including a nesting couple. I just prefer San Gerardo de Dota. One trip to Monteverde was with the Costa Rica Birding Club and we stayed in cabins. My solo trip was at Monteverde Lodge and Gardens which I highly recommend with a great restaurant and super guides to guarantee you find birds of all kinds, including the Quetzal. Plus it is very good birding on the lodge's large property of forest and gardens. I love it there too! 🙂
My Trip Galleries that include Quetzales
"Not all those who wander are lost"

~ J.R.R. Tolkien
¡Pura Vida!