A lot of you asked that question, and the answer is sort of a "figure of speech" or a euphemism for an asymmetrical smile or lopsided smile or even a sneer or smirk. 🙂 Possibly the name "Texas smile" came from one of those old cowboy movies my doctor saw, who knows? But that's what my Costa Rican surgeon called it when, because of the cut nerve, I cannot lift the left side of my lips when I smile. But I'm not sneering! 🙂 Just not functioning normally and hopefully with some exercise we can call up some other nerves to help left that side a little more than now, but no promises. Same hope for blinking and closing my left eye which is burning most of the time now because I cannot blink or close it. In fact that is even more important to me! At night I now use an eye patch and put an ointment in my eye. My two big challenges before we even find out if the tumor was a cancer. Hopefully I will not permanently be "the sneering, one-eyed Charlie!" But if so, I'll make the best of it! 🙂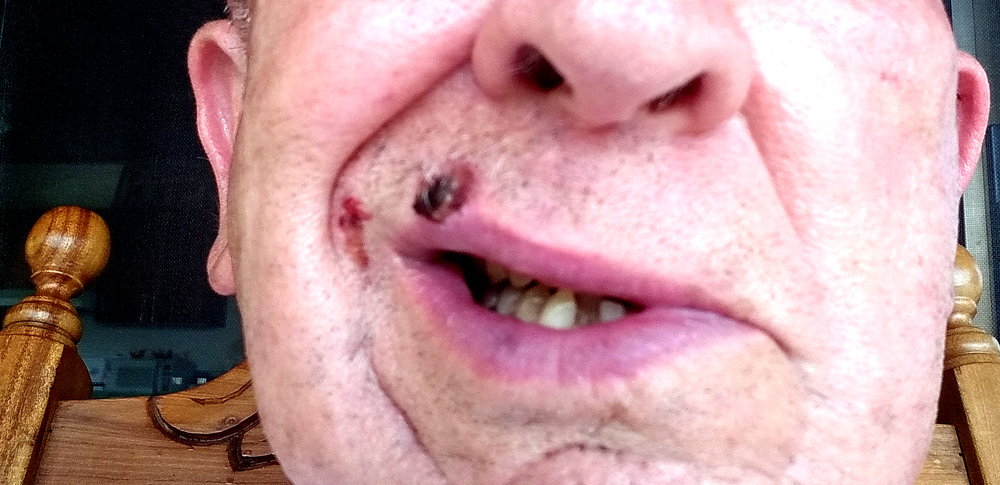 The scabs on my lip are where the dermatologist removed growths earlier and they are just slow to heal. And of course I can't shave on my left side with cheek and neck swollen and sore, so I'm an ugly mess! Like an old house or old car, everything breaking down at once! 🙂
Drainage Tube Removed Tomorrow
At least I have that to look forward to! Tomorrow afternoon the doctor sees me again and says he will remove the drainage tube which is a real bother. Then I think I will have one other post-op visit in another week when I will learn if cancer or not and what else we need to do. So seemingly always something else, but we are getting there – step by step.
Dinner Delivered to My House Every Afternoon
The ladies of Roca Verde have been wonderful! Delivering a "soft" food dinner each evening that will continue into next week. I'm really getting the "royal treatment" from my neighbors! And its looking like enough leftovers for more extra meals than I will likely need. This is the life of being "Retired in Costa Rica!"
Plus Prayers from Around the World!
I'm so thankful to have so many friends and family around the world who believe in prayer and have assured me they are praying for no cancer and a quick and complete recovery. Wow! I'm a fortunate person in so many ways! 🙂
¡Pura Vida!