It is Wednesday afternoon and I got home about noon today from Hospital La Católica in downtown San Jose, our big, busy congested city and National Capital, about an hour and half drive in reality, though most people say about an hour. 🙂 I have no car and thus use my regular drivers here for the hospital trips.
Total Parotidectomy
A parotidectomy is the surgical excision (removal) of the parotid gland, the major and largest of the salivary glands. The procedure is most typically performed due to neoplasms (tumors), which are growths of rapidly and abnormally dividing cells. Neoplasms can be benign (non-cancerous) or malignant (cancerous). ~Wikipedia
Note that this was the official surgery but the growth extended into the lymph nodes in my neck which were also removed. And I came home with a drainage tube coming out of the left side of my neck.
The best specialists for my problems
I am convinced that I had the best cancer surgeon for this job in Dr. Christian Hernández who specializes in only cancers in the head an neck. He also used a super gerontologist for my pre-op exams and then when we developed a side-affect with the severed nerve he brought in a lady ophthalmologist who may be the best in the country to help with my left eye problem which I will try to explain below.
A Nearly 7-hour Surgery
He said more than 6.5 hours or nearly seven hours and was very tedious going the full length of the left side of my face. He did the kind of thing you might expect from a younger doctor, while explaining it to me he pulls out his cell phone with brilliant blood red photos of what he found in the parotid gland, pointing out a section of the facial nerve that was surrounded by tumor and could not be saved. (No, I don't have the photo to show.) Then he followed the tumor down to the lymph nodes which he said is a common occurrence. He believes he removed every bit of it but can't say for positive that it is or isn't cancer until the biopsy report next week.
A Bad Photo of what I look like right now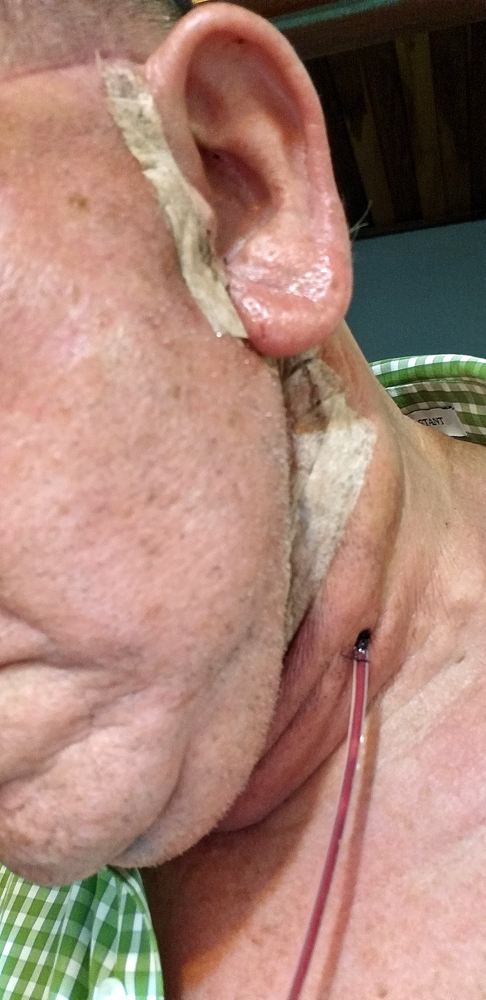 Cancer? Probably – Know with Biopsy Next Week
He has seen enough of these to believe it is a cancer and one of two types, but will not know for sure until the biopsy report he will explain to me next week. And if what he thinks it is the additional treatment will not be chemo but radiation therapy called radioterapia here. Thus I will know more specifics next week. In the meantime it is what it is.
How do I feel?
Is what everyone asks and it almost seems like a "loaded question" to me, but I will still try to explain. With that long a surgery I was in and out of sleep all day Monday and into the night when I think I became more aware of things and that my left eye would not close. The only pain I've had thus far has been what feels like a "sore throat." Pain medication has kept me from hurting.
Tuesday I slowly got back to "normal" or at least eating soft food and having bodily functions. I felt pretty good when they wheel-chaired me to the adjacent office building to see the ophthalmologist though she did a couple of things to my eyes that hurt a little, she was finding out that the only nerve in my eye that seems to be not functioning is one of those that helps control the eyelid and we may be able to work with other nerves to get it to close naturally again.
The other problem is the facial nerve controls the left side of my mouth and smile, so Dr. Hernández said I now have a "Texas Smile," with the lips turning up only on the right side, or maybe a one-sided smirk? The surgeon says that some mouth exercises may help left the left side of my smile and help with managing the food in my mouth which I now can't control on the left side, making it slower and more difficult to eat! Got to fix that! 🙂
And of course the left side of my face is swollen now and for a few more days.
But I'm generally in good spirits and hopeful for a more functional recovery of everything. And I will keep you posted on this blog.
¡Pura Vida!