Check out this National Geographic Traveler Article online listing Costa Rica as #2 on their list of Best of the World: eight sustainable destinations for 2021 and beyond.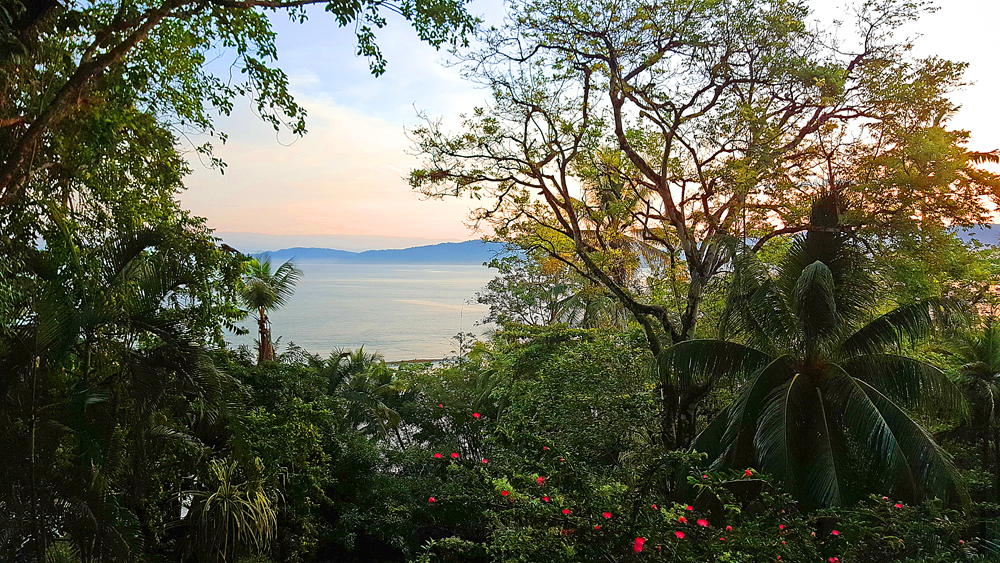 The above photo is one of mine from Drake Bay since Nat Geo used their Drake Bay photo and I think mine is just about as good! 🙂 It's sunrise from Aguila de Osa Lodge and the full post online also has my Drake Bay snorkeling photo. 🙂
And for those email recipients who won't click the magazine link above, I copied the CR part of the article into my full blog post on my site, just click below . . .
Celebrations for the pioneer of sustainable tourism
So, you want to escape? Imagine a country that's one-quarter national park, a place where you could hike in a rainforest in the morning and surf tropical waves in the afternoon. Imagine an adventure Eden where sustainability was a strategy long before the world caught on, where jaguars prowl in the jungle, harpy eagles fly and Jesus Christ lizards walk on water before your eyes.

That country is Costa Rica. 2021 is the bicentennial of its independence, an anniversary it aims to celebrate by becoming the world's first carbon-neutral country. Already one of the greenest nations, conservation has been cultivated here since the 1970s, with drives to protect areas, close zoos and reverse deforestation.

For a deep immersion, plot a course for the Osa Peninsula at the tip of Costa Rica's southern Pacific coast; an astonishing 2.5% of the Earth's biodiversity is squeezed into 0.001% of its surface area. This was one of the last frontiers to be inhabited in Costa Rica, when the discovery of gold prompted a wave of migration in the 1930s. Today, the gold rush has gone, and much of the region is accessible only by boat, horse or hiking trail.

Some 80% of the peninsula is protected; much of it in Corcovado National Park, where visitors can follow guided trails with local groups like Caminos de Osa or Dos Brazos de Rio Tigre. Based out of luxury and backpacker jungle lodges around Drake Bay, activity options range from rainforest hikes to mangrove swamp tours, whale-watching, snorkelling or diving at Isla del Cano and surfing at Cabo Matapalo.

2020 will be remembered as a year with few upsides, but a desire to re-connect with nature and the great outdoors was certainly one. James Thornton of Intrepid Travel, itself a carbon-neutral travel company, says: "Time outdoors after a year of lockdowns and increased screen time will seem more important than ever".

Costa Rica has been laying the green groundwork for decades. In 2021, its message could be perfectly tailor-made for post-pandemic trips.

From National Geographic Traveller UK
¡Pura Vida!
And for more of my 2017 Visit to Drake Bay Photos, the gallery!
PLUS My 2 Other Visits to Corcovado NP:
2018 – Danta Corcovado Lodge, Los Patos Ranger Station, Corcovado NP
2009 -Birding Tour of Costa Rica with 4 nights at Carate, La Leona Ranger Station, Corcovado NP – My first ever trip to Costa Rica! 🙂 It also included San Gerardo de Dota.
¡Pura Vida!