For my fellow nature-lovers in Costa Rica or ones who travel here frequently, you may want to check this out . . . Animals of Costa Rica
Thanks to the El Silencio Guide (Eco Concierge) Daniel for introducing me to a new source of identifying my wildlife photos. I haven't used it enough to have a strong opinion yet. The one unknown butterfly I tried to find on it, I couldn't, so like all my other ID sources, it will not be perfect or totally complete, but it is my first source to have all animals in one place and it has a lot of animal photos & detailed info already which I suspect will expand.
And for the birders, I suspect that Merlin & eBird will stay on top for birds, but I've had lots of ID needs on other animals here and that is where I expect it to help me the most. We will see.
It was developed by a naturalist from Austria (like one of my favorite lodges was, Esquinas Rainforest Lodge, Golfito), so I have high hopes for it! 🙂 You also can use it to keep a record of the species you have seen by just clicking the eye icon when on a species page. I suspect it will continue to be expanded or updated and for now updates are free.
Go to your preferred App Store to find it available at two price levels (all animals or just one order of species like if only interested in insects):
Here's just one of many pages as all wildlife orders are included . . .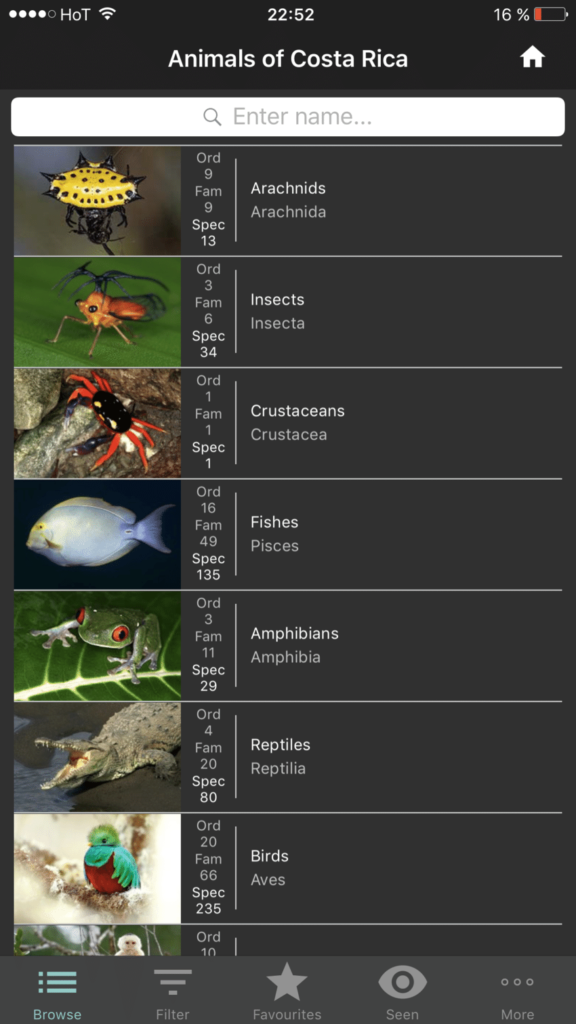 Those who find beauty in all of nature will find themselves at one with the secrets of life itself. —L. Wolfe Gilbert
¡Pura Vida!
And my animals photo galleries are two: BIRDS and then OTHER WILDLIFE.