For the last year or two I've worked hard a preparing good, healthy meals at home from making 8-servings of spaghetti with meat (eating 1 & freezing 7 for future meals) to multiple recipes of homemade vegetable soup to help me eat more veggies, last week a yummy Chick Peas Salad from a Washington Post Recipe and also last week a 7-layer dip (mostly veggies). And I do breakfast at home all but one morning a week with 3 or 4 fruits, nuts, whole grains in either bread, hot or cold cereal or French Toast, saving my omelets for some dinners! 🙂
But living solo, I still like to eat out and I'm now trying to find more restaurants that I like while some I liked closed during Covid. So I was a little surprised to see two new ones open in the last few weeks, one serving everything from pizza & burgers to steaks & seafood and the other one our first "genuine" Mexican Restaurant:
Iguanas Restaurant & Pizzeria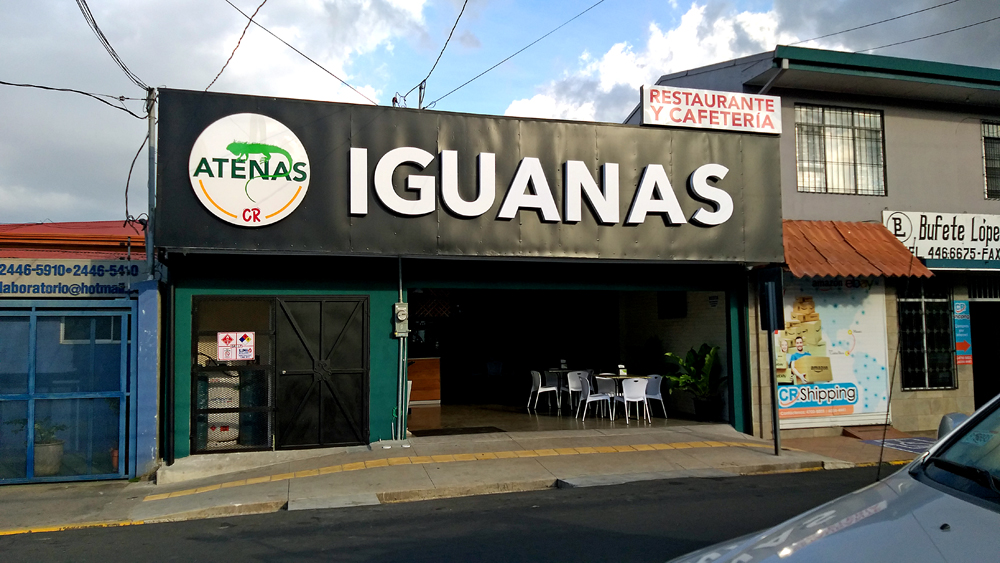 This Iguanas is purely Tico as a new small chain of restaurants in our part of Central Valley with others already in Grecia, Palmara and San Ramon. Their target seems to be Tico young adults who like a place to hangout, enjoy music and eat (don't all young adults everywhere?). They have live music at night with a dance floor and play major ball games on the TVs scattered everywhere in this very large restaurant inside. Some of their decorations are historic photos of old Atenas and they have all young staff with burgers & pizzas prominently presented! Their main beer is Imperial, THE Costa Rica Beer! 🙂 They are trying to be a local hangout for the young of Atenas and just may succeed at that! Olivier Pizzeria is mostly high school kids and La Finca is dominated by old expats! 🙂 Its a social thing! 🙂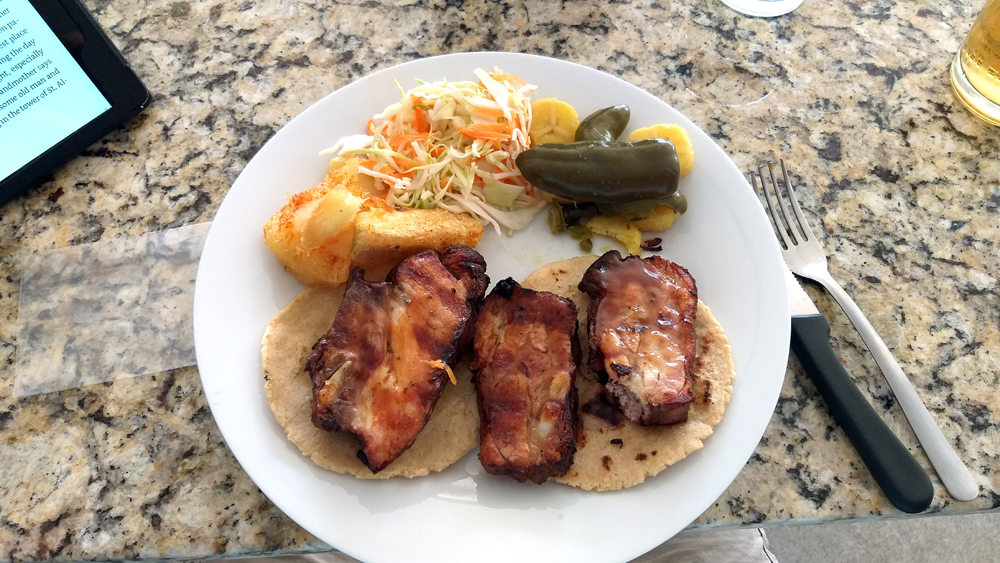 My first time to try them, I had their small portion of barbequed ribs that were good but too dry for me and I failed to ask for BBQ Sauce as I do in other restaurants. If I try that again I will definitely ask for the sauce! But I already have a favorite Parillada (BBQ Restaurant) elsewhere. Interesting sides with the ribs were a seeded Jalapeño with cooked banana slices (yummy & not too hot), cole slaw they called ensalada, and home potato fries. I had Carrot Cake for dessert and it was too dry also. When I paid I told them that both were too dry (demasiado secas). A very friendly and happy place. I will return at least one more time. 🙂 Think I'll try their nachos next time which should be very good in a youthful place like this! 🙂
La Casona Michoacána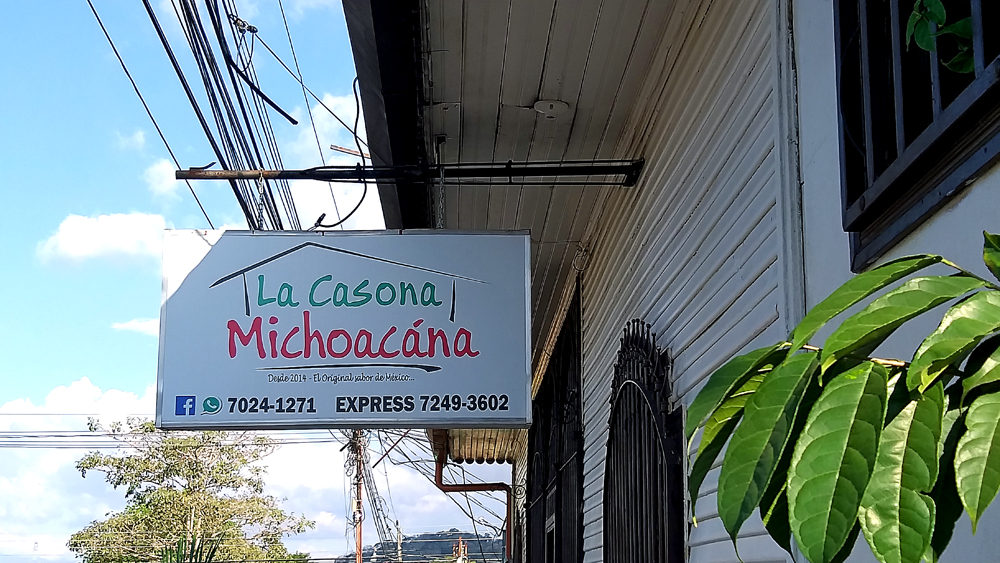 La Casona Michoacána is quite different and very small! It is authentic Mexican cooking from a region of central Mexico called Michoacána. Since their sign says since 2014, I assume they are referring to the one in Grecia and just added this little one in central Atenas, 1/2 block from Central Park (like the above restaurant but in a different direction). I think it is very good, though small and seemingly few patrons. For locals reading, they are located in the old Antonio's restaurant but use only the bar area and front porch for seating, thus I'm thinking they don't have a lot of patrons yet. But how can I know when I eat at 3 or 4 in the afternoon?! 🙂
They have only 3 tables and a little bar with one waitress and one cook. The tacos and chimichanga were as good or better than anywhere I've been! The quesadilla was delicious but had more chicken than cheese (it needed more cheese). It had delicious sauces, lettuce, tomatoes, etc. that don't show in the photo below (all inside). And note that like the other restaurant above they serve home fries with many of their dishes. That's definitely a Tico thing with the fries and I just didn't know Mexicans did it too! 🙂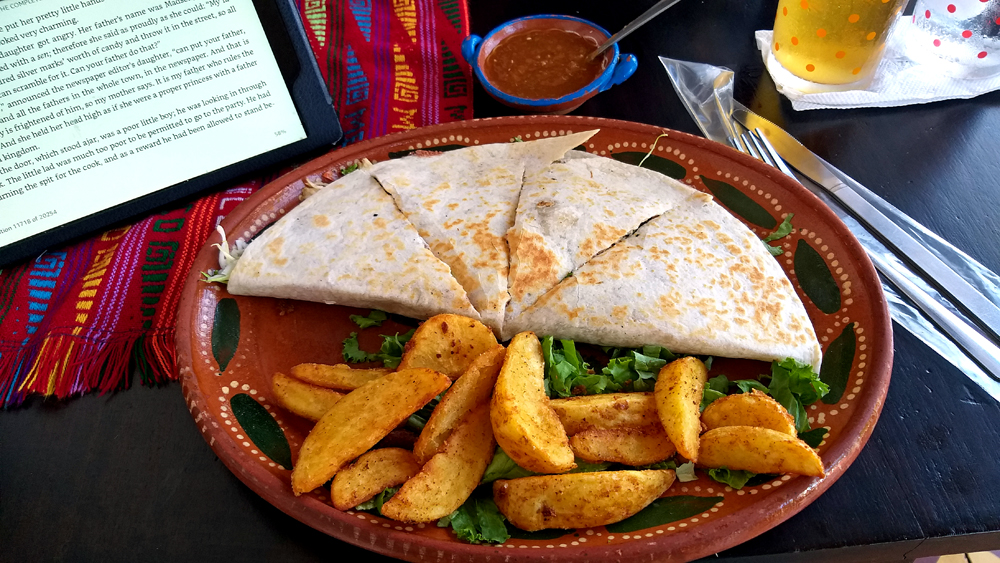 And what are my existing favorite restaurants?
That probably should be another post but for locals let me list where I have been eating both in the past and currently: I started here in 2015 eating a lot at La Carreta which closed before Covid and I'm not fond of the replacement there. Then I went some to Antonio's which closed during Covid and back then also Soda Tío Mano and some of the sodas in the Central Market which I still do occasionally. Also from the beginning was El Balcón de Café which I still eat at some, though still the same I'm kind of tired of it except they still have the best Corvina or Seabass with a garlic white sauce! And their breakfast is great! A German lady operates it and there was another restaurant operated by a French lady with salads and sandwiches but it closed with Covid. And for years I was a regular at Donde Bocha which has very good burgers and Mexican food, but after getting sick on his food twice, I quit going there. In my first two years I had him cater two meals at my house that were excellent!
And my very favorite, only a couple of years ago was Poco Loco ("a little crazy") with the very best soups, salads and sandwiches ever in Atenas, but they closed during Covid to my great sorrow! La Trilla has changed hands at least 3 times since I've been here and the latest version is okay food and in a handy location by La Coope or across from El Fogón. And I've tried several others further away from Central Atenas that are okay, but I prefer to stay within walking distance.
So today, if I ranked the ones in Central Atenas that I can walk to and eat at regularly they would be:
¡Pura Vida!