These are some of the houses and businesses that are along my 650 meter walk every day from the hotel to Radioterapia Siglo XXI clinic for my radiation treatments. Bear in mind that in the early days this neighborhood, called Uruca, was a "suburb" of downtown San Jose, a 10+ minute drive away now.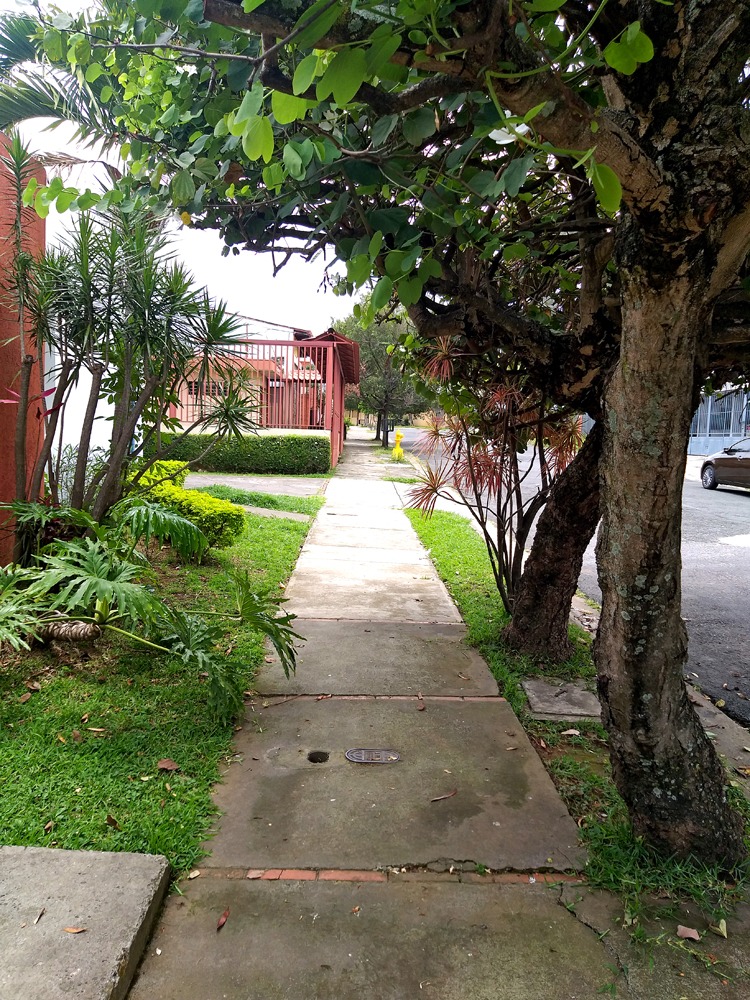 As in most urban development, some residential slowly turns to business and this neighborhood is no exception. I thought some readers would enjoy seeing what urban houses in this part of Latin America look like today. As a point of comparison, note that Costa Rica tends to be more modern and less traditional than Latin countries like Guatemala and Mexico. On this walk there is only one old house that would be considered "Spanish Colonial" with the tile roof and high compound wall. I think the neighborhood is interesting, but to help you not be bored, it's a fast-moving slide show 🙂
Leaving the Best Western Hotel San Jose

with the Subway across the street in what was once an office building.

Down the sidewalk by BW Parking Lot

Past Gold's Gym hurting from Covid

And mostly residential from here on.

The occasional flowers help the neighborhood

Replica of a historic "Stone Sphere" from Costa Rica's indigenous pre-history

House For Sale by Century 21

A favorite walking section by a bigger house

A more typical working family house

"Modern Spanish?" – I'm not sure!

More unpretentious houses, typically Costa Rican

Several simple moderns

House now Lawyer's Office, between two homes.

Not sure – Looks business

Old Spanish Colonial

Another flower along sidewalk

House being painted, possibly to sell

Apartments or Condos?

Same Apartments or Condos

And I've Arrived! My clinic!

Radioterapia Siglo XXI – Much bigger than it appears!
San Jose, Costa Rica
And of course I have a gallery of photos from earlier visits to San Jose, mostly in the center of the city simply called San Jose, plus the specific trips to the city are in my CR Trips Gallery (mostly in earlier years):
And What Happened to Those Tours of San Jose?
Yeah – I know – at the beginning of all of this I said I would try to make 7 weeks of radiation in San Jose a vacation, taking some of the many tourist tours and of course visiting parks and museums which I always love. One simple word that I didn't think of at that time: COVID19!
As I announced last week, Costa Rica had a spike in cases with the hospitals full and the Ministry of Health closed all restaurants/bars and other public places "not essential," leaving only supermarkets and pharmacies. 🙂 So no museums or parks open for me to visit! 🙂 But I'm going to make the best of the hotel, room service and the big tree in their garden as my adventure for now! 🙂 You will know if I do anything bigger.
My "Spanish Word of the Day" is el ajetreo
"El ajetreo" means "hustle and bustle" which is typical of all big cities, including San Jose. Though occasionally that is fun or appealing, mostly now I prefer the quieter, more tranquil nature of a smaller town like Atenas! And that is partly my age now.
¡Pura Vida!