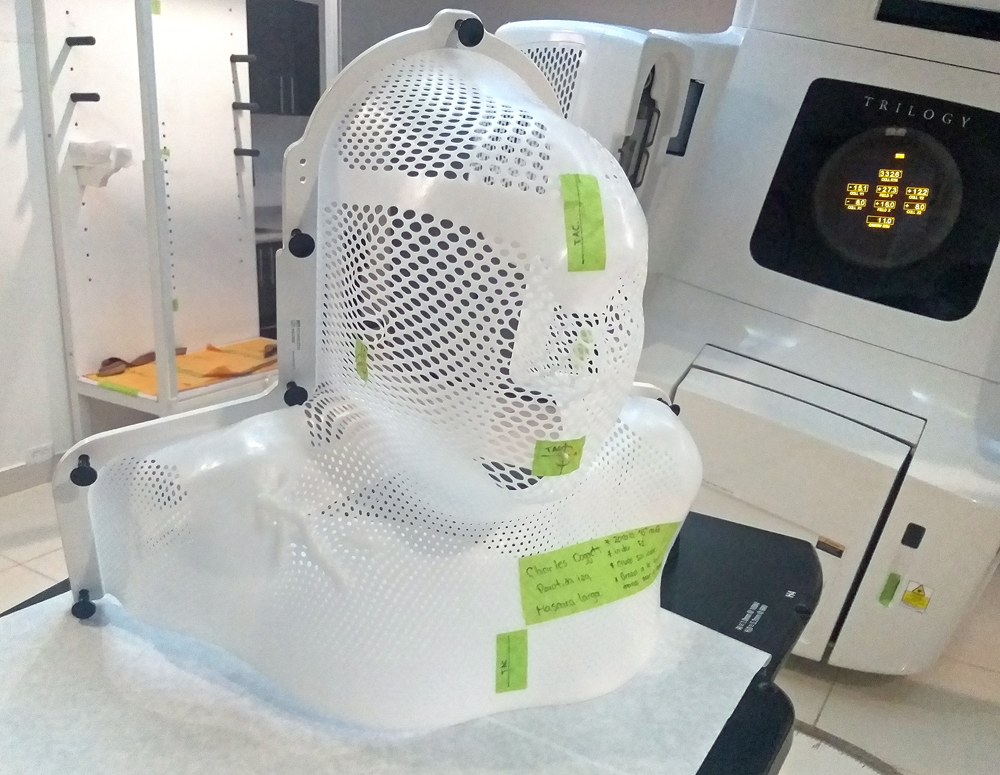 Well, tribal in one sense, with only certain ones of us in the Radiotherapy Tribe! 🙂
This first day of radiation treatment took longer because I had to meet with the nurse to explain all the side affects and things I can do to make it go smoother. Then they had to readjust the mask made more than a week ago which is a mold of my head and shoulders. They screw it down to the table over my body and I can't move my head at all. This is necessary to get the radiation in the right places which afterwards Dr. Bonilla showed me computer graphics of my head & neck and where the radiation is scheduled to go. Amazing how targeted they can be when I am in forced stillness! 🙂
Once I'm set up, the machine scans my head and neck from two angles, 33 seconds each time. This will continue for 33 days which now boosts me up to 6.5 weeks. I am now scheduled for 11:45 AM each day, Monday to Friday.
After today's treatment I walked the 6 blocks back to my hotel which I love and will tell you about later. I looked in the mirror and was surprised that the left side of my face and head was a little pink, even on the first treatment! I have an expensive "Radiocare" lotion I will use on my face to help avoid the "sunburn effect" and sure enough, the pinkness went away with the first usage of the lotion. I also must wear a wide-brimmed hat and avoid all sunshine on my face and neck. I jokingly told the nurse that I would just make a larger "Covid mask" to cover my whole head! 🙂
Another "new normal" being developed here! 🙂 ¡Hasta mañana!
¡Pura Vida!