Government bureaucracies are a pain everywhere in the world, even in paradise-like Costa Rica – though no worse than the states and West Africa topped them all in my limited world experiences – BUT – staying on focus:
For your first 3 years + in Costa Rica you can apply for and get a "temporary" (2 years) or in my case as a retiree it is called "Residente Pensionado," meaning you will have two of these before you can apply for a "Residente Permanente," which is not really permanent, but does last 5 years which is better than 2! 🙂
So, even though my second pensionado Cedula (name of resident card) was good until this July 26 (almost there) I followed the advice of my lawyer/translator and applied last year on July 26, one year ahead and still do not have it, though Immigration claims to do it in about 6 months. After 7 months they informed us that they were overworked and behind on applications with so many applying for residency (which I believe). So they gave me a little document that I have been carrying around in my wallet that tells people if my card is out of date Immigration still accepts it because they are backlogged in their work. Whew!
Finally I get an appointment to pay the four different fees ($400+) and get photographed for my new Cedula last week. Wellllllll, because there was a spike in COVID19 cases, the Ministry of Health shut literally everything down last week and most everything this week, but did reschedule my appointment to this week in Alajuela, my provincial capital. Instead of going to a bank to pay and the post office for photo and other paperwork, Belinda (my British Lawyer and Spanish Translator) wanted to try a new office in a suburb of Alajuela in one of the banks where you can do everything in one place (seems more efficient).
And it was fairly smooth with the mask requirements and the fact that my agent was a new young man employee doing his first permanent residency with the help of a senior agent. Very friendly and kind and it only took 2.5 hours! (Ohhh! in Gambia it would have taken all day!)
Belinda thought it funny that I wore both a mask and a face shield and made the featured photo on her I-Phone and asked me say something about it for her video which I tried to insert below but was told: "Sorry, this file type is not supported here." (Apple junk!) thus I repeat the photo below. At least I am safe and I'm helping keep others safe, regardless how ridiculous the old man looks! 🙂 And masks are a national requirement here!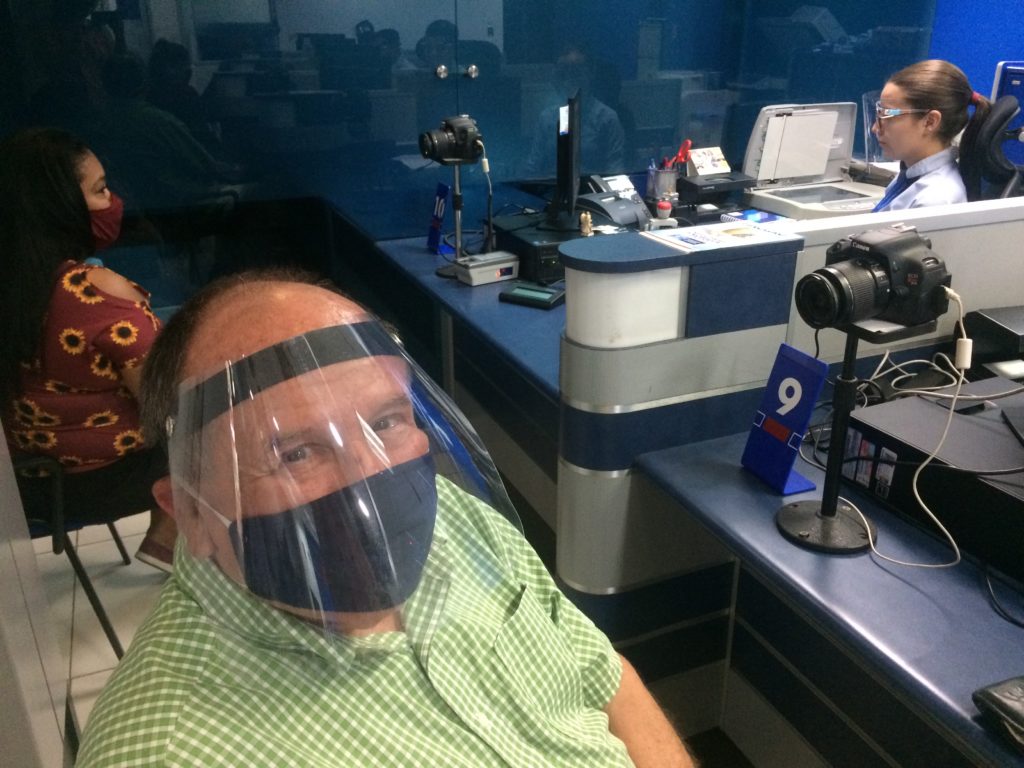 And oh yes, they won't let you smile for the photo, just like the U.S. Embassy for my Passport! Guess all this is suppose to be serious stuff! But just another adventure for me!
🙂
¡Pura Vida!