OK – not a happy thought! So for those who don't want to think about it, I have another post today on why we are happier in Costa Rica!   🙂 This is one of those articles for readers planning to retire here.   Since I expect to spend the rest of my life here, I should plan for death here.
First, most expats living here will need two wills, one in Costa Rica and one in their home country. I already had a very detailed will in my home country, the United States, but now I am in the process of a slight update of it (I got rid of all my stuff.) AND creating a Costa Rica Will (which I should have done earlier). Since I own no property or even a car here (just personal effects in my house), my will is simpler than most expats living here. A house, a piece of land, a car, etc. located here must be covered in a Costa Rica Will, not your stateside or home country will. As the Boy Scout motto says:
"Be Prepared"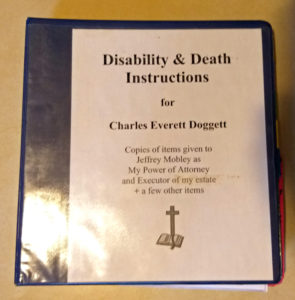 MY COSTA RICA WILL covers everything in this country including:
FIRST, MY BODY which I am donating to science at the University of Costa Rica Anatomy Department (easy for everyone else).   🙂
SECOND, ANY BANK ACCOUNTS here which for me is just one where my SS Check is deposited for housing expenses. A Costa Rica Bank account needs a Costa Rica Will. Any other money accounts a person has here would be the same.
THIRD, MY PERSONAL EFFECTS here will be handled by Costa Rica law and I'm giving my son or sister 30 days to come here and claim anything they want (computer,  cameras, artwork, photos, books, clothing & very little furniture). Hogar de Vida (a local children's home) gets what my family does not claim (in person here) and/or Hogar de Vida is 3rd in line for all personal effects. They can use the stuff or sell in a yard sale as they wish.
FOURTH, AN APOSTILLE DEATH CERTIFICATE(S) will be sent by my CR Attorney (or in some cases by the U.S. Embassy?) to my attorney in Nashville who will need it to execute my will there. Standard procedures.
MY UNITED STATES WILL covers everything related to me in the United States:
FIRST, MY BANK ACCOUNTS there
SECOND, MY RETIREMENT ACCOUNTS
THIRD, MY ONE TINY LIFE INSURANCE POLICY
FOURTH, DISPERSING ANY BALANCES ACCORDING TO THAT WILL
If I owned property in the states, it would be included above also. I don't. I have greatly simplified by life in my final years. I have two attorneys (Costa Rica & Nashville) in touch with each other now so they have a plan to handle my death. When I die, it is all up to them in their respective countries. In my case they are also Executors of my two wills and Powers of Attorney, for me in their respective countries.
As a well spent day brings happy sleep, so life well used brings happy death.
~Leonardo da Vinci
¡Pura Vida!   —   Even in death!