This trip was much more of a "Beach Holiday" for me than most of my trips to or near the beaches of Costa Rica. I'm usually on side trips to national parks or wildlife refuges to photograph nature almost every day. But needing to rest this time, I haven't left the hotel and thus I spent a lot of time on the beach or overlooking it from my balcony. And of course photographing much! 🙂
With a telephoto lens I did photograph a few interesting people from a distance but decided to give them their privacy and not include in this collection of just nature things I saw on the beach near Hotel Banana Azul, Puerto Viejo de Talamanca, Costa Rica. Below is my straight-ahead view from the hotel chase-lounge chair on the beach and below that a slide show of 16 other interesting things I saw on the beach including "A Dragon's Head" (if you have an imagination!) 🙂 And this doesn't include the sunrises from the beach every morning which are in separate daily posts.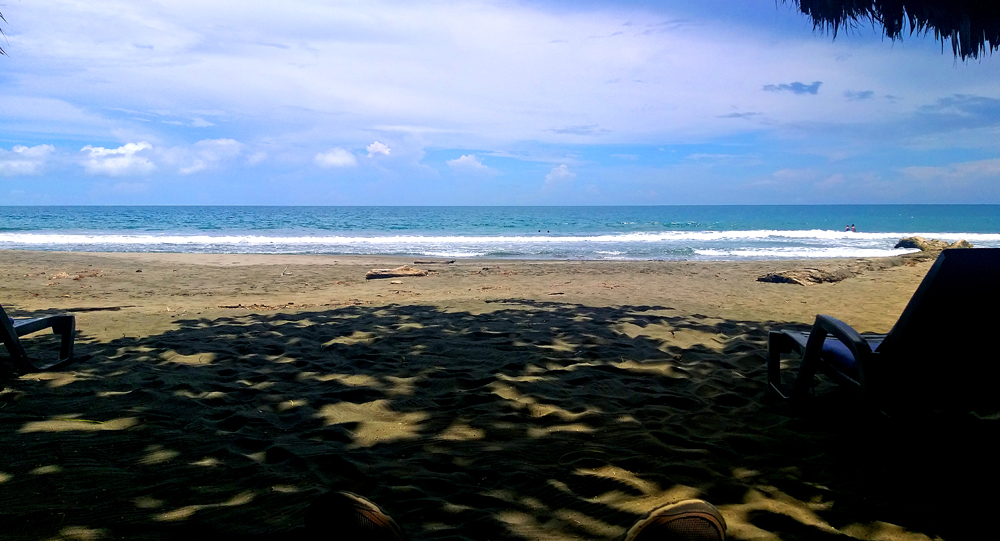 There's a lot to see on a beach walk . . .
Entering from the Rainforest.

Beach Spider Lily

Beach Umbrellas at Hotel

Looking South from Hotel Beach

Looking North from Hotel Beach

Hotel Beach Umbrellas under Shade Trees

Beach Morning Glory

Beach Morning Glory Vines

Dragon's Head Driftwood

Not big waves at this beach

Looking out of the Rainforest

Sea & Sky!

View from Beachside Bar

Dog Tracks

Sea Grape Leaf

Brown Pelican flying over
¡Pura Vida!