Friday and Saturday (after I've gone back to Atenas) the hotel is hosting another concert weekend featuring Debi Nova singing on Friday night from the stage in the swimming pool! Since the Ministry of health is not allowing public venue concerts because of Covid, the hotel gets around that by renting rooms with balconies overlooking the swimming pool, priced by quality of view! 🙂 And a max of 4 to a room. The above link on hotel's site has photos of earlier concerts with people watching from balconies and below is this Friday's singer Debi Nova . . .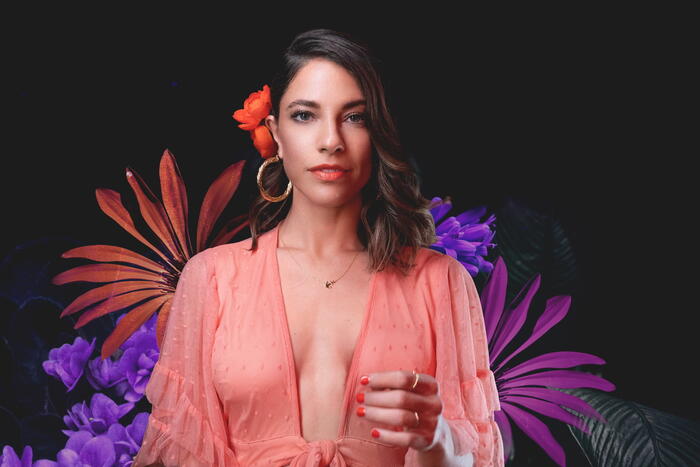 There won't be a crowd of thousands but a fun experience for a lot of young adults I'm sure and a tiny boost to one of the many hotels suffering from the Pandemic lack of tourists. Below are my photos of the setup as it looked on Thursday and I won't be here to photograph the concert. 🙂 . . .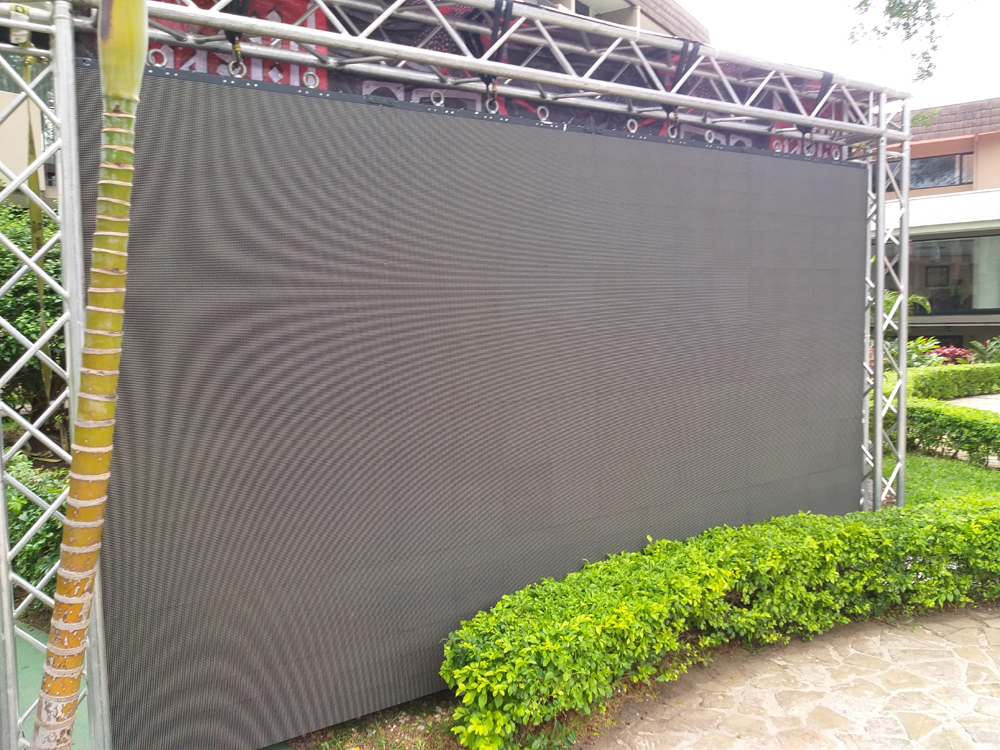 They put me in 417 this week and you can see above that it will be a cheaper priced room for the concert because the palms block part of the view, but you can also see that I have a better view of the hot tub this week. 🙂
NEXT WEEK will be my last 4 radiation therapy sessions and last 3 nights in this hotel which has been a great place to be if one must have radiation treatment. I highly recommend Best Western Plus San Jose in Uruca near Central San Jose and nearer Parque La Sabana and its stadium and museum and convenient to the airport on the same Ruta 1 if you are ever here and for my local readers.
Health-wise
I'm doing okay with another auxiliary problem solved yesterday by another new doctor, Dr. Andres Obando, Otorrinolaringología (ENT, ear, nose, throat) who was finally someone to discover why my left ear itched all the time and was having periodic shots of pain. He said he thinks that because the surgery was so close to the ear, some blood drained in and later became spoiled or infected and I have an ear infection that he is treating with an oral antibiotic and ear drops. The fluid is at a lab now and tomorrow if they discover something different from what he thinks, he will let me know with a call (yes doctors regularly call you here) and if it merits a different prescription he will text that to me (or WhatsApp which is very popular here).
Now I'm down to the last two or three "normal" problems with radiation that I will handle the best I can and try to be patient for months. The sensitive skin "like sunburn" has not been too bad with me using their "Radio Care" cream 3 times a day as instructed. And I'm hoping for rapid improvement after finishing radiation. The tiredness is not as bad as it was the previous two weeks, maybe because I rest and sleep more. And the worst part of all could last months for some people and that is the lack of taste except for this horrible sort-of metallic taste in my mouth all the time and a lump in my throat (swelling) that makes it very difficult to swallow anything, pills, food, liquids even water which tastes bad now. I sometimes gag and have even dry-heaved trying to swallow some things. Needless to say, I'm having difficulty eating anything and some things not at all.
LIKEABLE FOODS/DRINKS: Most all fresh fruits and some fresh veggies; most fruit juices, especially orange and lemonade; vanilla and strawberry ice cream; some soups have been good but Denny's only has chicken noodle and at home the only Campbells our store has that I like is Minestrone and of course the neighbor's homemade veggie; toast with jam a little with coffee but not much; Mashed potatoes are easier than fried or boiled but none very good;
DIFFICULT OR IMPOSSIBLE FOODS: soft breads I gag on and no taste; most meats except crisp bacon and a small amount of white meat chicken, but most have no taste and I gag on them; chocolate that I usually love tastes terrible even in ice cream now; sandwiches on soft bread I gag on; fresh tomatoes and most salads; hamburgers; pancakes, rice, eggs though a little bit with a spicy omelet, etc.
Well that is probably TMI but part of what I said I would do with this cancer recovery to help anyone else going through it or about to and I've already heard from a couple of cancer patients. And life goes on! 🙂
¡Pura Vida!