When I checked in the hotel yesterday I was kind of hoping they would put me in the same Room 109 again because I really liked it last week. But I was assigned 407 which is 4 floors above and one room left of last week's room. Wow! I like it better!
I like looking at the world from above and these photos show that difference, but also I am closer to the top of the big tree where more birds hang out, like parrots! And yes, the first afternoon I got some or one, but that will be another post, maybe tomorrow! And look below at how much better the mother bird and babies show up from above! ¡Pura Vida! 🙂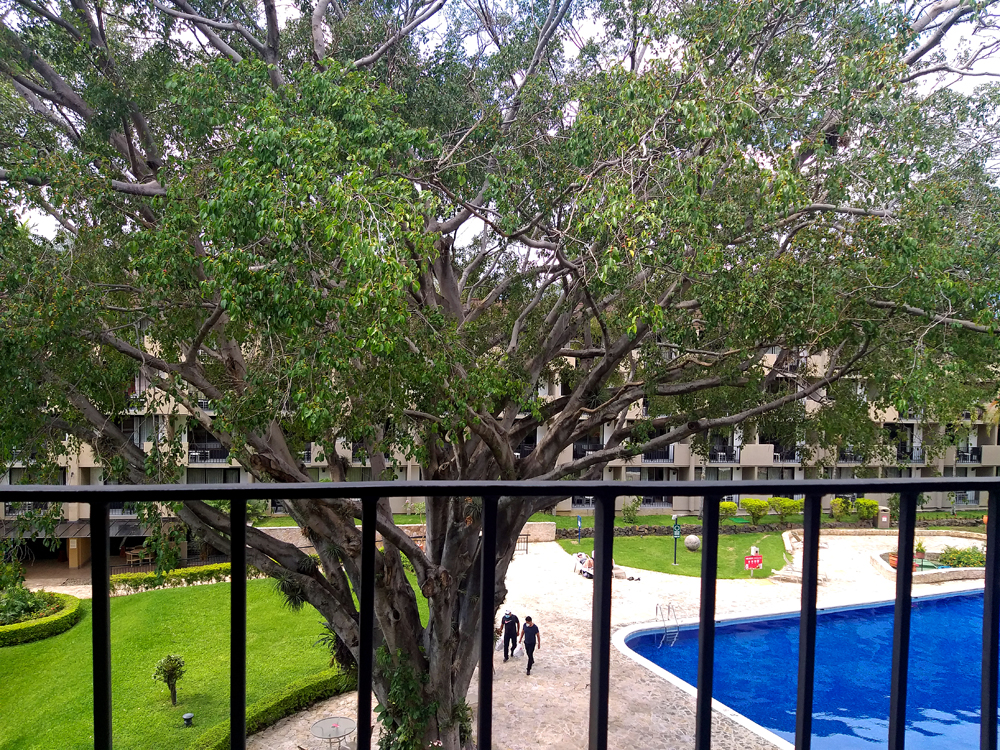 See the mother bird with babies from above in more photos . . .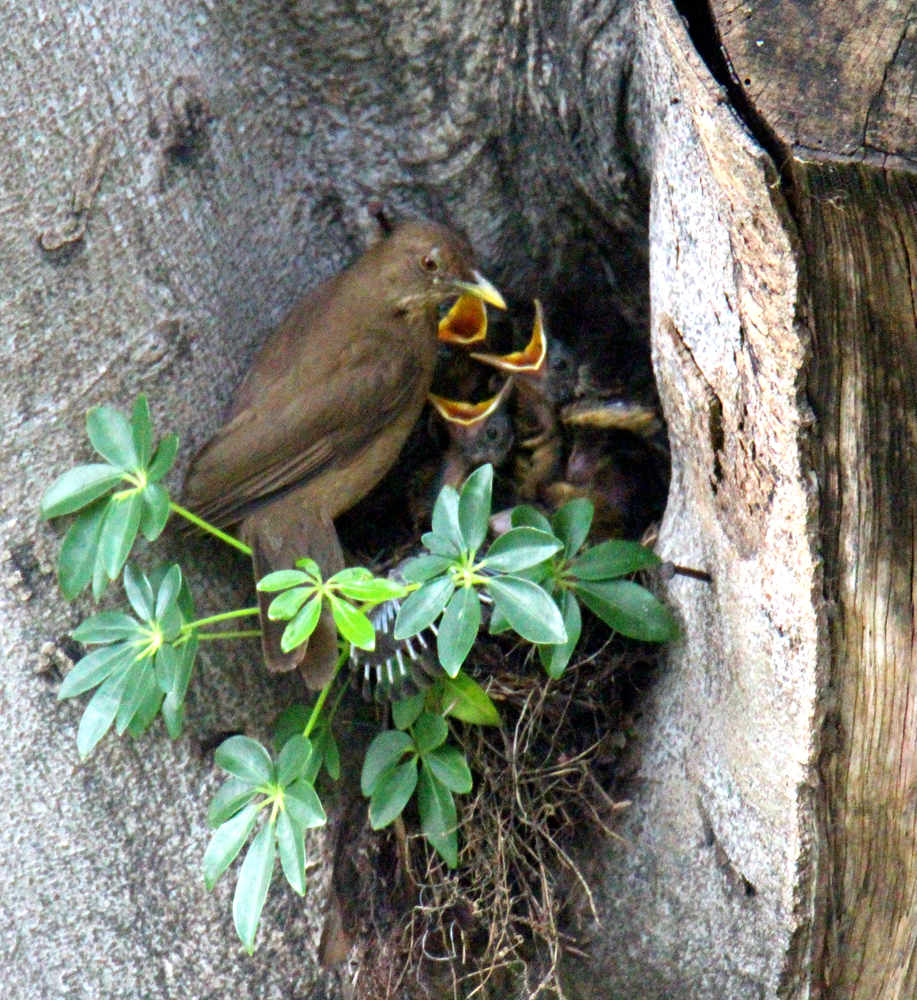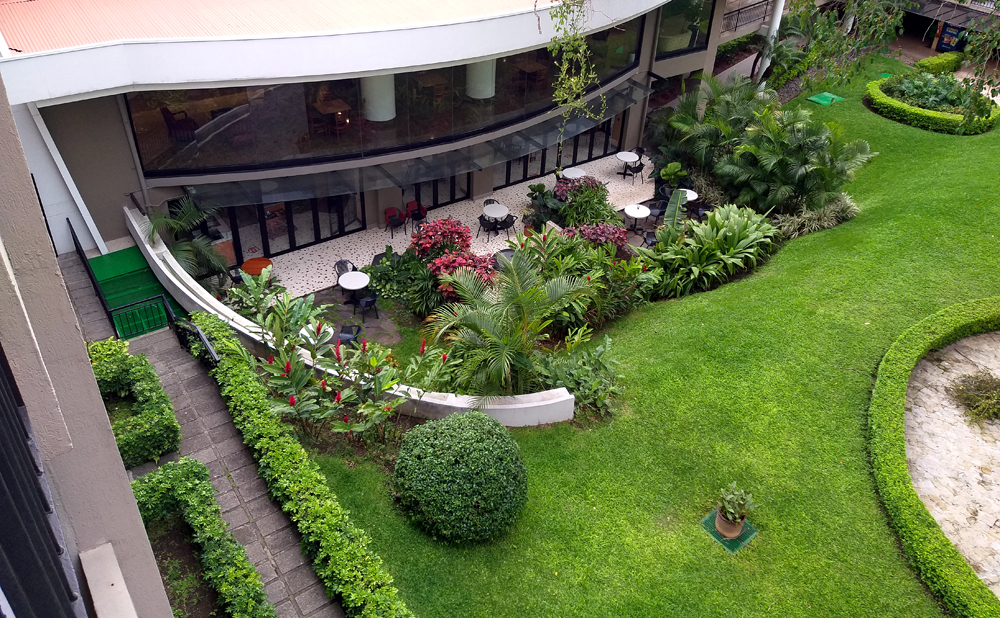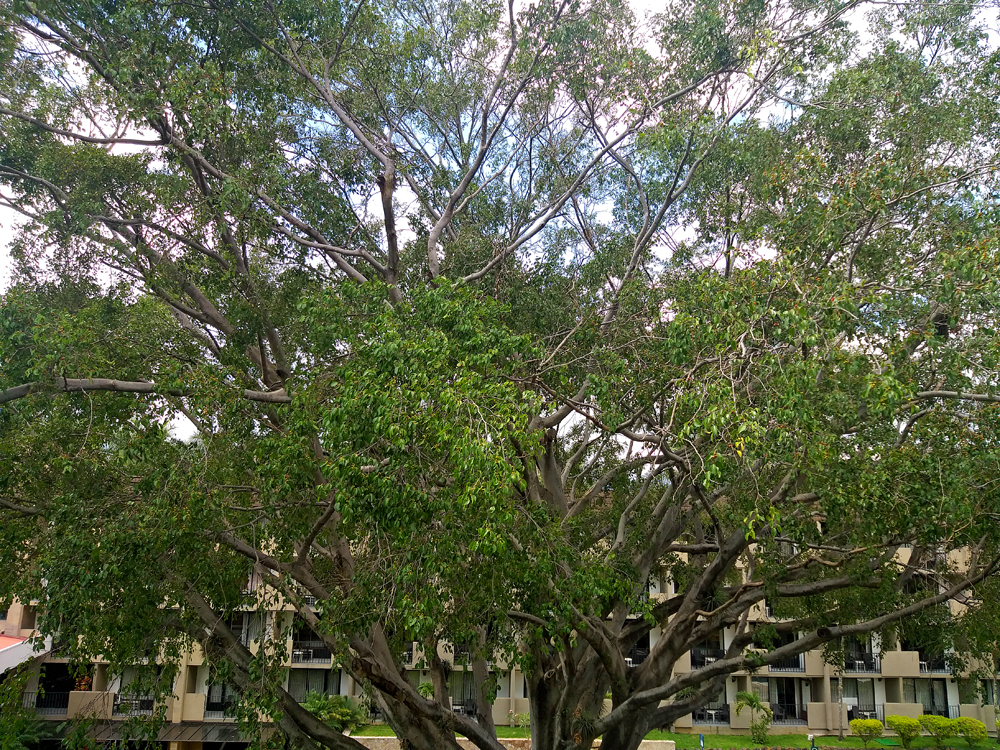 Due to a Covid Spike – No Restaurants Open!
I had already heard that the government was going back to stricter Covid restrictions because the hospitals were filling again. It did not dawn on me until I checked in yesterday afternoon and the clerk said "You do know that all restaurants/bars in San Jose are closed until at least May 9 and maybe longer?" That is for dine-in customers. Take out and delivery is still allowed as it was with the previous closings, meaning I can call many restaurants for delivery to the hotel if I wish.
And at this hotel Denny's won the "Room Service" gig and I have already been given their menu and all I have to do is dial a room service number and place my order with a hotel guest 10% Discount Code, then my food will be quickly brought to my room where I can eat it, though I will probably eat on the balcony. Nice! I only eat twice a day – the hotel's free breakfast and an early dinner.
No complaints from me on this arrangement! 🙂 PLUS the "by reservation only," Covid-spaced, hotel free breakfast is legal with the Ministry of Health. Our plates and drinks are brought to us – no typical buffet! And they do a very good breakfast with tables 2 meters or more apart! How sweet it is! 🙂 Suffering through the pandemic while getting cancer treatment. 🙂 What a memorable adventure!
Don't tell me you can't travel during a pandemic! Plus I've had both my vaccination shots, so I'm quite comfortable staying here in San Jose and now eating in my room. 🙂 And watching the very few tourists using the pool in a near-empty hotel.
¡Pura Vida!