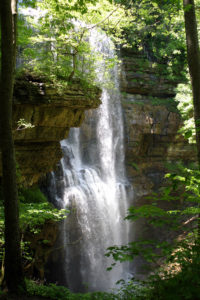 One of my nature loves in both Tennessee and Costa Rica is waterfalls (somewhere just after birds and butterflies!)    🙂    And as I have been updating my photo galleries with a new "Pre-Costa Rica TENNESSEE Photos" gallery I have loaded my photos of all 54 Tennessee state parks plus state natural areas and a few separate independent waterfalls with multiple shots of each waterfall. To bring them all together I created a Tennessee WATERFALLS gallery with just one shot of each of 36 waterfalls I photographed in that state with more shots of each falls in the place galleries.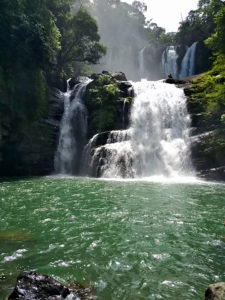 And you may already be aware of my Costa Rica WATERFALLS gallery with shots of 38 waterfalls I've photographed here over the first five+ years. In some ways tropical waterfalls are different but in even more ways they are similar, being in the mountains with usually uphill trails to the falls and then downhill trails to the plunge pools. I guess the type of plants and animals around the falls are the biggest differences. I love waterfalls everywhere and when back to traveling again, Walter is going to take me north of Atenas to some places where I can photograph about 5 more waterfalls. So the gallery will continue to grow! Enjoy! ¡Disfruta!
And oh yes, the featured image is Greeter Falls in the South Cumberland State Park, Tennessee.
"Adopt the pace of nature."

– Ralph Waldo Emerson.
¡Pura Vida!