The only thing is that they didn't use one of my many nature photos I love so much, but a selfie of me holding my new drivers license back in 2016. It has now expired. No problem! I don't drive anymore! 🙂 That's both by choice and now by requirements since I practically have only one eye, meaning little perception of depth of field which is not good for driving! 🙂
It's illustrating an article about the new requirement for expats to get a DL.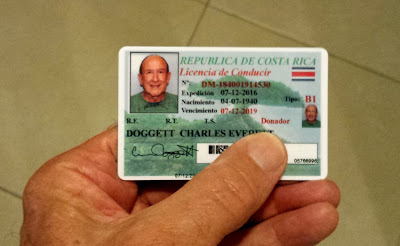 That's what can happen when you post a photo on your blog or online gallery. They did not ask me or give me credit, but I enjoy getting attention from people who see it! 🙂
Costa Rica is First Place Again!
That is on International Living Magazine's list of BEST PLACES IN THE WORLD TO RETIRE 2021!
Read about it and see total list of all countries on Tico Times Article Costa Rica is #1!
And I tried to link you to the International Living Magazine article, but they only allow subscribers in. Sorry! But all the info is in the above article on Tico Times with the top 25 countries listed and ranked by 10 categories. Pretty impressive! I keep getting my "radical decision to move here" confirmed by all kinds of organizations. 🙂
And if you are a beach person and thinking of Costa Rica for living and/or retiring, Tico Times has an article Ranking the 5 Best Beaches to Retire/Live On. What are you waiting on? 🙂
And if that is not enough to convince you, check out My Costa Rica Photo Gallery
🙂
¡Pura Vida!