I have completed two new photo galleries from my recent trip to Maquenque. Of course the Maquenque Gallery is the biggest with most photos, but we stopped for coffee in Cinchona on the way back home and in 15 to 20 minutes I photographed 6 birds with two of them "Lifers" (new to me)! And of course the San Fernando Waterfall! And since it is a totally different location than Maquenque and my travel galleries are about locations – two galleries! 🙂
You have been getting samples or teasers on the blog (with 4 more to go through the 22nd) while this is the real collection from my #1 birding lodge and photos of 61 species this trip! Plus photos of lots of other nature! Check it out! And similar to the blog, you click photos to enlarge or sometimes open a sub-gallery for that bird or topic.
Maquenque Eco-Lodge, July 2020 Gallery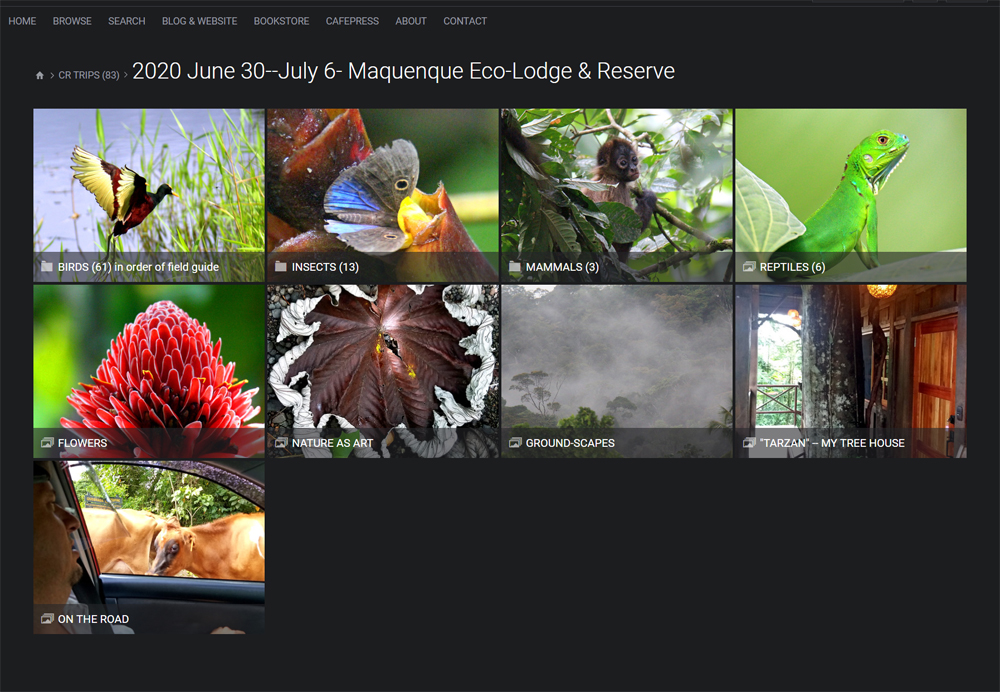 And the separate gallery for our coffee break stop on the way home at Soda & Mirador Cinchona for a waterfall and 6 birds, 2 of which are "Lifers" for me!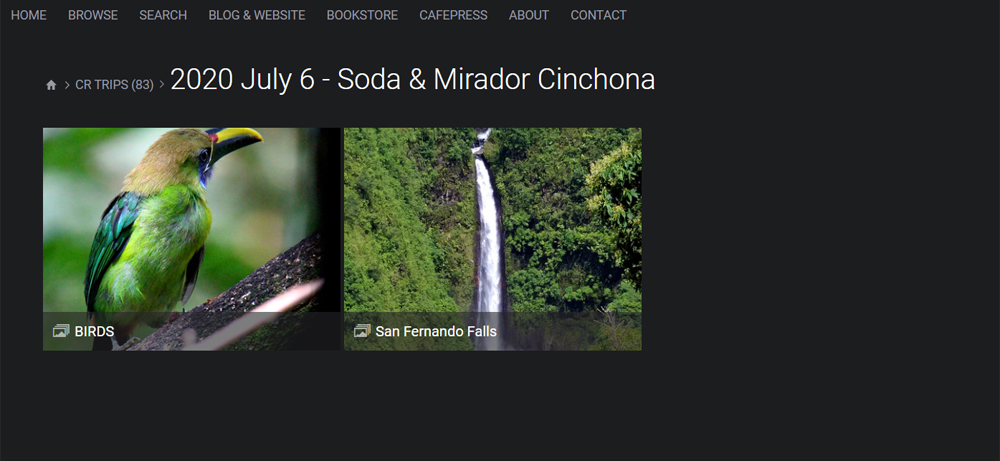 And in the interest of Coronavirus Safety I have no more trips planned until the middle of September, my annual Caribe Beach trip to Hotel Banana Azul where I will again be a "loner" doing things "solo" for safety. This place is more about relaxation than serious birding but there will be birds! 🙂 And solo walks on the beach searching for nature gems! And always enjoying someone else's cooking! And reading! 🙂
And FYI, because of some spikes in Coronavirus cases, Costa Rica has shut down again until maybe August with no bars and restaurants only for "take out" or para llevar! (Or delivery, called "express" here.)
And even the banks were closed this week! I hope not next week as I'm trying to renew my residency! And for two weeks at least, private cars are allowed on the road for only 1 day a week based on tag number. We take the virus seriously here! And most of us wear masks. The borders are still closed to everyone until announced otherwise. They had hoped for limited border openings in August but that is not looking likely now, especially for Americans, the most infected country in the world! (Love your money but not your virus!) 🙂
Stay safe everyone and wear your mask!
¡Pura Vida!